Q&A: Board Director Mel Barlow
Mel Barlow stood for election to the HF Holidays Board for the first time in 2019 and was elected from a pool of 12 candidates.
Mel's association with HF Holidays began in 2015, when she took her first HF Family Holiday at Peveril of the Peak – with her two children, then 8 and 6, her father and her husband.
The family were immediately hooked on the HF Holidays ethos – walking and fun. Since then her interest and commitment has grown, becoming a member and then wanting to give more to HF Holidays through standing for the Board. She's continued to enjoy HF family holidays, with the kids playing an active role in choosing the next house to visit!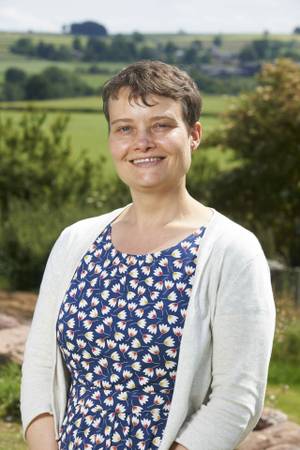 Q. What prompted you to take your first trip with HF Holidays?
I'd seen HF Holidays highly ranked in Which? magazine but didn't really know anything about what they offered. Then two close friends who had both grown up on HF family holidays recommended HF Holidays to me. Once we saw the family brochure, the idea of enjoying the outdoors in company and staying in the fabulous HF properties sounded really good – particularly as the parents didn't need to cook!
Q. Why did you decide to become a member?
I love what HF Holidays stands for and want to help the Society succeed and grow. So I thought membership was a way to play a small part in that and also to get more involved in the organisation. I'd also give a shout out to leader Mark, who made a really good pitch as to why you should join during our family holiday in the Lakes.
Q. Who or what inspired you to stand for election?
I got involved with HF Holidays because I thought there was something special about it, which I wanted to be part of. I want to help HF Holidays develop the business for the future, holding true to its values, through evolutionary not revolutionary change.
The Board needs a diversity of skills, experience and ideas in order to ensure the organisation's health for future generations to enjoy and to better reflect its membership. After speaking to a couple of the Board members, I was encouraged that I had something to offer
– marketing and business development skills, previous experience in the travel industry and an international perspective.
Q. How do you juggle having a full-time job, your Board Director commitments and being a mum to two energetic children?
The Board meets six times a year, with occasional ad hoc or Working Group meetings, and email discussions between Board meetings.
I'd been a Director/Trustee on two Boards before so I had a sense of the commitment and skills required. Fortunately, HF Holidays provides the dates of the Board meetings well in advance. I can plan my other commitments around them and schedule sufficient time to read and prepare for the meetings. It helps that my kids love HF Holidays too and are supportive of me spending time on Board business.
Q. You are now 18 months into the role, can you give us an idea of what you have been up to so far? Has it lived up to your expectations? Or exceeded them?
It is an incredible privilege to have been elected. I had a really comprehensive and informative induction that further enthused my passion for HF Holidays and gave me a better insight into the teams working in both the Elstree and Penrith offices.
I've been to several Board meetings and seen the renovations and new buildings at Derwent Bank. I have been impressed by the thoroughness of the preparations of the papers, the debate on matters for decision and the way the Board and Management Team work together. I was fortunate to be given the opportunity to join the Product and Marketing Working Group, and to play a small role in how the Board contributes in this area.
Q. Has being on the Board changed your impression of HF Holidays at all?
I got a real sense of the commitment from the members at the AGM and this has continued with meeting the brilliant team members.
Sitting in the meetings I can see the complexity of the organisation – properties and products – and the depth of skills and experience on the Board and in the Senior Management Team. I've been particularly impressed by the voluntary commitment and energy of our Chair and Vice Chair.
Q. What advice would you give anyone considering standing for election?
It's a serious commitment – a 4-year term, meeting at least six times a year and with many papers to consider and provide views on. To compliment the current Board, experience in a range of industries such as financial strategy, senior management people skills, strategic planning, commercial decision making, leisure or travel industry experience would be a bonus.
I think it's valuable for HF Holidays to have people currently in the workplace on the Board and to be diverse. If you think you have something to contribute then please send an email to sarahdavis@hfholidays.co.uk and we will contact you regarding your interest.
Are you interested in standing for election?

If you think you've got what it takes to become one of our 12 volunteer Board Directors starting a four-year term in 2021, you need to submit your application by 31 December 2020. For more details about the role and how to apply please go to our web page and see how to join-our-board.