Our Pathways Fund has, for many years, provided assisted holidays to those who could not otherwise afford one. In addition, since 1998, the fund has helped to protect and improve the countryside where HF Holidays' guests walk. This is achieved through generous donations from HF Holidays' members and guests.
Aims and Objectives of the Pathways Fund
There are two objectives for the Pathways Fund:
1
To preserve and improve the amenities and safety of the environment in which HF Holidays' walks take place. This will be achieved by allocating grants, and other funding, to individuals, organisations or groups for specific projects which cannot be readily funded from other sources. Examples include:

A) Erection of signposts, way marks, stiles, bridges, footpath improvements and conservation.
B) Improving the countryside with walling, hedging, pond clearance and tree removal or planting.
C) Provision of equipment to Mountain Rescue organisations.

The examples are not exhaustive, but grants will not normally be made for projects outside areas in which HF Holidays' walks take place. Successful applicants are required to install a commemorative plaque at the site (or a suitable place near to the site) to recognise HF Holidays' Pathways Fund contribution to the project, and for HF Holidays' promotional material to be made available at an appropriate location (for example a visitor centre of tourist information centre)
2
To provide Assisted Holidays for individuals, and possibly their families, who, because of difficult personal circumstances, cannot afford a holiday with HF Holidays.

The only requirement is a simple declaration that because of their difficult personal circumstances they cannot afford the cost of a holiday. Applications for Assisted Holidays must be supported by a Member of the Society by a signed declaration from that Member on the application form. Applicants may also make an offer of a partial contribution to the cost of the holiday if they feel able to do so.
All applications and correspondence with applicants shall be dealt with by Sarah Davis, EA to the Chief Executive in order to maintain complete confidentiality. Application forms can be obtained by emailing sarahdavis@hfholidays.co.uk 
0
To plant 1,500 trees in and around the Yorkshire Dales in partnership with Yorkshire Dales Millennium Trust (YDMT)
As part of HF Holidays plan to offset travel carbon emissions, 1,500 trees well cared for and maintained over 50 years can absorb an estimated 250 tonnes of carbon, or the equivalent CO2 emissions from 500 HF Leader return flights from London to Italy.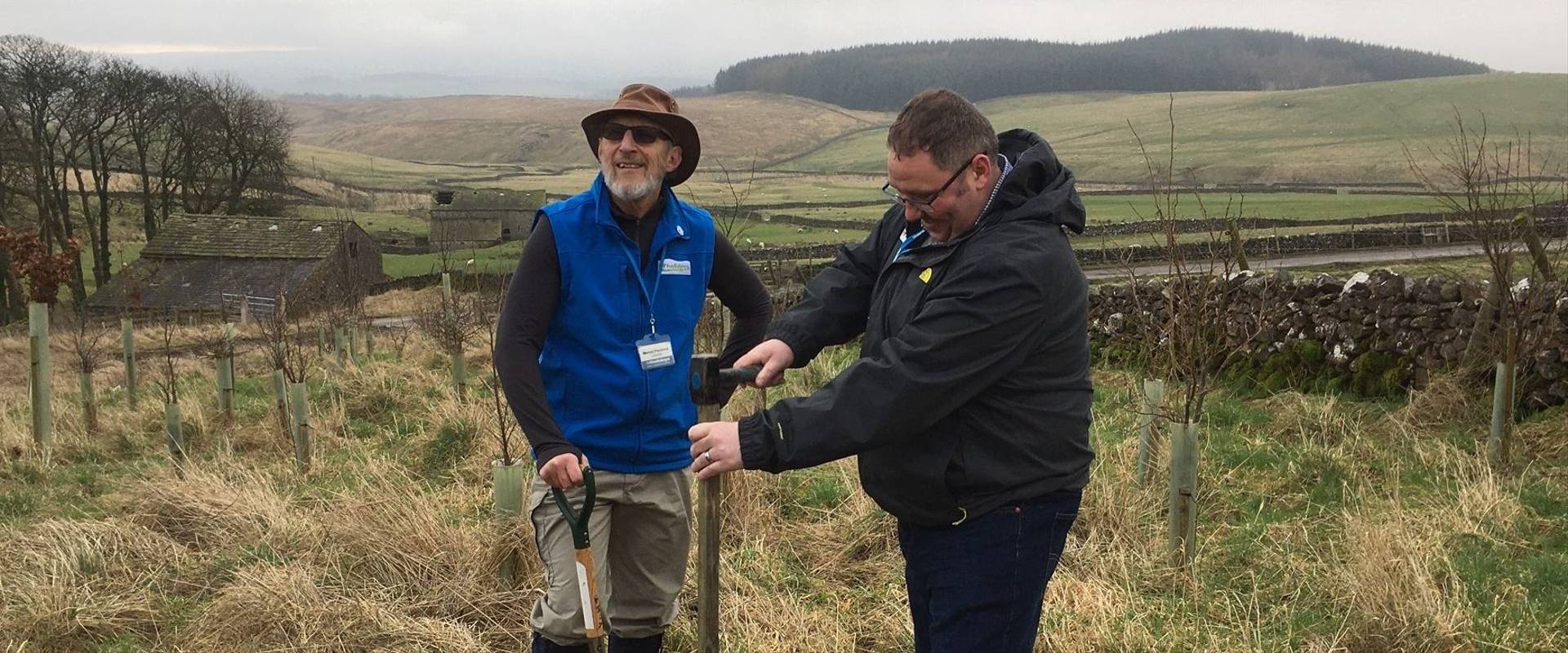 0
Great Ridge Pathway - near Peveril of the Peak
This project has been reviewed with our 3 field advisors (Suzanne, Paul and Helen) for the area. HF were due to have a new walk in our programme for 2020 that used the Great Ridge. With lockdown it hasn't run. However, we would like to use the Great Ridge in the future, so we have agreed to support the project to maintain this path with a £9k donation. A plaque will be displayed on a new gate at the bottom of Back Tor, which the Peak District National Park Authority installed in 2019.
0
Smardale Gill Viaduct – near Thorns Hall
This is a path that features in our guided walking programme from Thorns Hall. The walk is a  long-standing route, which is invariably well received by guests. Smardale Gill Viaduct is an important feature along the way. Both Field Advisors, Alan and Ian, have said that they are delighted to learn that the Pathways Fund will provide £9k of support for the safety improvements at Smardale Gill Viaduct. A plaque and notice at the entrance to the viaduct will commemorate the donation.
0
Lake District - Funding towards the reconstruction of the Keswick and Threlkeld path which was destroyed.
0
Scafell Pike, Lake District – footpath repair on the most popular route - the Brown Tongue to Hollowstones path.
0
Cader Idris, Snowdonia – helping to fund the repair of eroded Moelfryn and Mynydd Moel footpaths.
0
Exmoor - Great Bradley Bridge – helping to fund the construction of a new footbridge over the River Barle on the Two Moors Way.
0
Lake District Fell Care Day – sponsorship of events where volunteers carry out important conservation work. This will be our third year of involvement.
0
Snowdonia Slate Trail – footpath restoration work.
Other projects in recent years have included:
• £5,000 towards work to replace a flood-hit bridge at Sedbergh in the Yorkshire Dales National Park
• £5,500 towards footpath repairs at Beech Copse at Godshill on the Isle of Wight
• £2,500 towards the purchase of a new vehicle for Buxton Mountain Rescue Team
• Air project.
• £16,800 awarded to the Yorkshire Dales National Park Authority for repairs to the Ingleborough Allotment footpath
• £14,480 footpath improvement works to the Coast to Coast path on Nine Standards Rig
• £12,000 towards the replacement of two storm-damaged footbridges in the Newlands Valley in the Lake District
• £2,500 Fell Care Project in Eskdale, Lake District
• 
£5,000
 donation to the Central Beacons Mountain Rescue Team when its headquarters was devastated by a fire
•
 £4,000
 for new board walk at Church Stretton following a request from Stretton Area Community Wildlife Group access team
•
 £2,000
 donation to the Hyden Lane project, part of the South Downs Way, 
Mend Our Way
 appeal.
•
 £4,000
 donation to the Whernside (Bruntscar) Footpath Repair project.
Donations to the Pathways Fund are generally provided by HF Holidays' guests using the donation boxes at the 17 country houses. Leaders are encouraged to promote the Pathways Fund, indeed, many Leaders run competitions to raise substantial sums for it. Money is also received from bequests and other sources.