On this two-week guided walking holiday, you'll explore two of Spain's Balearic Islands. You'll start off in Mallorca which has many wild and beautiful places which can be reached on foot. Spring and autumn are the best times to go to enjoy comfortable temperatures for walking. There is a varied landscape of spectacular coastline with secluded coves, low-level mountains and sleepy villages to discover. Follow in the footsteps of pilgrims through the Tramuntana Mountains to reach the tucked away 13th century monastery in the sleepy village of Lluc and reach limestone summits to reveal sweeping views across the island. On Menorca, we'll take you on walks along gentle paths in low-lying terrain through the pretty countryside and along the coast. During some of the walks we'll pass by some of the island's 1,500 Megalithic sites, giving a glimpse into the lives of Menorca's earliest inhabitants. A sightseeing day in the fascinating old island capital of Ciutadella accompanied by an expert local guide will reveal more of the island's interesting history.
Holiday Highlights
Mallorca
Discover Mallorca's spectacular coastline, stunning mountains and sleepy ochre villages
Superb walking in the breathtaking Serra de Tramuntana mountains
Wander through Mallorca's peaceful rural scenery
Easily accessible with many flights from regional airports
Menorca 
This tranquil island offers gentle coastal walks to sandy beaches and quaint fishing villages
Enjoy a day's sightseeing at fascinating Ciutadella, influenced by the Baroque and Gothic eras
Walk through green rolling scenery to traditional Menorcan villages
See a wealth of pre-historic monuments including standing stones and burial chambers
An ideal location for a relaxing walking holiday, full of commerce and culture
Stay at a popular 4-star hotel overlooking Mahon harbour
What's included
A full programme of guided walks with 2 options every walking day
All transport to and from the walks
The services of experienced HF Holidays' leaders
"With flight" holidays include return flights from the UK and hotel transfers
14 nights accommodation in en-suite rooms
Transport between the two destinations
Half Board - continental breakfast and evening meal
Welcome to Hotel Uyal. Unpack and settle in.
---
Today we explore the area to the north of Puerto Pollensa with its beautiful valleys, coves and headlands.
Option 1 - Boquer Valley
Distance: 6½ miles (10km)
Total ascent: 500 feet (150m)
In summary: Walking from and to the hotel, our destination today is the beautiful Boquer Valley, a bird watcher's paradise.
Highlight: The rugged coastline of north east Mallorca.
Option 2 - Puig d'Aguila and the Siller Valley
Distance: 7½miles (12km) 
Total ascent: 1,000 feet (300m)
In summary: A short bus ride will take us to Cala de San Vicenc for the start of our walk. A well-constructed dirt track then leads us to a headland from where we ascend the Puig d'Aguila for stunning views. We then return to Cala de San Vicenc for some well earned refreshments before making our way over the Siller Pass and back to the hotel.
Highlight: A lovely introductory walk to the local area.
---
Today we'll travel inland to the heart of the Tramuntana Mountains to visit beautiful Lluc Monastery and explore the area around Lluc.
Option 1 - Lluc to Caimari
Distance: 5 miles (8km)
Total ascent: 400 feet (120m)
In summary: After spending some time enjoying the Monastery and its surrounds, we take the GR222 (Cami Vell) and follow it south through lovely woodland, enjoying superb viewpoints en route, to the charming, traditional village of Caimari.
Highlight: The beautiful monastery in Lluc.
Option 2 - Lluc to Caimari via Menut
Distance: 9 miles (14½km)
Total ascent: 1,000 feet (300m)
In summary: This walk starts with a circuit around the Moleta de Binifaldo, taking in some dramatic mountain scenery, before returning to the Lluc area and following the same route as the Option 1 walk. 
Highlight: Dramatic mountain scenery.
---
Today we enjoy walks on the Alcudia Peninsula.
Option 1 - Coll de na Benet
Distance: 7 miles (11km) 
Total ascent: 1,000 feet (300m)
In summary: We walk on an easy track through pleasant woodland to reach the Fontanelles Valley. Here we ascend gently to the Coll affording us views of the surrounding hills and the coastline. We continue on good tracks and paths to our finishing point at the Bon Aire Marina.
Highlight: Both of our walks today are interesting, with great views.
Option 2 - Talaia d'Alcudia
Distance: 7 miles (11km)
Total ascent: 1,500 (450m) 
In summary: Today, our walk starts at the Ermita de la Victoria from where we start our ascent to the summit of the Talaia. After enjoying the panoramic views, we descend on a stony mountain path to a picnic area. After a short walk along a broad dirt track, we enter the Fontanelles Valley ascending to another viewpoint and then descending to join the route of the Option 1 group to the Marina for refreshments.
Highlight: Ascent of Talaia with stunning views.
---
Each week there is a free day when no guided walks are offered. This is an ideal opportunity to relax around the hotel, walk independently or visit local places of interest. Some options for your free day may include:
Puerto Pollensa: Have a leisurely lunch in the town, visit the local market, take a boat trip from the harbour, or simply enjoy a stroll down the beach.
Pollensa: Visit the beautiful old town of Pollensa by public bus. Explore the old winding streets and climb the steps to the Calvary.
Palma de Mallorca: Take the local bus to the capital, Palma, to explore the magnificent cathedral and the old quarter with its medieval layout of narrow winding streets.
---
Today we travel south east to the Arta Peninsula to visit the Llevant Natural Park, an area of outstanding natural beauty, for our walks. Our journey will take us via the old town of Arta to the Park Visitor Centre where there are toilets and a small exhibition area.
Option 1 - Soldiers' Camp and Betlam
Distance: 4½miles (7½km) 
Total ascent: 600 feet (180m)
In summary: Today we have two short, but equally beautiful walks. Our morning walk will take us on a short but steep ascent to the 'Soldiers Camp'. After lunch we will return to the Park Centre for a transfer to Arta for a short visit before continuing our journey to the coast for a relaxing afternoon stroll to the lovely small town of Betlam for a swim or a visit to a bar.
Highlight: Extensive views of wild and unspoilt countryside from the 'Soldiers Camp'.
Option 2 - Soldiers Camp and GR222 to Betlam
Distance: 7½ miles (12km)
Total ascent: 1,200 feet (360m)
In summary: Initially we take the same route as the Option 1 group.  After visiting the Soldier's Camp we take the GR222 and follow this all the way to Betlam enjoying the peace and solitude of this lovely area.
Highlight:  Walking along the GR222 long distance trail with fantastic views.
---
For our final day, we return to the Tramuntana Mountains for further exploration. Both walks will use part of the GR221, a long distance route which runs the length of the Tramuntana Mountains.
Option 1 - Lluc to Binifaldo Circuit
 Distance: 7 miles (11km)
Total ascent: 900 feet (270m)
In summary: Starting from Lluc Monastery for our circular walk, we will enjoy the pleasant karst and woodland scenery north of the area. Our walk will include a visit to the 'Camel Rock' and will pass evidence of previous woodland industries.  Our return leg back to Lluc will follow part of the long distance GR221 path.
Highlight: The interesting and varied scenery of the Tramuntana mountains.
Option 2 - Lluc to Pollensa
Distance: 11 miles (17km)
Total ascent: 700 feet (220m)
Total descent: 2,000 feet (600m)
In summary: Initially following the same route as Option 1, we also have the opportunity to view 'the Camel'. We then follow the GR221 descending through woodland, quiet roads and on riverside footpaths, reaching the town of Pollensa for some much needed refreshments.
Highlight: Enjoy stunning mountain views.
---
You will be transferred to palma Airport for your inter island flight to Menorca. You will be met at Mahon airport and taken to the Hotel Port Mahon.
Welcome to Hotel Port Mahon. Unpack and settle in.
---
Menorca has an impressive collection of ancient Talayotic sites. Both groups have a short visit to Trepuco – the ruins of a village which dates back to the Megalithic period. There are the remains of stone buildings and defence towers but the most noticeable feature is a giant stone table (taula). Both walks then follow the coast which allows good views of Mahon harbour and its impressive fortifications.
Option 1 - Coastal defences to Punta Prima
Distance: 6 miles (9½km) 
Total ascent: 500 feet (150m)
In summary: After a short bus journey to the delightful inlet of Cala de Sant Esteve, there is an opportunity to make a short visit to Fort Marlborough. Built by the British in the 18th century it is largely hidden from view. Leaving the fort we head south passing two further defensive towers. Our route follows the Cami de Cavalls coastal footpath passing modern day resorts to reach the resort of Punta Prima with its sandy beach and lighthouse.
Highlight: The Cami de Cavalls, an important historic route.
Option 2 - Es Castell to Punta Prima
Distance: 8 miles (13km) 
Total ascent: 700 feet (210m)
In summary: Leaving Trepuco it's only a short journey until we arrive on the outskirts of Es Castell. This has a very military feel to it as the centre is a former parade ground. A short walk leads to Calas Fonts with its attractive harbour before we join the Cami de Cavalls en route to Cala de St Esteve. From this point we follow the easier group route to arrive in Punta Prima.
Highlgiht: Walk along the peaceful coastline with views out to sea.
---
Today we'll visit Ciutadella, the second largest town on the island situated at the western end. Originally settled by the Moors, this was formerly the island's capital until this was switched to Mahon by the British. The historic centre is clustered around its narrow harbour and contains a maze of narrow alleys and Moorish buildings. We continue to Monte Toro, the highest peak of the island, to enjoy the view before visiting Fornells, a picturesque fishing village on the north coast.
---
Today we'll travel to the north of Mahon to enjoy walks along the east coast. We'll pass delightful beaches taking in views over the coastal village of Es Grau and beyond to the island of Colom. Our journey takes us to a protected nature reserve which overlooks the S'Albufera Lake before reaching the village of Es Grau.
Option 1 - Es Grau and Albufera des Grau
Distance: 5 miles (8km)
Total ascent: 500 feet (150m)
In summary: From Es Grau, our walk takes us north along the beach to meet the Cami de Cavalls which we follow passing secluded beaches, only accessible on foot, to reach the boathouse at Cala de Sa Toretta. Here we can enjoy lunch before retracing our steps to Es Grau beach. At this point the route visits S'Alburfera Lake, an important site for migrating birds; we can spend time here or relax in the local bars.
Highlight: Visit the Cap Favartix lighthouse.
Option 2 - Cami de Cavalls and Cap Favartix
Distance: 8 miles (13km)
Total ascent: 800 feet (240m)
In summary: The walk follows the Cami de Cavalls leading to Cap Favartix lighthouse. In just a couple of kilometres the landscape changes dramatically from lush countryside to a lunar landscape. After a visit to the lighthouse our route turns south to follow the east coast to Es Grau. We pass secluded beaches and Bassa de Morella Nature Reserve before reaching Cala de Sa Toretta. The walk then joins the easier route to Es Grau and its inviting bars, beach and nature reserve.
Highlight: Pass Bassa de Morella, a lagoon rich in wildlife.
---
Each week there is a free day when no guided walks are offered. This is an ideal opportunity to relax around the hotel, walk independently or visit local places of interest. Some options for your free day may include:
Mahon: A 10 minute walk from the hotel will take you to the centre of Mahon. With a population of around 25,000, this is the island's capital and it has a good selection of shops, cafés and facilities. The city's great harbour has long been recognised for its strategic importance and over the years has been a base for the British and Spanish fleets. Boat trips around the harbour depart from the main quayside and are a great way to see its full scale. The city's main historic sites, including the cathedral, can be found on the hill just above the harbour and display a variety of different influences from the island's various rulers.
La Mola Fortress: The immense fortress of La Mola was built between 1848 and 1875 to guard the entrance to Mahon Harbour. This is the most impressive historic site on Menorca and a visit lasts about 2½ hours. It is best reached by taxi or hire car. Please check with hotel reception for opening hours and possible guided tours.
Local information website: For information on Menorca please visit www.spain.info
---
Today's walks head to southwest Menorca for some particularly attractive coastal walks. Both walks visit sandy beaches before finishing in the resort of Cala Galdana, a popular resort with sandy beaches, pine clad headlands and plenty of bars to relax in after a day's walking.
Option 1 - Santa Galdana and Cala Mitjana, Azure Coves
Distance: 6 miles (9½km)
Total ascent: 400 feet (120m)
In summary: The day begins with a choice – Lithica stone quarry for an hour's visit or stay on the coach to Son Xoriguer where the harder walk starts. Best described as a butterfly walk, the easier route visits two coves local to Cala Galdana. The first, to the east of Cala Galdana is Cala Mitijana. After returning to Cala Galdana you may decide to explore its facilities whilst the group visits the second cove, Cala Macarella to the west. We then return to Cala Galdana for our transport to Mahon.
Highlight: Explore the two beautiful coves on this delightful walk.
Option 2 - Southwest Coast Path, Son Xorgiuer to Cala Galdana
Distance: 9 miles (14½km)
Total ascent: 700 feet (210m)
In summary: Our journey to Son Xoriguer takes about an hour. The walk follows the Cami de Cavalls coastal path with sections of limestone paths, woodland, low cliff tops, beaches and coves. We will pass this generally natural coast of remote and deserted caves and several tempting beaches. The walk finishes in Cala Galdana with its many facilities.
Highlight: A fantastic coastal walk.
---
On the final day we head to the south for walks which combine both inland and coastal scenery. A limestone valley descends from Es Mighorn Gran to the sea and is well known for an enormous cave, Cova des Coloms (cave of the pigeons), said to be large enough to accommodate a cathedral. Both groups visit this impressive site.
Option 1 - Leisure and Legend, Cova des Coloms
Distance: 6 miles (9½km)
Total ascent: 600 feet (180m)
In summary: We follow the track from the village to Barranco de Binigaus, where the path becomes more rugged and descends via the Cova des Coloms to reach the beach at Binigaus. There is the option to visit a small bar for lunch in St Thomas. After lunch we continue to return to Es Mighorn Gran.
Highlight: A beautiful coastal walk.
Option 2 - Two Cathedrals, Son Bou to Es Mighorn Gran
Distance: 9 miles (14½km)
Total ascent: 900 feet (270m)
In summary: Our walk starts in Son Bou, and follows the new routing of the Cami de Cavalls which heads to the marshland of Sant Jaume. The route turns south to the sea and then west of St Thomas. It may be tempting to stay for lunch or a swim before continuing to Binigaus and its barranco. The rugged path ascends close to Cova des Coloms, our second "cathedral" of the day before returning to Es Mighorn Gran.
Highlight: A walk of great variety from coast to lush countryside.
---
We hope to see you again soon.
---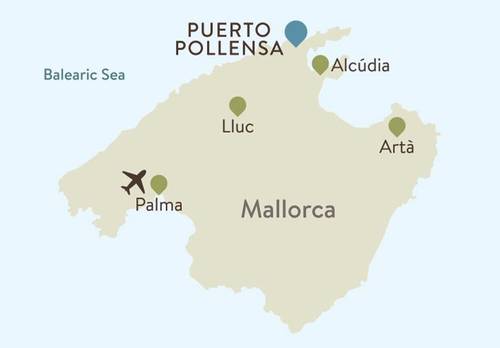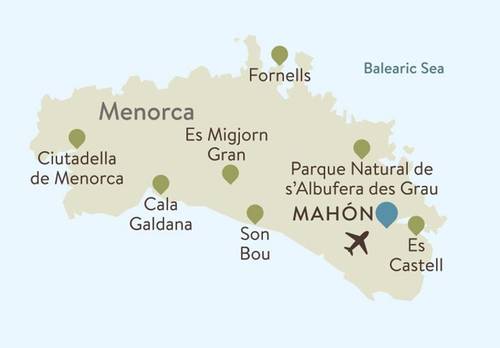 Hoposa Hotel Uyal -Mallorca
The 4-star Hoposa Hotel Uyal is located in the resort of Puerto Pollensa. This small town is situated on the Bay of Pollensa in the north of Mallorca and offers all the shops and services you could require. Facilities at the hotel include an indoor and outdoor swimming pool, wellness centre and gym. The bedrooms are light and airy and contemporary in design. The beach is just 10 metres from the doorstep. 
Hotel Port Mahon - Menorca
Hotel Port Mahon occupies an excellent position overlooking Mahon harbour. The hotel is located in a peaceful residential area above the marina and just 15 minutes' walk from the historic city centre. The hotel is owned by Set Hotels, a small chain with hotels on Menorca and mainland Spain. Most of the staff speak good English and are very keen to ensure that our guests have an enjoyable stay. The hotel features a piano bar on the ground floor with comfortable seating and an outdoor swimming pool and gardens.  
What to Bring
Essential Equipment
To enjoy walking/hiking comfortably and safely, footwear, clothing and equipment needs to be suitable for the conditions. Safety and comfort are our priorities, so our advice is to come prepared for all eventualities.
Footwear with a good grip on the sole (e.g.Vibram sole) is the key to avoiding accidents.
Walking/hiking boots providing ankle support and good grip are recommended (ideally worn in), and specialist walking socks to avoid blisters.
Several layers of clothing, which can be added or removed, are better than a single layer (include spares).
Fabrics (lightweight and fast drying) designed for the outdoors are recommended.
Waterproof jacket and waterproof over trousers.
Warm hat and gloves. 
Denim jeans and capes are not suitable on any walks.
Rucksack with a waterproof liner.
Thermos flask for hot drink.
Water bottle (at least 2 litre).
Spare high-energy food such as a chocolate bar.
Small torch.
First aid kit – your leader's first aid kit doesn't contain any medication or blister kits (such as Compeed).
Sun hat and sunglasses
Sun cream.
Optional Equipment
Walking poles are useful, particularly for descents.
Insect repellent.
Camera.
Gaiters.
All holidays are subject to availability. Prices are subject to change.
Prices based on two people sharing. Supplements may apply.
Non-member fee: £10 per person.
These departure dates can be booked with flights or as land only holiday options. All packages that include flights are ATOL protected. Advertised flight prices are based on UK flights departing from London. Regional departures and/or connections to London, if available, can be requested. Cabin upgrades may also be available on request.
Date (Start - End)
Nights
Itinerary
Price
Status
Trip Notes
Book
2021

24 Apr - 08 May

14
2020 Itinerary

£2,389

Available

Trip Notes

Book Now

08 May - 22 May

14
2020 Itinerary

£2,489

Available

Trip Notes

Book Now

15 May - 29 May

14
2020 Itinerary

£2,489

Available

Trip Notes

Book Now

18 Sep - 02 Oct

14
2020 Itinerary

£2,658

Available

Trip Notes

Book Now

25 Sep - 09 Oct

14
2020 Itinerary

£2,658

Available

Trip Notes

Book Now
Date (Start - End)
Nights
Itinerary
Price
Status
Trip Notes
Book
2021

24 Apr - 08 May

14
2020 Itinerary

£2,189

£1,989
Save £200 Per Person

Trip Notes

Book Now

01 May - 15 May

14
2020 Itinerary

£2,289

£2,089
Save £200 Per Person

Trip Notes

Book Now

08 May - 22 May

14
2020 Itinerary

£2,289

£2,089
Save £200 Per Person

Trip Notes

Book Now

15 May - 29 May

14
2020 Itinerary

£2,289

£2,089
Save £200 Per Person

Trip Notes

Book Now

18 Sep - 02 Oct

14
2020 Itinerary

£2,448

£2,248
Save £200 Per Person

Trip Notes

Book Now

25 Sep - 09 Oct

14
2020 Itinerary

£2,448

£2,248
Save £200 Per Person

Trip Notes

Book Now
Important Information
2020
Mallorca
Sea view: £24 per room per night
Double room for single occupancy: £44 per night
With flight holidays include flights from Heathrow. Flight supplements from Manchester and Birmingham: From £90
Indpendent travellers can join our transfer from Palma Airport: £21.50 single
Our airport taxi service operates at this resort: £85 per single taxi journey
Menorca
Single room: £24 per night
Sea view: price on request
With flight holidays include flights from Gatwick. Flight supplement from Manchester and Birmingham: From £80
Independent travellers can join our transfer from Mahón Airport: £12.50 Single
Our airport taxi service operates at this resort: £27 per single taxi journey
2021
Mallorca
Sea view: £24 per room per night
Double room for single occupancy: £44 per night
With flight holidays include flights from Heathrow. Flight supplements from Manchester and Birmingham: From £90
Indpendent travellers can join our transfer from Palma Airport: £21.50 single
Our airport taxi service operates at this resort: £70 per single taxi journey
Menorca
Single room: £24 per night
Sea view: price on request
With flight holidays include flights from Gatwick. Flight supplement from Manchester and Birmingham: From £60
Independent travellers can join our transfer from Mahón Airport: £15 Single
Our airport taxi service operates at this resort: £27 per single taxi journey