Explore the best of the Maltese Islands in one holiday. With more historic sights per square mile than any other country, there's plenty to please in Malta. Spend time in the UNESCO-listed capital, Valletta, discover ornate churches built by the Knights of St John and explore Neolithic temples and impressive catacombs. Equally rewarding is rural Gozo where walks along the island's coastal paths lead to beautiful beaches, pretty villages, and fascinating archaeological sites including Ġgantija – an incredible piece of ancient architecture that predates the Pyramids of Egypt.
What you'll love
Exploring Malta and Gozo's incredible megalithic temples 
Learning about the archipelago's WWII history
Visiting the UNESCO-listed Maltese capital, Valletta
Discovering the Silent City of Mdina
Spending time in the Gozitan capital Victoria
Taking a boat ride through the caves to the open sea
What's included
A full programme of guided walks with 2 options every walking day
All transport to and from the walks
The services of experienced Local and HF Holidays' leaders
"With flight" holidays include return flights from the UK and hotel transfers
14 nights accommodation in en-suite rooms
Transport between the two destinations
Half Board - continental breakfast and evening meal
Return flights from the UK including hold baggage and airport transfers
Trip Notes
Easy to download as a PDF, our trip notes provide detailed information for every holiday. Please click below to find the trip notes for your departure date.
All our carefully-curated itineraries are designed by our experts. While we make every effort to adhere to the described itinerary, we may take alternative routes or adapt the running order for weather and/or operational reasons.
Welcome to Pergola Hotel. Unpack and settle in.
---
These walks explore the northern tip of Malta, from the older part of Mellieha village and onto rocky open ground to contour around the northern coastline with fine views of Gozo and Comino.
Option 1 - Northeast Peninsula
Distance: 5 miles (8km)
Total ascent: 600 feet (180m)
In summary: We start by walking through the oldest part of Mellieha, where we'll see views out to Gozo and Comino. We then walk the coastline, with a short detour inland to the 'Red Tower', before arriving at Ramla Bay.
Highlight: Spectacular views of Gozo and Comino.
Option 2 - Selmun Palace, Bays & Roman Road back to Mellieha
Distance: 8 miles (13km)
Total ascent: 900 feet (270m)
In summary: We take a different route out of Mellieha, heading for the Selmun Palace and then onto the coast to Selmun Bay. We follow the coastline to Xemxija, before heading back to Mellieha along a Roman road.
Highlight: The route back to Mellieha is littered with Roman and ancient sights.
---
The World Heritage City of Valletta merits a great deal of exploration and this sightseeing day will introduce you to the key sights. The walking tour of the city takes in several sights and also allows you some free time to explore independently or cruise around the harbour for a different and incredible view of the three cities.
---
Today's visit is to the Dingli Cliffs, the highest point on Malta. We walk through Buskett Gardens (once the hunting ground of the Grand Masters) towards the Dingli Cliffs. Close to the cliffs we see the remains of Ghar ilKbir cave dwellings and a series of distinctive prehistoric cart ruts. This visit will be enhanced by a local guide who was brought up in the area. The afternoon is spent sightseeing with the option of:
(a) visiting 4th century catacombs, the museum of Roman Antiquities and soaking up the atmosphere in the Silent City of Mdina or
(b) visiting the temple complex of Hagar Qim, which can be seen before descending to Wied iz-Zurrieq where there is the option of a boat trip to the Blue Grotto in good weather.
Option 1 - Caves, Cliffs & Catacombs
Distance: 5 miles (8km)
Total ascent: 300 feet (90m)
In summary: Today we walk through Maltese history. Starting in the old hunting grounds of Buskett Gardens we'll walk towards the coast and the Ghar-il-Kbir cave dwellings. We'll reach Rabat for lunch, with time to explore the 4th Century catacombs, St Pauls church and the Museum of Roman Antiquities. We'll finish our day in the 'Silent City' of Mdina.
Highlight: Our local guide is full of knowledge about the history of the island.
Option 2 - Cliffs & Temples by the sea
Distance: 8 miles (13km)
Total ascent: 800 feet (240m)
In summary: The first part of our day follows the same route as the other party as far as Ghar-il-Kbir. At the coast we'll descend to the undercliff, passing two wayside chapels. We'll reach Ghar Lapsi for lunch, and a swim, before heading into more rugged terrain to the large temple complex of Hagar Qim, finishing our walk at Wied ir Zurrieq.
Highlight: Our local guide is full of knowledge about the history of the island.
---
Each week there is a free day when no guided walks are offered. This is an ideal opportunity to relax around the hotel, walk independently or visit local places of interest. Some options for your free day may include:
Gozo: For guests holidaying on Malta only, a day trip to Gozo is popular. Using a hired coach it is possible to see many of the popular sights on the island including the Rotunda Church at Xewkija, the sea arch and Inland Sea at Dwejra Bay and the delightful fishing village of Xlendi. The day is rounded off by a visit to Victoria, the island's capital, in order to walk around the ramparts of the citadel and visit the cathedral.
Valletta: Although we visited Valletta on day 3, it is impossible to explore this World Heritage City in one day. On a return visit options available are the National Museum of Archaeology, where a fascinating collection of artefacts from Malta's prehistoric sites are housed; the War Museum, which tells the story of the siege of Malta during the Second World War; Manoel Theatre (a beautiful old theatre), and an inhabited 16th century patrician town house.
Mdina & Rabat: Mdina is an important UNESCO Heritage Site. It is the oldest city on the island and derives its name from the Arabic word 'medina' meaning walled city. Mdina is lamp-lit by night and often referred to as the 'silent city'. The cathedral and cathedral museum are fascinating places with their rich cultural and religious treasures. The impressive palaces are still home to some of Malta's aristocratic families.
Rabat is home to the famous catacombs of St Paul and St Agatha and the impressive St Paul's Church, which stands above a grotto where St Paul is said to have taken refuge after his shipwreck on Malta.
---
These walks link two traditional Maltese fishing villages on the South Eastern corner of the island.
Option 1 - Marsaxlokk to Marsascala
Distance: 6 miles (9½km)
Total ascent: 400 feet (120m)
In summary: Beginning in the pretty fishing village of Marsaxlokk, we cross the Delimara peninsula, we can observe wind and wave rock sculptures. We then head north, after lunch, finishing our walk in Marsascala.
Highlight: The two historic villages of Marsaxlokk and Marsascala.
Option 2 - Pretty Bay to Marsascala
Distance: 9 miles (14½km)
Total ascent: 400 feet (120)
In summary: Starting in the aptly named Pretty Bay, our route follows the coastline to Marsaxlokk. We will then follow the route of the easier group to Marsascala.
Highlight: Pretty Bay is well worth the visit.
---
From the ancient city of Mdina – the original capital of Malta – we descend into the fertile Qleigha Valley and a series of manmade reservoirs called the Chadwick Lakes. There is time to view the wayside chapel and the honeycomb of ancient tombs beneath the Victorian Line fortifications along the escarpment ridge. After the Bingemma Gap we make our way mainly by coastal paths to Golden Bay where there will be time for a swim.
Option 1 - Mdina to Golden Bay
Distance: 6 miles (9½km) 
Total ascent: 400 feet (120m)
Total descent: 800 feet (240m)
In summary: We spend some time in the morning exploring the ancient city of Mdina, setting off on our walk from its walls. We ascend the Mtarfa Ridge, passing the old British Naval Hospital and into the Qleigha valley. We head for Lippija Tower and then take the coastal path to Golden Bay.
Highlight: The historic city of Mdina is worth exploring.
Option 2 - Mdina and the Two Towers
Distance: 8 miles (13km)
Total ascent: 900 feet (270m)
In summary: We too start from the city walls of Mdina, walking the same route for a short time. We then head inland to the Nadur Tower and on to Bingemma Fort via the Victoria Lines. Regaining the coastline, we'll ascend a steep section of path to the Lippija Tower and then on to Golden Bay.
Highlgiht: Golden bay, a beautiful sandy beach, perfect for a swim at the end of the walk.
---
You will be given a direct transfer from the the Solana Hotel to the ferry port for your crossing to Gozo where you will be taken to the Grand Hotel.
Welcome to the Grand Hotel. Unpack and settle in.
---
Today we explore the coastal area along the south coast of Gozo. Here you'll find precipitous cliffs and deep-cut fjords, rocky headlands and little urbanisation. 
Option 1 - Along the coast to Xlendi
Distance: 5 miles (8km) 
Ascent: 600 feet (180m)
In summary: Following the coast path, we take in dramatic views of the cliffs. We continue along the coastline passing Xlendi Tower, the oldest freestanding watchtower on Gozo.
Highlight: Beautiful fossil embedded limestone formations and Xlendi Tower perched magnificently on a cliff top.
Option 2 - The Southern Coast to Xlendi
Distance: 8 miles (13km)
Total ascent: 1,000 feet (300m) 
In summary: We walk from our hotel and cross scenic countryside towards the inlet of Mgarr-ix-Xini. We then walk along the coastal path through one of Gozo's most remote areas taking in spectacular clifftop views.
Highlight: Mgarr-ix-Xini is the perfect location for a picturesque coffee stop.
---
The Church of Pilgrimage at Ta Pinu starts the day. From here the north coast offers some spectacular cliff scenery. Heading eastwards there are some beautiful 'wind sculptures' to admire as well as quaint fishermen's storerooms, formed in the softer rock of the higher cliffs, on our way to Marsalforn or Victoria.
Option 1 - Ta Pinu, Scultped cliffs & Marsalforn
Distance: 6 miles (10km)
Ascent: 150 feet (40m)
Descent: 450 feet (140m)
In summary: Our day begins at the sanctuary church of Ta Pinu with time to explore. We'll then head to the coast via the village of Ghasri. On reaching the coast we'll see the beautiful inlet of Ghar il Qamh, fascinating saltpans and weather-sculpted cliffs. We finish at Marsalforn with refreshments.
Highlight: Don't miss the fishermen's sheds cut into the cliff face. 
Option 2 - Marsalforn via Hekka Point
Distance: 7½ miles (12.5km)
Ascent: 300 feet (90m)
Descent: 600 feet (190m) 
In summary: We too start with a visit to Ta Pinu, but then begin walking uphill to Ta Ghammer with its stations of the cross. We then head for Hekka Point via the village of Gharb. We'll then follow the other party to Marsalforn via the saltpans and cliffs.
Highlight: The village of Gharb has a spectacular basilica built between the 17th and 18th centuries.
---
Both walks follow quiet countryside roads to Marsalforn and the scenic northern coastline taking in Ramla Beach, the longest sandy beach on Gozo and the spectacular viewpoint from Tal-Mixta Cave.    
Option 1 - Ta'Pinu to Ramla
Distance : 6.5 miles (10.5km)
Ascent: 650 feet (200m)
Descent: 750 feet (220m)
In summary: Our walk starts from Ta Pinu Church, we then head for the coast at Marsalforn. We follow the spectacular rugged northern coastline to Ramla beach, the longest sandy beach on Gozo.
Highlight: The sanctuary church of Ta Pinu is well worth a visit. 
Option 2 - Ta Pinu to San Blas
Distance: 9 miles (14.5km)
Ascent: 1,000 feet (300m)
In summary: We begin walking towards the coast at Marsalforn, from here we follow the rugged northern coastline past Ramla Bay and the iconic viewpoint at Tal-Mixta cave. We then continue past San Blas beach and the beautiful San Blas gardens to finish at Nadur Observatory.
Highlight: Stunning views from Tal-Mixta cave, high up on the headland above Ramla.
---
Today there are no organised walks, allowing you time to explore the local area or relax in the Hotel or at the beach.
Ta'Mena Estate
The Ta"Mena estate, which the Spiteri family owns, is situated in the picturesque Marsalforn Valley between Victoria and Marsalforn Bay. The estate includes a fruit garden, an olive grove with about 1500 olive trees, an orange grove, and over ten hectares of vineyards. It enjoys the panoramic views of the Gozo Citadel and the surrounding hills and villages. They cultivate vines, olives, lemons, oranges, various fruit trees, strawberries, tomatoes, melons, watermelons and other vegetables. They produce their own wine. There is also an opportunity to buy.  HF Holidays groups have visited in previous years and thoroughly enjoyed it. 
Malta Trip 
Gozo Ferry There is an excellent scheduled ferry service between Gozo and Malta and the crossing takes approximately 25 minutes. The ferry leaves Gozo at Mgarr and arrives on Malta at called Cirkewwa). Ferry timetable is available from www.gozochannel.com 
---
A combination of man's burrowing and gigantic sea erosion has shaped the landscape of today's walks. On the Harder Walk, we'll descend by cliff paths to Xlendi before a spectacular ascent of the cliffs to the west leads to Dwerja Point. Both walks visit Dwerja Point where once stood the dramatic sea-arch known as the Azure Window. Sadly, due to a combination of sea erosion and high winds, the Azure Window collapsed in March 2017. If time and weather permit, a boat trip can be taken from the Inland Sea through a tunnel in the rock out to view the nearby cliffs and Fungus Rock. Both walks continue on into Victoria, the island's capital, for well-earned refreshments
Option 1 - Fungus Rock & the Inland Sea
Distance: 6 miles (9½km)
Ascent: 550 feet (180m)
Descent: 700 feet (220m)
In summary: The day starts with a gradual descent to see Fungus Rock - prominently guarding the entrance to Dwerjra Bay and onto Dwerjra Point where we can see the site of the collapsed Azure Window sea arch. We then circle the Inland Sea before heading for some sightseeing in Victoria.
Highlight: There's opportunity to take a boat ride through the caves into the open sea.
Option 2 - Xlendi Cliffs & Dwejra Bay
Distance: 9 miles (14½km)
Total ascent: 1,200 feet (380m) 
In summary: Our walk starts at the village of Munxar and follows a dramatic coast path to the resort of Xlendi. After a spectacular ascent to the cliff tops we'll walk on to Wardija Point and then follow the route of the other party all the way to Victoria. 
Highlight: Take a look inside the 17th Century Dwerjra Tower - one of only four surviving coastal watchtowers on Gozo.
---
Today's walks offer extensive views over the straits to Comino and Malta. Our groups traverse a delightful flat rock shore and then enjoy charming coves, verdant gardens and wonderful wild flowers. Both walks visit the beautiful Dahlet Qorrot beach with the opportunity for a dip. Continuing, both groups make their way through the outskirts of Nadur, arriving at one of the most stunning viewpoints on Gozo.
Option 1 - Qala, Dahlet Qorrot and Nadur
Distance: 7 miles (11km)
Total ascent: 800 feet (240m) 
In summary: We start our day at Qala for great views of the strait to Comino and Malta. We then walk through open countryside to the small harbour of Dahlet Qorrot, before taking lunch at the lovely San Blas Gardens. We finish by walking through a fertile valley to Nadur, and back to our hotel.
Highlight: We'll look out for beautiful wildflowers and verdant gardens as well as glorious coastal views. 
Option 2 - Strait, Strands and Coves
Distance: 9 miles (16km) 
Total ascent: 1,000 feet (420m) 
In summary: We walk in the remote north-east corner of the island, walking the coastline for fantastic views of Comino and Malta. We'll visit St Anthony's gun battery, then Dahlet Qorrot Beach, before picking up the route back to the hotel via Nadur.
Highlight: Dahlet Qorrot is a beautiful little secluded bay. The bay is perfect for a rest stop or maybe a mid-walk swim.
---
We hope to see you again soon.
---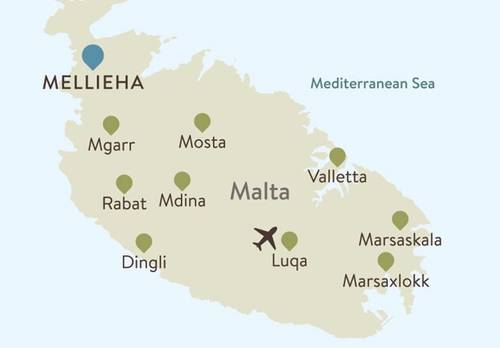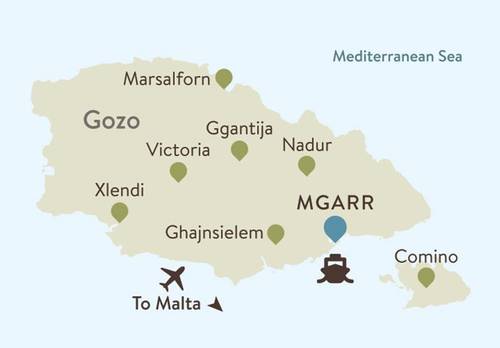 Pergola Hotel - Malta
Perched on Malta's north coast, the 4-star Pergola Hotel puts all the charms of a traditional Mediterranean village on your doorstep. You'll be in strolling distance from a handful of low-key cafés, shops, and restaurants, plus the Blue Flag-winning sands of Mellieha Bay.   Back at base, you'll find comfortable well-appointed rooms, two stylish restaurants, and a pair of outdoor pools, one with views over the beautiful parish church and the coast. There's also a spa offering a range of treatments, an indoor pool for year-round swimming, and a bar carved into a natural cave – ideal for cooling off with a drink.
Grand Hotel - Gozo
The charming 4-star Grand Hotel with its comfortable accommodation, and friendly efficient service, occupies a commanding location overlooking Mgarr harbour and has views across the straits to Comino and Malta.  Winner of three HF Hotel Awards in 2018 based on outstanding guest feedback. The hotel features indoor and outdoor swimming pools, a well equipped bar and two restaurants. 
Essential information
Passport requirements
On the day you travel, you'll need your passport to both:
have at least 3 months left
be less than 10 years old (even if it has 6 months or more left)
Use the government website to see if your passport is valid for this holiday
EHIC cards
The UK government has officially launched the Global Health Insurance Card (GHIC), which will replace the European Health Insurance Card (EHIC). UK residents can now apply for one of the GHIC cards, which will gradually replace the EHIC cards as they reach their expiry dates. Every family member travelling requires a GHIC. You can make an application for yourself and on behalf of your partner and any dependent children under the age of 16. Both cards will offer equivalent protection for emergency and medically necessary healthcare needs when in the EU on a temporary stay, which includes holiday, study and business travel. Necessary healthcare includes things like
emergency treatment and visits to A&E
treatment for long-term or pre-existing medical conditions
routine medical care for pre-existing conditions that need monitoring
oxygen and kidney dialysis
The public only need to apply for their free GHIC cards when their current EHIC expires. The process is likely to take two weeks. For more information visit https://www.nhs.uk/using-the-nhs/healthcare-abroad/apply-for-a-free-uk-global-health-insurance-card-ghic/.
The GHIC is not an alternative to travel insurance. We advise all holidaymakers to also invest in travel insurance that covers healthcare, so they are covered for other issues that may arise, as well as cancellations and lost luggage.
Essentials
To enjoy walking/hiking comfortably and safely, footwear, clothing and equipment needs to be suitable for the conditions. Safety and comfort are our priorities, so our advice is to come prepared for all eventualities.
Footwear with a good grip on the sole (e.g.Vibram sole) is the key to avoiding accidents.
Walking/hiking boots providing ankle support and good grip are recommended (ideally worn in), and specialist walking socks to avoid blisters.
Several layers of clothing, which can be added or removed, are better than a single layer (include spares).
Fabrics (lightweight and fast drying) designed for the outdoors are recommended.
Waterproof jacket and waterproof over trousers.
Warm hat and gloves. 
Denim jeans and capes are not suitable on any walks.
Rucksack with a waterproof liner.
Thermos flask for hot drink.
Water bottle (at least 2 litre).
Spare high-energy food such as a chocolate bar.
Small torch.
First aid kit – your leader's first aid kit doesn't contain any medication or blister kits (such as Compeed).
Sun hat and sunglasses
Sun cream.
Optional extras
Walking poles are useful, particularly for descents.
Insect repellent.
Camera.
Gaiters.
All holidays are subject to availability. Supplements may apply.

Non-member fee: £30 per person.
All packages that include flights are ATOL protected. Advertised prices listed below show the lowest economy flight price option for that departure. On holidays where we offer local UK airports, details will appear in the "Important Information" section below and available alternative flight options will be offered when you book. Seating upgrades may be available on request and at an additional charge, please call 020 3974 8865 for a quote.


Date (Start - End)
Itinerary
Double / Twin Room
Single Room
Notes / Offers
Trip Notes
Book
2024

08 Feb - 22 Feb 2024

14 nights

Itinerary Flight from London Heathrow Airport

Single Call to Enquire

Double Call to Enquire

Call to Enquire
Call to Enquire

Trip Notes

08 Feb - 22 Feb 2024

14 nights

Itinerary Flight from London Heathrow Airport

Single Call to Enquire

Double Call to Enquire

Call to Enquire
Call to Enquire

Trip Notes

22 Feb - 07 Mar 2024

14 nights

Itinerary Flight from London Heathrow Airport

Single Call to Enquire

Double Call to Enquire

Call to Enquire
Call to Enquire

Trip Notes

22 Feb - 07 Mar 2024

14 nights

Itinerary Flight from London Heathrow Airport

Single Call to Enquire

Double Call to Enquire

Call to Enquire
Call to Enquire

Trip Notes

07 Mar - 21 Mar 2024

14 nights

Itinerary Flight from London Heathrow Airport

Single Call to Enquire

Double Call to Enquire

Call to Enquire
Call to Enquire

Trip Notes

21 Mar - 04 Apr 2024

14 nights

Itinerary Flight from London Heathrow Airport

Single Call to Enquire

Double Call to Enquire

Call to Enquire
Call to Enquire

Trip Notes
Date (Start - End)
Itinerary
Double / Twin Room
Single Room
Notes / Offers
Trip Notes
Book
2024

08 Feb - 22 Feb 2024

14 nights

Itinerary

Single Call to Enquire

Double Call to Enquire

Call to Enquire
Call to Enquire

Trip Notes

08 Feb - 22 Feb 2024

14 nights

Itinerary

Single Call to Enquire

Double Call to Enquire

Call to Enquire
Call to Enquire

Trip Notes

22 Feb - 07 Mar 2024

14 nights

Itinerary

Single Call to Enquire

Double Call to Enquire

Call to Enquire
Call to Enquire

Trip Notes

22 Feb - 07 Mar 2024

14 nights

Itinerary

Single Call to Enquire

Double Call to Enquire

Call to Enquire
Call to Enquire

Trip Notes

07 Mar - 21 Mar 2024

14 nights

Itinerary

Single Call to Enquire

Double Call to Enquire

Call to Enquire
Call to Enquire

Trip Notes

07 Mar - 21 Mar 2024

14 nights

Itinerary

Single Call to Enquire

Double Call to Enquire

Call to Enquire
Call to Enquire

Trip Notes

21 Mar - 04 Apr 2024

14 nights

Itinerary

Single Call to Enquire

Double Call to Enquire

Call to Enquire
Call to Enquire

Trip Notes

21 Mar - 04 Apr 2024

14 nights

Itinerary

Single Call to Enquire

Double Call to Enquire

Call to Enquire
Call to Enquire

Trip Notes
Important information
With flights holidays: Price includes return flights to Malta Airport, hold baggage and airport transfers
A direct transfer between resorts is included
Malta
Double room for sole occupancy: £22 per night
Independent travellers can join our transfer from Malta Airport: £30pp one way
Gozo
Double room for sole occupancy: £19 per night
Independent travellers can join our transfer to Malta airport: £28.50pp one way