Two fantastic holiday destinations in one holiday! Explore Tenerife: The Atlantic island of Tenerife contains a wealth of different landscapes that can be visited on your Guided Walking holiday. Volcanic activity is the major force that has created the landscape with comparatively recent volcanic activity to be seen amongst the black sands of Las Arenas Negras. Explore Gran Canaria: Enjoy Gran Canaria's world-class walking, varied scenery and 'eternal spring' weather as we uncover the island's beautiful central mountains and rugged coastline. Our new base in Agaete is away from the hustle and bustle of the larger resorts, and offers great access to trails in the north, tucked away barrancos, as well as the dramatic landscapes of Tejeda and the dramatic rock formations of Roque Nublo.
Holiday Highlights
Tenerife 
New improved walking programme explores lush forests, beautiful coastlines, exotic flora and fascinating volcanic scenery
Enjoy our 4-star hotel, located in the heart of the UNESCO World Heritage town of La Laguna
Discover the unspoilt Anaga Peninsula
Remarkable volcanic landscape dominated by El Teide
Gran Canaria
Wonderful walking climate – an ideal winter escape
Superb walking through world-class scenery and stunning rock formations
Visit Europe's only coffee plantation at San Pedro
Relax at our comfortable seafront hotel in Agaete and explore this traditional Canarian town
What's included
A full programme of guided walks with 2 options every walking day
All transport to and from the walks
The services of experienced HF Holidays' leaders
"With flight" holidays include return flights from the UK and hotel transfers
14 nights' accommodation in en-suite rooms
Transport between the two destinations
Half Board - continental breakfast and evening meal
Welcome to Hotel Laguna Nivaria. Unpack and settle in.
---
Today we travel East to the Anaga Peninsula where we begin our day at the Visitor Centre at Cruz del Carmen.
Option 1 - Cruz del Carmen Mirador
Distance: 6 miles (9½km)
Total ascent: 600 feet (180m)
Total descent: 1,600 feet (480m) 
In summary: We start our day at the Cruz del Carmen Visitor Centre. We then descend through laurel forests and farmland, catching spectacular views of barrancos before continuing on to Los Carboneras for a refreshing drink.
Highlight: The short walk out to the Mirador de Aguide is rewarded with stunning vistas of the rugged coastline.
Option 2 - Taborno
Distance: 7 miles (11km)
Total ascent: 900 feet (270m)
Total descent: 1,800 feet (540m)
In summary: The first part of the day covers the same ground as the easier group. On reaching Los Carboneras we continue towards the village of Taborno through the Barranco de Taborno on old pathways. 
Highlight: The Matterhorn-esque Roque de Taborno dominates the landscape towards the end of our walk.
---
Today we head west to the small hamlet of Montaneta. These walks explore an area of comparatively recent volcanic activity and we will be accompanied by local guides who will inform us about the volcanic history. The last major eruption here was in 1706. This intriguing landscape is accentuated by the backdrop of black ash which sparkles in the bright sunlight and gives the area its name.
Option 1 - Erjos to San Jose de los Llanos
Distance: 5 miles (8km) 
Total ascent: 1,200 feet (360m)
In summary: Today our walks starts at a lovely rural museum, where we can learn about the traditional way of life in this area. From here we ascend gently with interest from a local guide through the pine forest to the Las Arenas Negras. The black ash here provides an insight into the island's volcanic nature, with views to El Teide on a good day. We then descend to meet our transport in San Jose de Los Llanos.
Highlight: The museum at the beginning of the walk, with interesting information about the history of agriculture and old way of life on the island.
Option 2 - Through the Lava from Erjos
Distance: 8 miles (13km)
Total ascent: 1,300 feet (390m)
In summary: This walk explores the landscape of Las Arenas Negras in more depth; with the areas fascinating past brought to life by a local guide. We have time for lunch among the black ash, with gorgeous views to El Teide on a good day, before descending to our walk's end in San Jose de Los Llanos.
Highlight: The alien landscape of Las Arenas Negras is unmissable - the black ash glitters in bright sunshine.
---
Both groups head into the relatively undiscovered Anaga region of Tenerife to the North East of La Laguna.
Option 1 - Roque Bermejo
Distance: 5 miles (8km)
Total ascent: 1,400 feet (420m)
In summary: This walk starts  in Chamorga, winding its way towards the coast, glimpsing the sea at every turn. Descending, we reach two quiet little coves at Roque Bermejo. Our return route retraces its  steps to Chamorga.
Highlight: The coves we visit are sheltered and perfect for a swim.
Option 2 - Chamorga Loop
Distance: 6 miles (9½km)
Total ascent: 2,000 feet (600m)
In summary: We too start from Chamorga, exploring upland areas of Anaga. Our walk undulates along and over ridges with great views of the Atlantic, the Roque de Dentro and the Punta Anaga lighthouse. We then descend to Roque Bermejo before heading back to Chamorga.
Highlight: Spectacular views of dramatic ridges sweeping into the sea.
---
Each week there is a free day when no guided walks are offered. Options for your free day may include:
La Laguna: Explore this colonial town and visit the historic mansions, open to the public. Or simply relax in the hotel and talk advantage of their spa facilities.
Santa Cruz: Visit Santa Cruz, the capital of the island. A short tram ride away from La Laguna, this port has a plethora of museums and activities to enjoy.
---
Today, we head to Teide National Park, with Teide, an active volcano and Spain's highest mountain dominating the lunar landscape.
Option 1 - Through the Lunar Landscape
Distance: 6 miles (9½km)
Total ascent: 300 feet (90m)
Total descent: 900 feet (270m)
In summary: We cross the crater through an amazing array of rocks and lava, a truly unforgettable experience. Passing the Sanatorio which was originally built inside the Teide crater in the 19th century because doctors believed that the climate of Teide was good for respiratory illnesses. Our route continues to the Parador and visitors centre. In the afternoon we visit the Roques de Garcia.
Highlight: Look out for the rock formations of the Roque de Garcia, which include the 'Roque Cinchado' (or 'finger of God') the 'White Tower', and the 'Cathedral'.
Option 2 - Montana Guajara
Distance: 9 miles (14½km)
Total ascent: 2,000 feet (600m)
In summary: Starting at the Parador hotel, we'll head for the highest point on the crater rim, Montana Guajara. Our ascent will wind its way around the flanks of the mountain, reaching the broad summit plateau with plenty of time to take a breather and revel in the views.
Highlight: The views from the summit are breathtaking; Teide and Las Cañadas dominate the panorama. 
---
Our final day takes us back onto the Anaga peninsula. With it's unspoilt views and coastline, and its traditional villages, this is a beautiful highlight to end the week with.
Option 1 - Taganana to Tamadiste beach
Distance: 6 miles (9½km)
Total ascent: 1,100 feet (330m)
In summary: We start the day in the village of Taganana, a beautiful village framed by steep mountains. We walk up through the village streets, and out into the surrounding vineyards of El Chorro. Our destination is the beach at Tamadiste, a secluded spot perfect for a quiet lunch break. We return to Taganana by the same route.
Highlight: Enjoy your lunch on the remote and peaceful Tamadiste beach.
Option 2 - The Afur circuit
Distance: 7 miles (11km)
Total ascent: 2,600 feet (780m)
In summary: The first part of the day follows the route of the easier party out of Taganana, through the El Chorro vineyards and on to Tamadiste beach. From here we follow the Barranco de Afur, heading inland to Afur. From there we climb to the pass of La Cumbrecilla, before descending back to Taganana.
Highlight: The panoramic views from La Cumbrecilla are excellent; and an opportunity to spot lots of places we've visited on our holiday on Tenerife.
---
You will be transferred to Tenerife North Airport for your inter island flight to Gran Canaria. You will be met at Las Palmas airport and taken to the Hotel and Spa Cordial Roca Negra.
Unpack and settle in.
---
From Agaete: Explore the rugged and dramatic coastline around our base of Agaete's. Familiarise yourself with this beautiful area and the nearby Tamadaba National Park
---
Enjoy the viewpoint over the Canarian pines at Pinos de Galdar before continuing to El Saucillo.
---
The Tamadaba National Park: Visit the Tamadaba National Park and explore on wooded trails and with spectacular mountainous and coastal views
---
Take a ferry to Santa Cruz, the capital of neighbouring Tenerife
---
Visit province of La Aldea to the west of Gran Canaria. With volcanic outcrops tumbling into the sea, pretty harbours and black sand beaches. Climb Montaña del Viso, cloaked in pine trees.
---
Walk on the rim of Caldera de Tejeda from the village of Tejeda. Take in the impressive volcanic scenery and discover the striking rocky outcrop of Roque Nublo.
---
We hope to see you again soon.
---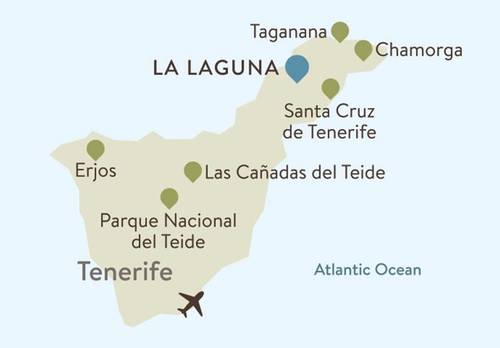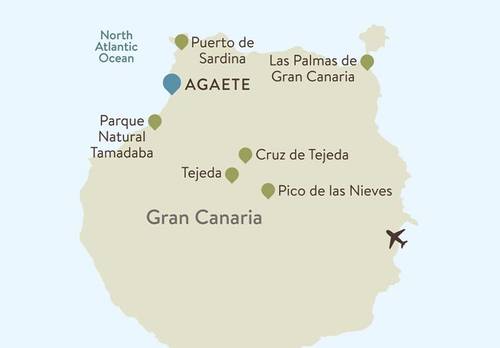 Hotel Laguna Nivaria - Tenerife
Our holiday on Tenerife is based in one of the main squares of the UNESCO World Heritage town of La Laguna.  This was once the main capital of the Canary Islands and has many cobbled streets, historic merchant buildings with beautiful courtyards, churches and convents.  The 4-star Hotel Laguna Nivaria is a central meeting place for the locals and is a historical 16th Century building furnished with traditional furniture but with contemporary comfort.  The hotel owns an organic farm with sustainable ethics which provides produce for the restaurant. 
Hotel & Spa Cordial Roca Negra, Gran Canaria
Enjoying a seafront location in a quiet residential part of Agaete, the recently renovated Cordial Roca Negra offers 87 large and bright en-suite rooms, a large freeform swimming pool and a wellness centre. This hotel combines a wonderful location from which to access Gran Canaria's superb walking as well as a comfortable stay, including a contemporary restaurant and outdoor seating which enjoy sea views.
What to Bring
Essential Equipment
To enjoy walking/hiking comfortably and safely, footwear, clothing and equipment needs to be suitable for the conditions. Safety and comfort are our priorities, so our advice is to come prepared for all eventualities.
Footwear with a good grip on the sole (e.g.Vibram sole) is the key to avoiding accidents.
Walking/hiking boots providing ankle support and good grip are recommended (ideally worn in), and specialist walking socks to avoid blisters.
Several layers of clothing, which can be added or removed, are better than a single layer (include spares).
Fabrics (lightweight and fast drying) designed for the outdoors are recommended.
Waterproof jacket and waterproof over trousers.
Warm hat and gloves. Gaiters are an optional but useful extra.
Denim jeans and capes are not suitable on any walks.
Rucksack with a waterproof liner.
Thermos flask for hot drink.
Water bottle (at least 2 litre).
Spare high-energy food such as a chocolate bar.
Small torch.
First aid kit – your leader's first aid kit doesn't contain any medication or blister kits (such as Compeed).
Sun hat and sunglasses
Sun cream.
Optional Equipment
Walking poles are useful, particularly for descents.
Insect repellent.
Sunglasses.
Camera.
All holidays are subject to availability and prices are subject to change.
Non-member associate fee: £10 per person.
Holiday Prices
Date (Start - End)
Version
Price
Status
Trip Notes
Book
2020
04 Jan - 18 Jan
2020 Itinerary

£2,199

Available
Book Now
11 Jan - 25 Jan
2020 Itinerary

£2,199

Available
Book Now
25 Jan - 08 Feb
2020 Itinerary

£2,199

Available
Book Now
01 Feb - 15 Feb
2020 Itinerary

£2,199

Available
Book Now
15 Feb - 29 Feb
2020 Itinerary

£2,199

Available
Book Now
22 Feb - 07 Mar
2020 Itinerary

£2,199

Available
Book Now
29 Feb - 14 Mar
2020 Itinerary

£2,199

Available
Book Now
07 Mar - 21 Mar
2020 Itinerary

£2,199

Available
Book Now
Important Information
With flight holidays include flights from Gatwick. Flight supplement from Manchester and Birmingham: £60
Tenerife
Double room for sole occupancy: £35 per night
Independent travellers can join our transfer from Tenerife South Airport: £23.50 single
Our airport taxi service operates at this resort: £85 per single taxi journey from Tenerife South airport, £53.50 per single taxi journey from Tenerife North airport
Transfers between hotels are included including an inter island flight
Gran Canaria
Double room for single occupancy: £21
Sea view: £28 per room per night
Independent travellers can join our transfero to Las Palmas Airport: £40 single