Enjoy two contrasting parts of Italy in one holiday! You'll start in Tuscany to enjoy the classic scenery of red terracotta tiled roofs, green and gold rolling hills and sentinel-like cypress trees. There are hot springs to enjoy and a full guided sightseeing day in Siena with its magnificent Duomo and winding streets full of magnificent medieval brick buildings. Walks through the rural landscape lead up to sleepy, historic hilltop towns and villages including Pienza, Montepulciano and Montalcino which are a delight to explore. Moving on to the Cinque Terre coast, you'll enjoy walks along the spectacular coastal path to reach all five of the area's famous villages. They each have a jumble of colourful houses clinging to steep cliffs and feature a maze of narrow, winding streets. At the tip of a peninsula, lies Portovenere from where you'll take a boat trip to view the spectacular coast from a different perspective. You'll also follow paths to secluded hamlets, vineyards and olive groves in the hills above the villages. Two weeks of great walking in beautiful surroundings.
Holiday Highlights
Tuscany 
Gentle countryside walks through classic Tuscan countryside crowned with historic towns
The beautiful Renaissance city of Siena makes a fascinating sightseeing day
Ridge walk to get a beautiful view of Rocca
Sample the natural hot springs at Bagno Vignone
Finish your walk with a coffee or ice cream in the enchanting hilltop villages
Cinque Terre
Visit the five enchanting villages of the Cinque Terre, each with their own unique character
Stop for the quintessential Italian gelato.
Head away from the coast to peaceful countryside, covered in vineyards and olive groves
Enjoy a boat trip to view the spectacular coastline from the sea
Stay in the charming resort of Bonassola linked to Cinque Terre by coastal train
What's included
A full programme of guided walks with 2 options every walking day
All transport to and from the walks
The services of experienced HF Holidays' leaders
"With flight" holidays include return flights from the UK and hotel transfers
14 nights accommodation in en-suite rooms
Transport between the two destinations
Half Board - continental breakfast and evening meal
Trip Notes
Trip notes are detailed, downloadable PDF's for each holiday, please click the button below to find the right trip notes for your departure date.
On our Guided Walking holidays, we believe that choice is key. Our walks descriptions will help you choose according to your interests and fitness. The walks are grouped together with care by local experts to give the best experience. While every effort will be made to adhere to the described itinerary, we may occasionally vary the sequence shown here or substitute an alternative route to suit local conditions or for other operational reasons, potentially at short notice.
Welcome to Hotel Albergo Palazzuolo. Unpack and settle in.
---
The hot springs at Bagno Vignoni have been known since Etruscan times. Santa Caterina of Siena and Lorenzo the Magnificent were amongst those to have taken advantage of the therapeutic values of the waters. The Medici family built the splendid arcaded pool which sits in the middle of the village where you would expect to find the main square.
Option 1 - A New Route to The Spa
Distance: 4 miles (6½km)
Total ascent: 400 feet (120m)
In summary: We start our week with an exploration of San Quirico, a fascinating town in its own right with some spectacular views from the town walls. We then head south out of town through beautiful countryside to Vignoni Alta with its truncated tower. Our route continues descending towards Bagno Vignoni accompanied by great views to Rocca d'Orcia.
Highlight: Explore Bagno Vignone with its hot springs and interesting history.
Option 2 - A Castle and a Spa
Distance: 6 miles (9½km)
Total ascent: 700 feet (210m)
In summary: After exploring San Quirico with the easier group, we too head south, taking a loop out to the west via Forn del Chigi and Poggio Grande. We then head east past the ruins of the old bridge, swept away in 1929, and up the side of the calcite cliffs, past bathing pools, to arrive in Bagno Vignoni to join the easier group.
Highlight: Views to Monte Amiata, which forms the southern backdrop to the Val d'Orcia.
---
Montalcino is a Tuscan hill town with a full circuit of walls. It was permanently settled in 1,000AD by fugitives from the Saracens and their family groups, the Borghetto, Pianello, Ruga and Travaglio. To this day you will see rival flags outside the houses and they compete against each other in an archery competition. The final destination of both walks is the Abbey of San Antimo with time to explore before enjoying refreshments in the village of Castelnuovo dell Abate.
Option 1 - From the Castle to the Abbey
Distance: 6 miles (9½km)
Total ascent: 600 feet (180m)
In summary: Our walk starts with a bus ride to Montalcino where we can explore the town and enjoy a drink before re-joining the coach to take us to the start of our walk a couple of miles south. Our route takes us through forests, vineyards and farmlands as we make our way to our objective of the day, the Abbey of San Antimo. Our coach then picks us up at the edge of Castelnuovo dell Abate.
Highlight: Visit the attractive town of Montalcino.
Option 2 - Montalicino to San Antimo
Distance: 8 miles (13km)
Total ascent: 700 feet (210m)
In summary: The harder walk begins at Montalcino where, after a chance to look around, we head off towards the Abbey of San Antimo through undulating countryside, woodland and farmland.
Highlight: Villa a Tolli, an ancient hamlet of Etruscan origin.
---
The city of Siena is a magnet for visitors to this region of Italy. At the heart of the walled city lies the Campo, where the famous 'Palio' horse race takes place. The surrounding central core is entirely medieval in plan and appearance. The 320 feet Torre del Mangia bell tower dominates the scene and you can ascend its many steps to get a bird's eye view over the city. The Museo Civico, in the Palazzo Publico, contains 13th century frescoes. In the Piazza del Duomo, the Museo dell Opera is worth a visit, housing elaborate frescoes and works by Simone Martini and an unusual work of art – the Maesta, a huge altar piece painted by Duccio in the 1270s. An additional bonus, if you go into the museum, is ascending the 'new nave', arguably a better viewpoint than the more famous Torre del Mangia. The Duomo itself is incredible both inside and out: the black and white marble decoration, the unique marble floor panels and sculptures are all breathtaking. While the Duomo will be crowded, a far quieter place to visit is the Ospedale di Santa Maria Della Scala, across the square, recently converted into a museum. The church itself is very airy and then inside the old hospital is a wonderful cycle of frescoes, which depict entirely secular scenes and are described in English. As well as visiting these principal sights there will also be opportunities to relax in the pavement cafés, or to wander through some of the city's quieter corners.
---
Pienza was once a small village named Corsignano, where Pope Pius II was born. When he became Pope in 1459 he commissioned the most famous architect of his day, Bernardo Rossellini, to create a city fit for a Pope on the site of his birthplace. Pius died within three years of the completion of the city, which was largely ignored by future Popes, leaving us with a beautifully preserved renaissance city not much bigger than a village.
Option 1 - Montichiello to Montepulciano
Distance: 6 miles (9½km)
Total ascent: 900 feet (270m)
In summary: After looking around the beautiful city of Pienza we reboard our coach for Monticchiello where our walk starts. We leave this beautiful walled hilltop town across rolling countryside past the pilgrimage church of San Biagio to Montepulciano for a well-earned drink.
Highlight: Monticchiello is a delightful walled village with a crooked watch tower and a 13th century parish church.
Option 2 - Pienza to Montepulciano
Distance: 10 miles (16km)
Total ascent: 1,600 feet (480m)
In summary: Our walk starts from Pienza. After a spot of sightseeing we head east out of town towards Monticchiello where we pick up the route of the easier walk to Montepulciano where we can join them for refreshments.
Highlight: Pienza is an historical town with Romanesque architecture.
---
Each week there is a free day when no guided walks are offered. This is an ideal opportunity to relax around the hotel, walk independently or visit local places of interest. If there is sufficient demand, leaders can organise a visit to San Gimignano.
San Gimignano: This is a fascinating hilltop town with a breathtaking skyline of towers. You can enter the town through the Porta San Giovanni and then head to the Piazza del Duomo. The Duomo has an exotic interior containing fresco cycles of the Old and New Testament stories. It is worthwhile visiting the Rocca and ramparts which offer extensive views across the countryside. The church of St. Augustine is well away from the crowds and has frescoes on the life of Saint Francis. On the return to San Quirico you could stop at the heavily fortified small town of Monteriggioni, once the border of the Florence and Siena republics.
Pienza: Pay a return visit to Pienza to visit the Piccolomini Palace, the Diocesan Museum and the medieval Pieve di Corsignano church where Pope Pius II was baptised.
Villa La Foce: Visit this villa and its gardens, made famous by Iris Origo's book War in the Val d'Orcia – An Italian Diary 1943-44.
---
Today we travel south to the castle keep of Tentennano, known locally as Rocca d'Orcia. The harder walk is circular, starting and finishing at the Rocca and taking in three castles. The easier walk takes in a beautiful stretch of the Via Francigena heading for the little village of Gallina which sits on the 43rd Parallel. Both groups walk through undulating farmland and woodland where wild game, such as deer and boar have been seen. At the end of both walks there will be the opportunity to climb the tower of the castle keep and/or take refreshments at the café nearby before we return to the hotel.
Option 1 - From the Rocca to the 43rd Parallel along the Via Francigena
Distance: 7 miles (11km)
Total ascent: 400 feet (120m)
In summary: Today's walk begins with a circuit of the beautiful village of Castiglione d'Orcia before walking through Rocca d'Orcia village and picking up the Via Francigena which we walk almost all the way to Gallina. After a short refreshment stop we will board the coach to return to our starting point and meet up with the harder walkers at Rocca d'Orcia.
Highlight: Castiglione d'Orcia is an ancient settlement first referenced in 714AD.
Option 2 - Rocca D'Orcia Circular – A Three Castles Walk
Distance: 9 miles (14½km)
Total ascent: 1,600 feet (480m)
In summary: The walk starts by wandering through the medieval streets of Rocca d'Orcia village. An old road, now just a track takes us down to the Orcia River with views of Ripa d'Orcia. We follow the river for a while before gaining height to join a ridge with stunning views of Monte Amiata to the south. The return allows us to explore the village of Castiglione d'Orcia and its castle – the Rocca Aldobrandesca. Finally we return to Rocca d'Orcia to join the easier party with time to explore the castle and/or take refreshments.
Highlight: Take in views of three medieval castles.
---
Transfers between hotels are via the airport.
Welcome to Hotel delle Rose. Unpack and settle in.
---
Introductory walks either explore the villages above Bonassola, or head along the coast to the neighbouring resorts of Levanto and Monterosso. Both walks take in narrow streets, mule tracks, and pathways through woodland, and have splendid views down the sweep of the coast below. We learn something of the history of Bonassola and the surrounding communities.
Option 1 - Above Bonassola: Headland of the Hare, Montaretto and San Giorgio
Distance: 5 miles (8km)
Total ascent: 1,400 feet (420m)
In summary: The goal for today's walk is the magnificently situated hillside village of Montaretto high above Bonassola. The morning will be spent gradually winding our way up there, via a spectacular headland and on through olive and vine terraces. There is the opportunity for lunch in a café before returning to the hotel via waterfalls, a church and Bonassola's castle.
Highlight: Enjoy the company of our local interest guide who will give us a great insight into the local flora, fauna and history of the area.
Option 2 - Over two saddles: Bonassola to Monterosso
Distance: 7 miles (11km)
Total ascent: 1,900 feet (570m)
In summary: We too walk from the hotel, but go up and over the headland to the south to reach the popular resort of Levanto. From here we continue out through the medieval quarter and up to a ridge for extensive views as we reach the open saddle between Levanto and Monterosso. We enjoy more great views as we follow a section of the Cinque Terre high level route over the next headland and steeply down into Monterosso and our train back to Bonassola.
Highlight: Views of the valley and hilltop villages.
---
Both groups start the day with a train journey and explore the Cinque Terre villages.
Option 1 - Cinque Terre Villages: Vernazza to Corniglia, Manarola & Riomaggiore
Distance: 6 miles (9½km)
Total ascent: 1,000 feet (300m)
In summary: After alighting the train at Vernazza we head off along the famous Cinque Terre Coastal Path to reach the charming village of Corniglia perched on its headland. Our route continues with a visit to Manarola and walk down to the harbour. Then onwards we go to Riomaggiore with its tempting cafés and train back.
Highlight: Soak up the atmosphere in Manarola, with its brightly coloured houses set above the rocky cove.  
Option 2 - Vineyards & Villages: (Riomaggiore to) Manarola, Volastra, Corniglia and Vernazza
Distance: 7.5 miles (12km)
Total ascent: 1,900 feet (580m) 
In summary: We take the train to Manarola. From here, we head up to a medieval village high on the hillside above. After absorbing the stunning views down to the sea from a path contouring through terraced vineyards, we drop down to Corniglia and take the train back to Manarola.
Highlight: Visiting peaceful Volastra, as well as 3 Cinque Terre villages.
---
Today we explore the area to the northwest of Bonassola, around the villages of Framura. Framura is actually not one place but a collection of settlements as we'll discover by winding our way up through them. On reaching a broad ridge above Framura there is an opportunity to have a simple meal with local wine on a farmhouse terrace. After lunch we head into some of the best preserved woodland in the area, contouring around Monte Serra on a delightful path. 
Option 1 - Framura Villages and Monte Serra Circuit
Distance: 6 miles (9½km)
Total ascent: 1,300 feet (390m)
In summary: We take the train to Framura which lies just beyond the headland to our north. We'll spend the morning walking up through the villages to a farm/restaurant where we can enjoy a locally produced lunch. We return on a broad track overlooking first the hills of the interior and then the sea before descending to the small harbour at Framura.
Highlight: Sampling the delightful home-cooked and locally sourced lunch at the Agriturismo including their own olive oil and wine.
Option 2 - Bonassola to Framura Villages and Monte Serra Circuit
Distance: 9 miles (14½km)
Total ascent: 2,100 feet (630m)
In summary: We start our walk from the hotel heading over the headland to Salto della Lepre (Leap of the Hare) with its breathtaking views along the coast, before passing through woodland and cultivated terraces to reach Framura. From here we follow the same route as the easier group, meeting up with them for lunch.
Highlight: Our local interest guides deep knowledge of wild herbs, flowers and fauna provides a fascinating insight into the local culture. 
---
Each week there is a day when no guided walks are offered. This is an ideal opportunity to relax around the hotel, walk independently or visit local places of interest. Some options for your free day include:
Cinque Terre villages: You may enjoy re-visiting some of the Cinque Terre villages that you have seen previously on the walks. Each village has its own railway station and the frequent trains mean that it is possible to visit all five villages in one day.
Genoa: The largest port in Italy, was designated European Capital of Culture in 2004. After a fairly lengthy train journey along the coast, you'll find a number of attractions including the cathedral, a magnificent street of palaces, opera house and museums, plus a regenerated dock area and a vast ornate cemetery with its very own bus network! Alternatively, you may just prefer to wander through the famous caruggi (narrow alleyways) in the old town.
Portofino: The chic resort of Portofino is approximately two thirds of the distance to Genoa. This is a picturesque town where you can admire the expensive yachts and Italy's rich and famous. You might also take a boat along the splendid coastline to Santa Margherita.
---
Today we travel south along the Cinque Terre and enjoy some spectacular walking with views over the naval port of La Spezia, the Gulf of the Poets, and, as we walk down to it, the village of Portovenere at the tip of the peninsula. From here, if sea conditions permit, we take a boat back along the coast seeing the Cinque Terre harbours from the sea.
Option 1 - Campiglia Ridge Walk to Portovenere
Distance: 6 miles (9½km)
Total ascent: 700 feet (210m)
Total descent: 2,200 feet (660m)
In summary: Today's walk begins with a chance to enjoy the views from the pretty village square of Campiglia before heading through woodland to a great picnic spot high on a ridge. Our route then winds gently along the peninsula for more fine vistas, followed by a long steep section of rugged path and steps leading down to Portovenere at the tip of the peninsula. From here if sea conditions permit, we take a boat back along the coast seeing the Cinque Terre villages.
Highlight: Relax on the afternoon boat trip to enjoy the stunning coastline with its colourful, tumbling villages from a different perspective. 
Option 2 - Riomaggiore Ridge and Coast Walk to Portovenere
Distance: 8 miles (13km)
Total ascent: 2,100 feet (630m)  
In summary: Our walk starts from Riomaggiore ascending to the 14th century Sanctuary of the Madonna of Montenero. From this popular viewpoint we ascend to the col known as Telegrafo and follow the ridge to the pretty square in Campiglia for a spot of lunch. We then take a spectacular coastal path high above the sea before descending steeply down the ridge to Portovenere to meet our boat.
Highlight: Dramatic views from the spectacular coastal path.
---
Vernazza is arguably the prettiest of the five Cinque Terre villages with its colourful houses winding down to its natural harbour, protected by a rocky headland. Today we walk from Vernazza to Monterosso. Both walks use the final section of the coast path which links the five villages of the Cinque Terre.
Option 1 - Monterosso to Vernazza Coastal Path
Distance: 4 miles (6½km)
Total ascent: 1,100 feet (330m)
In summary: From Monterosso old town we wind our way to many viewpoints and head along a section of the elevated coastal path. The path ascends through lemon groves and descends through woodland to Vernazza. Here there is plenty of time to explore before heading to the station for our train back to Bonassola.
Highlight: Enjoy the perfume as you descend through lemon groves into Monterosso old town, with views of the coast stretching as far as the eye can see. 
Option 2 - Vernazza to Monterosso Monastery Trail
Distance: 6 miles (9½km) 
Total ascent: 1,800 feet (540m) 
In summary: Our route winds its way up from Vernazza past a series of viewpoints to the Sanctuary of the Madonna di Reggio. After a chance to enjoy a rest in the shade of this tranquil spot we continue up the hillside to the Sanctuary of Soviore a great spot for a picnic lunch. From here a path descends to the old town of Monterosso.
Highlight: Popping in to visit the centuries old monastery and Madonna surrounded by ancient oak trees and olive groves. 
---
Depart after a leisurely breakfast.
---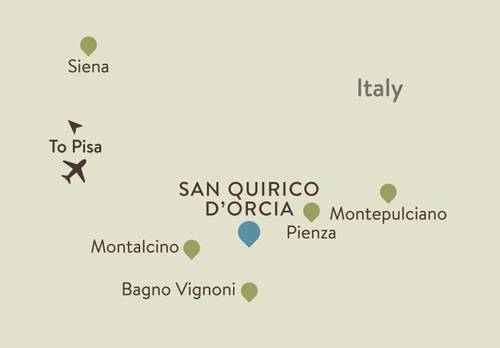 Hotel Albergo Palazzuolo - Tuscany
The 3-star Hotel Albergo Palazzuolo is set in a peaceful location in the countryside surrounding the village of San Quirico, and is very convenient for the local amenities. This family-owned hotel was originally an attractive farmhouse, extended on both sides to incorporate the bedrooms. The property has excellent views to the rolling hills of Montalcino and offers good standards of service and comfort with a relaxing atmosphere after your days out walking.
Hotel Delle Rose - Cinque Terre
The 3-star Hotel Delle Rose is a charming family-run hotel, owned and run by two brothers, Roberto and Enrico Bernardin. The hotel is located close to the seafront in Bonassola and within easy walking distance of all the local facilities. A handful of cafés and bars can all be found within a couple of minutes' walk from the hotel.  Offering a warm welcome and a personal and friendly service, the Hotel Delle Rose has been welcoming HF Holidays' guests for over 15 years. 
Essential Information
Passport Requirements
You may need to renew your British passport if you're travelling from 1 January 2021.
On the day you travel, you'll need your passport to both:
have at least 6 months left
be less than 10 years old (even if it has 6 months or more left)
Use the government website to see if your passport is valid for this holiday
EHIC cards
The UK government has officially launched the Global Health Insurance Card (GHIC), which will replace the European Health Insurance Card (EHIC). UK residents can now apply for one of the GHIC cards, which will gradually replace the EHIC cards as they reach their expiry dates. Every family member travelling requires a GHIC. You can make an application for yourself and on behalf of your partner and any dependent children under the age of 16. Both cards will offer equivalent protection for emergency and medically necessary healthcare needs when in the EU on a temporary stay, which includes holiday, study and business travel. Necessary healthcare includes things like
• emergency treatment and visits to A&E
• treatment for long-term or pre-existing medical conditions
• routine medical care for pre-existing conditions that need monitoring
• oxygen and kidney dialysis
The public only need to apply for their free GHIC cards when their current EHIC expires. The process is likely to take two weeks. For more information visit https://www.nhs.uk/using-the-nhs/healthcare-abroad/apply-for-a-free-uk-global-health-insurance-card-ghic/.
The GHIC is not an alternative to travel insurance. We advise all holidaymakers to also invest in travel insurance that covers healthcare, so they are covered for other issues that may arise, as well as cancellations and lost luggage.
Essential Equipment
To enjoy walking/hiking comfortably and safely, footwear, clothing and equipment needs to be suitable for the conditions. Safety and comfort are our priorities, so our advice is to come prepared for all eventualities.
Footwear with a good grip on the sole (e.g.Vibram sole) is the key to avoiding accidents.
Walking/hiking boots providing ankle support and good grip are recommended (ideally worn in), and specialist walking socks to avoid blisters.
Several layers of clothing, which can be added or removed, are better than a single layer (include spares).
Fabrics (lightweight and fast drying) designed for the outdoors are recommended.
Waterproof jacket and waterproof over trousers.
Warm hat and gloves. 
Denim jeans and capes are not suitable on any walks.
Rucksack with a waterproof liner.
Thermos flask for hot drink.
Water bottle (at least 2 litre).
Spare high-energy food such as a chocolate bar.
Small torch.
First aid kit – your leader's first aid kit doesn't contain any medication or blister kits (such as Compeed).
Sun hat and sunglasses
Sun cream.
Optional Equipment
Walking poles are useful, particularly for descents.
Insect repellent.
Camera.
Gaiters.
All holidays are subject to availability. Prices are subject to change.
Prices based on two people sharing. Supplements may apply.
Non-member fee: £30 per person.


These departure dates can be booked with flights or as land only holiday options. All packages that include flights are ATOL protected. Advertised flight prices are based on UK flights departing from London. Regional departures and/or connections to London, if available, can be requested. Cabin upgrades may also be available on request.
Date (Start - End)
Nights
Itinerary
Price
Status
Trip Notes
Book
2022

10 Sep - 24 Sep 2022

14
2022 Itinerary

£2,495

Unavailable to Book

Unavailable

Trip Notes

17 Sep - 01 Oct 2022

14
2022 Itinerary

£2,495

Trip Notes

Book Now
Date (Start - End)
Nights
Itinerary
Price
Status
Trip Notes
Book
2022

10 Sep - 24 Sep 2022

14
2022 Itinerary

£2,295

Unavailable to Book

Unavailable

Trip Notes

17 Sep - 01 Oct 2022

14
2022 Itinerary

£2,295

Trip Notes

Book Now
Important Information
2022
Tuscany
Double room for sole occupancy: £24 per night
With flight holidays include flights from Heathrow. Flight supplement from Manchester: From £60
Independent travellers can join our transfer from Pisa Airport: £35.50
Cinque Terre
Single room supplement: £22 per night 
Double room for sole occupancy: available by request only 
With flight holidays include flights from London Heathrow. Flight supplement from Manchester: From £60
Independent travellers can join our transfer from Pisa Airport: £75