Walk by day to explore the lush green landscapes, charming villages and ancient sites on and around Cyprus' wild and beautiful Akamas Peninsula then return to the hotel each evening to take part in friendly but competitive Bridge competitions with your fellow guests where EBU Master Points can be earned. Not far from our base in the town of Paphos (often spelt Pafos), there are many well-established trails to follow which afford great views of the scenic surroundings. Coastal walks reveal wonderful views of turquoise sea backed by tree-covered cliffs which give way to wide, sandy beaches which are used by both green and loggerhead turtles to lay their eggs during the summer months. A sightseeing day gives the opportunity to visit and learn about the interesting history of three of the island's ancient monasteries with the chance to taste some local wine too. On the free day, a visit to the UNESCO-listed Paphos Archaeological Park (Nea Paphos) which includes the impressive Tombs of the Kings is highly recommended.
Holiday Highlights
Discover the true identity of Aphrodite's isle from the wild Akamas Peninsula to the foothills of the magnificent Troodos mountains
Stay in Paphos, with its pretty harbour, great beaches and a host of archaeological gems
Bring the archaeological sites to life on the sightseeing day with our incredibly knowledgeable local guide
Knowledgeable walking guides
Join well established walking trails between Byzantine churches, waterfalls and villages in the foothills
On your free day, visit Greco-Roman ruins and the Tombs of the Kings, UNESCO World Heritage Sites
Daily evening Bridge competition
What's included
A choice of 2 guided walks in the stunning area
A sightseeing day with a local guide including all admissions and a meze lunch
All transport to and from walks and on the sightseeing day
A free day to explore the area independently 
Each evening there is a supervised Bridge competition so you can put your skills into practice
EBU Master Points are awarded on this holiday
Trip Notes
Trip notes are detailed, downloadable PDF's for each holiday, please click the button below to find the right trip notes for your departure date.
Welcome to Constantinou Bros hotels, unpack and settle in.
---
Today our coach takes us either to the village of Kouklia with its impressive archaeological site or to Minthis and the Esouza Valley. 
Option 1 - Kouklia Circular
Distance: 3 miles (5km)
Total ascent: 400 feet (120m)
In summary: From the village of Kouklia, our loops takes us through corn fields with far reaching views of the sea. Passing irrigation systems used for centuries, look out for olive groves.
Highlight: Option to visit Paleopaphos Museum (payable locally) this extensive archaeological site draws tourists every year.
Option 2 - Minthis Panorama and Episkopi
Distance: 4½ miles (7km)
Ascent: 250 feet (80m)
Descent: 1,150 feet (360m)
In summary: We start our walk at the Minthis Golf Resort with wide reaching views, we then walk down a valley through the abandoned village of Moro Nero to reach the Episkopi Environmental Centre.
Highlight: The Episkopi Environmental Centre with its information on flora and fauna of Cyprus.
---
Our walks today take us either around Paphos or into the hills above the or in the hills above the town and the magnificent monastery of Chrysorrogiatissa.. 
Option 1 - Paphos and its Castle
Distance: 4½ miles (7½km)
Total ascent: 150 feet (40m)
In summary: A circular walk from the hotel along the coast to the medieval Castle, built in Byzantine times to protect the harbour in Paphos. We'll then return to the hotel via the town.
Highlight: Paphos Castle, with its wealth of history.
Option 2 - Monasteries and Wine
Distance: 6 miles (9½km)
Ascent: 800 feet (240m)
Descent: 1,050 feet (320m)
In summary: We begin our walk in Agios Fotas following a wide track past the Agia Moni Monastery, considered to be one of the oldest on Cyprus. We continue on our way through vineyards to the beautiful Chrysorrogiatissa and on to the small town of Pano Panagia for refreshments.
Highlight: Agia Moni Monastery has a wonderfully tranquil setting, and there's been a monastery on this site since the 4th Century.
---
Your first stop today is the Agios Neofytos Monastery which was founded by the Cypriot hermit, monk and writer Neofytos. Here, you'll learn more about his life and view some incredible Byzantine frescoes and post-Byzantine icons before continuing to Pano Panagia, high in the Paphos mountains. Take time here to explore or have a bite to eat in one of the tavernas before heading off to the Chrysorrogiatissa Monastery, dedicated to 'Our Lady of the Golden Pomegranate'. Be sure to have a taste of their wine on your visit to the cellars! The final stop of the day is Agia Moni Monastery. Dating from the 6th Century, this is one of the most ancient on Cyprus and nowadays is only inhabited by one monk, Father Epiphanios.
---
Each week there is a free day when no organised activities are offered. This is an ideal opportunity to relax around the hotel, walk independently or visit local places of interest. Some options for your free day include:
Paphos Waterfront: Walk along the promenade to the harbour and enjoy a drink overlooking the town's imposing castle.
Paphos Archaeological Park (Nea Paphos): You can reach this UNESCO World Heritage site on foot from the hotel via the beachfront promenade. This outstanding archaeological park features extensive Greco-Roman ruins and incredibly well-preserved mosaics depicting ancient mythology. The Tombs of the Kings - a large area of underground tombs - are one of the park's many highlights.
Hotel: Relax at the hotel and take advantage of its extensive spa and swimming pool facilities.
---
Today we return to the Akamas Peninsula. Travelling to the northern side, with far reaching views over turquoise seas, what better way to spend your day than walking in this marvellous wilderness area. One of the least inhabited areas of Cyprus, this is an area well worth visiting.
Option 1 - Aphrodite and Adonis Trail
Distance: 4½miles (7½km)
Ascent: 500 feet (160m)
In summary: Today we follow trails along the North West coast of Cyprus, with views out to the sea. Looking out for sea stacks, with the waves lapping gently against them.
Highlight: The colour of the sea on this side of the island is turquoise, spectacular.
Option 2 - Baths of Aphrodite
Distance: 6 miles (10km)
Total ascent: 500 feet (140m)
Total descent: 1,050 feet (320m)
In summary: Starting at a lovely picnic spot above Neo Chorio we make our way through pine forests to reveal an area of outstanding views over Polis and Latsi. We continue on our way past old mining areas to another picturesque picnic spot around a great oak tree before making our descent to Aphrodite's Bath where we end our walk. This forest-shaded pool is said to be where Aphrodite liked to come and bathe and is where she met her lover, Adonis.
Highlight: The Akamas Peninsula National Park with unspoilt beaches and rugged coastline is a truly wild part of Cyprus with far reaching views over turquoise seas.
---
A short coach journey from the hotel brings us to the historic area to the north of Paphos and the village of Kissonerga or head out to the beautiful Akamas Peninsula. 
Option 1 - Kissonerga Loop
Distance: 4 miles (6½km)
Total ascent: 400 feet (120m)
In summary: We'll start in the lowland village of Kissonerga, our route passes through banana plantations, along the beach and through archealogical sites, which the area is famous for. We'll finish our walk in Julie's Garden café in the town.
Highlight: Delve into the past with several churches and archaeological places of interest.
Option 2 - Akamas heights to the sea
Distance: 5½ miles (8.5km)
Ascent: 150 feet (60m) 
Descent: 1,400 feet (420m)
In summary: This walk takes us on one of Europe's long distance trails, the E4, as we make our way to the small fishing port of Agios Georgios and wide views to the tip of the Akamas Peninsula. We begin our walk on the Pynkni Forest trail along hillsides through fields and farms with views of the coastline in front of us.
Highlight: We finish with a well-earned drink at a coastline cafe. The pleasant harbour of Agios Georgios with views of Geronises Island.
---
We hope to see you again soon.
---
Constantinou Bros Hotels - Cyprus
The 4-star Constantinou Bros Hotels enjoy an enviable beachfront location in a quiet part of Paphos. HF Holidays guests could stay at either the Athena Beach or Pioneer Beach properties. The hotels offer a wide range of facilities and bright spacious rooms. The local shops are just a short walk away. The hotels are renowned for their warm and friendly staff and have been awarded Silver and Gold Hotel Awards from HF Holidays for their outstanding feedback.
Rooms
All the bedrooms are spacious, very well equipped and have been recently refurbished.

The hotels have comfortable en-suite bedrooms with private balconies and breathtaking sea or land views.

All rooms have flat screen LCD satellite TV and radio, direct dial telephone, Wi-Fi, safe deposit boxes, tea and coffee making facilities replenished daily, espresso machine, fridge, a mini-bar (on request with charge), hairdryer, bathrobe and slippers, and air conditioning May-October or heating November- April. Rooms also include bathroom with bath tub, rain shower and flexible hose shower, scales, magnifying mirror, floor to ceiling windows, deluxe toiletries, ironing facilities, pool/beach towels in room towels, USB socket.
Facilities
Hotel facilities Athena Beach Hotel
Bar with a large, comfortable terrace
Beautiful views of the Mediterranean and the hotel's tranquil gardens
3 freshwater swimming pools
Indoor pool (heated November to March)
Indoor and outdoor Jacuzzis
Floodlit tennis courts
24-rink indoor and outdoor bowls green facilities
Mini-golf
Mini market/souvenir shop
Jewellery shop
Free parking
Laundry and dry cleaning facilities
Currency exchange
Hotel's Elixir Spa

Heated pool (heated November to March)
2 Saunas
Steam bath
Gym
Hairdressing salon
Professional massages
Aromatherapy and other treatments to help relax and rejuvenate
 Hotel facilities Pioneer Beach Hotel
3 Bars. 1 with beautiful views of the Mediterranean and the hotel's tranquil gardens
1 freshwater swimming pool
Indoor pool (heated November to March)
Indoor and outdoor Jacuzzis
Floodlit tennis court
Indoor and outdoor bowls green facilities
Mini market/souvenir shop
Jewellery shop
Free parking
Laundry and dry cleaning facilities
Currency exchange
Hotel's Elixir Spa
Heated pool (heated November to March)
2 Saunas free of charge
1 Steam bath
Gym
Hairdressing salon
Professional massages
Hotel policies
Mobility scooters are not permitted in the hotel, although use of manual or electric wheelchairs are. 
Food & Drink
Holidays on Cyprus are Half Board with an extensive breakfast selection and 3-course evening buffet. 
Breakfast
This an extensive self-service continental buffet selection and hot options are also available.
Lunch (payable locally)
A picnic lunch can be ordered in advance from the hotel or purchased from the shop on the lower ground floor which is open Monday to Sunday 7.30am until 10pm.
Evening meal
3-course evening meal served from the buffet. 
There will be a vegetarian menu option but if you have any special dietary requirements we recommend that you discuss your preferences with the hotel management.
Drinks
The hotel has a well-stocked bar serving beer, wine and spirits.
Dress Code
The dress code for the Constantinou Bros Hotel are:
Dinner: Smart/casual - knee length tailored shorts, closed shoes and t-shirts with sleeves
A La Carte Restaurant: Long trousers, closed shoes, t-shirts with sleeves
Your Evenings
In Europe, our walking holidays continue into the evening.  Enjoy a glass of wine or local beer whilst listening to your leaders outlining the next day's walks.  After a relaxed evening meal take advantage of the warm evenings and  chat with your fellow guests drinking a cocktail in the hotel gardens or just listen to live music one evening at your hotel.
The hotel's location is ideal for a leisurely stroll into the old town, where you can watch the world go by and soak up the atmosphere with a relaxing drink at one of the pavement café bars around Paphos harbour front; just follow the path from the beach front. Or you may like to relax on the terrace or in the bar, with a drink and chat.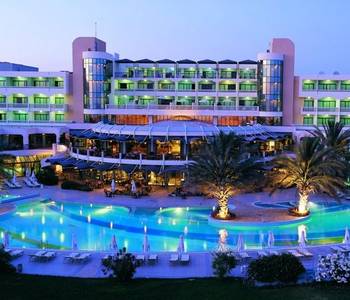 Getting to Constantinou Bros Hotels - Cyprus
Find out more about this location including travel details and room types.
More Information
Essential Information
ESSENTIAL EQUIPMENT
To enjoy walking/hiking comfortably and safely, footwear, clothing and equipment needs to be suitable for the conditions. Safety and comfort are our priorities, so our advice is to come prepared for all eventualities.
Footwear with a good grip on the sole (e.g.Vibram sole) is the key to avoiding accidents.
Walking/hiking boots providing ankle support and good grip are recommended (ideally worn in), and specialist walking socks to avoid blisters.
Several layers of clothing, which can be added or removed, are better than a single layer (include spares).
Fabrics (lightweight and fast drying) designed for the outdoors are recommended.
Waterproof jacket and waterproof over trousers.
Warm hat and gloves. 
Denim jeans and capes are not suitable on any walks.
Rucksack with a waterproof liner.
Thermos flask for hot drink.
Water bottle (at least 2 litre).
Spare high-energy food such as a chocolate bar.
Small torch.
First aid kit – your leader's first aid kit doesn't contain any medication or blister kits (such as Compeed).
Sun hat and sunglasses
Sun cream.
OPTIONAL EQUIPMENT
Walking poles are useful, particularly for descents.
Insect repellent.
Camera.
Gaiters.
All Bridge equipment will be provided.