From the busy city sights of Santiago to the arid landscapes of the Atacama Desert and the bizarre Moai heads of Easter Island, this holiday is sure to tick many boxes on your travel wish list. Tour the harbour city of Valparaíso and learn about its fascinating history. Enjoy a variety of walks, exploring many different landscapes and a bike ride through lush vineyards. No visit to Chile would be complete without sampling the wines for which the country is famed: our visit to the Casablanca Valley, home to vineyards which make crisp white wines, is sure to be a delicious highlight. We think it will be 'cheers' all round!
Holiday Highlights
Visit the world's driest desert, the Atacama Desert
Explore the colourful port town and UNESCO World Heritage Site of Valparaíso
Iconic Easter Island, an exotic and mysterious destination in the middle of the Pacific Ocean
Discover delicious wines in Chile's Casablanca Valley
Option to extend your stay with two nights in the Rosario Valley in the Chilean winelands
Depart UK and arrive early hours of Day 2
---
We arrive in Santiago and transfer to our hotel. This afternoon, we explore the city on a tour. Here, the best features of a vibrant, modern metropolis are combined with the old-world charm of a former colonial capital.
We'll visit La Moneda, the presidential palace, and former home of the national mint. Many other sights in the historic centre are clustered around the always bustling Plaza de Armas: the cathedral, old post office, Palacio de la Real Audiencia – now home to the National History Museum – and the Casa Colorada, formerly the Spanish governor's residence.
We depart the city centre and head towards the soaring Andes, passing through Vitacura, one of the most elegant districts of Santiago and home to its busy financial district. In Vitacura, we'll take a short walk to an artificial lagoon where we can see Chilean flamingos, Patagonian black-necked swans and indigenous plants such as Chilean honey palms and South American Jacaranda. From here, we'll also enjoy spectacular views of the modern skyline of Santiago and the dramatic Andes mountains. We round the day off with dinner in a restaurant in the Borderio area.
---
Today we spend a full day in the Andes. Our walk begins by following the route of the Meseta Trek, then continues to climb higher into the spectacular Cordillera. We leave the Meseta and follow a trail which climbs – at times steeply – upwards to La Campana, a 1,800 metre bell-shaped mountain that dominates the landscape. Up here, we enter the realm of the condor. The views from atop La Campana are breathtaking, with seemingly endless vistas towards the mountains and down to the Maipo River.
Our trail continues to Cruce de los Maquis, a stream crossing in a small native forest. Here, we'll take some time to enjoy a break. We return down to the Meseta and along a trail to the Maipo River before we return to our start point. Distance: 4 miles (6km) with 1,200 feet (365m) of ascent and the same amount of descent.
---
This morning we'll transfer to Santiago airport for our flight north to the Atacama Desert. After we arrive, we'll transfer from Calama airport to our hotel in San Pedro, where the afternoon is at your leisure.
This evening, we'll take a sunset excursion to Moon Valley – Valle de la Luna – which is one of the area's best-known destinations. Beginning at dusk, we travel into the rugged beauty of the Atacama Desert. With the Licancabur Volcano providing the backdrop, the strange salt and rock formations in the valley's barren, sandy landscape feels and looks like a moonscape.
We drive past these rock formations, ending at Piedra del Coyote ('Coyote's Rock') from where we can overlook the Kari-Canyon and wide swathes of the desert. It may even be possible to catch a glimpse of the Salar de Atacama. As the sun sets, it bathes the landscape in a light that changes with every passing moment, providing a mesmerising play of colours.
---
We head south from San Pedro de Atacama through desert landscapes to the impressive Salar de Atacama, one of the world's largest salt lakes. Along the way we'll visit Toconao, a small village with buildings made entirely from white volcanic stones and see Laguna Chaxa. The lake is part of the Reserva Nacional de los Flamingoes, and as such it's a great place to get close to these unusual birds.
Today we'll also have the chance to gain an insight into the daily life of a traditional Atacameña farm. We'll take a tour of the farmland and learn about crop cultivation and livestock farming in this challenging terrain, as well as learn more about some of the region's typical homemade products – quince jam, fruit syrups, candied quinoa and guanaco paté. We enjoy lunch on the farm, sampling some of the regional produce, and return to San Pedro.
Any remaining time today is at your leisure before we enjoy dinner this evening in a local restaurant in San Pedro. Then, after dinner, we enjoy a very special night-time experience. There are few places in the world where the sky is as clear and the view of the stars so good, as in northern Chile. It should come as no surprise, then, that several of the world's most important international observatories are to be found here. We'll visit San Pedro de Atacama Celestial Observatory, where an expert will explain the basics of astronomy and share with you some of the special features of the southern hemisphere skies, and you'll have the opportunity to catch an unforgettable glimpse of distant stars through some of the observatory's powerful telescopes.
---
Today we'll explore the Guatin Valley on foot. Here in the valley, two rivers converge: one comes from the Puritama thermal springs, carrying minerals in its warm waters; the other is the Purifica River, which originates in the Andes. This extraordinary mix of hot spring water and clear melt water creates a unique ecosystem in the Guatin Canyon and ensures a very rewarding landscape in which to walk: not least for the giant candelabra cacti which grow here, some of which are already nearing 500 years old.
Our walk begins in the canyon and we trace a path along the canyon floor through vibrant red rocks and the unique local flora. Our route gently ascends to the Puritama thermal springs. Here, you can relax in the warm waters of the spring (c. $15pp at own cost, payable locally) or simply enjoy your stunning surroundings before we return to San Pedro. The springs are very popular and so may be busy, which may mean it's not possible to visit. Distance: 4½ miles (7km) with 1,950 feet (600m) of ascent and the same amount of descent.
This evening, explore the town a little further and enjoy a dinner venue of your choice.
---
This morning we have a very early start for our visit to the El Tatio Geysers, which we arrive at in time for sunrise. The fountains, located at an elevation of over 14,000 feet, shoot into the air up to 30 feet high. The sun's first rays reflect countless colours as they mingle with the boiling jets exploding from the geysers. Surrounded by mountain summits and rising steam, this is sure to be an atmospheric experience. We'll enjoy a light breakfast here.
While here, you can warm up and revive yourself after our early start with a dip in one of the natural pools created by the hot springs. Around midday, we return to San Pedro and later transfer to Calama airport for our flight back to Santiago, where we spend the night.
---
We walk to Santiago airport for our flight across the southern Pacific Ocean to Easter Island. Its name was given by the island's first recorded European visitor, Dutch explorer Jacob Roggeveen, who encountered it on Easter Sunday, 1722. Its Polynesian name is Rapa Nui, and the island is famous for the nearly 1,000 monumental statues called moai, which were created by the early Rapa Nui people, who are believed to have arrived on the island sometime near 1,200 AD.
Easter Island has seen many changes in its history, from Peruvian slave raids in the late 19th century through to Chilean annexation in 1888; it now has the status of 'special territory'. Easter Island was named a UNESCO World Heritage Site in 1995 and much of the island is protected within the Rapa Nui National Park.
On arrival on the island, we'll transfer to our hotel in Hanga Roa where the remainder of the day is at your leisure to soak in your incredible surroundings. We'll enjoy dinner this evening at the hotel.
---
We spend a full day exploring this enigmatic island, beginning with a drive to the island's south coast where we'll visit examples of the famous stone statues in the bay of Hanga Te'e and Akahanga. From here, we continue to Poike Peninsula, where the first active volcano responsible for the formation of Easter Island is located. We hike across the landscape, ascending to Vai a Heva, a huge human-like face carved into the rock with an open mouth to collect rainwater.
Our walk continues around the volcano before we descend to our vehicle and return to Hanga Roa. This evening we'll enjoy dinner in a local restaurant. Distance: 9 miles (15km) with 1,600 feet (480m) of ascent.
---
Enjoy a half day exploration of some of the island's key sights. We begin at ahu Akivi, one of the island's few ahus (the sacred ceremonial site where moai statues stand) not located by the sea. Its seven resurrected moais are aligned according to the equinox: this is indicative of the advanced astrological knowledge once known by the islanders. After some time here, we continue to Puna Pau, the quarry site located in a small crater where the red stone headdresses that were set atop many of the moai were made. Enjoy the views out to the ocean and across the island's verdant landscapes.
From here, we return to Hanga Roa where you have some time to explore the town and enjoy lunch. This afternoon, we explore further on foot with a walk from the hotel up Rano Kau, an extinct volcano. Our route passes through meadows and forested areas, and along the way we'll have stunning views towards the coast and the Pacific Ocean, as well as over the whole island and its distinct geological features.
As we reach the end of our trail, we arrive at an outlook which a spectacular view over the crater lake of Rano Kau. After a little time to take in and marvel at our surroundings, our walk continues as we head to the ceremonial village of Orongo. It was here that the birdman competitions took place and there are some excellent examples of petroglyphs. We walk on, descending to the Ana Kai Tangata cave, which features some incredible examples of cave paintings, before we return to the hotel, where we will have dinner this evening. Distance: 3 miles (5km) with 1,050 feet (320m) of ascent.
---
Enjoy a morning at your leisure before our afternoon flight back across the ocean to Santiago. On arrival, we'll transfer to our hotel for the night.
---
Today we travel towards the coast, and the port city of Valparaíso, known for its steep funicular railways and brightly coloured houses. Along the way we travel through the Casablanca Valley, a wine making region well known for its white wine grapes, particularly Sauvignon blanc and Chardonnay varieties.
We'll go on an easy-paced bike tour through the vineyards to the William Cole vineyard. Once there, we'll sample some delicious wines with a guided tasting session and enjoy a tasty lunch of local dishes.
With some time to relax in our surroundings and sated after lunch, we continue our drive to the coast city of Viña del Mar ('Vineyard of the Sea') in the Valparaíso region. Enjoy the remainder of the day at leisure before we dine this evening at a local restaurant.
---
Today we'll "move like a local" and explore this coastal city on a tour, acquainting ourselves with its history and navigating its geography both on foot and by public transport. We travel on the metro to the city's main square and the port, and from here continue to the southern district of Playa Ancha. Here we'll explore the beautiful Paseo 21 de Mayo, enjoying its wonderful view as we learn about the British immigrants who once called the area home.
Then it's a ride on one of Valparaíso's famed funicular railways, back down to the city centre, where we'll take a bus to the main square, Sotomayor. We'll visit Cerro Alegre and Cerro Concepcion, both UNESCO World Heritage Sites, and stroll along Paseo Dimalow. We descend and return once more to the city centre in the funicular Reina Victoria. We'll return to the hotel, where the remainder of the day and your choice for dinner this evening is at your leisure.
---
After breakfast, we return to Santiago airport for our return flight home. For guests joining the extension, you transfer directly from Valparaíso to the Chilean Winelands.
---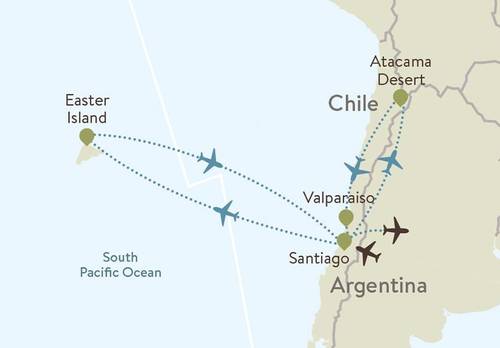 Panamerican Hotel Providencia, Santiago - Chile and Easter Island
In the heart of the lively Providencia quarter, the hotel is within easy reach of many shopping and gastronomic options. Welcoming rooms and a pleasing garden with a pool and terrace offers an intimate and relaxed atmosphere. The hotel restaurant offers delicious fare with a strong focus on typically Chilean dishes.
Hotel La Casa de Don Tomas, San Pedro de Atacama - Chile and Easter Island
Located in the magic splendor of the archeologically capital, San Pedro de Atacama desert area in the northern Chile, Hotel La Casa de Don Tomas offers its guests the best in comfort and ambiance
Hotel Diego de Almagro, San Pedro de Atacama - Chile and Easter Island
Another popular local accommodation choice with a traditional style and located a short walk from the centre of San Pedro.
Holiday Inn, Santiago Airport - Chile and Easter Island
A sleek, contemporary design and a convenient location  
Hotel Taha Tai, Easter Island - Chile and Easter Island
The Hotel Taha Tai was built on the sea shore from which it adopted its name. The hotel is located a mere 5 minutes from the urban centre of the town Hanga Roa. The hotel also has a bar and restaurant from which it is possible to enjoy the island amazing sunsets.
Hotel Pullman San Martin, Viña del Mar - Chile and Easter Island
Located by the sea, just a few steps from Acapulco Beach. Enjoy the beautiful sunset on the terrace, plus the infinity edge pool while sipping a delicious drink after your day walking.
What to Bring
As you'll be carrying your own luggage at airports and between your transport and hotels we recommend you try to keep your luggage to a minimum.
These items are a general suggestion of what to pack for an active outdoor and walking holiday; depending on your destination, you may need more of some things and less – or none! – of others. We advise being prepared for all weather conditions, but you'll know best what you prefer to wear when out walking or while taking part in other outdoor activities.
Walking boots (worn in), with good ankle support and spare bootlaces
Walking socks
Walking sandals
Lightweight fleece, waterproof trousers and jacket
Shorts and short-sleeved t-shirts
Long trousers and long-sleeved light-coloured shirts with collars to protect from the sun.
We recommend wearing walking boots on all our walks, as these provide the best ankle support and grip. Modern 'approach shoes' offer appropriate levels of grip and may be worn on some low-level walks, but users should be aware that they offer less ankle support. Lightweight trainers are not recommended for any walks. 
Your clothing should ideally be pre-treated with insect repellent and in-built sun protection (available from specialist clothing stores such as Rohan, Cotswold Outdoor).
Warm fleece, scarf/buff hat and gloves; torch
Comfortable clothes and shoes for evenings and sightseeing
Sun protection – sun hat, sunglasses, high factor sunscreen and lip protection
Swimming costume & towel
Water bottle – at least 2-litre capacity
Lightweight survival bag
Small/medium rucksack (30 litre) and a liner or cover to keep contents dry
Insect repellent
Personal first aid kit including: personal medication, tissues, plasters, blister kit, painkillers, antiseptic wipes, Imodium, rehydration sachets; hand sanitiser
Essential:
Passport (and copies)
Booking confirmation
Insurance cover note
HF Holidays' registration form.
Optional:
Trekking poles
Camera
Umbrella
Binoculars
High energy food bars
Please note that your HF Holidays' leader reserves the right to refuse to take any guest on a walk should they consider that a lack of suitable clothing/footwear may affect safety.
All holidays are subject to availability and prices are subject to change.
Non-Member fee: £10 per person. Non-member associate fee: £10 per person.
These departure dates can be booked with flights or as land only holiday options. All packages that include flights are ATOL protected. Advertised flight prices are based on UK flights departing from London. Regional departures and/or connections to London, if available, can be requested. Cabin upgrades may also be available on request.
Date (Start - End)
Nights
Itinerary
Price
Status
Trip Notes
Book
2020

23 Mar - 05 Apr

13
2020 Itinerary

£5,399

£5,199
Save £200 Per Person

Trip Notes

Book Now

20 Apr - 03 May

13
2020 Itinerary

£5,399

£5,199
Save £200 Per Person

Trip Notes

Book Now

05 Oct - 18 Oct

13
2020 Itinerary

£5,399

Available

Trip Notes

Book Now
Date (Start - End)
Nights
Itinerary
Price
Status
Trip Notes
Book
2020

24 Mar - 05 Apr

13
2020 Itinerary

£4,299

£4,099
Save £200 Per Person

Trip Notes

Book Now

21 Apr - 03 May

13
2020 Itinerary

£4,299

£4,099
Save £200 Per Person

Trip Notes

Book Now

06 Oct - 18 Oct

13
2020 Itinerary

£4,299

Available

Trip Notes

Book Now
Important Information
Single room supplement: £729