The village of Adelboden, located in the beautiful Bernese Oberland and surrounded by wonderful flower meadows, green valleys and snow-capped peaks, epitomises the perfect image of Switzerland. This picturesque Swiss village lies at the head of the Engstligen Valley, surrounded by a succession of alpine peaks. The village sits on a sunny plateau at an altitude of 1,400m with excellent views towards the Engstligen Waterfalls. Travel to the Kandersteg valley, take a gondola and head to Oeschinensee, an amazing mountain lake in spectacular surroundings. Visit Engstligenalp, a vast expanse of Alpine flowers and pastures that was once an ancient glacial lake. Harder walks also include ridge walks, rocky cliffs and the lofty summit of the Elsighorn.
Holiday Highlights
High alpine meadows, tranquil valleys and spectacular waterfalls form this most picturesque of mountain landscapes
Walk the balcony paths above Oeschinensee where the lake changes colour from azure to emerald based on the cloud cover.
Have a go at playing the Alpine horn at the hotel.
Test your nerve - walk across one of the longest suspension bridges in Europe, the Hostalde
Enjoy warm hospitality and excellent meals at the family-run Hotel Waldhaus-Huldi
What's included
A full programme of guided walks with 2 options every walking day
All transport to and from the walks
The services of experienced HF Holidays' leaders
"With flight" holidays include return flights from the UK and hotel transfers
7 nights' accommodation in en-suite rooms
Half Board - continental breakfast and evening meal
Welcome to Hotel Waldhaus-Huldi. Unpack and settle in.
---
These walks venture onto the high meadows of Tschentenegg above Adelboden, and both walks offer excellent views of the Engstligen valley, with Adelboden far below and the surrounding mountains, where many of the walks to be enjoyed later in the week, can be identified.
Option 1 - Tschentenegg, the Hörnliweg and Schermtanne
Distance: 8 miles (13km) with 1,200 feet (360m) of ascent and 1,400 feet (420m) of descent
Total ascent: 1,200 feet (360m)
Total descent: 1,400 feet (420m)
In summary: We take the Tschenten gondola to the upper slopes and, after soaking up the panoramic views, return to Adelboden ascending gradually through meadows to Hörnli Alpine Garden with its rich array of wild flowers. From here we traverse above the village through woodland before descending to follow the river back to the hotel in time for afternoon refreshments.
Highlight: Panoramic views above the Engstligen valley.
Option 2 - The Hörnliweg, Scwandfelspitz and Schermtanne
Distance: 9 miles (14½km)
Total ascent: 2,400 feet (720m) 
In summary: From the hotel we ascend through woodland before picking up the route of the easier group as we traverse above Adelboden to the Hörnli Alpine Garden. After enjoying the beautiful array of flowers, we ascend through meadows to the Tschenten restaurant and zigzag our way to the summit of Schwadfelspitz for superb panoramas. The great views continue as we make our descent into Adelboden.
Highlight: Reach the summit of Schwandfeldspitz, an impressive spur with views in all directions. 
---
The broad grassy saddle at the Hahnenmoos pass is the historic route between Adelboden and the village of Lenk. The pass was once the site of a local festival where villagers from the two valleys met for trade and athletic contests. From Adelboden we take a long gondola ride of 3 miles to the upper station and restaurant at Sillerebühl, situated at an altitude of just under 2,000 metres.
Option 1 - Sillerenbühl, Flower Trail, Hahnenmoos Pass and Geils
Distance: 7 miles (11km)
Total ascent: 800 feet (240m)
Total descent: 2,500 feet (750m)
In summary: From Sillernbühl we follow a wonderful floral trail to the Hahnenmoos Pass where we will get great views and also spot some of the locals flying model gliders We continue through the Pommern Pass to descend to Berglager and our gondola back to Adelboden.
Highlight: Discover the profusion of wild flowers
Option 2 - Hahnenmoos Pass, Ridges Above Geils
Distance: 9 miles (14½km)
Total ascent: 2,100 feet (630m)
Total descent: 3,700 feet (1,110m)
In summary: We ascend to Laveygrat with views down to Lenk, before descending to the Hahnenmoos Pass. We follow a track towards the Pommern and bypass the prominent peak of Regenbolshore. We then follow a spectacular ridge down to Bütschi and up to Tronegg for more great views over to Engstilgen Falls before starting our descent to Berglager and our gondola back to Adelboden. 
Highlight: the path across the narrow ridge to Hundersattel with the precipices of the Rostock away to the right.
---
The village of Kandersteg lies in the adjacent valley to Adelboden, just a few miles away as the crow flies. The bus has to go via Frutigen and on the way we will stop to visit one of the longest pedestrian suspension bridges in Europe. Both walks take a gondola and head to Oeschinensee, a picture-postcard mountain lake in spectacular surroundings that change colour from azure to emerald depending on the cloud cover. 
Option 1 - Kandersteg and Oeschinensee
Distance: 5 miles (8km)
Total ascent: 600 feet (180m)
Total descent: 2,300 feet (690m)
In summary: Our route leads us to the Senn Hutte overlooking the beautiful Oeschinensee before heading around the northern side of the lake up to a lovely mountain hut at Unterbargli where we can enjoy a spot of lunch. We retrace our steps to the lake shore and continue to the Berghotel, a popular tourist spot, before descending down the valley to Kandersteg and well-earned refreshments.
Highlight: Enjoy lunch at a typical mountain hut.
Option 2 - Kandersteg, Oeschinensee and High Mountain Alps
Distance: 7 miles (11km)
Total ascent: 1,300 feet (390m)
Total descent: 2,700 feet (810m)
In summary: The harder route takes us along a spectacular path, traversing high above the lake to the huts at Oberbargli perched on a hanging valley. From here we descend to the hut at Unterbargli and on to the Berghotel where we follow a similar path to the easier group to Kandersteg to join them for refreshments.
Highlight: Spectacular views
---
Each week there is a free day when no guided walks are offered. This is an ideal opportunity to relax around the hotel, walk independently or visit local places of interest. On your free day you may wish to use the efficient Swiss transport system to visit the attractive lakeside resorts of Interlaken, Thun or Spiez.
---
The impressive Engstligen Waterfall is one of the area's most impressive sights and is clearly visible from the hotel balcony. The falls drop around 600 metres making them the second highest in Switzerland. Above the waterfalls is the Engstligenalp, a vast expanse of alpine flowers and pastures that was once an ancient glacial lake. The lofty summits and glaciers of the Wildstrubel surround this impressive hanging valley.
Option 1 - Engstligen Valley, Engstligenalp and Falls
Distance: 7 miles (11km)
Total ascent: 1,000 feet (300m)
In summary: Today we take the cable car to ascend to Engstligenalp. We take a leisurely walk in the hanging valley taking time to admire the scenery and Alpine flowers. After lunch we descend using the cable car and continue our walk through woodland to the lower falls where we can appreciate their power. We continue on the path to the bus stop to catch the return bus to Adelboden. 
Highlight: View the impressive Engstligen waterfalls
Option 2 - Engstligen Valley, Hinterberg, Engstligenalp and Falls
Distance: 9 miles (14½km)
Total ascent: 2,600 feet (780m)
In summary: We ascend through the dramatic Hinterberg corrie over a spur to the beautiful pastures of Engstligenalp. We spend some time walking on the high valley before descending, we cross the foot of the upper falls continuing to the lower falls and our bus back to Adelboden.
Highlight: Potentially spot marmots, ibex or chamois
---
The Elsighorn is the northernmost significant summit on the high ridge that separates the Engstligen and Kander Valleys. We go to Elsigbach by minibus and take a cable car to the slopes above.
Option 1 - Elsigenalp, Bonderalp and Lohnerfalls
Distance: 7 miles (11km)
Total ascent: 1,000ft (300m)
Total descent: 2,800ft (840m)
In summary: Our walk uses a traversing route that heads across the mountainside to the Bunder Hutte for lunch and then to the foot of Lohner Falls by rougher paths. The return to Adelboden is then by good tracks through Alpine forests and valley meadows.
Highlight: Visit the impressive Lohner Falls. 
Option 2 - Elsighore, Golitschenpass and Stand
Distance: 8 miles (13km)
Total ascent: 2,800 feet (840m)
In summary: We ascend to the summit of Elsighorn, at 2,341m the highest point of the week, which goes on to the Golitschepass and another summit, Stand, with spectacular views all the way. The descent is via Elsigsee and the friendly Elsighutte taking the cable car part way down, before walking a little further down to catch the bus back.
Highlight: Spectacular views from the summit of Elsighorn.
---
We hope to see you again soon.
---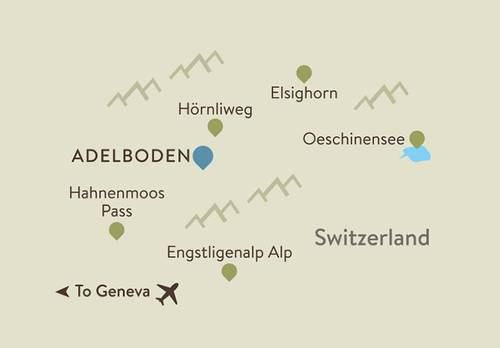 Hotel Steinmattli - Bernese Oberland
The 4 star Hotel Steinmattli is a modern chalet style property located in a peaceful part of this charming village.  All 63 comfortable bedrooms offer a balcony or terrace, ensuite bathroom and beautiful views.  A delicious 4 course evening meal is served each day in the hotel's Alpen Chic Restaurant.  The shops and bars of Adelboden are just a short walk away.
Rooms
There are 63 well equipped bedrooms to make your stay exceptional. Each room features:
Private balcony or terrace
Television with a range of English channels
Free WiFi
Room safe
Hairdryer
Toiletries
Facilities
The hotel features:
Wellness centre with sauna and whirlpool
Fully stocked bar with large comfortable seating area
Restaurant Alpen Chic with stunning mountain views
Free bike hire
Food & Drink
Our holidays in Bernese Oberland are half board including breakfast and dinner each day.
BREAKFAST
Breakfast is an extensive buffet with hot and cold options served in the main restaurant. The coffee is excellent.
LUNCH (payable locally)
The hotel offers picnic lunches at a small charge that can be made up at breakfast time. Alternatively, ingredients can be purchased from the local shops and on certain days it maybe possible to eat out at a local café or hut. Your leaders will advise you of the best options each day.
EVENING MEAL
On your arrival day the hotel will serve an extensive buffet with a range of meat, fish and vegetarian options. On other nights a 4 course meal is served to the table and ordered A La Carte. The restaurant Alpen Chic produces food of an exceptionally high standard and a range of red and white wines are available to accompany your meal. There is the option of cheese rather than a sweet dessert each night.
The hotel has signed up to a new initiative in Switzerland that aims to reduce food waste and pride themselves on wasting nearly nothing at all. For this reason portions are kept fairly modest but you are welcome to request a larger portion when you order or even ask to be served the same course twice if you are very hungry. This will be explained to you by the hotel team on arrival.
Your Evenings
The friendly atmosphere of our guided walking holidays continues into the evening. 
Enjoy a glass of wine or local beer whilst listening to our leaders outlining the next days walks. After dinner you can take a stroll into the village to sample the local bars or just have a coffee and relax in the bar with your fellow guests.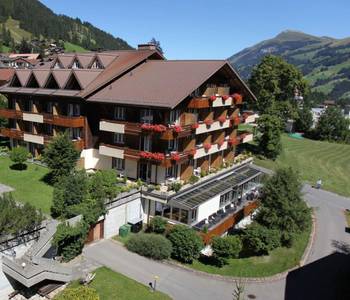 Getting to Hotel Steinmattli - Bernese Oberland
Find out more about this location including travel details and room types.
More Information
What to Bring
Essential Equipment
To enjoy walking/hiking comfortably and safely, footwear, clothing and equipment needs to be suitable for the conditions. Safety and comfort are our priorities, so our advice is to come prepared for all eventualities.
Footwear with a good grip on the sole (e.g.Vibram sole) is the key to avoiding accidents.
Walking/hiking boots providing ankle support and good grip are recommended (ideally worn in), and specialist walking socks to avoid blisters.
Several layers of clothing, which can be added or removed, are better than a single layer (include spares).
Fabrics (lightweight and fast drying) designed for the outdoors are recommended.
Waterproof jacket and waterproof over trousers.
Warm hat and gloves. 
Denim jeans and capes are not suitable on any walks.
Rucksack with a waterproof liner.
Thermos flask for hot drink.
Water bottle (at least 2 litre).
Spare high-energy food such as a chocolate bar.
Small torch.
First aid kit – your leader's first aid kit doesn't contain any medication or blister kits (such as Compeed).
Sun hat and sunglasses
Sun cream.
Optional Equipment
Walking poles are useful, particularly for descents.
Insect repellent.
Camera.
Gaiters.
All holidays are subject to availability. Prices are subject to change.
Prices based on two people sharing. Supplements may apply.
Non-member fee: £10 per person.
These departure dates can be booked with flights or as land only holiday options. All packages that include flights are ATOL protected. Advertised flight prices are based on UK flights departing from London. Regional departures and/or connections to London, if available, can be requested. Cabin upgrades may also be available on request.
Date (Start - End)
Nights
Itinerary
Price
Status
Trip Notes
Book
2020

06 Jun - 13 Jun

7
2020 Itinerary

£1,449

Available

Trip Notes

Book Now

13 Jun - 20 Jun

7
2020 Itinerary

£1,449

Unavailable to Book

Unavailable

Trip Notes

20 Jun - 27 Jun

7
2020 Itinerary

£1,317

Available

Trip Notes

Book Now

27 Jun - 04 Jul

7
2020 Itinerary

£1,449

Available

Trip Notes

Book Now

04 Jul - 11 Jul

7
2020 Itinerary

£1,449

Available

Trip Notes

Book Now

11 Jul - 18 Jul

7
2020 Itinerary

£1,449

Available

Trip Notes

Book Now

18 Jul - 25 Jul

7
2020 Itinerary

£1,449

Available

Trip Notes

Book Now

25 Jul - 01 Aug

7
2020 Itinerary

£1,449

Available

Trip Notes

Book Now

01 Aug - 08 Aug

7
2020 Itinerary

£1,449

Available

Trip Notes

Book Now

08 Aug - 15 Aug

7
2020 Itinerary

£1,449

Available

Trip Notes

Book Now

15 Aug - 22 Aug

7
2020 Itinerary

£1,449

Available

Trip Notes

Book Now
Date (Start - End)
Nights
Itinerary
Price
Status
Trip Notes
Book
2020

06 Jun - 13 Jun

7
2020 Itinerary

£1,149

Available

Trip Notes

Book Now

13 Jun - 20 Jun

7
2020 Itinerary

£1,149

Unavailable to Book

Unavailable

Trip Notes

20 Jun - 27 Jun

7
2020 Itinerary

£1,149

Available

Trip Notes

Book Now

27 Jun - 04 Jul

7
2020 Itinerary

£1,149

Available

Trip Notes

Book Now

04 Jul - 11 Jul

7
2020 Itinerary

£1,149

Available

Trip Notes

Book Now

11 Jul - 18 Jul

7
2020 Itinerary

£1,149

Available

Trip Notes

Book Now

18 Jul - 25 Jul

7
2020 Itinerary

£1,149

Available

Trip Notes

Book Now

25 Jul - 01 Aug

7
2020 Itinerary

£1,149

Available

Trip Notes

Book Now

01 Aug - 08 Aug

7
2020 Itinerary

£1,149

Available

Trip Notes

Book Now

08 Aug - 15 Aug

7
2020 Itinerary

£1,149

Available

Trip Notes

Book Now

15 Aug - 22 Aug

7
2020 Itinerary

£1,149

Available

Trip Notes

Book Now
Important Information
Premium room: price on request
Single room £9.00 per night
With flights holidays include flights from London Heathrow. Flight supplement from Manchester £60.
Independent travellers can join our transfer from Geneva Airport: £48 single