Discover lush green landscapes and charming villages. Walk between Byzantine ruins and vineyards, and on the wild Akamas Peninsula. There is lots of wildlife to see, including the green turtles that lay their eggs on Lara Beach. On your dedicated sightseeing day, travel to the picturesque villages of the Troodos Mountains. Cyprus' position in the eastern Mediterranean has also given the island an amazingly varied history: over thousands of years the Greeks, Phoenicians, Egyptians, Romans, Ottomans and British have all landed on Cypriot shores and shaped the island's culture. Diversity is certainly one of Cyprus' traits. These different cultures left a huge array of temples, tombs, mosaics, churches and castles, but perhaps the biggest surprise is the backdrop for these historic treasures – Cyprus' incredibly diverse landscape. The picturesque beaches are expected, but just a short journey takes you into the incredible Troodos Mountains (a ski resort in winter), with pine forest, lush green valleys and well stocked vineyards, or to the wild and untouched Akamas Peninsula. Aphrodite's island is perfect for a walking holiday in early spring or late autumn, when the temperatures are most pleasant. We'll walk well established trails between Byzantine churches, past waterfalls and foothill villages. Our base for the week is the town of Paphos (often spelt Pafos), which provides easy access to these varied landscapes, as well as being home to a host of historic sites, including the UNESCO World Heritage Nea Pafos archaeological site and the Tomb of the Kings. Additionally, Paphos provides a good selection of shops and facilities to make your stay more comfortable, not to mention sweeping beaches and wonderful views out over the sparkling Mediterranean.
Holiday Highlights
Discover the true identity of Aphrodite's isle from the wild Akamas Peninsula to the magnificent Troodos mountains
Stay in Paphos, with its pretty harbour, great beaches and a host of archaeological gems
Bring the archaeological sites to life on the sightseeing day with our incredibly knowledgeable local guide.
Join well established walking trails between Byzantine churches, waterfalls and villages in the foothills
On your free day, visit Greco-Roman ruins and the Tombs of the Kings, UNESCO World Heritage Sites
What's included
A full programme of guided walks with 2 options every walking day plus 1 full sightseeing day
All transport to and from the walks
The services of experienced  HF Holidays' leaders
'With flight' holidays include return flights from the UK and hotel transfers
7 nights' accommodation in en-suite rooms
Half Board – extensive breakfast and evening buffet meal 
Welcome to Constantinou Bros Hotel. Unpack and settle in.
---
A short coach journey from the hotel brings us to the village of Episkopi. Here we hope to make an optional short visit to the ecology centre before our walks take us along the Esouza valley.
Option 1 - Down the Episkopi Valley
Distance: 5 miles (8km)
Total ascent: 700 feet (210m)
In summary: A short coach journey from the hotel brings us to the village of Episkopi. Here we hope to make an optional short visit to the ecology centre before our walks take us along the Esouza valley. The easier walk follows part of a local nature trail and will visit a beautiful abandoned stone built village.
Highlight: The ecology centre, with information about the local flora and fauna in the valley
Option 2 - Valley trail from Episkopi
Distance: 7 miles (11km)
Total ascent: 800 feet (240m)
In summary: The harder walk also have the option of visiting the ecology centre, then follow the path of the easier walk, but continue further up the valley. In spring we could be treated to many gorgeous wild flowers as we continue on our trail along the valley.
Highlight: From the abandoned village of Moronero, spotting the wild flowers in the valley.
---
To the north of Agios Georgios the wilderness area of the Akamas Peninsula opens up. This area of spectacular rugged scenery and sandy bays is where we'll begin our walking on Cyprus. Using a variety of tracks both groups wind their way down to the sea, enjoying the views over the Akamas Peninsula.
Option 1 - Akamas heights to the sea
Distance: 5 miles (8km)
Total ascent: 100 feet (30m) 
Total descent: 1,200 feet (360m)
In summary: This walk takes us on one of Europe's long distance trails, the E4, as we make our way to the small fishing port of Agios Georgios and wide views to the tip of the Akamas Peninsula. From here we'll take a beautiful coastal path to a café for well- earned refreshments.
Highlight: We finish our first day of walking with a well-earned drink at a coastline cafe. The pleasant harbour of Agios Georgios with views of Geronises Island.
Option 2 - From rural village to the coast
Distance: 9 miles (14½km)
Total ascent: 500 feet (150m)
Total descent: 2,000 feet (600m) 
In summary: We'll start our walk further along the Akamas Peninsula and wind our way down to Lara Bay, famous as a breeding area for green and loggerhead turtles. From here our route hugs the coastline, passing the mouth of the Auakas Gorge as we near Paphos and the end of our walk.
Highlight: Lara Bay with its sweeping beaches is famed as a breeding area for green and loggerhead turtles.
---
Today we'll all travel along the most scenic stretch of coastline on the island, where we stop to see Ancient Curium. Here we'll discover the infamous House of Eustolios, which proudly boasts its intricate mosaics and magnificent amphitheatre overlooking the sea. We will then drive through beautiful mountain areas to reach the charming village of Omodhos, built around one of the oldest monasteries in Cyprus, the Holy Cross. This is also one of the best wine producing villages where traditional white stone buildings line the narrow cobbled streets. We visit the old wine press and then enjoy a traditional meze lunch. On our way back we will stop at the island's most famous landmark, Aphrodite's rock, the legendary birthplace of the goddess of love. On this day, sightseeing costs are included in the price of your holiday as well as the meze lunch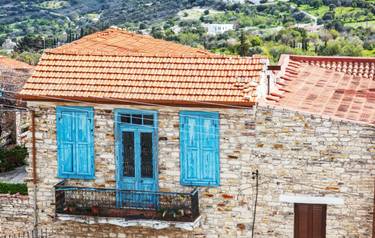 ---
Each week there is a free day when no guided walks are offered. This is an ideal opportunity to relax around the hotel, walk independently or visit local places of interest. Some options for your free day may include:
Paphos waterfront:
Walk along the promenade to the harbour and enjoy a drink overlooking the town's imposing castle. Hotel: Relax at the hotel and take advantage of its extensive spa and swimming pool facilities.
Nea Paphos:
You can reach this UNESCO World Heritage site on foot from the hotel via the beachfront promenade. This outstanding archaeological park features extensive Greco-Roman ruins and incredibly well-preserved mosaics depicting ancient mythology.
Local information website:
For information on Paphos please visit www.visitpafos.org.cy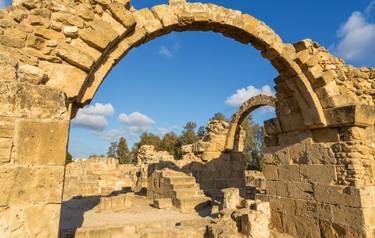 ---
The walks today travel to the hills above Paphos, through farmland and vineyards to the magnificent monastery of Chrysorrogiatissa. This monastery was established in 1152 and features many frescoes and icons as well as producing their own wine.
Option 1 - Monasteries and Wine
Distance: 6 miles (9½km)
Total ascent: 500 feet (150m)
In summary: We begin our walk in Agios Fotas following a wide track to the Agia Moni Monastery, considered to be one of the oldest on Cyprus. After a brief exploration of this ancient monastery we continue on our way through vineyards to the beautiful Chrysorrogiatissa and on to the small town of Pano Panagia for refreshments.
Highlight: Agia Moni Monastery has a wonderfully tranquil setting, and there's been a monastery on this site since the 4th Century.
Option 2 - Pomegranates and Vines
Distance: 7 miles (11km)
Total ascent: 1,800 feet (540m) 
In summary: Our route begins in the village of Kannivou following farm tracks as we ascend to the Chrysorrogiatissa monastery with spectacular views to reward our hard work. From here we wind our way to join the easier group in Pano Panagia for refreshments.
Highlight: The monastery at Chrysorrogiatissa dates to the 12th Century and has wonderful frescoes and produces some of the island's finest wines.
---
Today we return to the Akamas Peninsula. Travelling to the northern side, our coach takes us to a high picnic place above the village of Neo Chorio. With far reaching views over turquoise seas, what better way to spend your day than walking in this marvellous wilderness area. One of the least inhabited areas of Cyprus, this is an area well worth visiting.
Option 1 - Baths of Aphrodite
Distance: 5 miles (8km)
Total ascent: 400 feet (120m)
Total descent: 1,000 feet (300m)
In summary: Starting at a lovely picnic spot above Neo Chorio we make our way through pine forests to reveal an area of outstanding views over Polis and Latsi. We continue on our way past old mining areas to another picturesque picnic spot around a great oak tree before making our descent to Aphrodite's Bath where we end our walk.
Highlight: The Akamas Peninsula National Park with unspoilt beaches and rugged coastline is a truly wild part of Cyprus with far reaching views over turquoise seas.
Option 2 - Moutti Tis Sotiras and Aphrodite
Distance: 7 miles (11km)
Total ascent: 700 feet (210m) 
Total descent: 1,400 feet (420m)
In summary: Like the easier walk, we make our way to the picnic spot at the great oak tree. This is where the similarities end, as we ascend Moutti tis Sotiras for 360° views above the Akamas Peninsula before zigzagging our way down to join the easier group at Aphrodite's Bath for a well-earned drink to celebrate a great week's walking.
Highlight: The superb views from Moutti tis Sotiras over the hills and valleys of the National Park to the coastline and memorable seascape.
---
We hope to see you again soon.
---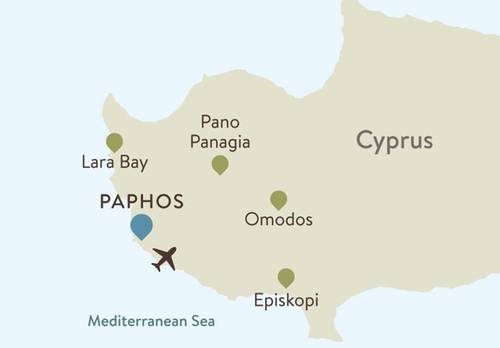 Constantinou Bros Hotels - Cyprus
The 4-star Constantinou Bros Hotels enjoy an enviable beachfront location in a quiet part of Paphos.  HF guests could stay at either the Athena Beach or Pioneer Beach properties. Just a short walk to local services and shops the hotels offer a wide range of facilities and bright spacious rooms.  The hotels are renowned for their warm and friendly staff and have been awarded silver and Gold Hotel Awards from HF Holidays for their outstanding feedback.  
Rooms
All the bedrooms are spacious, very well equipped and have been recently refurbished.

The hotel have comfortable en-suite bedrooms with private balconies and breathtaking sea or land views.

All rooms have flat screen LCD satellite TV and radio, direct dial telephone, WiFi (small charge), safe deposit boxes (small charge), tea and coffee making facilities, a mini-bar, hairdryer, bathrobe and slippers, complimentary toiletries and air conditioning/heating.
Facilities
Hotel facilities
Bar with a large comfortable terrace
Beautiful views of the Mediterranean and the hotel's tranquil gardens.
3 freshwater swimming pools
Indoor pool (heated November to March)
Indoor and outdoor jacuzzis
Floodlit tennis courts
24-rink indoor and outdoor bowls green facilities
Mini-golf
Mini market/souvenir shop
Jewellery shop
Free parking
Laundry and dry cleaning facilities
Currency exchange
Hotel's Elixir Spa

Heated pool
Sauna
Steam bath
Gym
Hairdressing salon
Professional massages
Facial and body therapies
Aromatherapy and other treatments to help relax and rejuvenate
Food & Drink
Holidays on Cyprus are Half Board with an extensive breakfast selection and 3-course evening buffet.
Breakfast
This an extensive self-service continental buffet selection and hot options are also available.
Lunch (payable locally)
A picnic lunch can be ordered in advance from the hotel or purchased from the shop on the lower ground floor which is open Monday to Sunday 7.30am until 10pm.
Evening meal
Dinner is a 3-course meal with the entré and dessert served from the buffet. The main course is served to your table. There will be a vegetarian menu option but if you have any special dietary requirements we recommend that you discuss your preferences with the hotel management.
Drinks
The hotel has a well-stocked bar serving beer, wine and spirits.
Your Evenings
In Europe, our walking holidays continue into the evening.  Enjoy a glass of wine or local beer whilst listening to your leaders outlining the next day's walks.  After a relaxed evening meal take advantage of the warm evenings and  chat with your fellow guests drinking a cocktail in the hotel gardens or just listen to live music one evening at your hotel.
The hotel's location is ideal for a leisurely stroll into the old town, where you can watch the world go by and soak up the atmosphere with a relaxing drink at one of the pavement café bars around Paphos harbour front; just follow the path from the beach front. Or you may like to relax on the terrace or in the bar, with a drink and chat.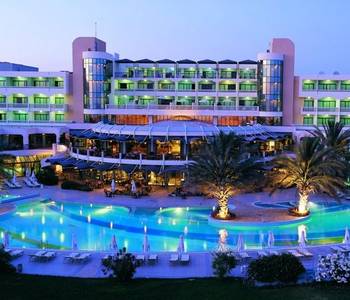 Getting to Constantinou Bros Hotels - Cyprus
Find out more about this location including travel details and room types.
More Information
What to Bring
Essential Equipment
To enjoy walking/hiking comfortably and safely, footwear, clothing and equipment needs to be suitable for the conditions. Safety and comfort are our priorities, so our advice is to come prepared for all eventualities.
Footwear with a good grip on the sole (e.g.Vibram sole) is the key to avoiding accidents.
Walking/hiking boots providing ankle support and good grip are recommended (ideally worn in), and specialist walking socks to avoid blisters.
Several layers of clothing, which can be added or removed, are better than a single layer (include spares).
Fabrics (lightweight and fast drying) designed for the outdoors are recommended.
Waterproof jacket and waterproof over trousers.
Warm hat and gloves. 
Denim jeans and capes are not suitable on any walks.
Rucksack with a waterproof liner.
Thermos flask for hot drink.
Water bottle (at least 2 litre).
Spare high-energy food such as a chocolate bar.
Small torch.
First aid kit – your leader's first aid kit doesn't contain any medication or blister kits (such as Compeed).
Sun hat and sunglasses
Sun cream.
Optional Equipment
Walking poles are useful, particularly for descents.
Insect repellent.
Camera.
Gaiters.
All holidays are subject to availability and prices are subject to change.
Non-member fee: £10 per person.
These departure dates can be booked with flights or as land only holiday options. All packages that include flights are ATOL protected. Advertised flight prices are based on UK flights departing from London. Regional departures and/or connections to London, if available, can be requested. Cabin upgrades may also be available on request.
Date (Start - End)
Nights
Itinerary
Price
Status
Trip Notes
Book
2020

09 Feb - 16 Feb

7
2020 Itinerary

£1,149

£1,049
Save £100 Per Person

Trip Notes

Book Now

16 Feb - 23 Feb

7
2020 Itinerary

£1,149

£1,049
Save £100 Per Person

Trip Notes

Book Now

23 Feb - 01 Mar

7
2020 Itinerary

£1,149

Available

Trip Notes

Book Now

01 Mar - 08 Mar

7
2020 Itinerary

£1,149

Available

Trip Notes

Book Now

08 Mar - 15 Mar

7
2020 Itinerary

£1,149

Available

Trip Notes

Book Now

15 Mar - 22 Mar

7
2020 Itinerary

£1,149

Available

Trip Notes

Book Now

22 Mar - 29 Mar

7
2020 Itinerary

£1,149

Available

Trip Notes

Book Now

29 Mar - 05 Apr

7
2020 Itinerary

£1,149

Available

Trip Notes

Book Now
Important Information
Double room for sole occupancy: £19 per night
With flight holidays include flights from London Gatwick. Flight supplement from Manchester: £60
Our airport taxi service operates at this resort - price per taxi £25 single
Independent travellers can join our transfer from Paphos Airport: £10.50 single