Enjoy a mixture of spectacular landscapes with walks on dramatic coastal paths. Explore the island's secluded coves and rocky headlands and discover the intriguing Inland Sea. Ramble around the capital Victoria, and the ancient temples of Ggantja. This guided walking holiday is set to thrill history buffs and culture vultures with gentler strolls among stunning scenery. Situated in the heart of the Mediterranean, only 200 miles from the North African coast, the Maltese Islands have been influenced greatly by their neighbours, historically, culturally and linguistically. Although Gozo is similar in many ways to its larger neighbour, it has a distinct independence and the Gozitan way of life is considerably more laid back than in bustling Malta. Gozo lies 20 minutes away from Malta by ferry, is about one third of its size, and has a character quite distinct from its neighbouring island. It is more rural, with an extensive farming community and the countryside is greener and more scenic. Controls over building developments have enabled Gozo to keep its rural charm. Flat-topped hills and intensively cultivated fields characterise the landscape whilst the coast has rugged cliffs, steep valleys and beautiful inlets. Baroque churches and old stone farmhouses dot the countryside. The island also comes complete with historical sites, forts and amazing panoramas, as well as one of the archipelago's best-preserved prehistoric temples, Ggantija. The strong religious beliefs of the Maltese people are evident in the numerous churches and other religious attractions.
Holiday Highlights
Enjoy stunning coastal views from all corners of the island, as well as Gozo's attractive green interior
Sail with an expert guide to the tiny island of Comino and enjoy a walk to the stunning Blue Lagoon
Visit the citadel in Victoria with its commanding views to all corners of the island, immersed in Medieval influence
Makes a great combination with Malta for a fascinating fortnight on the Maltese Islands
Discover the ancient temples of Ggantija, which predate the Pyramids of Giza, and Calypso's Cave, where Ulysses was held captive
What's included
A full programme of guided walks with 2 options every walking day
All transport to and from the walks
The services of experienced HF Holidays' leader
'With flight' holidays include return flights from the UK and hotel transfers
7 nights accommodation in en-suite rooms
Half Board - continental breakfast and evening meal
Welcome to Grand Hotel. Unpack and settle in.
---
Today we explore the coastal area along the south coast of Gozo. Here you'll find precipitous cliffs and deep-cut fjords, rocky headlands and little urbanisation. From Xlendi we enjoy a common route inland to the Gozo capital Victoria, where there should be time for sightseeing. Despite its austere façade the cathedral boasts an elaborate interior including a tromp l'oeil dome painted by Antonio Manuele, commissioned because of the lack of funds to build a real dome.
Option 1 - Xlendi & Victoria
Distance: 5 miles (8km) 
Total ascent: 500 feet (150m)
In summary: We start our walk with a short walk to the coast path, then head north taking in dramatic views of the cliffs. We then make for the delightful resort of Xlendi before turning inland to the island's capital, Victoria.
Highlight: Don't miss Victoria's cathedral.  It's an imposing building with an elaborate and unique interior.
Option 2 - The Southern Coast to Xlendi
Distance: 10 miles (15km)
Total ascent: 1,000 feet (300m) 
In summary: We walk from our hotel and cross scenic countryside towards the inlet of Mgarr-ix-Xini. We then walk along the coastal path through one of Gozo's most remote areas taking in spectacular clifftop views. On reaching Xlendi, we then follow in the other party's footsteps to Victoria.
Highlight: Mgarr-ix-Xini is the perfect location for a picturesque coffee stop.
---
The Church of Pilgrimage at Ta Pinu starts the day, after which we visit the interesting Folklore Museum in Gharb. From here the north coast offers some spectacular cliff scenery. Heading eastwards there are some beautiful 'wind sculptures' to admire as well as quaint fishermen's storerooms, formed in the softer rock of the higher cliffs, on our way to Marsalforn or Victoria
Option 1 - Ta Pinu, Scultped cliffs & Marsalforn
Distance: 6 miles (9½km)
Total ascent: 400 feet (120m)
In summary: Our day begins at the sanctuary church of Ta Pinu with time to explore. We'll then head to the coast via the village of Gharb and its folk museum. On reaching the coast we'll see the beautiful inlet of Ghar il Qamh, fascinating saltpans and weather-sculpted cliffs. We finish at Marsalforn with refreshments.
Highlight: Don't miss the fishermen's sheds cut into the cliff face. 
Option 2 - Marsalforn via Hekka Point
Distance: 8 miles (13km)
Total ascent: 800 feet (240m)
In summary: We too start with a visit to Ta Pinu, but then begin walking uphill to Ta Ghammer with its stations of the cross. We then head for Hekka Point via the village of Gharb. We'll then follow the other party to Marsalforn via the saltpans and cliffs.
Highlight: The village of Gharb has a spectacular basilica built between the 17th and 18th centuries.
---
We'll walk to the Rotunda Church at Xewkija then ascend to the village of Xaghra, where there will be the opportunity to visit the village and Ggantija Temples, reputed to be the oldest freestanding structures in the world, which have been standing on this plateau for over 5,000 years. A guide will accompany us through the temple complex to give us an insight into the island. Both walks then visit Calypso Cave where Ulysses was held captive by the enchanting Calypso for seven years. We then visit Ramla Bay, the longest sandy beach on Gozo, before our return to Mgarr.
Option 1 - Mgarr to Ramla Bay
Distance: 7 miles (11km)
Total ascent: 400 feet (120m)
In summary: Walking from our hotel we head inland to the village of Xewkija with its Rotunda church. From here we head to the Ggantija Temples before walking past Calypso's Cave and onto Ramla Bay - the longest sandy bay on Gozo.
Highlight: The 5,000 year old Ggantija Temples will be brought to life by a local interest guide. 
Option 2 - Ggantija Temples & Ramla Bay
Distance: 8 miles (13km)
Total ascent: 800m (240m)
In summary: We start from our hotel and walk along the coast to Mgarr-ix-Xini. We then take a steep ascent inland into a dry valley and on to the village of Xewkija, before following the other party's route on to Ramla Bay.
Highlight: Calypso's Cave is the mythical location where Calypso kept an enchanted Odysseus for seven years .
---
Each week there is a free day when no guided walks are offered. This is an ideal opportunity to relax around the hotel, walk independently or visit local places of interest. Some options for your free day may include:
Visit an agricultural estate to hear how traditional farming is carried out. Food and wine tasting is included in the tour.
Catch one of the many ferries and buses to spend the day sightseeing in Valletta, Malta's capital.
Local information website: For information on Gozo please visit www.gozo.gov.mt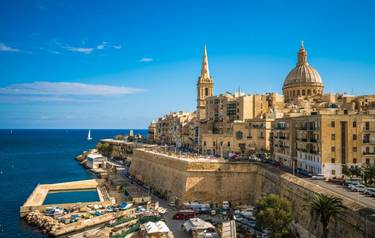 ---
A combination of man's burrowing and gigantic sea erosion has shaped the landscape of today's walks. On the Harder Walk, we'll descend by cliff paths to Xlendi before a spectacular ascent of the cliffs to the west leads to Dwerja Point. Both walks visit Dwerja Point where once stood the dramatic sea-arch known as the Azure Window. Sadly, due to a combination of sea erosion and high winds, the Azure Window collapsed in March 2017. If time and weather permit, a boat trip can be taken from the Inland Sea through a tunnel in the rock out to view the nearby cliffs and Fungus Rock. Both walks continue on into Victoria, the island's capital, for well-earned refreshments
Option 1 - Fungus Rock & the Inland Sea
Distance: 6 miles (9½km)
Total ascent: 500 feet (150m)
In summary:The day starts with a gradual descent to see Fungus Rock - prominently guarding the entrance to Dwerjra Bay and onto Dwerjra Point where we can see the site of the collapsed Azure Window sea arch. We then circle the Inland Sea before heading for some sightseeing in Victoria.
Highlight: There's opportunity to take a boat ride through the caves into the open sea.
Option 2 - Xlendi Cliffs & Dwerjra Bay
Distance: 10 miles (16km)
Total ascent: 1,200 feet (360m) 
In summary: Our walk starts at the village of Sannat and follows a dramatic coast path to the resort of Xlendi. After a spectacular ascent to the cliff tops we'll walk on to Wardija Point and then follow the route of the other party all the way to Victoria. 
Highlight: Take a look inside the 17th Century Dwerjra Tower - one of only four surviving coastal watchtowers on Gozo.
---
Today's walks offer extensive views over the straits to Comino and Malta. Our groups traverse a delightful flat rock shore and then enjoy charming coves, verdant gardens and wonderful wild flowers. The harder walk descends to the secluded San Blas Bay for the opportunity of a midday swim. The easier group stays high and lunches in local gardens. Continuing, both groups make their way through the outskirts of Nadur, arriving at one of the most stunning viewpoints on Gozo.
Option 1 - Qala, Strands and Nadur
Distance: 7 miles (11km)
Total ascent: 800 feet (240m) 
In summary: We start our day at Qala for great views of the strait to Comino and Malta. We then walk through open countryside to the small harbour of Dahlet Qorrot, before taking lunch at the lovely San Blas gardens. We finish our walk by walking a fertile valley to Nadur, and back to our hotel.
Highlight: We'll look out for beautiful wildflowers and verdant gardens on our way to San Blas.
Option 2 - Strait, Strands and Coves
Distance: 10 miles (16km) 
Total ascent: 1,400 feet (420m) 
In summary: We walk in the remote north-east corner of the island, walking the coastline for fantastic views of Comino and Malta. We'll visit San Blas Bay, before picking up the route back to the hotel via Nadur.
Highlight: San Blas Bay is a wonderfully secluded spot, reached by a relatively steep descent. The bay is perfect for a rest stop and a mid-walk swim.
---
We hope to see you again soon.
---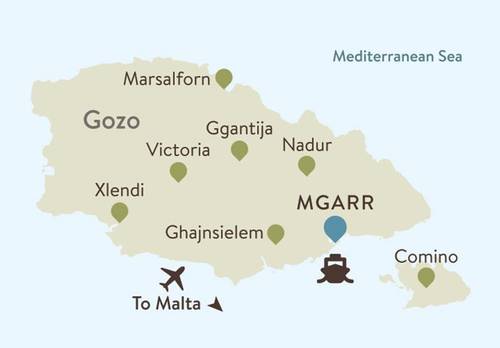 Grand Hotel - Gozo
The charming 4-star Grand Hotel with its comfortable accommodation, and friendly efficient service, occupies a commanding location overlooking Mgarr harbour and has views across the straits to Comino and Malta.  Winner of three HF Hotel Awards in 2018 based on outstanding guest feedback. The hotel features indoor and outdoor swimming pools, a well equipped bar and two restaurants. 
Rooms
The hotel has 93 en-suite bedrooms, many of which have a balcony with either sea views over Mgarr Harbour or the open countryside.

All bedrooms have:
En-suite bathroom with bath with shower 
Air conditioning
TV
Telephone
Mini-bar
Hairdryer
Free Wi-Fi
Facilities
The hotel has a range of facilities to enjoy after a day's walking, including a:
Lounge bar
Games room
Mini cinema
Outdoor swimming pool
Sauna
Jacuzzi
Gymnasium
NEW indoor pool
Food & Drink
Our holidays at the Grand Hotel are on a Half Board basis and include breakfast and evening meal.
Breakfast
There is an extensive selection of hot and cold options for breakfast from a self-select buffet.
Lunch (payable locally)
You can buy picnic lunches from the hotel (order the evening before). Alternatively you can buy ingredients from the supermarket in the village or eat in a café during the walks; your leaders will advise you of all the options.
Evening meal
The Grand Hotel has a buffet dinner, comprising a choice of soup, antipasti/salad dishes, plus hot pasta. Main courses always include a choice of meat or fish, plus hot vegetables. The sweet course is usually fresh fruit/fruit salad or gateau. There will be a vegetarian option if requested; we recommend that you discuss any special dietary requirements with the restaurant manager or chef.
Drinks
The hotel has a well-stocked bar serving beer, wine and spirits.
Your Evenings
The friendly atmosphere of our holidays continues into the evening.
Enjoy a glass of wine or local beer before hearing about the next day's walks.
On most evenings there will be some kind of entertainment: watch a film in the hotel's own cinema: relax in the hotel with a drink and chat with your fellow guests.
Your leader will inform you of what options are available.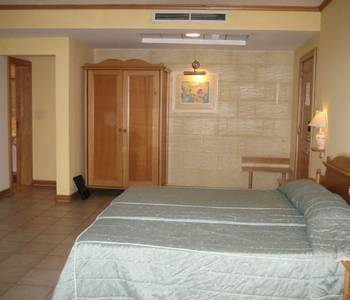 Getting to Grand Hotel - Gozo
Find out more about this location including travel details and room types.
More Information
What to Bring
Essential Equipment
To enjoy walking/hiking comfortably and safely, footwear, clothing and equipment needs to be suitable for the conditions. Safety and comfort are our priorities, so our advice is to come prepared for all eventualities.
Footwear with a good grip on the sole (e.g.Vibram sole) is the key to avoiding accidents.
Walking/hiking boots providing ankle support and good grip are recommended (ideally worn in), and specialist walking socks to avoid blisters.
Several layers of clothing, which can be added or removed, are better than a single layer (include spares).
Fabrics (lightweight and fast drying) designed for the outdoors are recommended.
Waterproof jacket and waterproof over trousers.
Warm hat and gloves. Gaiters are an optional but useful extra.
Denim jeans and capes are not suitable on any walks.
Rucksack with a waterproof liner.
Thermos flask for hot drink.
Water bottle (at least 2 litre).
Spare high-energy food such as a chocolate bar.
Small torch.
First aid kit – your leader's first aid kit doesn't contain any medication or blister kits (such as Compeed).
Sun hat and sunglasses
Sun cream.
Optional Equipment
Walking poles are useful, particularly for descents.
Insect repellent.
Sunglasses.
Camera.
All holidays are subject to availability and prices are subject to change.
Non-member associate fee: £10 per person.
These departure dates can be booked with flights or as land only holiday options. All packages that include flights are ATOL protected. Advertised flight prices are based on UK flights departing from London. Regional departures and/or connections to London, if available, can be requested. Cabin upgrades may also be available on request.
Date (Start - End)
Version
Price
Status
Trip Notes
Book
2019
28 Sep - 05 Oct
2019 Itinerary

£999

Unavailable
05 Oct - 12 Oct
2019 Itinerary

£999

£948
Unavailable
12 Oct - 19 Oct
2019 Itinerary

£999

Unavailable
29 Dec - 05 Jan
2019 Itinerary

£1,299

£1,149
Save £150 Per Person
Book Now
2020
15 Feb - 22 Feb
2019 Itinerary

£999

£949
SAVE £50 PER PERSON
Book Now
22 Feb - 29 Feb
2019 Itinerary

£999

£949
SAVE £50 PER PERSON
Book Now
29 Feb - 07 Mar
2019 Itinerary

£999

£949
SAVE £50 PER PERSON
Book Now
07 Mar - 14 Mar
2019 Itinerary

£999

Available
Book Now
14 Mar - 21 Mar
2019 Itinerary

£999

Available
Book Now
21 Mar - 28 Mar
2019 Itinerary

£999

Available
Book Now
03 Oct - 10 Oct
2019 Itinerary

£999

Available
Book Now
10 Oct - 17 Oct
2019 Itinerary

£999

Available
Book Now
17 Oct - 24 Oct
2019 Itinerary

£999

Available
Book Now
Date (Start - End)
Version
Price
Status
Trip Notes
Book
2019
28 Sep - 05 Oct
2019 Itinerary

£799

Unavailable
05 Oct - 12 Oct
2019 Itinerary

£799

Unavailable
12 Oct - 19 Oct
2019 Itinerary

£799

Unavailable
29 Dec - 05 Jan
2019 Itinerary

£949

£799
Save £150 Per Person
Book Now
2020
15 Feb - 22 Feb
2019 Itinerary

£749

£699
SAVE £50 PER PERSON
Book Now
22 Feb - 29 Feb
2019 Itinerary

£749

£699
SAVE £50 PER PERSON
Book Now
29 Feb - 07 Mar
2019 Itinerary

£749

£699
SAVE £50 PER PERSON
Book Now
07 Mar - 14 Mar
2019 Itinerary

£749

Available
Book Now
14 Mar - 21 Mar
2019 Itinerary

£749

Available
Book Now
21 Mar - 28 Mar
2019 Itinerary

£749

Available
Book Now
03 Oct - 10 Oct
2019 Itinerary

£749

Available
Book Now
10 Oct - 17 Oct
2019 Itinerary

£749

Available
Book Now
17 Oct - 24 Oct
2019 Itinerary

£749

Available
Book Now
Important Information
Double room for sole occupancy: from £18 per night
With flight holidays include flights from London Heathrow. Flight supplement from Manchester: £60
Independent travellers can join our transfer from Malta airport: £25 single
Our airport taxi service operates at this resort - price on request