This mountainous terrain is a walker's paradise, with exhilarating routes spreading out across the dramatic landscape of this rugged island. Perfect for those with a real head for heights, this small island manages to squeeze in breathtaking barrancos, laurisilva forest and the wonderful Garajonay National Park. Stay at the Parador with its sea views and easy access to the tiny island capital of San Sebastián – Christopher Columbus' stop off point en route to the Americas. There will also be time to explore traditional villages, and the option to reach the top of the island. La Gomera is a short ferry journey from neighbouring Tenerife and known as the ultimate winter walking escape. The island has narrow and deep ravines crisscrossed by rugged mountains and offers a network of trails and pathways. 'Caminos reales' (royal paths) were used by the inhabitants of the island until the middle of the last century to pass through some difficult areas with horses and donkeys carrying loads of straw, cereals, potatoes and other products. The island is bathed by trade winds and the geography of the island allows several microclimates. The north is wetter – where the World Heritage Site of Garajonay National Park is located, the rain condenses creating a beautiful green forest. Meanwhile in the south the weather is sunny and much warmer most of the year. The average temperature of 22° makes this a great place to visit at any time of the year. San Sebastián, La Gomera's capital, has beautiful buildings and traditional Canarian architecture. The Virgin of Guadalupe is the patron saint of San Sebastián and you can visit the charming Chapel of Puntallana.
Holiday Highlights
Conquer high cliffs and walk along a ridge with incredible views
Experience La Gomera's whistling language and look out for dolphins following your ferry
Discover breathtaking barrancos and the stunning Garajonay National Park
Explore the island capital of San Sebastián
What's included
A full programme of guided walks with 2 options every day
All transport to and from walks
The services of experienced  HF Holidays' leaders
'With flight' holidays include return flights from the UK and hotel transfers
7 nights' accommodation in en-suite rooms
Half Board – extensive breakfast and á la carte dining in the evenings
Welcome to Parador de La Gomera. Unpack and settle in.
---
Both groups will start the day with a stroll down the hill and an exploration of San Sebastián. We then board our transport for the ride up to the Garajonay National Park, in the centre of the island.
Option 1 - Exploring Garajonay
Distance: 6 miles (9½km) 
Total ascent: 700 feet (210m) 
In summary: This walk follows a broad contouring track around Garajonay, to reach a viewpoint and pick up the GR 131. Our path then descends to tiny Igualero and another mirador. Here we find a monument to Silbo, the unique whistling language of La Gomera. Below the village we join a high terrace path in a spectacular location to traverse round the hillside and pass beneath the rocky stronghold of Fortaleza. We continue to the large village of Chipude where we finish our walk at one of the bars in the square.
Highlight: Igualero's monument to Silbo, La Gomera's unique whistling language.
Option 2 - Fortaleza
Distance: 7 miles (11km)
Total ascent: 1,200 feet (350m)
In summary: This walk follows the same route as the easier walk as far as the col beneath Fortaleza. Here we follow an airy path on a winding route up through the cliffs to reach the top at 1,243m. After circling the summit plateau, we retrace our route down to the col and continue to Chipude.
Highlight: The views from the summit of Fortaleza are excellent.
---
Today we will use hired transport to make our first visit to the northern side of La Gomera, with its small fields of bananas and the village of Agulo.
Option 1 - Agulo & the Mirador de Abrante
Distance: 6 miles (10km) 
Total ascent: 700 feet (210m) 
Total descent: 2,800 feet (870m) 
In summary: We begin at the visitor centre high above Agulo, where you can learn more about the flora, fauna, history and traditions of the island. Starting our walk, we follow a good track along the ridge before striking out across vivid red earth to reach the cafe and skywalk at Mirador de Abrante. Returning to the ridge, we begin the steady descent to the attractive settlement of Agulo. Here there will be time to look around and pause for a drink, before continuing our descent to the coast and a stroll above the seaside rocks to the wild bay of Playa Hermigua, before ascending to the road for the bus back to the hotel.
Highlight: The skywalk at the Mirador de Abrante is a spectacular experience.
Option 2 - Inland from Agulo
Distance: 8 miles (13km)
Total ascent: 2,200 feet (660m)
In summary: We leave our transport in Agulo to ascend a seemingly impossible route through the cliffs behind the village. We ascend on a steep stepped path to a mirador above the coast. The route then follows a valley inland before a further ascent takes us to the visitor centre where our easier group started their walk. We follow the easier route back through Agulo to finish at Hermigua.
Highlight: The ascent of the cliffs is on good paths and is a stunning start to our day's walk.
---
Today we visit the Garajonay National Park to ascend the highest point on the island (1,487m). It provides an opportunity to see at close hand the unique laurel and tree heather forest that once covered much of the centre of the island.
Option 1 - Forest Tracks to La Gomera's heart
Distance: 7½ miles (12km)
Total ascent: 1,200 feet (360m)
In summary: We start this walk at the Visitor Centre at Laguna Grande and take well marked forest paths and tracks to the summit of Garajonay for views across the island. This route then meanders through the famous laurel and tree heather forest before descending through farmland to the village of El Cercado.
Highlight: El Cercado is renowned for its characteristic brown pottery, made only by women.
Option 2 - The Roof of the Island
Distance: 7 miles (11½km)
Total ascent: 400 feet (130m) 
Total descent: 4,100 feet (1,250m) 
In summary: This group alights at Pajarito to directly ascend Garajonay summit, with good views to neighbouring islands. After admiring the view, we descend through the forest to Ermita de Lourdes, and the village of El Cedro, where we may choose to sample the watercress soup for lunch. The most dramatic part of our walk is the descent by a stepped path down the cliff, before continuing down to the lower valley and finishing at El Convento.
Highlight: On a clear day we'll be able to spot the other Canary Islands from the summit of Garajonay.
---
Each week there is a free day when no guided walks are offered. This is an ideal opportunity to relax around the hotel, walk independently or visit local places of interest. Some options for your free day may include:
San Sebastián: Wander down to San Sebastian and visit the excellent little archaeological museum, sit and people watch in the shady square or even visit the sheltered black sandy bay for a swim. Hire a boat from San Sebastián for a fishing or whale watching trip (max five people.
Hotel: Spend the day at the hotel, perhaps taking advantage of the swimming pool, sauna or massage facilities, or wander through the hotel gardens improving your knowledge of the local fauna. Stroll out from the hotel through the town to the remote beach at Playa Guancha or in the other direction for a shorter walk to the lighthouse at Punta de San Cristobal.
La Gran Rey: Take a bus ride from the town to La Gran Rey, one of the main beach resorts, for a meal, swim or even a trip on one of the whale watching boats.
For information on La Gomera please visit www.lagomera.travel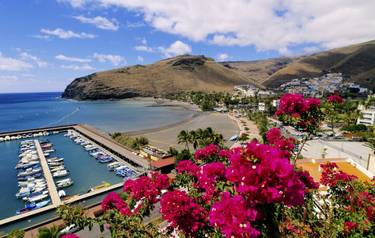 ---
Both groups will have a short bus journey to the start of these walks and finish at the Parador. This area has wild and remote countryside with excellent views.
Option 1 - San Sebastián
Distance: 7½ miles (12km)
Total ascent: 1,200 feet (360m)
Total descent: 2,400 feet (735m)
In summary: This walk starts by ascending an ancient trail towards Enchereda, we then take a good track to a col where we stop to admire the fine views before continuing the ascent on a rocky path (GR132). This track zigzags down just below Jaragan and then a ridge walk takes the group back into San Sebastián.
Highlight: Walking a ridgeline means we're accompanied by great views for much of the day.
Option 2 - Ayamosna and the deserted south
Distance: 11 miles (18km)
Total ascent: 1,000 feet (300m)
Total descent: 3,200 feet (960m) 
In summary: We start at the mirador at the Degoilade de Paraza, just 15km from San Sebastián. A few steps lead to a cliff path to the settlement of Ayamosna and onto a wild rocky ridge before descending into a steep valley. The group then ascends again to the GR131 coastal footpath that winds down to a deserted beach. There are headland views and distant San Sebastián. The group arrives back at the Parador after making their way through the town.
Highlight: The beach at Playa de la Guancha is an idyllic spot for a swim on a calm day.
---
For our final walks of the week we make our first visit to the valleys to the southwest of San Sebastián. Our road branches off the high road at the Degollada de Peraza and heads down towards Playa Santiago.
Option 1 - The Benchijigua Valley
Distance: 6 miles (9km)
Total ascent: 400 feet (120m) 
Total descent: 2,300 feet (690m)
In summary: This group takes a broad track winding along the hillside to the attractive restored hamlet of Benchijigua. Taking a narrow path we follow the valley southwards through terraces, along a rock shelf and past a disused gofio mill. We then descend to cross a dry stream bed, before ascending to the bar at Pastrana. We continue to meet our transport at the road junction just beyond which will take us to visit Playa Santiago.
Highlight: There's an excellent tapas bar in Pastrana; a perfect place to wait for our coach.
Option 2 - The Guarimiar Barranco
Distance: 10 miles (16km)
Total ascent: 1,800 feet (540m)
Total descent: 3,100 feet (950m)
In summary: We initially follow the same route as the easier walk to Benchijigua, before picking up the rising track over the ridge and descending to Imada, a village nestling near the top of the neighbouring valley. Here we take the path through the famous Guarimiar barranco, walking beneath and above high cliffs, to the hamlet of Guarimiar. The route then continues down the valley with the option to climb to a higher road and welcoming bar.
Highlight: The Guarimiar barranco is famed for a reason; it's one of the most spectacular parts of La Gomera.
---
We hope to see you again soon.
---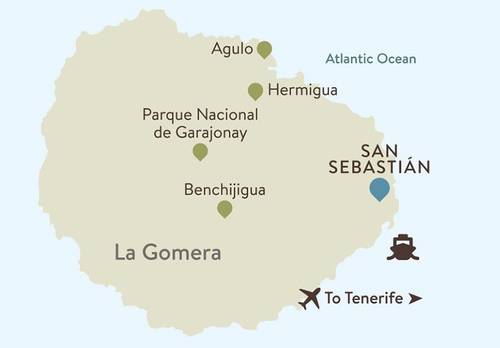 Parador de La Gomera
The stylish Parador de la Gomera is perched over the town of San Sebastián and the harbour, with incredible coastal views. There is a tropical garden surrounding the hotel with an outdoor pool, as well as a relaxing enclosed central courtyard. The hotel's restaurant has a great local reputation and offers hearty Canarian fayre.
Facilities
The Parador has an outdoor swimming pool in a stunning location overlooking the harbour and marina of San Sebastián. The hotel is surrounded by a delightful garden planted with palms and tropical shrubs with paths that lead you to viewpoints.

There are traditional courtyard areas to relax in at the end of the day as well as several comfortable lounges, all furnished with antique colonial furniture, and some with wonderful sea views.  
There is an attractive dining area with an enclosed veranda leading to the garden. There is a small sauna available to all guests.
Food & Drink
Our holidays at La Gomera are on a Half Board basis and include breakfast and evening meal.
Breakfast
An extensive continental breakfast is served in the attractive dining room which includes fresh fruit, juices, eggs, selection of breads, cheese, hams, cereals, yoghurt, jams and tea/coffee.
Lunch (payable locally)
You may prefer to buy ingredients for your packed lunch locally in nearby San Sebastian. On some days it may be possible to visit shops on the walk, or eat in a local café; your leaders will advise you of the options.
Evening meal
The Parador has a great reputation on the island for their excellent cuisine and to ensure that our guests enjoy this, we have recently arranged for our guests to experience á la carte dining. This will give you an opportunity to sample the unique Canarian dishes; potage de berros (watercress broth) or cazuela de pescados gomeros (a local fish casserole) as well as others.
Your Evenings
Each evening your walking leaders will tell you about the choice of walks for the next day and answer any questions you may have. During the evening you may like to join in an optional organised evening activity, such as a quiz.
On a warm evening, it is nice just to stroll in the gardens or even down to San Sebastian for a drink in a local bar.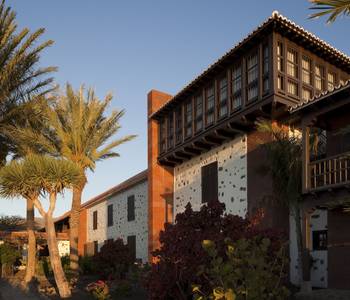 Getting to Parador de La Gomera
Find out more about this location including travel details and room types.
More Information
What to Bring
Essential Equipment
To enjoy walking/hiking comfortably and safely, footwear, clothing and equipment needs to be suitable for the conditions. Safety and comfort are our priorities, so our advice is to come prepared for all eventualities.
Footwear with a good grip on the sole (e.g.Vibram sole) is the key to avoiding accidents.
Walking/hiking boots providing ankle support and good grip are recommended (ideally worn in), and specialist walking socks to avoid blisters.
Several layers of clothing, which can be added or removed, are better than a single layer (include spares).
Fabrics (lightweight and fast drying) designed for the outdoors are recommended.
Waterproof jacket and waterproof over trousers.
Warm hat and gloves. Gaiters are an optional but useful extra.
Denim jeans and capes are not suitable on any walks.
Rucksack with a waterproof liner.
Thermos flask for hot drink.
Water bottle (at least 2 litre).
Spare high-energy food such as a chocolate bar.
Small torch.
First aid kit – your leader's first aid kit doesn't contain any medication or blister kits (such as Compeed).
Sun hat and sunglasses
Sun cream.
Optional Equipment
Walking poles are useful, particularly for descents.
Insect repellent.
Sunglasses.
Camera.
All holidays are subject to availability and prices are subject to change.
Non-member associate fee: £10 per person.
These departure dates can be booked with flights or as land only holiday options. All packages that include flights are ATOL protected. Advertised flight prices are based on UK flights departing from London. Regional departures and/or connections to London, if available, can be requested. Cabin upgrades may also be available on request.
Date (Start - End)
Version
Price
Status
Trip Notes
Book
2020
18 Jan - 25 Jan
2019 Itinerary

£1,649

£1,499
TOP OFFER - SAVE £150 PER PERSON
Book Now
25 Jan - 01 Feb
2019 Itinerary

£1,649

£1,499
TOP OFFER - SAVE £150 PER PERSON
Book Now
01 Feb - 08 Feb
2019 Itinerary

£1,649

£1,499
TOP OFFER - SAVE £150 PER PERSON
Book Now
08 Feb - 15 Feb
2019 Itinerary

£1,649

Available
Book Now
15 Feb - 22 Feb
2019 Itinerary

£1,649

Available
Book Now
22 Feb - 29 Feb
2019 Itinerary

£1,649

Available
Book Now
29 Feb - 07 Mar
2019 Itinerary

£1,649

Available
Book Now
07 Mar - 14 Mar
2019 Itinerary

£1,649

Available
Book Now
Date (Start - End)
Version
Price
Status
Trip Notes
Book
2020
18 Jan - 25 Jan
2019 Itinerary

£1,449

£1,299
TOP OFFER - SAVE £150 PER PERSON
Book Now
25 Jan - 01 Feb
2019 Itinerary

£1,449

£1,299
TOP OFFER - SAVE £150 PER PERSON
Book Now
01 Feb - 08 Feb
2019 Itinerary

£1,449

£1,299
TOP OFFER - SAVE £150 PER PERSON
Book Now
08 Feb - 15 Feb
2019 Itinerary

£1,449

Available
Book Now
15 Feb - 22 Feb
2019 Itinerary

£1,449

Available
Book Now
22 Feb - 29 Feb
2019 Itinerary

£1,449

Available
Book Now
29 Feb - 07 Mar
2019 Itinerary

£1,449

Available
Book Now
07 Mar - 14 Mar
2019 Itinerary

£1,449

Available
Book Now
Important Information
Double room for sole occupancy: £42 per night
With flight holidays include flights from London Heathrow.
UK connecting flights to meet our Heathrow British Airways flight available from Manchester, Leeds Bradford, Newcastle, Glasgow or Edinburgh.   £139
Both with and without flights holidays include transfer from Tenerife South airport including ferry crossing