Discover the wild Atlantic coast with dramatic cliffs, varied landscapes and Cape St. Vincent. The national parks in this area are filled with colourful wild flowers and are renowned for their bird life, including storks, that build large elevated eye-catching nests on buildings and even telegraph poles! There are many historical towns in this region including the nearby town of Lagos with its colourful tiled buildings, old town wall and fishing port. Silves' cobbled streets rise from an ancient market area to an imposing hill fort and an old Roman bridge over the tidal river Arade. Our walks from Luz offer an incredible variety of walks on well marked routes with plenty of opportunities for refreshments and to sample the local cuisine. The province of the Algarve is located in the far south of Portugal and is bordered by the Atlantic on two sides, by the mountains to the north, and by Spain to the east. It's 150 miles of coastline stretching west to Cape St Vincent, which is formed of red cliffs and rock formations that overlook numerous golden beaches. Justly renowned for the beauty of its glorious coast, a deeper exploration of the region reveals a land rich in history, culture and scenic contrasts. Groves of figs, oranges and almonds are found in abundance between the cork-oak clad slopes of the northern mountains and the golden sands and red cliffs of the south. The first occupants of the Algarve are believed to be the Cynetes, followed by the Phoenicians and Carthaginians, who established trading posts along the coast. It was the Romans who organised the region by planting vineyards and improving agriculture. The area was later dominated for 500 years by the Moors, who sailed from North Africa in search of fertile land. They arrived in 711AD and their influence lives on in the local architecture and music. The name 'Algarve' originates from the Arabic Al Gharb which means the west.
Holiday Highlights
Stunning coastal scenery in this picturesque corner of Europe
Soak up the Portuguese culture in the traditional cobbled streets of Lagos
Uncover the paradise of green hills, wildflowers and eucalyptus trees around Monchique
Cape St. Vincent with its lighthouse and striking, high sea cliffs
What's included
A full programme of guided walks with 2 options every walking day
All transport to and from walks
The services of experienced HF Holidays leaders
'With flight' holidays include return flights from the UK and hotel transfers
7 night's accommodation in en-suite rooms
Half Board –buffet breakfast and 3-course evening meal
Welcome to Hotel Belavista. Unpack and settle in.
---
Our first day of walks starts with a short coach ride to the fishing village of Burgau. This is one of the most unspoilt villages on the Algarve coast and it still retains its original charm and character.
Option 1 - Burgau to Porto de Mos
Distance: 6 miles (9½km)
Total ascent: 600 feet (180m)
In summary: We walk east towards Luz where the coastal scenery changes dramatically from tall cliffs to coastal plain.  Passing along the promenade of Luz we ascend to the Watch Tower of Atalia and once more are on rugged cliffs but very easy paths before descending to the resort of Porto de Mos. 
Highlight: A great coastal introduction to the Western Algarve.
Option 2 - Burgau to Ponta da Piadade
Distance: 7½ miles (12km)
Total ascent: 800 feet (240m)
In summary: The harder walkers follow their route from Burgau along the coast to Ponta da Piadade on foot passing through the houses then gaining the cliff paths again. There will be a little time at Ponta da Piadade before returning to the hotel.
Highlight: The magnificent sea stacks and grottos at Ponta da Piadade
---
Today we travel to the coast east of Luz and Lagos. 
Option 1 - Six Hanging Valleys
Distance: 5 miles (8km)
Total ascent: undulating
In summary: The Easier walk starts at the lighthouse of Cabo Carvoeiro, with dramatic views down to the sea. The path undulates along the cliffs, with some descent to hidden coves, and ascent to the cliff tops. 
Highlight: On this walk, you will see stacks rising from the sea, the typical geology of the Western Algarve coast.
Option 2 - Seven Hanging Valleys
Distance: 6½ miles (10km)
Total ascent: undulating
In summary: The Harder walk starts at the pretty Sentianes Beach and meanders along the tops of the amazing cliffs. We then finish at the delightful chapel of Senhora da Rocha.
Highlight: Watch out for the interesting geology, typical of the Western Algarve.
---
These walks explore the coast line in the Cabo de Sau Vicente Natural Park.  Figueira, which still retains its old farming atmosphere, remains virtually unspoilt and is well known for its rich variety of wild flowers and birdlife.  
Option 1 - Praia da Ingrina to Sagres
Distance: 5 miles (8km)
Total ascent: 500 feet (150m)
In summary: Today, our walk starts from the beach at Ingrina. We follow the cliff top, before descending to the unspoilt Praia do Barranco. We then continue back up to the cliff top and finish our walk in Sagres.
Highlight: This section of coast is in the Park Natural do Sudoeste Alentejano e Costa Vincentina
Option 2 - Figueira to Sagres
Distance: 9 miles (14½km)
Total ascent: 900 feet (270m)
In summary: We begin our walk in the hamlet of Figueira. Our passes through countryside, sometimes with ocean views to descend to the beach at Zavial. From here we head inland to Ingrina, then follow the route of the easier group along the coast to Sagres.
Highlight: Sagres is the most south-westerly community in Europe.
---
Today there are no organised walks, allowing you time to explore the local area or just relax in the hotel or at the beach.
Your free day offers the chance to relax in this resort, visit Lagos by local bus and walk the town trail or take a boat trip from Luz or Lagos.
Lagos: The town is easily accessible by bus directly from outside the hotel. The town has a rich historical past.  There is a bold boulevard with marina and many shops and restaurants.  Lacobriga was the Roman name for Lagos and the Roman wall can still be seen, many parts of it original.  It became the capital of the Algarve with the Governors Palace at the headquarters of Henry's School of Navigation.  Lagos became a key port in the slave trade from the 14th century until it was abolished in the second half of the 19th century.  Most of the city was destroyed in the 1755 earthquake but one survivor is the alter of the Chapel of St. Antony.  There are boat trips from Lagos to Ponta Piadade with its many grottos and sea cliffs to wonder at.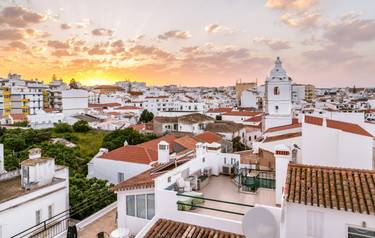 ---
Today we head for the hills of the Serra de Monchique. The town of Monchique is set in a valley between the two highpoints of the Algarve, Foia and Picota at 997 and 773 metres respectively. 
Option 1 - Monchique and Caldas
Distance: 5½ miles (9km)
Total ascent: 700 feet (210m)
In summary: Our walk begins on a quiet road that winds its way into the foothills of Picota. We make our way down to the Boina river valley where we are rewarded with a marvellous panorama of the coast over the rolling hills.
Highlight: Spend a little time in the town of Monchique.
Option 2 - Carrapateira and Pontal
Distance: 7½ miles (12km)
Total ascent: 1,300 feet (390m)
In summary: Our route takes a track further into the foothills of Picota than the easier group, then descends into the Boina valley, ending in Caldas.
Highlight: The option to reach the summit of Picota. Well worth it for the panoramic views.
---
Today's walks take us through the village of Carrapatiera and to the West Atlantic coast.
Option 1 - Carrapateira and Pontal
Distance: 5½ miles (9km)
Total ascent: 400 feet (120m)
In summary: Today, we start our circular walk in Carrapateira and follow the coastline to Praia da Bordeira. From here we will cross some boardwalk, which offer spectacular views of the coast.
Highlight: The boardwalk offering a different view of the coastline.
Option 2 - Monte Velho and Carrapateira
Distance: 8 miles (13km)
Total ascent: 700 feet (210m)
In summary: From Carrapatiera we head towards a remote hamlet called Vilarinha but before reaching it we turn off to pass the famous retreat called Monte Velho. The path ascends to a very broad ridge passing a trig point and down to the outskirts of Carrapeira.
Highlight: Monte Velho is in an idyllic spot with two small lakes. 
---
We hope to see you again soon.
---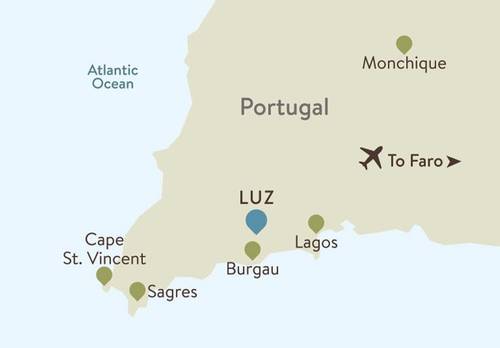 Hotel Belavista da Luz - Western Algarve
The 4-star Hotel Belavista da Luz enjoys an elevated position overlooking the coastal resort of Luz. The hotel is built in a horseshoe shape wrapped around colourful gardens and the two outdoor swimming pools.  Modern and stylish bedrooms have either a balcony or terrace and some have distant sea views.  The restaurant produce a delicious mix of meals with some traditional Portuguese dishes as well as international favourites.  A short walk down the hill you will find shops, services and the extensive beach.  
Rooms
There are 39 spacious en-suite bedrooms offering:
air conditioning
television
telephone
bathtub with overhead shower
hairdryer
refrigerator
tea and coffee making facilities
safe
balcony or terrace.
Facilities
As a guest, you can enjoy the use of:
two outdoor swimming pools
tennis and pool facilities
free access to a small gym
Steam room and sauna.
Your Evenings
The friendly atmosphere of our Guided Walking holidays continues into the evening.
Enjoy a glass of wine or beer whilst listening to your leaders outlining the next day's walks. On some evenings there may be some live music and the leaders will be checking for local events going on nearby. You may just like to relax in the hotel bar or on the terrace outside chatting with your fellow guests.
Getting to Hotel Belavista da Luz - Western Algarve
Find out more about this location including travel details and room types.
More Information
What to Bring
Essential Equipment
To enjoy walking/hiking comfortably and safely, footwear, clothing and equipment needs to be suitable for the conditions. Safety and comfort are our priorities, so our advice is to come prepared for all eventualities.
Footwear with a good grip on the sole (e.g.Vibram sole) is the key to avoiding accidents.
Walking/hiking boots providing ankle support and good grip are recommended (ideally worn in), and specialist walking socks to avoid blisters.
Several layers of clothing, which can be added or removed, are better than a single layer (include spares).
Fabrics (lightweight and fast drying) designed for the outdoors are recommended.
Waterproof jacket and waterproof over trousers.
Warm hat and gloves. 
Denim jeans and capes are not suitable on any walks.
Rucksack with a waterproof liner.
Thermos flask for hot drink.
Water bottle (at least 2 litre).
Spare high-energy food such as a chocolate bar.
Small torch.
First aid kit – your leader's first aid kit doesn't contain any medication or blister kits (such as Compeed).
Sun hat and sunglasses
Sun cream.
Optional Equipment
Walking poles are useful, particularly for descents.
Insect repellent.
Camera.
Gaiters.
All holidays are subject to availability and prices are subject to change.
Non-Member fee: £10 per person.
These departure dates can be booked with flights or as land only holiday options. All packages that include flights are ATOL protected. Advertised flight prices are based on UK flights departing from London. Regional departures and/or connections to London, if available, can be requested. Cabin upgrades may also be available on request.
Date (Start - End)
Version
Price
Status
Trip Notes
Book
2020
15 Feb - 22 Feb
2019 Itinerary

£999

£949
Save £50 Per Person
Book Now
22 Feb - 29 Feb
2019 Itinerary

£999

£949
Save £50 Per Person
Book Now
29 Feb - 07 Mar
2019 Itinerary

£999

£949
Save £50 Per Person
Book Now
07 Mar - 14 Mar
2019 Itinerary

£999

Available
Book Now
14 Mar - 21 Mar
2019 Itinerary

£999

Available
Book Now
21 Mar - 28 Mar
2019 Itinerary

£999

Unavailable
28 Mar - 04 Apr
2019 Itinerary

£999

Unavailable
04 Apr - 11 Apr
2019 Itinerary

£999

Available
Book Now
11 Apr - 18 Apr
2019 Itinerary

£999

Unavailable
18 Apr - 25 Apr
2019 Itinerary

£999

Unavailable
26 Sep - 03 Oct
2019 Itinerary

£999

Available
Book Now
03 Oct - 10 Oct
2019 Itinerary

£999

Available
Book Now
10 Oct - 17 Oct
2019 Itinerary

£999

Available
Book Now
Date (Start - End)
Version
Price
Status
Trip Notes
Book
2020
15 Feb - 22 Feb
2019 Itinerary

£749

£699
Save £50 Per Person
Book Now
22 Feb - 29 Feb
2019 Itinerary

£749

£699
Save £50 Per Person
Book Now
29 Feb - 07 Mar
2019 Itinerary

£749

£699
Save £50 Per Person
Book Now
07 Mar - 14 Mar
2019 Itinerary

£749

Available
Book Now
14 Mar - 21 Mar
2019 Itinerary

£749

Available
Book Now
21 Mar - 28 Mar
2019 Itinerary

£749

Unavailable
28 Mar - 04 Apr
2019 Itinerary

£749

Unavailable
04 Apr - 11 Apr
2019 Itinerary

£749

Available
Book Now
11 Apr - 18 Apr
2019 Itinerary

£749

Unavailable
18 Apr - 25 Apr
2019 Itinerary

£749

Unavailable
26 Sep - 03 Oct
2019 Itinerary

£749

Available
Book Now
03 Oct - 10 Oct
2019 Itinerary

£749

Available
Book Now
10 Oct - 17 Oct
2019 Itinerary

£749

Available
Book Now
Important Information
Double room from sole occupancy: £30 per night
Sea view: £26 per room per night
With flight holidays include flights from Gatwick. Flight supplement from Manchester: £90
Independent travellers can join our transfer from Faro Airport: £24.50 single
Our airport taxi service operates at his resort: £82 per single taxi journey