Limone offers a great location to easily access the stunning walks and high alpine ridges around Lake Garda. Soak up the panoramic views and Italian flair of this charming area, and walk in the surrounding limestone hills with their unspoilt villages. The Italian Lakes are famed for their charm and beauty, making them the pioneers of European holidays, and the northern shores of Lake Garda are surrounded by the beautiful mountains of Trentino, just waiting to be explored on foot. Lake Garda has charmed foreign visitors for centuries and for the ancient Romans, this was a luxury summer destination. Ruins and mosaics in Sirmione and Desenzano record their presence. We are based in the dramatic fjord-like northern end of the lake, surrounded by towering mountains and beautiful lakeside towns well connected by boats and ferries.  Limone, famous for its cultivation of lemons, was originally only accessed by boat until they started building a road in 1932 through Riva del Garda which reached Limone in 1940. It has now become a popular tourist resort and a good scenic base for exploring and enjoying the lake.
Holiday Highlights
Walk amidst the majestic peaks that surround the northern shores of Lake Garda
Enjoy wonderful panoramic views and a great viewpoint over this iconic lake
Soak up the views and flair of the world-renowned Italian Lakes
Stroll directly onto the beach or into charming Limone from your hotel
Relax at the family-run Hotel du Lac with its unbeatable lakefront gardens
What's included
A full programme of guided walks with 2 options every walking day
Transfers to and from Verona Airport
All transport to and from walks
The services of experienced HF Holidays' leaders
Return flights from the UK on 'with flight' holidays
7 nights' accommodation in en-suite rooms
Half Board – extensive buffet breakfast and 4-course evening meal
Welcome to Hotel du Lac. Unpack and settle in.
---
Today we will travel across the lake to explore Malcesine and its surrounds.
Option 1 - Malcesine and the slopes of Monte Baldo
Distance: 5 miles (8km)
Total ascent: 1,100 feet (330m)
In summary: Today's easier walk explores the area around Malcesine, following rocky tracks onto the slopes of Monte Baldo.
Highlight: Brilliant views across Lake Garda.
Option 2 - Malcesine and Chiesa de San Michele
Distance: 6 miles (9½km) 
Total ascent: 2,000 feet (600m)
In summary: For the harder walk, we follow a similar route to the easier party, but walk further onto the lower slopes of Monte Baldo.
Highlight: The lakeside town of Malcesine.
---
Both of these walks start with a ferry trip up Lake Garda to the port of Torbole.
Option 1 - Torbole: Stairway to Tempesta
Distance: 6 miles (9½km) 
Total ascent: 1,200ft (360m)
In summary: We ascend immediately to the Parco Busatte then enter the boulder-strewn Marocche on an undulating woodland path to walk along and above the lake. We use sections of metal walkways and steps to enable us to cross deep gorges, including the aptly named Salto della Capra – Goat Leap. We zigzag back to the lakeside road where transport is arranged to take us the short distance to Torbole for post-walk refreshement while waiting for the return ferry.
Highlight: Superb views across to the Ledro Valley and Limone.
Option 2 - Torbole, Castel Penede & Stairway to Tempesta
Distance: 8 miles (13km)
Total ascent: 2,200ft (660m)
In summary: This walk, too, follows the path through the Marocce on the metal walkways and steps. When the track starts to descend we walk higher up the hill to a viewpoint from where the whole lake can be seen. The walk returns direct to Torbole for exploration, refreshment and the return ferry.
Highlight: Discover the geological phenomenon of the Marmitte dei Giganti (Giants' Cooking Pots).
---
Today we will explore the area around Gargnano and San Giacomo.
Option 1 - Navazzo, Gargnano & San Giacomo
Distance: 7 miles (11km) 
Total ascent: 800ft (240m)
Total descent: 2,000ft (600m)
In summary: We start in the village of Navazzo and walk through some attractive hamlets and woods to Sasso where there may be opportunities for a drink before lunch. We will take our time as we descend, sometimes steeply, through the attractive village of Musaga and past buildings once used as mills and forges. We complete our day in the town of Gargnano after strolling along the lakeside.
Highlight: Take time to explore the pretty villages that we pass on route.
Option 2 - Gargnano circular
Distance: 8 miles (13km) 
Total ascent: 2,100ft (630m) 
In summary: The harder walk starts in Gargnano and after walking through the town starts to ascend an ancient cobbled track. We continue ascending, occasionally steeply, on a variety of tracks that are sometimes stony. At times there are views across the lake to the southern slopes of Monte Baldo and down to Gargnano. Depending on the arrival time, we may have time for a pre-lunch drink in Sasso before following the route of the easier walk back down to Gargnano and San Giacomo.
Highlight: Explore the church of San Giacomo dating back to C12, thought to be the oldest building in Gargnano.
---
Each week there is a free day offering an opportunity to relax around the hotel, or visit local places of interest.
Limone: Relax at the hotel using the outdoor or indoor pools, and the excellent spa facilities. Limone has plenty of shops and places to enjoy a traditional Italian lunch. You can visit one of the museums or the Limonaia del Castel and wander around the old port area. 
Malcesine: Take a ferry ride across the lake to the town of Malcesine. There you can visit the Scaligeri Castle that houses an excellent museum. You can also take the cable car to the top of Monte Baldo where there are mountain top walks and a restaurant with wide views.
Riva del Garda: The principal shopping town on the northern shores of Lake Garda can be reached by ferry
---
Option 1 - Atop the glacial wedge
Distance: 7 miles (11km) 
Total ascent: 1,200ft (360m)
In summary: We walk through the historic centre of Riva del Garda and take quiet roads heading for the distinctive landmark of Monte Brione. We ascend the Sentiero della Pace (Path of Peace) using cobbled racks and stony woodland paths and passing several of the historic fortifications built to take advantage of its prominence. The descent provides views south down the lake and over the river Sarca towards Torbole and the mountains framing the east side of the lake.
Highlight: Visit historic Riva, the second largest settlement on the lake.
Option 2 - Riva to Lago di Ledro
Distance: 7 miles (11km)
Total ascent: 2,400ft (720m)
In summary: Our walk immediately heads south down Lake Garda, ascending gently, all the time until we meet the Ledro Valley. We walk along the valley always ascending, sometimes steeply through woods, past villages and eventually reach the shores of Lago di Ledro. 
Highlight: Visit the fascinating Pile Dwelling Museum with its reconstructed lake houses.
---
Option 1 - Vesio to Pieve
Distance: 7 miles (11km) 
Total ascent: 800ft (240m) 
Total descent: 1,600ft (480m)
In summary: After a coach journey we begin by walking around a nature reserve created when a glacial lake dried up, before visiting the village of Vesio where we may be able to have our lunch with views down the valley or a drink in a nearby bar. We descend to the small town of Pieve through delightful countryside and picturesque hamlets.
Highlight: Discover Sompriezzo with it's ancient houses.
Option 2 - Monte Bestone & Vesio
Distance: 7 miles (11km)
Total ascent: 1,700 feet (510m)
Total descent: 1,300 feet (390m)
In summary: Starting in Voltino we walk up through the pedestrianised area of the old village before heading uphill to the loftiest viewpoint of the week – Monte Bestone. After taking time to appreciate the panorama we descend to the village of Vesio and walk around the old glacial lake, contrasting sharply with much of its surroundings.
Highlight: Spectacular views from the summit of Monte Bestone.
---
We hope to see you again soon.
---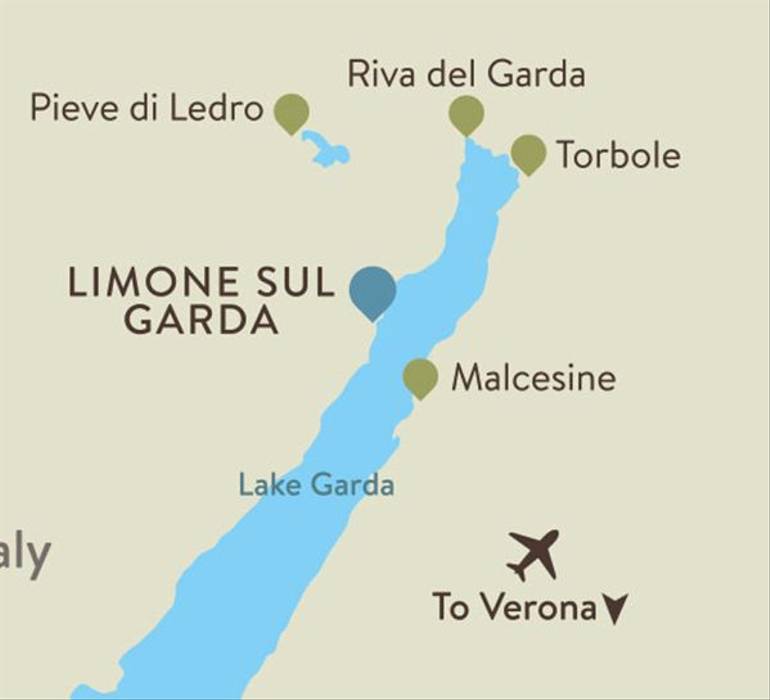 Hotel du Lac - Lake Garda
This beautiful 4 star hotel enjoys an outstanding lakefront position, with direct access to the beach, and is just a few minutes' walk from the centre of charming Limone. The hotel is owned and run by the Fessler Family, who offer wonderful hospitality and a relaxing base for our walks. It was originally built by the family's grandfather and is low rise to take full advantage of this stunning location.  Winner of several HF Hotel Awards in 2018 this hotel offers fantastic cuisine and a warm welcome. 
Rooms
There are 96 comfortable, well-appointed bedrooms with:
television
telephone
room safe
hairdryer
complimentary toiletries
small fridge
Facilities
As a guest you will be able to enjoy the use of:
outdoor pool (not heated) - private access to the Lake if you are feeling brave!
a wellness centre with small gym
extensive gardens
direct access to the lake
well stocked bar with outdoor terrace to enjoy an evening cocktail
Our guests have free use of the indoor heated pool and Jacuzzi.
Food & Drink
Our holidays at Limone are Half Board including breakfast and evening meal.
Breakfast is an extensive buffet consisting of a wide selection of cold and hot options as well as home-made pastries.
A 3-course served evening meal from a menu that is available to view each evening before proceeding down the steps to the restaurant.
Your Evenings
The friendly atmosphere of our Guided Walking holidays continue into the evening.  Enjoy a glass of wine or beer whilst listening to your leaders outlining the next day's walks.  Or you can just relax in the hotel bar or on the terrace outside chatting with your fellow guests.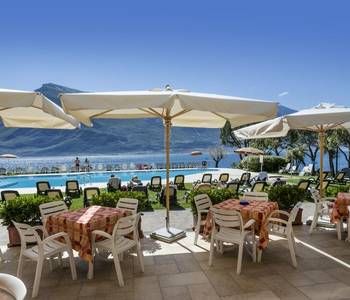 Getting to Hotel du Lac - Lake Garda
Find out more about this location including travel details and room types.
More Information
What to Bring
Essential Equipment
To enjoy walking/hiking comfortably and safely, footwear, clothing and equipment needs to be suitable for the conditions. Safety and comfort are our priorities, so our advice is to come prepared for all eventualities.
Footwear with a good grip on the sole (e.g.Vibram sole) is the key to avoiding accidents.
Walking/hiking boots providing ankle support and good grip are recommended (ideally worn in), and specialist walking socks to avoid blisters.
Several layers of clothing, which can be added or removed, are better than a single layer (include spares).
Fabrics (lightweight and fast drying) designed for the outdoors are recommended.
Waterproof jacket and waterproof over trousers.
Warm hat and gloves. Gaiters are an optional but useful extra.
Denim jeans and capes are not suitable on any walks.
Rucksack with a waterproof liner.
Thermos flask for hot drink.
Water bottle (at least 2 litre).
Spare high-energy food such as a chocolate bar.
Small torch.
First aid kit – your leader's first aid kit doesn't contain any medication or blister kits (such as Compeed).
Sun hat and sunglasses
Sun cream.
Optional Equipment
Walking poles are useful, particularly for descents.
Insect repellent.
Sunglasses.
Camera.
All holidays are subject to availability and prices are subject to change.
Non-member associate fee: £10 per person.
These departure dates can be booked with flights or as land only holiday options. All packages that include flights are ATOL protected. Advertised flight prices are based on UK flights departing from London. Regional departures and/or connections to London, if available, can be requested. Cabin upgrades may also be available on request.
Date (Start/ End)
Version
Price
Status
Trip Notes
Book
2019
28 Sep / 05 Oct
2019 Itinerary

£1,199

Holiday Guaranteed to run - book now - few places left
Book Now
12 Oct / 19 Oct
2019 Itinerary

£1,199

Available
Book Now
2020
18 Apr / 25 Apr
2019 Itinerary

£1,249

Available
Book Now
25 Apr / 02 May
2019 Itinerary

£1,249

Available
Book Now
02 May / 09 May
2019 Itinerary

£1,249

Available
Book Now
16 May / 23 May
2019 Itinerary

£1,249

Available
Book Now
23 May / 30 May
2019 Itinerary

£1,249

Available
Book Now
12 Sep / 19 Sep
2019 Itinerary

£1,249

Available
Book Now
19 Sep / 26 Sep
2019 Itinerary

£1,249

Available
Book Now
26 Sep / 03 Oct
2019 Itinerary

£1,249

Available
Book Now
03 Oct / 10 Oct
2019 Itinerary

£1,249

Available
Book Now
10 Oct / 17 Oct
2019 Itinerary

£1,249

Available
Book Now
Date (Start/ End)
Version
Price
Status
Trip Notes
Book
2019
05 Oct / 12 Oct
2019 Itinerary

£999

Holiday Guaranteed to run - book now - few places left
Book Now
12 Oct / 19 Oct
2019 Itinerary

£999

Holiday Guaranteed to run - book now - few places left
Book Now
2020
18 Apr / 25 Apr
2019 Itinerary

£999

Available
Book Now
25 Apr / 02 May
2019 Itinerary

£999

Available
Book Now
02 May / 09 May
2019 Itinerary

£999

Available
Book Now
09 May / 16 May
2019 Itinerary

£999

Available
Book Now
16 May / 23 May
2019 Itinerary

£999

Available
Book Now
23 May / 30 May
2019 Itinerary

£999

Available
Book Now
12 Sep / 19 Sep
2019 Itinerary

£999

Available
Book Now
19 Sep / 26 Sep
2019 Itinerary

£999

Available
Book Now
26 Sep / 03 Oct
2019 Itinerary

£999

Available
Book Now
03 Oct / 10 Oct
2019 Itinerary

£999

Available
Book Now
10 Oct / 17 Oct
2019 Itinerary

£999

Available
Book Now
Important Information
Double room for sole occupancy: £21 per night
With flight holidays include flights from Gatwick. Flight supplement from Manchester: £100
Independent travellers can join our transfer from Verona Airport: £20 single