All lush pastures, soaring peaks, and 76 sparkling lakes, the Salzkammergut is also known as Austria's Lake District. Discover a UNESCO-listed mountain landscape rich in salt mining history that was once the favourite holiday hotspot for the rulers of the Hapsburg Empire. Not only will you spend time in traditional towns perched on the water's edge but enjoy a cable car ride up to the lofty ski resort of Dachstein Krippenstein, too. You'll also descend Schafberg mountain by steam powered railway and visit the verdant meadow trails of Austria's largest alpine pasture area at Postalm.
What you'll love
Riding the historic steam powered Schafberg cog railway  
Cruising across the lake to the cobbled and frescoed streets of St Wolfgang  
Hiking the historic Pilgrim's Way over the Falkenstein  
Walking through lush green meadows in Austria's largest alpine pastures at Postalm 
Climbing to the summit of Mount Schafberg 
Ascending the three stages of the Dachstein Krippenstein cable car  
What's included
Full programme of guided walks led by local HF Holidays Leaders
HF Holidays Tour Manager
Half-board (breakfast and evening meal)
All sightseeing and entrance fees (as per itinerary)
Air-conditioned transport
Boat trips in St Gilgen and St Wolfgang
Return trip on the Dachstein-Krippenstein Cable car
Cog railway ride at SchafbergBahn
Return flights from the UK including hold baggage and airport transfers
Trip Notes
Easy to download as a PDF, our trip notes provide detailed information for every holiday. Please click below to find the trip notes for your departure date.
All our carefully-curated itineraries are designed by our experts. While we make every effort to adhere to the described itinerary, we may take alternative routes or adapt the running order for weather and/or operational reasons.
Fly to Salzburg and transfer to Wolfgangsee where we'll have a welcome meeting.
---
Option 1 - St Wolfgang to Strobl
Distance: 3 miles (4.8km)
Ascent/Descent: 35m
We'll take the boat from Strobl to St Wolfgang, where we'll explore the village before setting off on our walk back to Strobl along the Bürglsteinweg.
Option 2 - St Gilgen - St Wolfgang - Strobl
Distance: 9 miles (14.5km)
Ascent/Descent: 350m
We'll take the boat from Strobl to St Gilgen to start our hike to St Wolfgang. We'll use the historic pilgrim's way via Fürberg, over the Falkenstein, and the hamlet of Ried. There are 24 marked places of interest along the route. And after reaching St Wolfgang, we'll stroll through the village and visit its highlights. We'll then walk from St Wolfgang back to Strobl along the picturesque Bürglsteinweg.
---
About 12km above Strobl at Lake Wolfgangsee, you'll find the largest alpine pasture area in Austria, and the second largest high plateau in Europe - the Postalm.
Option 1 - Over alpine pasture to Abtenau
Distance: 4 miles (6.5km)
Ascent/Descent: 210m
From Lienbachhof we'll set off towards Abtenau, past the Rosserhütte. From there we'll go through alpine pasture to Strobler Hütte and continue down to the Almhouse Alpenrose inn, Blonde Hütte inn, and Lienbachhof.
Option 2 - Below Braunedelkogel mountain
Distance: 5.5miles (8.8km)
Ascent/Descent: 350m
At Lienbachhof we'll head towards Strobl, turning right to the Rettenegghütte. We'll walk below the Braunedelkogel mountain before a forest road takes us to the Ausserlienbachalm cabin. From there, we'll head to Rosserhütte and through the alpine pasture to the starting point.
You could tackle more challenging summit hikes, for example to Wieslerhorn or Windkogel.
---
We'll transfer to Obertraun to board the Dachstein Krippenstein cable car. Our panorama ticket allows us to use all three sections of the cable car – ascent and descent.
Option 1 - Krippenstein to Gjad
Distance: 4.7miles (7.5km)
Ascent: 345m
Descent: 62m
The Krippenstein cable car transports us up over the steep cliff walls where magnificent views of the karst formations open up. With a bit of luck, you might spot chamois grazing, too. At the mountain station, a karst trail leads us along a well-marked route to the Heilbronn cross. On the way, we'll come across the 'Dachstein shark', which gives a glimpse into the prehistoric past of the Dachstein massif.
We'll continue to Heilbronner cross towards the Hirzkarkogel to the valley station of the cable car section three. From here, you can either continue an additional five minutes and enjoy a well-deserved rest and an organic snack at the Gjaid Alm hut or take the cable car back.
Option 2 - Wiesberghaus
Distance: 5.9miles (9.5km)
Ascent/Descent: 460m
Wiesberghaus (1,884m) is in the Dachstein mountains and can be reached from the mountain station of the Dachstein Krippensteinbahn by walking trail. You'll walk through a UNESCO World Heritage Site to nearby Gjaidalm (1,738m) then across karst terrain. We'll take path 654 through Bärengasse to Wiesberghaus (1,884m). After a rest stop here, we'll walk back the same way.
---
You have the day to explore or relax as you wish. The following day trip suggestions can all be easily accessed using public transport from Strobl:
Bad Ischl – a stroll here includes delights like the Imperial Villa, Zauner pastry and confectioner shop, and boutique shops.
From Bad Ischil, you can also continue by train and ferry to Hallstatt, home to the world's oldest salt mines. This lakeside town is famed for its picture-postcard outlook – pastel-coloured buildings fringe the crystalline lake while lofty mountains rise all around.
Salzburg – it takes about 1.5 hours on the bus to Salzburg, the city of Mozart. Sightseeing highlights include Hohensalzburg Fortress, the Mozart museums, the Getreidegasse, and Hellbrunn Palace.
---
Option 1 - Laimeralm
Distance: 5 miles (8km)
Ascent: 255m
Descent: 10m
This easy hike leads us to the Laimeralm with wonderful views over Strobl and Lake Wolfgang. We'll start at Strobl Castle and head towards Langerbauern. At the Weberhäusl inn, we'll go north to the Unteraubrücke and follow the Laimeralmstraße to Laimeralm, then back the same way.
Option 2 - Lake Schwarzensee
Distance: 9.6miles (15.4km)
Ascent/Descent: 350m
We'll start in Strobl, taking trail Schwarzenbachweg 29 to Mauruskapelle and then trail Sattelweg 28 around peaceful Lake Schwarzensee. We'll head back via Almenweg to Strobl.
---
Taking the boat from Strobl to St Wolfgang, we'll ascend Schafberg. We'll start our hikes at the valley station of Austria's steepest cog railway that's been running since 1893.
Option 1 - Schafbergalm
Distance: 3.7miles (6km)
Ascent: 835m
From the church in St Wolfgang we'll hike along Sternallee through the forest to Dorneralm and to the Schafbergalm station, where we'll take the Schafbergbahn to the top of the mountain. Enjoy the views before heading back down to the valley by the train. We'll catch the boat back to Strobl.
Option 2 - Schafberg summit climb
Distance: 5 miles (8km)
Ascent: 1,200m
From St Wolfgang we'll head to the summit of Schafberg (1,783m), heading along Sternallee, through the forest to Dorneralm and Schafbergalm station (the same as the option 1 route). From here the trail leads steeply uphill across open terrain as we climb to the summit. Take the train back down to catch the boat back to Strobl for a well-deserved rest.
---
Transfer to Salzburg airport for your flight home.
---
Hotel Stroblerhof am Wolfgangsee, Strobl
The four-star, family-run Hotel Stroblerhof is just 100m from Lake Wolfgangsee, surrounded by mountains, meadows, and forests. Dating back to 1771, the hotel retains its cosy, historical atmosphere thanks to typical Salzburger country style rooms – all are en-suite with TV, minibar, and safe. There's also a day spa complete with Finnish herbal sauna, infrared heat cabin, steam batch, solarium, and outdoor pool with sunbeds (summer months only).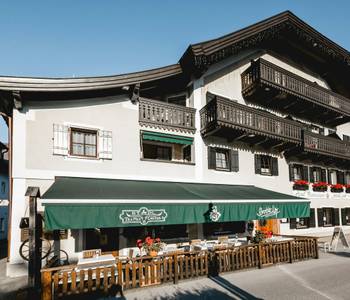 Getting to Hotel Stroblerhof am Wolfgangsee, Strobl
Find out more about this location including travel details and room types.
More Information
Essential information
It's best to be prepared for all weather conditions. To make it easier, here is a list of items you should consider packing.   
Essentials  
Walking boots 
Waterproof jacket 
Waterproof trousers 
Insulated jacket/top 
Walking clothing  
Walking socks (plus spares)  
Sunhat 
Gloves/mitts and warm hat
Water bottle (minimum 2 litre capacity)  
Headtorch 
High-factor sunscreen (minimum SPF 30)  
Sunglasses with a dark lens 
Rucksack (15-30 litres)  
Mobile phone 
Personal first aid kit (containing your medication, blister plasters, etc.) 
Passport 
Visa (if applicable) 
Copy of your travel insurance policy 
UK Global Health Insurance Card (formerly known as EHIC) 
Recommended
Collapsible walking poles 
Swimwear and travel towel
Snacks
Dry bags
Rubbish bags
Insect repellent
Optional extras
Camera 
Sit mat
Flask for hot drinks 
Durable lunch box
Gaiters 
GPS device 
All holidays are subject to availability. Supplements may apply.

Non-member fee: £30 per person.
All packages that include flights are ATOL protected. Advertised prices listed below show the lowest economy flight price option for that departure. On holidays where we offer local UK airports, details will appear in the "Important Information" section below and available alternative flight options will be offered when you book. Seating upgrades may be available on request and at an additional charge, please call 020 3974 8865 for a quote.


Date (Start - End)
Itinerary
Double / Twin Room
Single Room
Notes / Offers
Trip Notes
Book
2024

19 May - 26 May 2024

7 nights

Itinerary Flight from London Gatwick Airport

Single from

£2,512 £2,412

Double from

£2,379 £2,279 pp

from

£2,379 £2,279 pp

from

£2,512 £2,412

Save £100 Per Person

Trip Notes

Book Now

16 Jun - 23 Jun 2024

7 nights

Itinerary Flight from London Gatwick Airport

Single from

£2,512 £2,412

Double from

£2,379 £2,279 pp

from

£2,379 £2,279 pp

from

£2,512 £2,412

Save £100 Per Person

Trip Notes

Book Now

22 Sep - 29 Sep 2024

7 nights

Itinerary Flight from London Gatwick Airport

Double from

£2,479 pp

from

£2,479 pp

from

£2,612

Trip Notes

Book Now

29 Sep - 06 Oct 2024

7 nights

Itinerary Flight from London Gatwick Airport

Double from

£2,479 pp

from

£2,479 pp

from

£2,612

Trip Notes

Book Now

06 Oct - 13 Oct 2024

7 nights

Itinerary Flight from London Gatwick Airport

Double from

£2,479 pp

from

£2,479 pp

from

£2,612

Trip Notes

Book Now
Date (Start - End)
Itinerary
Double / Twin Room
Single Room
Notes / Offers
Trip Notes
Book
2024

19 May - 26 May 2024

7 nights

Itinerary

Single from

£2,332 £2,232

Double from

£2,199 £2,099 pp

from

£2,199 £2,099 pp

from

£2,332 £2,232

Save £100 Per Person

Trip Notes

Book Now

16 Jun - 23 Jun 2024

7 nights

Itinerary

Single from

£2,332 £2,232

Double from

£2,199 £2,099 pp

from

£2,199 £2,099 pp

from

£2,332 £2,232

Save £100 Per Person

Trip Notes

Book Now

22 Sep - 29 Sep 2024

7 nights

Itinerary

Double from

£2,219 pp

from

£2,219 pp

from

£2,352

Trip Notes

Book Now

29 Sep - 06 Oct 2024

7 nights

Itinerary

Double from

£2,219 pp

from

£2,219 pp

from

£2,352

Trip Notes

Book Now

06 Oct - 13 Oct 2024

7 nights

Itinerary

Double from

£2,219 pp

from

£2,219 pp

from

£2,352

Trip Notes

Book Now
Important information
With flights holidays: Price includes return flights to Salzburg Airport, hold baggage and airport transfers
Our airport taxi service operates at this resort – price available on request