Experience the incredible landscapes and panoramas of the spectacular Himalaya as you journey through the famous mountain region. Explore the ancient cities of Kathmandu and Bhaktapur in the Kathmandu Valley, walk through remote and traditional villages and admire the snow-capped peaks of the Annapurna. Explore ancient temples and shrines, hike through lush and vibrant forests and admire traditional architecture. There are a multitude of stunning panoramas to enjoy at almost every turn.
Holiday Highlights
Great variety of walks on ridges, through valleys and traditional villages
The historic centres of Kathmandu, Bhaktapur and Newari villages
Interesting culture of the Sherpa lands and the spiritual places of the Himalayas
Hotels and lodges in fantastic locations, with mountain views and in peaceful valleys
First rate, experienced local guides with a deep knowledge of their country
Option to extend your stay with the Chitwan National Park. Please call 020 3974 8865 for more information.
What's included
15 nights' accommodation in en-suite rooms
Full board from dinner on arrival to breakfast on departure
A full programme of guided walks and excursions led by local guides and an HF Holidays' leader
All sightseeing and entrance fees
Travel by coach/minivan
Internal flights
Tips
What's included
3 nights' en-suite accommodation
Transfers and return flights to Bharatpur
4 breakfasts, 2 lunches, 2 dinners - from breakfast on Day 14 to breakfast on Day 17
What's included
15 nights' accommodation in en-suite rooms
Full board from dinner on arrival to breakfast on departure
A full programme of guided walks and excursions led by local guides and an HF Holidays' leader
All sightseeing and entrance fees
Travel by coach/minivan
Internal flights
Tips
Trip Notes
Trip notes are detailed, downloadable PDF's for each holiday, please click the button below to find the right trip notes for your departure date.
Fly to Kathmandu via Delhi; we arrive in the afternoon and transfer to the hotel for 2 nights. The rest of the first day in Kathmandu is at leisure, a great opportunity to relax after the journey.
The following day, we drive north of Kathmandu into the foothills of the Shivapuri Hills to the Budhanikantha Temple with its large stone statue of Lord Vishnu. We walk from the temple towards Baghdwar, believed to be the source of the holy river Bagmati. We hike through dense forest, home to hundreds of species of plant, and on beyond Baghdwar to the Sivapuri danda, situated at an altitude of 2,563m. We then continue to Nagi Gompa, a Buddihst monastery before descending and returning to our hotel.
---
We begin with an ascent verdant pine forests and along a trail to Gokarna. Along the trail we'll enjoy stunning views of the Nagarjun mountain, paddy fields and Nepalese villages. Once in Gokarna we drive to Nagarkot, which is famous for its hilltop position and offers incomparable views over the surrounding valley and Himalayas. We stay here for 2 nights. The afternoon is free to relax or explore the local villages independently.
The next day our trail leads through fields and villages to the forests of Telkot, where we enjoy our picnic in the forest clearing. After lunch we continue to the UNESCO Heritage Site of Changunarayan.
---
Walk through jungle rich in animal and plant life on a level trail to Nala, passing Tamang villages along the way. Later, we transfer to Khopasi and walk to Balthali, where we stay for 3 nights. The area surrounding the resort is thickly forested with luxuriant flora and great birdlife which opens out to the terraced fields. The views of the Himalayas here, with beautiful sunrises and sunsets, will leave a lasting memory.
The following day, enjoy wonderful views as we walk to Pada Gaun, through traditional Tamang villages. The Tamang originally came from Tibet several hundred years ago. Their villages remain secluded and far removed from the trappings of the modern world. Sitting back to relax and enjoy our picnic, we are surrounded by wonderful views of the major part of the Himalayan ranges and beautiful green forest of the Mahabharat range.
We also take a morning walk to the confluence of the Roshi and Ladku Khola rivers leads us through a beautiful pristine valley to a traditional maize mill, and to the holy shrine of Lord Shiva, before we return to the resort for lunch and an afternoon of relaxation.
---
Today we drive to the medieval city of Bhaktapur, where we will spend the afternoon exploring. Visit its Durbar Square and the Nyatapola temple, which is both the highest temple in the Kathmandu Valley and one of the best examples of traditional Nepali architecture. See traditional buildings and occupations, such as weaving and pottery, as we discover this well-preserved city on foot.
---
We transfer to Kathmandu airport and fly to Pokhara; we'll then drive to Bandipur in time for lunch. In the afternoon, we'll spend some time exploring the local area.

The next day we'll hike to Ramkot, a typical Magar village. We'll pass through other villages and temples and the route offers an unparalleled insight into the traditional, rural lifestyle of Nepal - all basking in the glory of the stunning Himalayas. Time and other conditions permitting, the walk can be extended from Ramkot to visit Chadbi Barahi, a pilgrimage site.
---
We begin our day with a hike to Siddha Cave, one of the largest in Nepal. Later, we drive to Pokhara. where we stay stay for 4 nights, and visit the International Mountain Museum.
The next day we transfer to the start of our walk. The trail ascends, quite steeply at times, through the colourful ethnic villages of the Gurung and Ghaley people, to Kalikasthan. After lunch we follow the ridge line through villages down to the pretty shores of Begnas Tal, transferring from here back to Pokhara. 
Another walk takes us from Kande to the Australian Base Camp; this is sure to be a highlight of the trip. Ascending through forest on stone stairs, we pass bazaars on route to the camp from where we'll have unsurpassed views of the Himalayas, including the Annapurnas and Machhapuchre. We continue to Dhampus for lunch and return to Pokhara.
Our final walk takes us from the Peace Pagoda to Pumdi Bhumdi, situated at an altitude of 1,200m/3,937ft. We pass the famous Davis Falls en route to the start of our hike, where we ascend to a ridge before dropping down to Bhumdi, our trail surrounded by rich flora and fauna and lush green forests.
---
This morning we transfer to Pokhara airport for our flight to Kathmandu. Explore the city with a walk around Thamel, before we enjoy a farewell dinner and a traditional Nepali culture show.
On Day 17 we transfer to the airport for our return flight to the UK.
---
Depart home from Kathmandu
---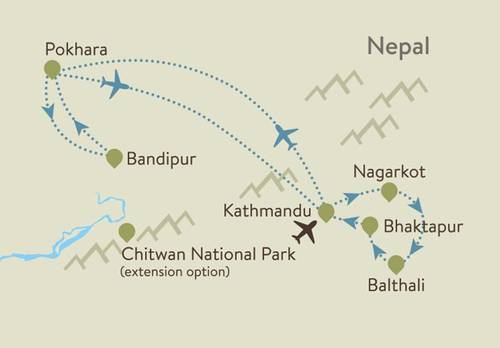 Park Village Resort, Kathmandu - Nepal
Park Village Resort is a verdant oasis set in five acres of tranquil gardens overlooking central Kathmandu. The accommodation is comfortable, well appointed and is the perfect place to relax at the start of your tour of Nepal.
Club Himalaya Resort, Nagarkot - Nepal
The Club Himalaya Resort is a lovely mountain lodge built in traditional style, yet stylish and elegant with modernist touches. The hotel is located on a hillside with wonderful views across the valley and features attractive rooms decorated in pine, a wonderfully decorated restaurant, bar, and 'teahouse' adjacent to the hotel.
Balthali Village Resort - Nepal
Enjoy a stunning location atop a hill with views of the snowy peaks of Dorjee Lhakpa, Langtang and a whole range of mountains to the north. Rooms are attractive and bright and there are large communal areas, including an outdoor dining option. The hotel is surrounded by pristine nature and a profusion of plants and native birds. 
Hotel Heritage, Bhaktapur - Nepal
In Bhaktapur, we stay overnight at the excellent Hotel Heritage. The fantastic feedback the hotel gets is justly deserved: good rooms, attentive service, and accommodation oozing with charm and character. The hotel is located in a quiet area of town and will provide a lovely haven in which you can relax. 
The Old Inn, Bandipur - Nepal
The Old Inn consists of two splendid adjoining timber and brick Newari townhouses. Although the facilities are simple they are comfortable. The inn is located in the heart of the historic, traffic-free bazaar. There are fantastic views of the Himalaya from the inn's terraces.
Temple Tree Resort, Pokhara - Nepal
Named after the fragrant temple tree plant frangipani, the resort offers a peaceful and relaxing atmosphere. Attractive cottages are set within landscaped gardens.  There is an outdoor infinity pool, welcoming restaurant and bar. There is also a spa where you can have treatments (payable locally).
Hotel Malla, Kathmandu - Nepal
We stay at the Hotel Malla at the end of the holiday. This 4-star hotel is centrally located in the Thamel area of Kathmandu.
Essential Information
Suggested Kit List
As you'll be carrying your own luggage at airports and between your transport and hotels we recommend you try to keep your luggage to a minimum. These items are a general suggestion of what to pack for an active outdoor and walking holiday; depending on your destination, you may need more of some things and less – or none! – of others. You'll know best what you prefer to wear when out walking or while taking part in other outdoor activities.
Walking boots (worn in), with good ankle support and spare bootlaces
Walking socks
Walking sandals
Lightweight fleece, waterproof trousers and jacket
Shorts and short-sleeved t-shirts
Long trousers and long-sleeved light coloured shirts with collars to protect from the sun.
Your clothing should ideally be pre-treated with insect repellent and in-built sun protection (available from specialist clothing stores such as Rohan, Cotswold Outdoor).
Warm fleece, scarf/buff hat and gloves
Torch
Comfortable clothes and shoes for evenings and sightseeing
Sun protection – sun hat, sunglasses, high factor sunscreen and lip protection
Water bottle – at least 2-litre capacity
Lightweight survival bag
Small/medium rucksack (30 litre) and a liner or cover to keep contents dry
Insect repellent
Universal travel plug
Personal first aid kit including: personal medication, tissues, plasters, blister kit, painkillers, antiseptic wipes, Imodium, rehydration sachets
Essential Equipment
Passport (and copies)
booking confirmation
insurance cover note
HF Holidays' registration form
Please ensure you have access to emergency funds should you need them; carrying a credit card is probably the most convenient method.
Optional Equipment
walking ('approach') trainers
trekking poles
camera
umbrella
binoculars
Please note that your HF Holidays' leader reserves the right to refuse to take any guest on a walk should they consider that a lack of suitable clothing/footwear may affect safety.