Become an HF Holidays Member
Investing in your future
Join us and become an HF Holidays member with as little as £100 investment (or as much as £25,000). There isn't an annual subscription but there are a whole host of membership benefits for you to enjoy.
As the UK's largest holiday Co-operative Society, all the cash raised from the shares you buy benefits all members as well as future generations who have an interest in the great outdoors. The cash is invested into expanding and improving our country house estate.

Already a member? Manage your details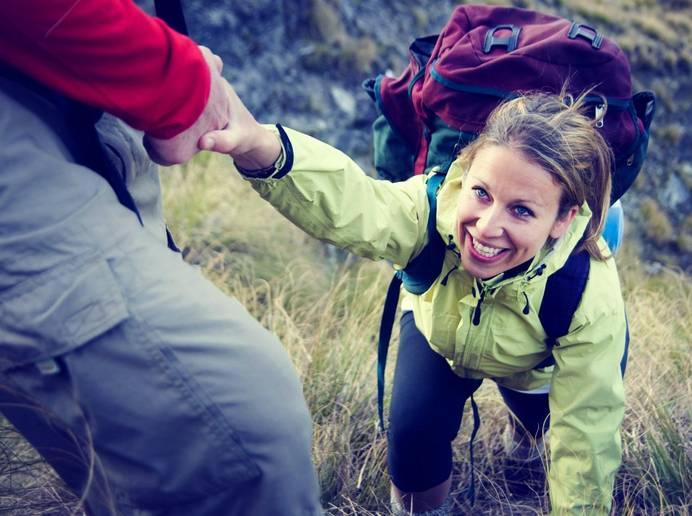 Send cheques and applications to: 
Membership, HF Holidays Ltd
Catalyst House, 
720 Centennial Court, 
Centennial Park
Hertfordshire, WD6 3SY
Enjoy all this when you become a member
 
Standard
Investment
Group


Minimum Investment

£100

£1,000

£100

Holiday Rewards:
Earn points on holidays you book and use as a discount on a further holiday with us. T&Cs apply

✔

✔

✔

Return on  investment:
Annual interest on shares

✔

✔

✔

10% off bar bills
at our UK country houses

✔

✔

 

Exclusive for Members:
Self Guided breaks;
Celebration breaks
(with business update and celebration dinner)

✔

✔

 

Exclusive for Investment Members:
Investment Member breaks
(with business update and celebration dinner)

 

✔

 

One voucher
for a complimentary bottle of house wine on your next visit to one of our country houses

 

✔

 

Partner Discounts
15% off purchases from Cotswold Outdoor & Rohan
(see Partnerships pages for latest)

✔

✔

 

Member only news:
Footnotes magazine
e-Footnotes digital newsletter

✔

✔

✔

Attend
Annual General Meetings

✔

✔

✔

Vote
for the members standing for election to the Board of Directors (or stand yourself)

✔

✔

✔

Book as a Club
every member of your party benefits from your member price

 
 

✔

WIN a weekend holiday for two!
Drawn annually at our AGM meeting

 
 

✔
*Terms & Conditions for Investments
HF is a Co-operative Society, and as such is owned by its members
Each share is worth £1, the value doesn't go up or down
Ideally, buying shares should be considered as a mid- to long-term investment
Membership commences with the purchase of 100 £1 shares (up to a max of 25,000)
Your shares are known as 'withdrawable share capital' and as such you may request to withdraw your shares at any time, subject to the Rules of the Society, which gives authority to the Board of Directors to suspend withdrawals in any financial year or indefinitely, in the interests of the Society
If you withdraw the shares, you get your money back, plus any interest that may have been applied
If you have 100 or more shares, interest is applied annually, up to 6-months after the year of account and backdated to 1 November of the previous year
Like any financial investment, there may be risk should the Society get into difficulties
You are not liable for any debts of the Society
HF Holidays is registered under the Financial Conduct Authority but is not covered under the FCA's Financial Services Compensations Scheme
Holiday Rewards
One of your member benefits to enjoy is our Holiday Reward Scheme. Earn points for every holiday booked with us and redeem your points against the price of a future holiday. Here's how it works:
EARNING HOLIDAY REWARD POINTS
Earn 1 Reward Point for every £1 spent on an HF holiday. Points are allocated based on the net price of the holiday, which is rounded up to the nearest pound, and the lead booker is allocated the points. If you join membership whilst on holiday, you will get your points added to your account for that stay.
REDEEMING HOLIDAY REWARDS
Each point is equal to 1p off the price of a future holiday. Points are valid for two years from the date of issue, which is the departure date of your holiday. The points get taken off the net value of the holiday. We host special promotions on our reward points so check your e-newsletters regularly to ensure you know when these events are taking place!
*Terms & Conditions for the Reward Point Scheme

Reward points issued will be valid to redeem on any new holiday booked within two calendar years from date of issue
Points earned are on the net price charged for the holiday, as stated on the invoice. For the purposes of allocating the points, the net invoiced price will be rounded up to the nearest pound
Rewards are only earned by guests who are members on the day of departure and awarded to the lead booker only
New members joining while on holiday can take advantage of the scheme, and will have Reward Points allocated to their member record
Any member withdrawing their shareholding will forfeit any unused or pending points
Points earned on shareholding Activity Club group bookings will only be applied to the club's membership and cannot be applied to a member's individual record
In exceptional cases where it's found that an individual member has been awarded points from a group booking, either an affiliated or non-affiliated group, these points will be deemed invalid
Points are not transferable and have no cash value
HF Holidays Ltd reserves the right to amend the terms and conditions at any time and without prior notice. Notification of amendments will be published on our website
The minimum redemption value per booking is 200 points and the points cannot be used for any purchase other than to reduce the net price billed for the holiday either at the time the booking is made or prior to the balance due date