Details
Reading time: 2 - 4 minutes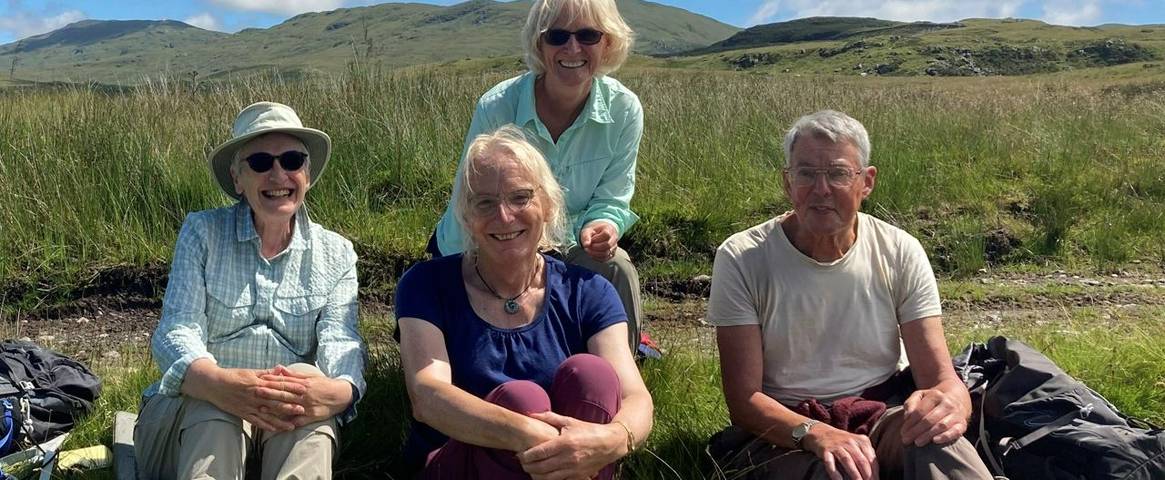 We really enjoyed catching up with Nicky von Benzon in the August issue of Footnotes. A HF Holidays Leader for over 20 years, she told us all about her journey to becoming a leader, her favourite holidays to lead and what she gets up to in her spare time.
When and why did you become an HF Holidays Leader?
My first encounter with HF Holidays was at Loch Awe in 1988. I loved walking in the mountains, and this inspired me to take regular trips with HF Holidays over the next 10 years. I was impressed by how the HF Holidays leaders were able to find their way across mountains through thick mist – I wanted to learn their wizardry. It was unplanned, but I ended up qualifying as a mountain leader. My first lead for HF Holidays was in 2002.
What has been your favourite holiday as an HF Holidays Leader?
There was one lovely week leading a group along the coastal path around the Llŷn Peninsula. The coastal path there is varied, and the weather was just wonderful.
How would you describe being part of our HF Holidays Leader community?
I love being part of the Severnside group. I've met several HF Holidays Leaders through this group and have enjoyed some great walks. It's also nice getting to know the managers and staff at the houses where I regularly lead. I always receive a warm welcome.  
Which trips are you looking forward to for the rest of the year?
I'm leading the Cotswold Way at the end of July and then have several weeks at Brecon.  
What do you love most about being an HF Holidays Leader?
It's fabulous to share my love of the countryside and my knowledge of the moorlands, mountains, valleys, and streams with others. I also enjoy meeting new people and staying in comfortable and friendly country houses.
Tell us about your other commitments outside of HF Holidays.
Although I have retired from my family mediation company, I have retained the office building in Cheltenham where I let rooms to therapists and counsellors. This year I also opened studio spaces for artists. I've always enjoyed dinghy sailing and now help run sailing courses at my local sailing club. I'm also involved in my local church and a couple of small national church organisations. Additionally, I have four adult children and five grandchildren whom I love spending time with.  
Which areas are you most knowledgeable about?
I know the Welsh mountains best, especially Brecon Beacons (Bannau Brycheiniog) National Park.  
What is it about walking that you love so much?
It gives you a unique opportunity to experience the natural environment and discover the history of the places we encounter.  
Do you have a favourite walking season?
Every season is fabulous, providing it's not too cold!  
How have you found the HF Holidays approach to diversity and inclusivity supportive?
I decided to transition in 2020. At the time I was worried that it might not be possible to continue leading for HF Holidays as a trans woman, but I received only encouragement and reassurance from the company. Since then, I've led 18 holidays at five different houses. The house staff, leaders and guests have all been great and very supportive. I now feel more comfortable, relaxed, and confident as a leader expressing my trans female identity than I did as a man. Of course, packing to come away takes more thought - but dressing for the evenings is far more fun!