Details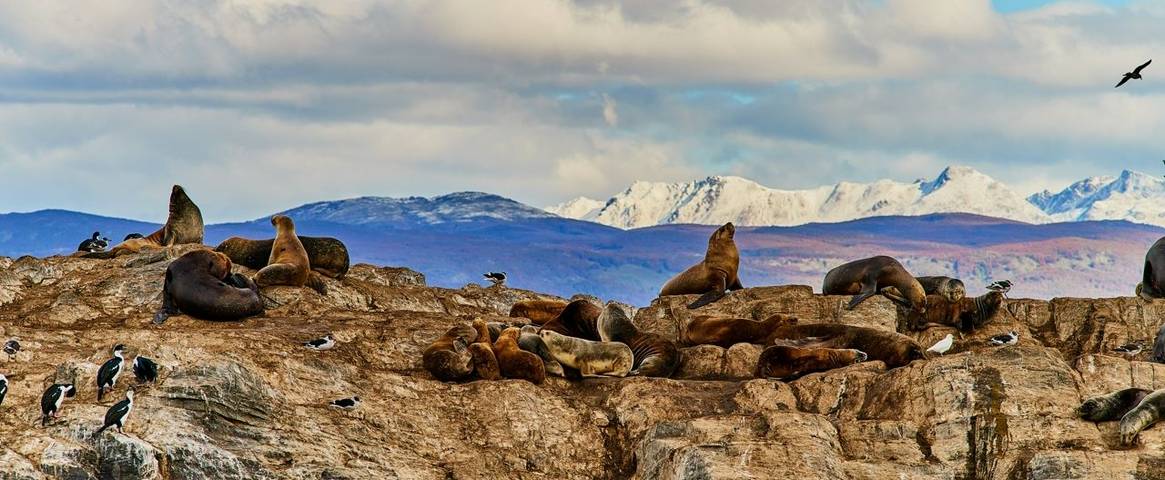 There's no doubt that we'd all rather go out and be in the outdoors than watch someone else do it, but there's also room for inspiration, especially when someone is providing you with a dramatic view you wouldn't otherwise see. With catch-up and streaming services making it easier than ever to travel the world virtually, you can find all sorts, from classic wildlife series to socially conscious documentaries and incredible feats of adventure in some of nature's finest landscapes. So, here's what we recommend for a wild night in, spent exploring the great outdoors.
PLANET EARTH I AND II (NETFLIX)
Chances are you've already seen at least some of this series. First released in 2006, the BBC's award-winning series transformed the way viewers saw the natural world. Travelling through just about every part of the world, the episodes paint a picture of our planet unlike anything else. Well-loved for its clever use of time lapse photography and dazzling state-of-the-art high definition imagery, narrated by David Attenborough and with an epic score by legendary composer Hans Zimmer, it took nature programmes to another level and stands up to repeat viewing, And then, 10 years later, the broadcaster raised the bar even higher with a second installment using new technology such as remotely-operated cameras and drones to deliver unparalleled shots and let you get even closer to lonesome sloths, warring Komodo dragons and killer snakes.
BLUE PLANET I AND II (BBC IPLAYER)
The BBC took a deep dive into our underwater world to explore the seas and uncover the mysteries of our oceans. Helmed again by David Attenborough, the programmes helped us get closer to our planet's underwater creatures and their endangered environment. By diving to the deepest points on the planet, exploring aquatic features and showcasing creatures from blue whales and dolphins to bizarre animals living right at the bottom of the ocean, we were allowed a glimpse of a world we rarely see. With features on how water has impacted cities, our frozen (and melting) seas, coral reefs and how marine creatures hunt, it shone a light on the depths. Take a deep breath and plunge into an unimaginable watery world.
The makers of Planet Earth and Blue Planet were poached by Netflix to put together this visually stunning, impassioned look at the world we live in and to shout a message we need to hear – every species on earth is interconnected and the destruction of one poses a grave risk for all. Truly sumptuous footage and exceptional photography explores the beauty and wonder of our natural world, from the deepest oceans to epic animal migrations and wolves reclaiming Chernobyl's forests, without skirting the issues facing our planet including global warming and environmental degradation. Narrated once more by David Attenborough and filmed by an exceptional group of dedicated cameramen, it covers over 50 countries as it explores the world's ecosystems, moving from being a love letter to our planet into darker territory than earlier wildlife series. This is socially responsible nature programming that retains all its beauty but with the aim of engaging us in the struggle to help redress the imbalance and protect the planet.
This might not make for the most relaxing viewing but this angry film, backed and exec-produced by Leonardo Di Caprio, is essential viewing if you want to come away with a greater understanding of how the corrupt ivory trade driven by China is hurting both animals and humans. Unfolding more like a thriller than a nature documentary, it tells the story of how the filmmakers went undercover as poachers for sixteen months to shine a light on how the senseless killing of African elephants for their tusks continues to be so prominent, and lucrative, even as the species is pushed closer to extinction. The result is a hard-hitting documentary that's shocking and poignant, guaranteed to tug at your heartstrings and crystal clear about the threat the ivory trade poses to our fragile natural environment.
We believe that one of the best ways to get under the skin of a place, other than walking through it, is to immerse yourself in the scents, tastes and zing of its food. And no food is more immediate and authentic than street food. This series, from the creator's behind the acclaimed 'Chef's Table', takes to the streets, lanes and alleyways of some of the most charismatic cities in the world to uncover the people and culture behind street delicacies. The result is a fast-paced, food-centric tour of the hawker stalls of Singapore, the food carts of Mumbai and the pop-up eateries of Hanoi, Manila, Bangkok and more. Watch to learn about cuisines you don't know and to appreciate the craft of skilled chefs but also to take in real stories of hardship, perseverance and success that are shared over smoky grills and backed by opening beer bottles and lively chatter. The result is simple, inspiring travel, striped of pretense. So, take a seat at a table, grab a plate and share the olfactory treats with a stranger.
Timely and devastating, this film looks at the impact we're having on coral around the world. Corals may look like rock formations but technically they are marine invertebrates, and not a plant as people often think. These animals are at risk, and divers, photographers and scientists combine in this undersea epic to uncover why the reefs are vanishing at an alarming rate. Seen up close in spectacularly colourful digital imagery, the undersea shots are intoxicating. But there's a chilling message, reiterated in a timely fashion, that climate change is resulting in warming oceans, causing the death of large sections of the world's coral reefs. This in turn threatens the entire oceanic ecosystem. Visual proof replaces argument in the main to make a powerful case for protecting what's left, while a glimmer of hope comes in the assertion that it's possible to restore coral life if we change human behavior.
FREE SOLO (NATIONAL GEOGRAPHIC)
If you like your outdoor viewing filled with adrenaline and awe, this is for you. In 2017 Alex Honnold, one of the great rock stars of the climbing community, set out to free climb the 3,000-foot granite wall El Capitan in Yosemite, California for the first time ever. With no rope or support of any kind. It's an audacious quest, full of improbable moves and frankly unfathomable danger. The quest to climb the vertical wall was documented by two friends with a camera crew who initially climb alongside him on the rockface then film from a distance. The cinematography is dizzyingly beautiful, and the scenes of ground-breaking, finger-clinging climbing will lift the hairs on your neck and have you gripping the arm of chair as if your life depended on it. But it's not just about the ascent, it's also about Honnold's complicated life, his emotional issues and all the things that have driven him to pursue one of the most dangerous missions ever attempted by any free climber.
In a similar vein, The Dawn Wall chronicles an obsessive attempt to successfully climb the eponymous face of El Capitan in Yosemite. The film predominantly focusses on climber Tommy Caldwell, who sets himself the challenge to prove he can overcome anything, having previously been taken hostage by rebels while climbing in Kyrgyzstan, lost an index finger in a farm accident and endured his domestic life falling apart. To scale the seemingly unclimbable 3.000ft rock face Caldwell and climbing partner Kevin Jorgeson spend weeks living on the sheer cliff, working out sections of the climb, perfecting acrobatic moves and inching their way up the face. The result is a searing portrait of adventure and an investigation into what's really important to two exceptional athletes that'll leave you anxious at each slip and jubilant at every chalky success.