Details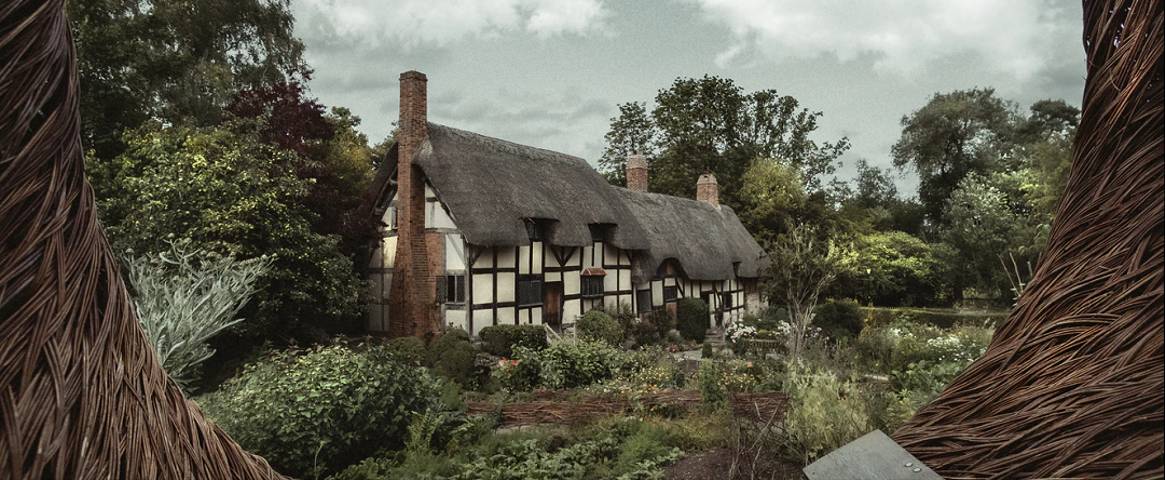 The bustling, scenic market town of Stratford-upon-Avon is a hive of culture and creativity. The birthplace of Shakespeare, millions of visitors head there each year in pursuit of discovering more about the famous playwright's life. With so much to offer, from walks along the River Avon to exploring the gardens of Anne Hathaway's Cottage, a walking holiday in England is sure to provide you with a wonderful time; immerse yourself in Shakespeare's World on our 'Just Shakespeare in the Cotswolds' itinerary, which takes in the landmarks associated with the Brad.
Not only is the Tudor town full of historical importance, with each significant building in Shakespeare's life protected by the Shakespeare Birthplace Trust, there's also a plethora of fantastic circular walks on offer, with many chances to witness the areas wild natural beauty. Whether you decide to embark on a Shakespeare's Way Guided Trail or pass through on the Cotswolds Festive Discovery Trail, read on to find out more about Shakespeare's Stratford.
We spoke to Alisan from the Shakespeare Birthplace Trust, the independent charity that cares for the world's greatest Shakespeare heritage in his home town of Stratford-upon-Avon, who shared this with us: "If you are a fan of Shakespeare, a trip to Stratford-upon-Avon and its surrounding areas offers the ideal break. Stratford-upon-Avon is a beautiful town to visit, with its Tudor houses, beautiful riverside walks and quaint shops, it has something for everyone. The town is particularly lively during Shakespeare's birthday festivities in April, with special events and parades put on in the town centre and beyond."
Shakespeare's birthplace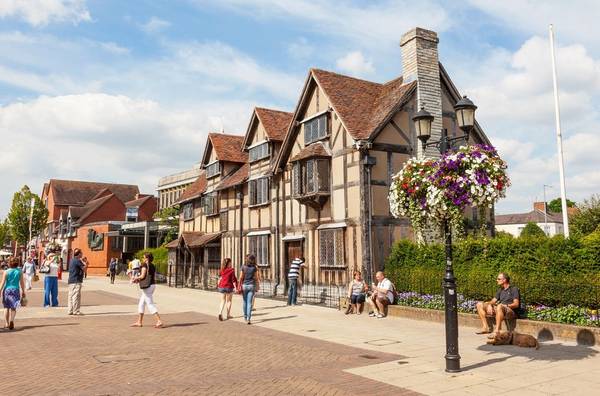 A visit to Shakespeare's birthplace is the first point of call for many people visiting the town. The Bard was fortunate enough to have grown up in the biggest house on Henley Street; born to parents John and Mary, Shakespeare's father worked out of the building and it is widely believed that a section of downstairs acted as his workshop. Although the building was unimposing from the exterior, the inside boasted three chambers, with the one above the parlour thought to be Shakespeare's birthing room.
The half-timbered house was Shakespeare's home for the duration of his childhood, with him attending the local grammar school for his schooling. However, William also spent the first five years of his marriage to Anne Hathaway living in the residence.
"The best place to start if you want to discover more about Shakespeare is definitely Shakespeare's Birthplace", shares Yulia from the travel blog MissTourist. "The place where Shakespeare was born was turned into a museum and it's the perfect place to learn about his family background. You will not only have the chance to see how the author was living by stepping in the preserved 16th-century rooms, but also have actor-guides tell you the most interesting information!"
The Shakespeare Birthplace Trust also agreed that his birthplace should be first on the list of places to visit: "Start your Shakespearian learning in the introductory exhibition which explores the extraordinary story of William Shakespeare, the boy from Stratford-upon-Avon who became a household name all over the world. For four centuries Shakespeare's work has fascinated people of all ages and backgrounds. Discover what sparked his imagination and how he continues to shape our lives today. Costumed guides will show you around the house, talk about the family's colourful history and answer all your questions. Wander into the garden and enjoy live theatrical performances of some of his most famous works, performed on demand by the in-house acting Company, Shakespeare Aloud! – a Shakespeare juke-box, if you will."
Shakespeare's New Place
The beautiful grounds at Shakespeare's New Place are carefully maintained specifically for those heading to Stratford to discover more about the Bard's past. Shakespeare lived at the site of New Place for 19 years before his death and although his home is no longer standing, visiting the gardens here is a fantastic way to commemorate his career.
Shakespeare's family home was the second largest in Stratford. Built from timber and brick, the grand building boasted 10 fireplaces as well as an expanse of land surrounding it. After his death, Shakespeare left the house to his daughter before being passed down to his granddaughter, Elizabeth and then back into the family of its previous owners.
The house was eventually sold to Reverend Francis Gastrell who grew tired of tourists visiting his home. So, in 1759, he tore down the house, demolishing Shakespeare's final family home. Despite this, New Place is still loved by many, including Yulia from MissTourist: "Then, the next stops should be New Place, where Shakespeare, his wife, Anne Hathaway, and their children lived. The house has a spectacular garden and commissioned artworks all around it. It's the place where he wrote his later plays, including The Tempest, and you can't help but feel a bit of magic as you walk through the hallways of this house."
Join in on a guided tour around the fragrant grounds and discover more about Shakespeare's family life or sit and reflect for a while whilst surrounded by the beautiful plants. "The whole site is now accessible for visitors with physical disabilities", shares the Shakespeare Birthplace Trust. "Ingenious architecture, landscaping and planning ensure that the gardens, as well as the exhibition, are wheelchair and buggy-friendly, and in total sympathy with the Grade I listing of the site, making New Place a place for everyone to connect with Shakespeare. Younger visitors can enjoy the many interactive activities in the Rosconn Learning Rooms, including a Tudor dressing-up box, or have a go at rebuilding New Place."
Hall's Croft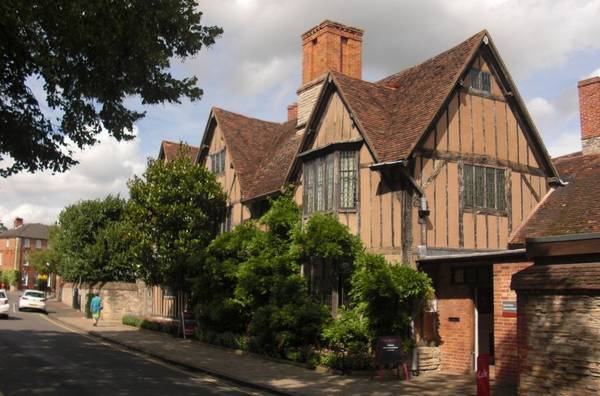 Hall's Croft was specially built for Shakespeare's daughter Susanna and her husband John, the only doctor in the town. Dr Hall was opposed to some of the more common treatments of this time, such as bloodletting, instead favouring herbal and plant-based medicinal treatments. As a result, Hall's Croft had an incredible walled garden growing various species of plants.
It is thought that Susanna and John would have only lived in Hall's Croft for around three years before moving into New Place following the death of Shakespeare. However, when the resided there, the large gardens would have boasted a pigsty, herb gardens and large vegetable patches. Having animals such as cows and goats live in the grounds, the kitchen would have also been a separate structure in the garden so to prevent the smell of cooking from wafting into the home.
Anne Hathaway's Cottage
We asked Yulia from MissTourist if there were any other places that she would recommend visiting whilst in Stratford. She told us: "And if you still have time left, make sure to pay a visit to Anne Hathaway Cottage – where his wife grew up – and Mary Arden's Farm – Shakespeare's mother's farm – two other places full of wonders that take you back in time."
Shakespeare was 18 when he married Anne Hathaway, a farmer's daughter from the Hamlet of Shottery. Owned by her family for over 400 years, the building was subject to a series of extensions and renovations, with Anne's brother, Bartholomew, adding new rooms to the 15th-century house.
Anne Hathaway's former home is one of the most beautiful. Nestled in nine acres of untouched grounds, it's maintained gardens are full of wild beauty make the perfect setting for an afternoon stroll.
"There is always something new to see as the seasons change, from the joy of early spring flowers in their thousands to the autumn bounty of our traditional fruit trees". The Shakespeare Birthplace Trust advises you to: "stroll along the woodland walk, listen to Shakespearian verse in the sonnet arbour and tour the delightful cottage itself which still has some original family furniture, including the famous second-best bed. Knowledgeable and passionate guides are on hand to conduct you through the 550-year old interior where you can delve deeper into the fascinating history of the cottage, and of course, hear stories about the famous Hathaway/Shakespeare love story."
Mary Arden's Farm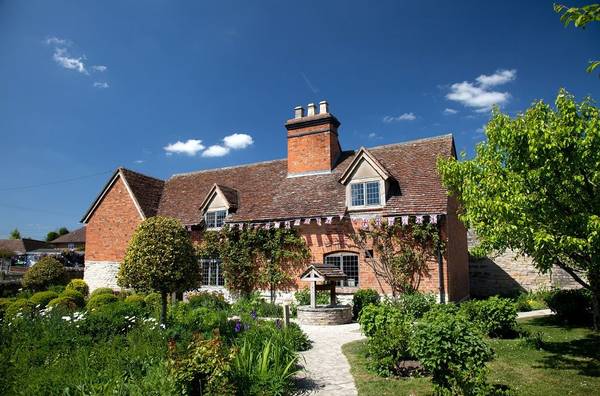 When Shakespeare's grandfather Robert Arden died, he left his daughter Mary a substantial amount of land in addition to a wealthy sum of money. The farm, in addition to the Tudor house, is commonly referred to as Mary Arden's farm and a visit when in Stratford-upon-Avon will allow you to be captivated by its friendly charm.
Two houses in the village of Wilmcote stand side-by-side, resulting in many years of confusion as to which home Mary actually occupied. However, following the purchase of the second house by the Shakespeare's Birthplace Trust, the second of the buildings was determined to be her childhood home.
Although Mary only lived in this house until her wedding to John, William's father, the farm is beautifully restored and is a time capsule containing both Victorian and Elizabethan furnishings, reminiscent of its previous owner. You can visit the working Tudor farm where cattle, pigs and birds of prey reside.
We asked the Shakespeare Birthplace Trust what you can expect from a day out at Mary Arden's Farm: "Step back in time and discover country life in Shakespeare's day with all the sights, sounds and smells of a real working Tudor farm, meet the costumed Tudor residents as they go about their daily tasks of cooking, tending crops and feeding the rare breed animals. Watch falconry displays, see the rare-breed animals, explore the countryside and nature trails, and get 'hands-on' with rural crafts and traditional pastimes. Children will also enjoy the outdoor adventure play area, and the café serves delicious Tudor-inspired dishes made with fresh organic produce – from our farm to your plate."
Inspired to learn more?
You can immerse yourself in Shakespeare's world on our 'Just Shakespeare in the Cotswolds' itinerary, based at Harrington House, our country house in the Cotswolds, which takes in the landmarks associated with the Bard.