Details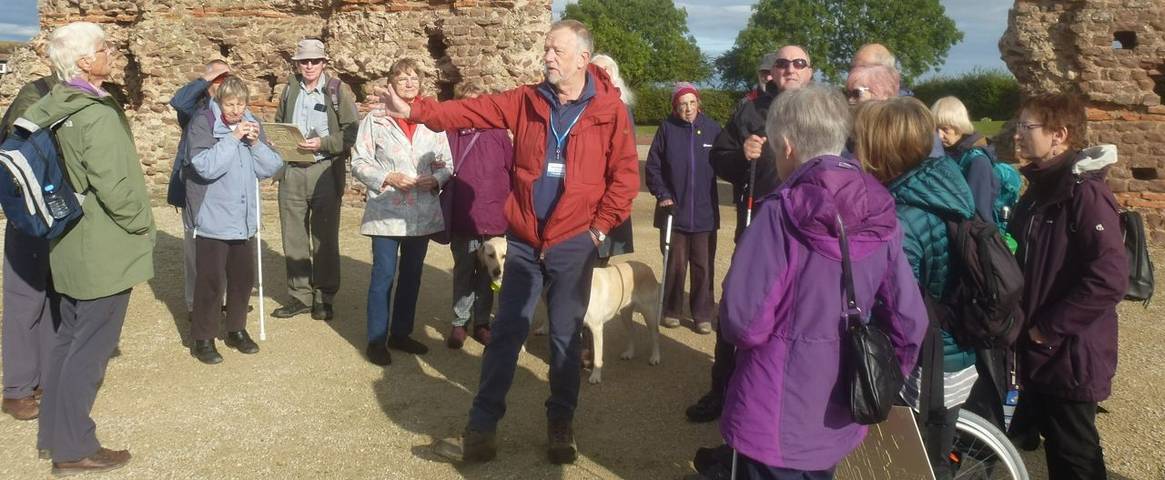 In October a group of visually impaired adults, their sighted guides and three guide dogs made their way from around the UK to Longmynd House, Church Stretton in Shropshire for a three-night stay. They were taking part in a Heritage tour: 'Romans, Monks and Princes of the Welsh Marches'. Their Group Organiser gave us some lovely feedback:
"Our HF Holidays leader Bruce Bennison had done a brilliant job of adapting the tour to meet our particular needs. He gave an informative commentary on the coach about the places we were driving through and set the scene for the places we were to visit.
At Wroxeter, Bruce had arranged a special handling session of Roman artefacts as well as exploring the remains of the city. Arriving before opening time at Powys Castle, the National Trust had provided a band of willing volunteers to take us around in small groups at our own pace. The visually impaired were thrilled at being able to feel objects that are normally labelled 'do not touch'.
Plenty of time was given to explore Wenlock Priory and the teashops and to visit Stokesay Castle.
The accommodation and food were up to the usual high standard HF Holidays houses and was enjoyed by all. Our thanks to Bruce for his care and understanding and to Laura Blackmore, the HF Holidays Group Organiser, for all her help."
Add-venture in learning.
Add-venture in Learning is a charity that exists to offer educational breaks to visually impaired adults. Add-venture in Learning organises the event and provides the sighted guides where necessary. They meet at different venues to study topics such as history, ecology, music, literature and science. They are always looking to recruit additional sighted guides. Anyone interested in joining one of their breaks, either as a visually impaired person, or as a guide, should go to their website www.add-ventureinlearning.org.uk for more information and to contact the team.