Details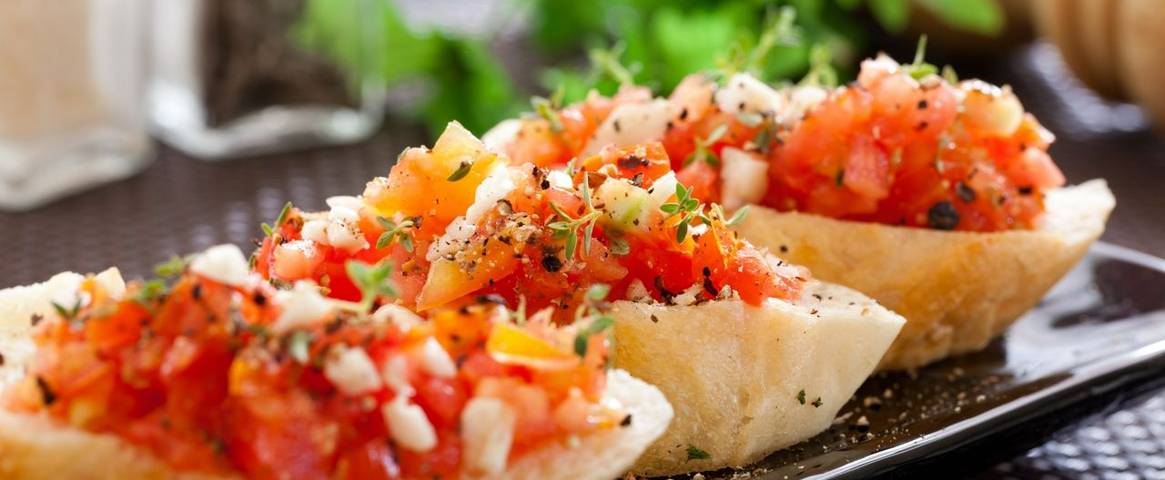 The intricate and rich heritage of Italy doesn't just come from its architectural and historical prowess, but also from its culinary customs. The gorgeous climes of the country mean that ingredients are fresh and flavourful. With the various regions, climates and cultures across Italy, each area has its own speciality dishes and flavours. In this article, we look at some of the authentic Italian dishes everyone should try when in Italy.
The intricate and rich heritage of Italy doesn't just come from its architectural and historical prowess, but also from its culinary customs. The gorgeous climes of the country mean that ingredients are fresh and flavourful. With the various regions, climates and cultures across Italy, each area has its own speciality dishes and flavours. In this article, we look at some of the authentic Italian dishes everyone should try when in Italy.
FOCCACIA
Where to try: Cinque Terre
We start with focaccia. A soft, flavourful bread usually seasoned lightly with fresh herbs and garden vegetables. This oven-baked bread has a similar consistency to pizza dough before baking, and its smell will fill any room or restaurant. The dish is associated with the Liguria region of Italy, and we suggest you try it in Cinque Terre.
This water-colour coastal town is brightly coloured and full of culture. All around the town you'll be able to find many types of focaccia, laced with various ingredients and flavours. You can find sweet style focaccia like focaccia dolce, which are commonly eaten for breakfast and dunked in a caffé latte.
We spoke to Amy, a blogger known online as Cinque Terre Insider, about focaccia: "EVERYTHING tastes better in Italy! The quality ingredients and artisan approach put focaccia 'Made in Italy' in a class of its own.
"What makes focaccia in the Cinque Terre so special compared to other places in Italy? Really, there's nothing better than throwing on your bathing suit, grabbing a slice of focaccia and heading to the beach. This is a summer ritual for locals and a lesson in 'less is more'."
"The salty sea and savoury focaccia go hand in hand. Focaccia in the Cinque Terre is delicious, no doubt about it. But what really makes it so memorable is when you add in the stunning scenery, the scent and sound of the sea and the feel of the smooth pebbles beneath your feet. Focaccia eaten on the beach in the Cinque Terre will satisfy (and exalt!) all of your senses."
Visit Cinque Terre:
TORTELLINI
Where to try: Valeggio, Lake Garda
Although you can find tortellini all over the world, it's a must-try in Italy. These filled pasta-parcels are decadent and when freshly made, take on a whole new flavour. Filled with any mixture of ingredients and shaped in various interesting designs, they are a completely unique dish in every restaurant.
There is nowhere in Italy that loves tortellini quite like Valeggio sul Mincio, south of Lake Garda. Thought to be the home of tortellini, every year on the 3rd Tuesday of June the 'Feast of the Love Knot' festival takes place, where over 4,000 diners come together to celebrate true love and eat pasta.
Visit Lake Garda:
ORECCHIETTE CON CIME DI RAPA
Where to try: Puglia
Orecchiette is a pasta popular in South Italy. The small, almost flat pieces are also known as 'little ear' pasta, due to their distinctive shaping. Often used in dishes with light meats and flavours, orecchiette meals tend to pair well with white wine.
In Puglia, there is one orecchiette dish that you'll find almost everywhere: orecchiette alle cime de rapa, also known as, orecchiette alla Pugliese. Served with spicy Italian sausage and broccoli rabe, this dish features some of the area's best and freshest ingredients and is a must-try for anyone in the region. Delicately flavoured and simply perfect, it'll certainly have you coming back for more.
We spoke to the team at Italian Food Joy, who told us some more about orecchiette's rich history: "Orecchiette was born in Apulia (Roman name of the region) and the original dish is made with the best durum wheat cultivated in this region. A legend tells that orecchiette were given this shape to remember the roof of the "Trulli", typical ancient houses of Puglia. Orecchiette has peasant origins and still today, in Apulian families, they are prepared only by hand using durum wheat flour, water and salt, following the tradition."
"With fast movements passed down over generations, expert hands give the shape and the right roughness to this pasta. You can find the best orecchiette in Puglia, where we suggest you taste them cooked by a local chef, discovering the most precious and authentic taste of the region where they were born."
Italian Food Joy also told us why everyone should try orecchiette whilst in Italy: "Simply because they offer extraordinary flavours and aromas passed down over centuries. Orecchiette holds the sauce well, giving the palate an explosion of Mediterranean flavours. The true orecchiette are those made only by hand and they are "the pasta" of the Apulian tradition."
"They are a flagship of the Italian cuisine and today they are cooked all over the country, mainly in the south of Italy, with a great variety of sauces. The original recipe combines them with turnip tops, but they are paired with fresh tomato sauce and ricotta, with rabbit ragù sauce, meatball sauce, or tomatoes and anchovies: for each recipe the chef uses local ingredients (such as extra virgin olive oil), herbs and spices. If you come to Italy, you must taste orecchiette: you will find all the most authentic flavours of Italian and Mediterranean cuisine."
Visit Puglia:
PANZANELLA
Where to try: Tuscany
In the middle of the Italian summer, there is no better dish to sample than panzanella. This bread and tomato salad is light but filling, and is the perfect thing to snack on whilst enjoying hearty conversations under the Mediterranean sun.
Filled with chunks of soaked bread, freshly sliced tomatoes and often onions and basil, panzanella originated in Tuscany. The whole region is known for its simplistic cooking style and fresh ingredients, and panzanella is the perfect demonstration of that.
Visit Tuscany:
LIMONCELLO
Where to try: Sorrento
As well as amazing dishes, Italy also boasts some great drink options. The most well known (for good reason) is Limoncello. This lemon liquor is incredibly popular all over the country, but especially around the Gulf of Naples and the Sorrentine Peninsula.
Image Credit: Yoga Wine Travel
We suggest sampling this drink in Sorrento. A city that is known for having arguably the best lemons in the world, you know that your drink will be made with the highest quality ingredients possible.
We spoke to Flo, blogger at Yoga Wine Travel, who spoke to us about limoncello in Sorrento: "A trip to southern Italy simply isn't complete without tasting Limoncello, made from the zest of the plump and fragrant "Limone di Sorrento". Lemons in the Sorrentine Peninsula are larger than the average and ambrosial, which makes for a sweet and syrupy liqueur that's perfect for cleansing the palate after an Italian feast. Make sure you pick up one of the lemons (ask the shopkeeper first) as you won't believe how massive and weighty the Sorrentine lemons are.
"As you stroll through the streets of Sorrento you'll find hundreds of bottles of limoncello, all boasting their very own 'secret recipe' passed down through generations. Tasting a cold limoncello after a meal is a time-tested tradition that is an integral part of the culinary experience in Italy (especially in this part of the country), it's also deliciously refreshing to boot!"
Visit Sorrento:
TIRAMISU
Where to try: Venice
Finally, when visiting Italy there will be myriad sweet treats drawing you in. One cold dessert in particular is tiramisu, which is known the world over but prepared best at home. After enjoying a fresh pasta dish or a pizza straight out of the oven, don't leave the restaurant before dessert! Originating in the Veneto region of Italy, we suggest you try tiramisu in Venice for a traditional experience.
Snita from Her Fav Food told us why everyone should try Tiramisu in Italy: "Tiramisu is one of my favourite Italian desserts. I love the creamy texture, rich centre and the delightful caffeine kick it gives! For me, this combination makes the perfect dessert. Tiramisu is a must-try when in Italy as they have perfected the layers, proportions of ingredients and flavours over time, meaning they serve some of the best Tiramisu I've tried!"
Snita then explained why Venice is the best place to try this dessert: "Tiramisu originated near Venice, making Venice the heart of this beautiful dessert. During my trip to Venice, I tried many different Tiramisu in a variety of flavours, including chocolate and green tea, as well as the original. They were all delicious and I really enjoyed sampling the unique variety. The fact that you can sample a huge variety of this dessert in one place is what makes Tiramisu in Venice so special for me!"
Visit Venice:
So, whether you are enjoying Italy on a singles walking holiday or whilst travelling with friends, be sure to keep an eye out for these dishes and try them in their home – trust us, it'll be worth it!