Details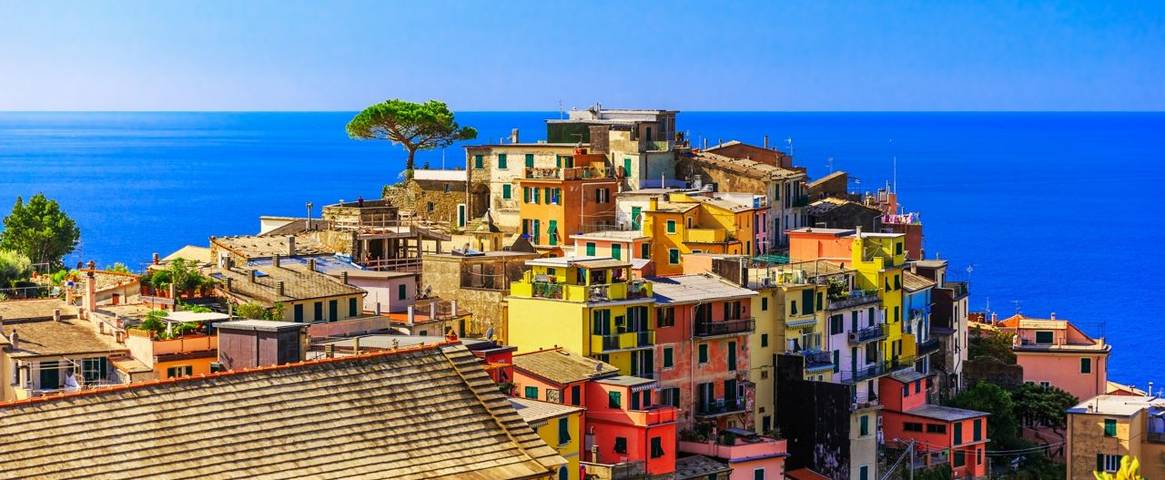 Enjoy the taste of classic Italy! HF Holidays takes you on a journey through lush green hills, charming villages and rich Italian culture.  
Italy is a classic European break; the gentle landscapes & rolling hills cover huge swathes of land, supported by the mountains in the north and breathtaking coastlines on either side of the country make Italy a powerhouse in the travel & tourism industry. 
Hiking in Italy is massively popular with our guests and it's easy to see why. The Western culture we live in now has very much been influenced by Italian cultures and cuisine, hence why so many of our guests love a classic escape to Italy. If you love a challenge or discovering hidden gems, we recommend finding inspiration from our 'Undiscovered Italy' blog. 
We've put together our top destinations to explore classic Italy:
Cinque Terra | Piedmont | Tuscany | Venice
Cinque Terra, Bonassola
The Cinque Terra is one of Italy's most prized assets. A UNESCO World Heritage Site, Cinque Terre forms five fishing villages tightly squeezed next to one another due to its confinements, the surrounding hillsides which help designed Cinque Terre National Park, and the rugged coastline of the Italian Riviera. 
Cars are not permitted in some areas so the easiest way to reach the villages is by train, however, hiking in Cinque Terra has become increasingly popular with tourists. It's possible to explore the area in under 2 hours but why you want to do that? Full of beauty and charm, these five enchanting villages: Monterosso, Vernazza, Corniglia, Manarola, & Riomaggiore will leave you spellbound. For more detail on each village, read our hidden gems of Bonassola.
Piedmont, Montelupo
Sharing borders with both France and Switzerland, Piedmont is located at the foot of the mountains. Delving deeper into Piedmont, you can discover the region beautiful landscapes and rolling green hills as well as the medieval hilltop villages. Piedmont offers delightful spring and summer weather, although the weather can vary day to day due to the alpine conditions from both north and west of the region. On a clear day, walking in the Italian countryside you can see the Alpine peaks of the Matterhorn and Monte Rosa which form a beautiful backdrop to the green hills of the Langhe.
High fitness levels are not required, as hiking in Piedmont countryside is relatively easy and relaxing. Staying in Montelupo, you'll discover Piedmont charming history and stroll through vineyards, hazelnut groves and on ancient trails.
Tuscany, San Quirico d'Orcia
Home to the renowned city of Florence, Tuscany is a stunning region of central Italy and boasts an incredible countryside. Home to four national parks, the Tyrrhenian Sea to the west and mountains to the north and east, this region has become popular with outdoor enthusiasts and history lovers. Walking in Tuscany, you can visit the historic hilltops villages of Montepulciano and Pienza, and/or revel in the breathtaking medieval city of Siena, - UNESCO World Heritage Site - one of Italy's most visited tourist attractions. 
The landscape in Tuscany is so serene and unique the rolling hills are endless. In the spring, the fields come to live with an impressive range of flora. The Orcia river lives within Tuscany and is famous for making Val d'Orcia - captivating green hills stemming from Siena to Mount Amiata, one of the world's most natural beauties - become a UNESCO World Heritage Site. Unwind and enjoy the scenic routes of Tuscany. 
Venice
Wonderful! Beautiful! Magical! These are reviews left by our guests. Words can't do Venice justice and is a must-see for all tourists. Explore the awe-inspiring architecture and endless mysterious passageways that give a mix of romantic and medieval vibes. Exploring this unique city you'll instantly feel inspired and in love, after all, many people consider Venice the most romantic city in the world. 
No roads mean no cars! Can't say that about every city in the world. Transport is mainly through water taxis or otherwise on foot, making Venice the perfect 4-night getaway. The city magic draws so much appeal, tourists can outnumber the locals during the busy months, except HF Holidays showcases the best of Venice through a local expert and an excellent itinerary, giving our guests an exceptional experience. Now is the time more than ever, to discover Venice.
---
If you are not interested in Italy, you might find inspiration in our latest blogs on Portugal and the Balearic Islands.
Or we highly recommend the Greek Island of Evia and Cyprus.
We also have other exceptional European destinations we think you'll love.