Details
Reading time: 3 - 6 minutes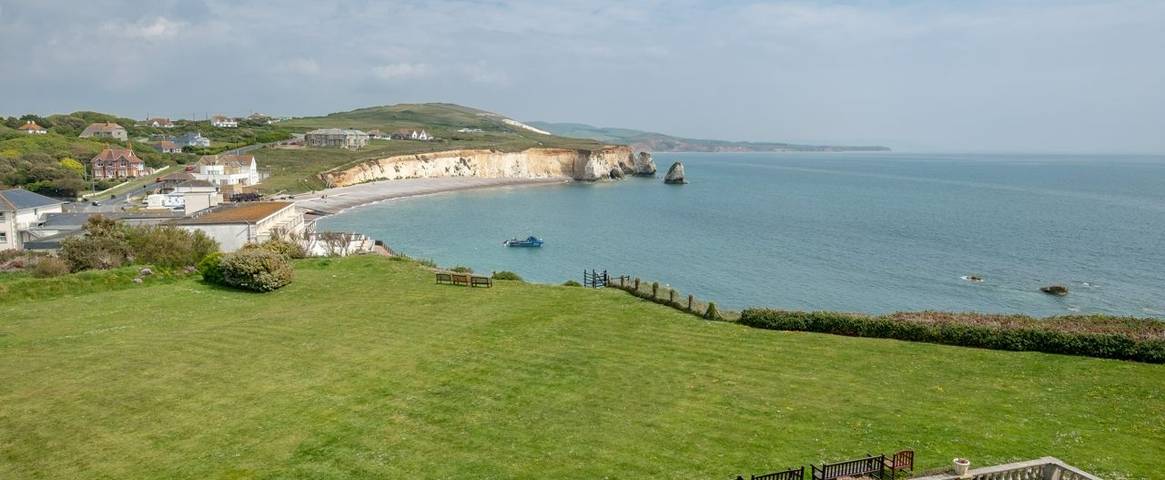 Adored by Queen Victoria and her well-heeled subjects, the diamond-shaped Isle of Wight has always been a persuasive draw thanks to its seaside resorts, chalky white cliffs, and fabulous weather (it's one of the sunniest spots in the British Isles). The island was also beloved by the poet laureate, Alfred Lord Tennyson, especially the village of Freshwater – the location of our charming country house.
The earliest records show that Freshwater Bay House was a purpose-built hotel owned by Charles Plumley in 1824. Prior to this, it was known as The George Inn and visited by esteemed artist George Morland in 1799. He earned a living on the island by painting inn signs and undertaking local portrait commissions, although it's thought he sought refuge here to dodge his creditors.  
By the 1850s, the hotel was known as Plumley's Post House before later changing its name to the Freshwater Bay Hotel and Posting Establishment (it was around this time that playwright George Bernard Shaw visited with his new wife). It was then bought by William T Lambert who renamed it Lambert's Hotel - and this name stuck until the beginning of the 20th century. Over the years, the roll call of famous guests included Lewis Carroll, Anthony Trollope, and Lord Tennyson. It has been part of our HF Holidays line-up since 1956.  
Open from March to November and during the festive season, Freshwater Bay House has 43 well-appointed guest rooms in three categories: Classic, Premium, and Superior. House highlights include three cosy lounges (one has a grand piano), a light-filled restaurant for a wide range of dishes made with fresh and seasonal ingredients, and an outdoor heated pool (open from Easter to September). 
Elsewhere, there's a handy boot and drying room, a licensed bar, and a Discovery Point offering easy-to-follow routes and local maps for self-guided walks. You'll also find a putting green, tennis courts, and lovely gardens with paths leading down to the beach in one direction and Tennyson Down in the other.  
You'll be staying to the south of Freshwater, the West Wight village within pebble-throwing distance of its semi-circular namesake bay. Nearby showstoppers include the imposing Stag and Mermaid rocks, the multi-coloured sands of Alum Bay, the remarkable Ventnor Botanic Gardens, and the 125-million-year-old dinosaur footprints at Compton Bay. And then, of course, there's the Needles Old Battery for the best views of The Needles - the iconic trio of brilliant white chalk rocks leading out to the red-and-white lighthouse built in 1859. 
Given that over half the island is a designated Area of Outstanding Natural Beauty, there's incredible scenery everywhere you look. The Isle of Wight Coastal Path takes you around the whole circumference, passing through award-winning beaches, nature reserves, sailing towns, and more. As one of the most eye-catching attractions, The Needles mark a stop on the Tennyson Trail - a route made famous by the poet laureate. Highlights include heading to the Tennyson Monument for sweeping island views, strolling across the grassy meadows of Tennyson Down, and keeping your eyes peeled for native red squirrels (there's plenty). 
Whether you're enjoying one of our guided or self-guided walking holidays, there's plenty to see and do within easy travelling distance of Freshwater Bay House. Here's some of our favourites: 
Osborne House: Just a 40-minute drive away, this former royal retreat was purchased by Queen Victoria and Prince Albert in 1845 and used to escape court life. Now managed by English Heritage, it charms with glorious gardens and rooms filled with original furniture and works of art. 
Carisbrooke Castle: What was once an artillery fortress, king's prison, and royal summer residence is located near Newport in the heart of the island. Not-to-be-missed attractions at this medieval stunner include King Charles I's bowling green and the lovely Princess Beatrice Garden.  
Alum Bay: Cherished for its multi-coloured sands and stunning views across the Solent, Alum Bay delights with crystal-clear waters that are perfect for swimming and paddling. Don't leave without buying a souvenir filled with this world-famous sand that comes in 21 shades.  
Yarmouth: An hour's walk away, this historic seaside town is set at the mouth of the River Yar. The highlight is the 16th century Yarmouth Castle – one of Henry VIII's most sophisticated coastal fortresses built to guard the western entrance to the Solent.  
Isle of Wight Steam Railway: Following a five-mile countryside route from Smallbrook Junction to Wootton, this lovingly restored vintage steam train is an award-winning attraction. Hop off at the rural stations and learn about 150 years of railways history at the Train Story Discovery Centre. 
Blackgang Chine: Perfect for those with children in tow, this family-run fantasy theme park dating back to 1843 is the oldest in the UK. Highlights include life-sized pirate ships, fairy castles, an underwater kingdom, and a cowboy town where kids can choose to be chose to be an outlaw or sheriff. 
Bembridge Windmill: Built in the early 1700s and closed in 1913, the last surviving windmill on the island was famously featured in a 1795 watercolour by JMW Turner. This much-loved local landmark was donated to the National Trust in 1961 and still has most of its original machinery intact. 
Ventnor Botanic Gardens: A 30-minute drive away, this botanical wonderland is home to around 6000 species of rare and exotic plants and trees covering 22 acres. The warm climate attracts some amazing wildlife, including wall lizards, slow worms, and even Iberian ants.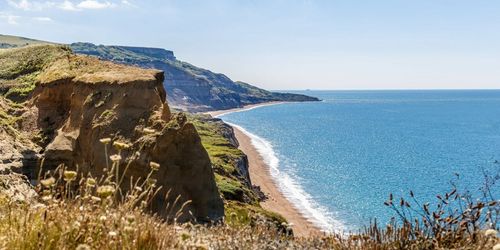 7-night Isle of Wight Guided Walking
Accommodation: Freshwater Bay House, Isle of Wight
Departures: Mar-Oct 2023, 7 nights
Price from: £775pp
Call 020 3974 8865 or click here to book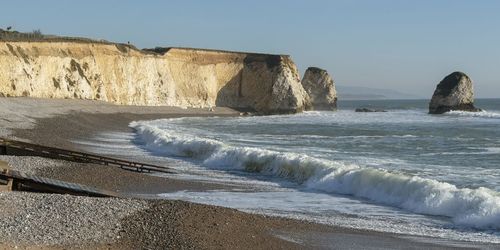 The Isle of Wight Coast Path Guided Trail
Accommodation: Freshwater Bay House, Isle of Wight
Departures: May-Sept 2023, 7 nights
Price from: £1145pp

Call 020 3974 8865 to book or click here