Details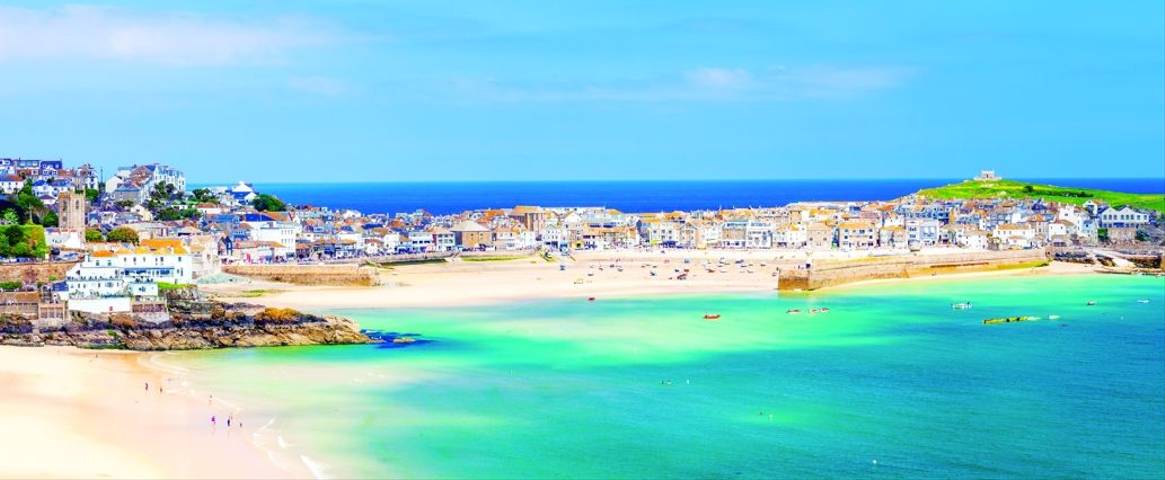 Hi! My name's Adrian and I work in the Penrith office for HF Holidays. I recently visited St Ives on the Discovery tour, and experienced all aspects of the holiday. I was so excited, I just had to share my story!
It's a long drive to St. Ives from almost anywhere, so we were tired and relieved when we finally reached the sanctuary of Chy Morvah.  It was my wife's first holiday with HF Holidays and it got off to a promising start with that traditional welcome only HF Holidays' Leaders know how to give and finding ourselves booked into a pleasant room with a sea view.  The welcome continued with freshly baked scones with jam and real Cornish clotted cream.  Now, were we supposed to put the cream on the scone before or after the jam in Cornwall?
Our evening meal set the standard for the week; it would have earned a hard won accolade from Jamie Oliver and was the foretaste of much excellent food to follow, with service to match.  In fact, for the house staff, nothing was too much trouble for them.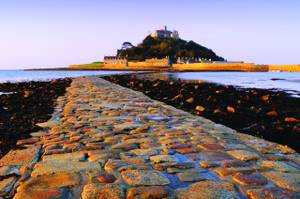 I'm a keen walker, but my wife prefers more sedentary activities and was having none of it, so I was embarked upon the Discovery Tour whether I wanted to go or not.  On the first morning I longingly watched the guided walkers, boots on, trekking poles in hand, happily disappearing off for their day out on the beautiful Cornish coast.  I took my place on the bus. The first part of our journey was shrouded in one of those damp Atlantic mists that had rolled in off the sea, but by the time we'd heard about Mermaids, walked out onto the coastal path by Pendour Cove and taken in the classic view of the The Crown Mine engine houses at Botallack (made famous as Grambler in the TV drama series Poldark), the sun had come out and we were both enjoying our day.  Lunch watching the sea crashing on the rocks at Sennen Cove preceded a full and enjoyable afternoon, concluding with us peering inside the iron age fogou at Chysauster. I should perhaps confess that I'd never even heard of a fogou before!
What Chrissie our Leader didn't know about Cornwall wasn't worth writing on a postcard to send back home.  Of course, on a Discovery Tour break you do expect to learn something and I'd have felt short changed if I hadn't, but I didn't expect to learn quite so much as I did about that far flung south west corner of England. History, mining, archaeology, geology, myths and legends, the Cornish language, the people and the sometimes nefarious antics of the local gentry, she knew it all!  I'd be a happy bunny indeed if I'd remembered even a quarter of those fascinating nuggets of information she passed our way.
We weren't just bombarded with facts and figures however; Chrissie regaled us with impromptu yarns and legends on the bus, always related to what we were seeing that day.  The Mousehole Cat and the Mermaid of Zennor are two tales that readily spring to mind.  We were sung samples of Cornish songs and even ended up dancing in the Merry Maidens stone circle! Now everybody knows that I've two left feet and just don't do dancing, especially in front of bemused tourists in the middle of a Cornish field, but sometimes exceptions just seem to happen and I must have been caught off guard.  No persuasion was needed, everybody joined in walking sticks notwithstanding and we all had a right good laugh including the tourists who clearly thought we were some crazy Cornish folk.  I wonder what they told their friends when they got home!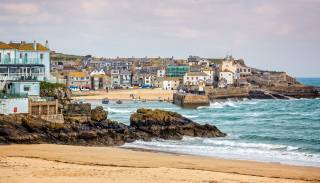 Of course, no visit to St. Ives would be complete without an evening at the Minack.  It's that spectacular open-air theatre perched on the rugged granite cliffs overlooking the Atlantic, but those who've been there before know all about the hypothermia inducing potential of those concrete and grass seats in a stiff and malevolent sea breeze.  Needless to say HF Holidays had it well thought out, issuing us with big woolly pre-duvet style blankets as we got off the bus so we all sat snug and warm.  Members of the audience less well prepared looked on with envy, but there were no chattering teeth in our group!
We visited places we'd heard of but never been to and learned how to pronounce those evocative Cornish names, we sampled traditional Cornish pasties and ice cream, peered hesitantly down the dark shaft of an old tin mine, admired art from the Newlyn School and picnicked in the sun at Coverack, but sadly and all too soon it was time to go.  We reluctantly said our parting farewells and swapped St. Ives for the madness of the motorway and the journey back home.
Will my wife go on a second HF holiday?  We'll send you the answer on a postcard!
For more information on our Discovery Tour breaks visit our website