Details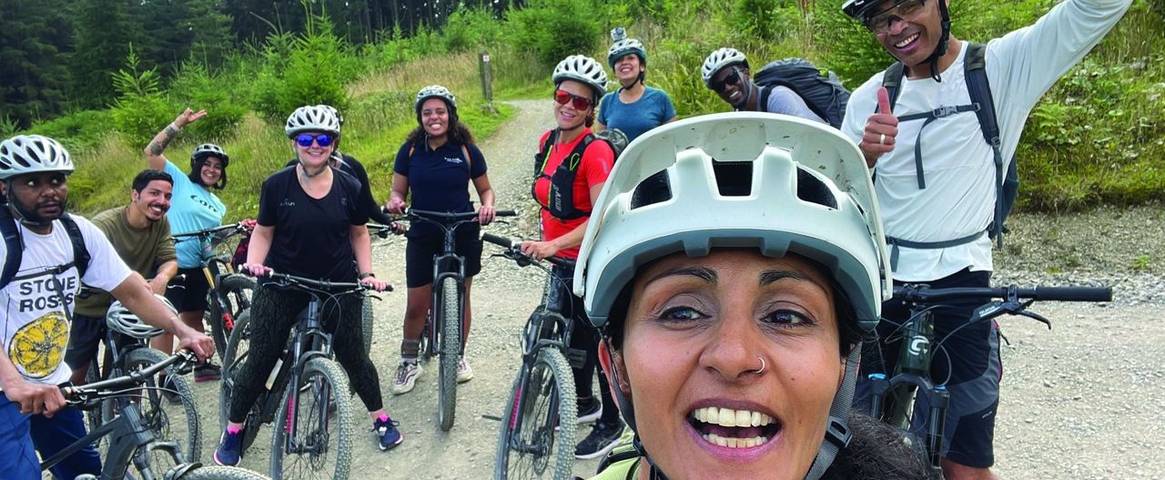 The last 18+ months have been unprecedented. However, our journey throughout has remained focused around our strategic vision and one of the three priorities; People. Our team have attended online zoom meetings to learn and develop, and connected with Soraya Abdel-Hadi from All the Elements, who was hosting an online space to meet others working to increase diversity in the UK outdoors. Read on to hear what Soraya has to say about HF Holidays' recent support of the Outsiders Summit, which we hosted at Derwent Bank in the Lake District. And click play to watch a short film narrated by Phil Young of the Outsiders Project, outlining the challenges, issues and successes associated with this important event.
Soraya Abdel-Hadi: Much of my work with my non-profit All The Elements is about supporting and connecting the community leaders working to create change on diversity across the UK outdoors. Between them, they support all the underrepresented groups, from religion and ethnicity, to those with limited financial means, or with invisible and visible disability, and different ages, genders and sexualities and more! A common theme across these diversity areas is feeling isolated in your work and being the only person in the room representing your cause. All The Elements is building bridges, and safe spaces for deep and meaningful connection and ongoing collaboration.
The lack of diversity in the outdoors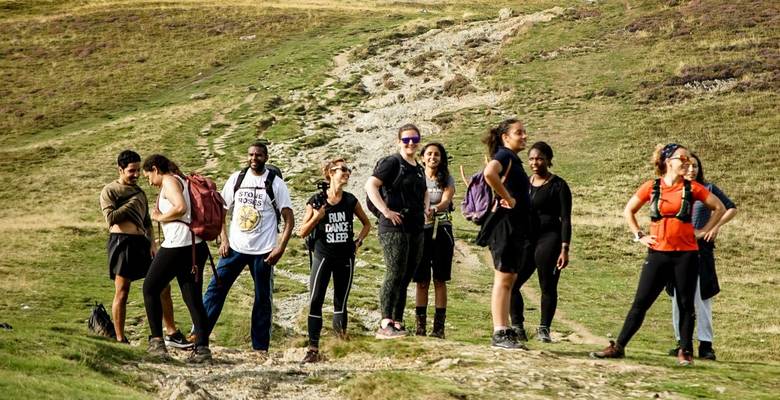 Since the Black Lives Matter movement in June 2020, the discussion around diversity in the outdoors has moved into mainstream consciousness. For those of us from underrepresented groups working in the outdoor sector, we have always been painfully aware of the inbalance around us.
The statistics highlight the depth of the problem of ethnic diversity in our outdoor spaces. A 2017 Natural England study found that only 26.2% of black people spent time in the countryside, compared with 44.2% of white people. The situation is even worse for some of our most feted public spaces. National Parks, which every British citizen pays towards through their taxes, have only 1% of visitors from BAME (Black, Asian and Minority Ethnic) backgrounds. To put that in context, in the 2011 census, 13% of the population were categorised as BAME and that's expected to have increased when the latest figures are released. The diversity in outdoor spaces does not represent the society as a whole and that indicates that there are deeply rooted problems with access.
We are hearing anecdotally that the visual diversity of visitors to public spaces, like National Parks, has increased during COVID - likely because open spaces were the only spaces 'open' for business. This means the numbers might be shifting in a positive direction, but the reality is until there is more role modelling in the outdoor space, our stories are told by mainstream media and celebrated by brands, and the systemic barriers to access are broken down there will be no lasting change. The risk is that as everything returns to normal the numbers drop back down to the abysmal levels they were before. The community group leaders have a vital role in creating long-term shifts in representation and pulling down barriers to access - and collaboration across the sector is needed.
The role of the outsiders summit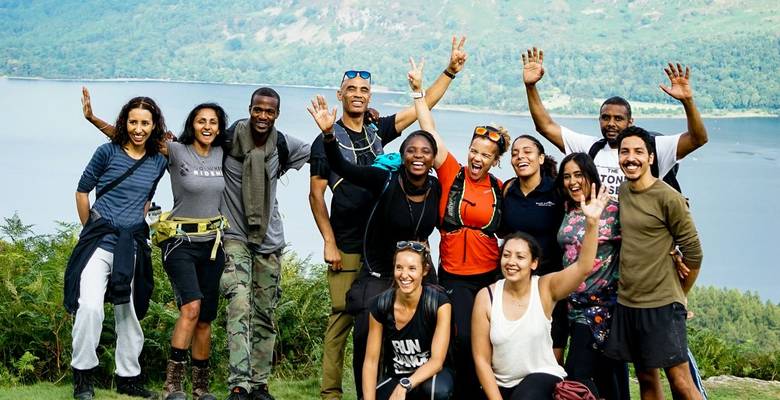 Together with marketing director and diversity advocate Phil Young, we formulated a plan for a weekend that would bring together leaders working to increase access and representation for people of colour in the UK outdoors. We called it the Outsiders Summit.
Representatives from five outdoor groups would take part in a residential weekend of workshops, providing them with the opportunity to share their knowledge, experiences and their outdoor activities with a select group of other leaders. The leaders included Carlos Casas from climbing group Colour Up, Bristol; Sabrina Pace Humphreys and Rachel Dench from Black Trail Runners, National; Omie Dale from SwimUnity, London; Aneela McKenna from mountain biking group Ride Mòr, Scotland; and Marlon Patrice from We Go Outside Too, Birmingham. They were joined by community members Ayman Elsheikh, India Paul Allen and Kelly Smith.
A gathering like this had not happened before, so we also wanted to utilise the expertise we had in the room to influence larger scale change. To facilitate this, we invited National Governing Body (NBG) representatives on behalf of the Mountain Training Association, Swim England and British Cycling for a discussion on their planned diversity engagement policies.
The concept was simple but finding a location that fit our requirements was not. We needed a base that had easy access to water for our open-water swimming activity, but also accessible trail runs and hikes to suit the different abilities of the group. We also needed space to hold short talks and a longer evening session on Saturday evening. Add to this that we were trying to book just as everyone in the UK was ramping up for another year of staycations and we thought we'd have a long search ahead of us. That's when HF Holidays' stepped in.
They offered us space at Derwent Bank, just outside Keswick in the Lake District. It couldn't have been more ideal, with the beautiful expansive Derwentwater lapping at the edge of the house's lawn and the popular Cat Bells fell within walking (or trail running!) distance from the front door. The friendly team also helped us out with suggested mountain bike hire and paddleboarding instruction, and the local climbing centre was only a five-minute drive away. Additionally, they were used to catering for active holidays and provided very generous packed lunches, and there was access to a boot and drying room - it really couldn't have been any more perfect. We were blown away by the generous offer to host our weekend and eagerly accepted.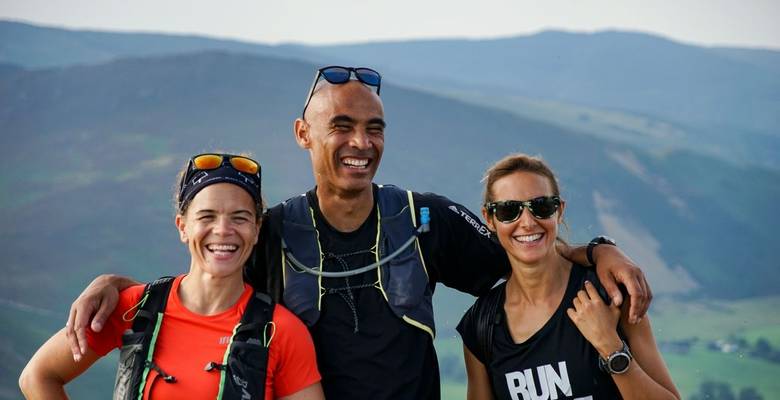 On reflection, it shouldn't be a surprise that HF Holidays were so supportive, as our missions are very much aligned. I have since discovered that HF Holidays was founded on principles of making green spaces inclusive and accessible to all. Their model of providing guided walks in beautiful outdoor locations makes perfect sense. This means that contrary to appearances, the cooperative is not joining a diversity trend, but actually doubling down on a societal challenge that is at the core existence of the organisation in the first place.
That's not to say that they don't have work to do, and the senior leadership team are refreshingly open about the work that needs to be done. But I'm assured that a realignment to values is central to the planning as they move forward, on diversity and also on another of the most pressing issues of our time, sustainability. Two HF team members, Sarah and Kath, also joined us for part of the weekend activities and sat in on the important conversations around policy change which gave them key insights on the challenges faced by underrepresented groups that they could take back to the organisation. The weekend itself was even more successful than we could have hoped. The individual community leaders became a close, open and cohesive group within hours - bonded together by their values, shared experiences and ongoing goals.
The conversations between them have continued after the experience, with every participant keen to emphasise the importance of the weekend to them - the comradely and connection with other leaders, the lack of ego or competition, the joy of exploring the outdoors in different ways and the opportunity to share their on-the-ground experiences with governing bodies. For the National Governing Bodies themselves, the conversations have resulted in changes to original planned implementation strategies, and ongoing connections between activity leaders and the governing bodies are being cultivated to shape future actions improving the representation of people of colour.
None of this would have been able to happen without the support of HF Holidays and sustainable outdoor brand Patagonia, who believed in our vision for an event that helped break down silos, bring together leaders and actively push forward change. We are stronger together, so having a space to connect, collaborate and have these important conversations is vitally important. And if that space is as beautiful as Derwent Bank, well that's really the icing on the cake.