Details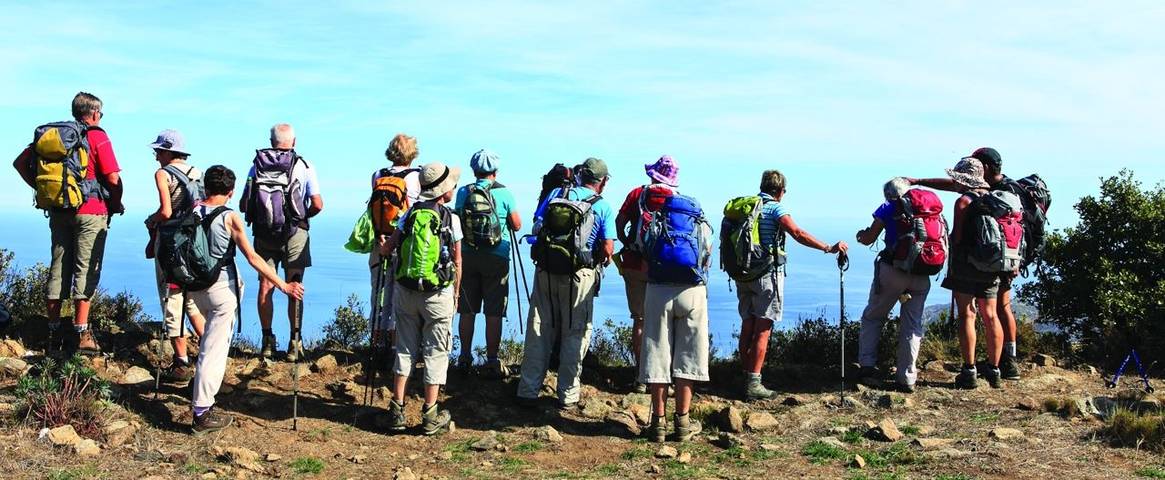 May is a key month in the calendar for HF Holidays Group Organisers.
There's plenty to look forward to with our autumn mailer landing on your doorsteps soon, giving you some fantastic savings of up to 50% off selected September – October short breaks. We've six of our favourite autumn European breaks to inspire you to go abroad, and our new Worldwide Holidays brochure out this month with over 35 destinations. Plus, find out how you can show your support by voting for us at the 2017 Group Leisure Awards.
Ten reasons to visit Malhamdale
1. Malham Cove – once a waterfall rivalling Niagara Falls for size. It once spanned 300m with a height of 80m. The waterfall flowed for the first time in many many years, last year (2016)
2. Limestone pavements, rolling hills, rugged moorland
3. Peregrine falcons – nest at Malham Cove. The RSPB often have scopes set to watch the nest if you visit the Cove at the right time of year (April – end of July)
4. Yorkshire Dales National Park – covers 1773 km square of stunning scenery in the central Pennine Hills
5. Pen-y-ghent and Ingleborough – one of Yorkshire's highest peaks – part of the Yorkshire Three Peak set
6. Janet's Foss – waterfall. The walk along to the waterfall is fantastic in springtime, where the woods are filled with the blossom and scent of wild garlic
7. Gordale Scar – impressive gorge at the end of the Craven fault line
8. Bolton Abbey – ruins of Augustinian monastery in stunning location - set alongside the River Wharf with the Strid gorge/rapids
9. Malham Tarn – nature reserve with many rare species living in the lime rich lake
10. Traditional stone cottages, charming cobbled villages & market towns, tempting tea shops & pubs with local brews and roaring fires – Settle, Clapham, Malham, Grassington, Kettlewell
For more details or a personalised quote for a groups break in Malhamdale call 0345 470 7557 or email us

Team overview
This month has been a busy one for the Groups team as we have started to book the advance registration requests we've received for group holidays in 2018.
To date over 150 groups have already booked and the majority of organisers have had their requests met for their first choice house and date for next year! Aga took a trip 'up north' to visit our Penrith office to review what has already been booked and where we have additional group availability to now programme Leisure Activity holidays and extra walking breaks which will help us when we launch our 2018 price grids and holiday options to you in early July.
However if you do have a preference of house and date for your group, now really is the time to get your registration in to avoid disappointment as some houses and dates are already full! While Aga was let loose from the Elstree office, she took the opportunity to visit Thorns Hall in Sedbergh. We encourage our team members to visit as many houses as possible and Aga found the visit really useful:
"On my way to Penrith I decided to stop at Thorns Hall, Sedbergh. Set in beautiful scenery, just few minutes off the M6. A lovely 16th century House with vast history creates a special atmosphere. Ideal for average size groups, ideal for walking. Whenever there is an chance to visit one of HF Holidays country houses I'll never miss that opportunity! It's always great to meet with individual guests, groups and colleagues. Those visits are also perfect occasion to get familiar with the set up of the House, location of public rooms and bedrooms as well as getting to know the local area. This proves to be a great help when talking to you on the phone or trying to find the most suitable room for someone with special requirements."  
Show your love for HF!
In 2016 HF Holidays won Best Accommodation for Groups at the Group Leisure Awards and were also finalists in
We need your help to retain and increase our wins in 2017! So if you LOVE what we do please take the time to vote for us in one or more of the following categories:
Best Group Tour Operator – Long Haul
Best Group Tour Operator – Short Haul
Best Coach or Tour Operator – UK
Best Group Dining Experience
Best Group Accommodation Provider
We thank you in advance for taking the time to vote for us...it really means a lot!
You can help raise our profile to other groups who may be considering visiting us in the future, help us to know you value what we offer and give the Groups & House teams a great boost to know that they are valued by you too.
Six of the best - autumn in Europe
Autumn is a great time to get away for a final blast of sunshine not too far from home. Not only have the crowds thinned, allowing you to find space on the hills and enjoy the sights without the queues, but midday temperatures have receded – perfect for donning walking shoes and exploring rural areas that are wonderful at this time of year.
Provence: Greoux-les-Bains
Immerse yourself in the landscape of Matisse, Cezanne and Van Gogh in this quiet corner of France. Rolling fields, blue skies, gorgeous villages and excellent food and wine epitomise everyone's image of Provence.
30 Sept & 7, 14 Oct (7nts) - Group price from 921pp*
Montenegro: Petrovac
Montenegro is one of the smallest and newest Balkan countries, with a mountainous interior and a superb Adriatic coastline. Montenegro's popular coastal resorts are expanding fast. By contrast its footpaths in the hills are seldom walked and are rich in natural beauty.
23, 30 Sept & 7, 14 Oct (7nts) - Group price from 750pp*
Italy: Sorrento
Sorrento has a fascinating atmosphere and is a busy tourist destination. Join us as we explore its stunning coastal scenery as well as the remarkable Roman cities of Pompeii and Herculaneum. Enjoy the 'Walk of the Gods' high above the coast and visit the bijou towns along the stunning Amalfi Coast.
23, 30 Sept & 7, 14 Oct (7nts) - Group price from 873pp*
Dolomites: Selva
Selva, in the majestic Dolomites, is a mecca for walkers and a must see destination for all. We meander through a fabulous network of hiking paths, walking amongst magnificent coral structures a paradox against the delightful alpine meadows. We visit quaint traditional Ladin villages offering a host of delicacies and delights along the way.
16 Sept (7nts) - Group price from £845pp*
Slovenia: Lake Bled
The tiny nation of Slovenia sits at the crossroads of Europe, bordered by Italy, Austria, Croatia and Hungary, as well as the Adriatic Sea. As a result, this nation enjoys a wonderful mixture of cultures and its own proud heritage. Being nestled between the Alps and the Balkans also provides a wonderful contrast of landscapes and climates.
23, 30 Sept (7nts) - Group price from £750pp*
Austria: Mayrhofen
Mayrhofen in Austria is our longest running European destination. Its not difficult to understand the draw to this friendly valley, beautiful scenery is unveiled around every turn. Easily accessible and something for everyone allows Mayrhofen to be enjoyed by all.
16, 23 Sept (7nts) - Group price from £797pp*
To book any one of these European breaks call 0345 470 7557 or email us
*Prices shown include 5% discount from brochure rate accommodation element only. No flight or transfer included. Based on group of 8-14 passengers, subject to availability at time of booking. Flights and transfer options available, please ask for a price at time of enquiry.
Top offer - Visit Cornwall
Guided Walking at St Ives - staying at Chy Morvah

11 Sep (5nts for the price of 4!) £575pp £459pp*
•    Limited availability - maximum group size of 12
•    Full board accommodation
•    1 x free place with 10 paying adults
To book please call 0345 470 7557 or email us
2018 Worldwide brochure launches 8 May
From India and Asia to the Caribbean, North and South America we've some fantastic new adventures for you. Enjoy great walking with world-class leaders, well researched itineraries and plenty of time to explore.
Colombia
Sun-kissed beaches to towering forests
Group price from £4,107.95pp*
Grenada
The Spice Island
Group price from £3,089.45pp*
Japan
Gems of the ocean
Group price from £4,069.15pp*
Newfoundland
Dramatic landscapes, fascinating history
Group price from £3,322.25pp*
Rajasthan
The Golden Triangle
Group price from £2,788.75pp*
For more details call 0345 470 7557 or email us
*Prices shown include 3% discount from brochure rate accommodation element only. No flight or transfer included. Based on group of 8-14 passengers, subject to availability at time of booking. Flights and transfer options available, please ask for a price at time of enquiry.
The Nottingham Wayfarers Rambling Club visit Derwentwater
Barbara Bailey from the Nottingham Wayfarers Rambling Club shares a story about her group's recent break at Derwentwater:
"Our club has been taking annual HF house breaks since the 1970's. How things have changed! We took a recent break to Derwentbank which has seen the house being upgraded over the years from dormitory style rooms with up to six sharing, to the splendid house it is today. The only downside was the weather of rain and yet more rain! However we are not fine weather walkers as we have experienced walking knee-high in snow at Alnmouth (pictured above), but by contrast beautiful sunshine at Selworthy and West Lulworth. None of this has spoilt our enjoyment of the breaks.
 
We like to celebrate members' milestone birthdays and the House Managers have helped towards the enjoyment of these occasions.
 
For the past 11 years we have visited, bi-annually, most of the houses for spring/autumn breaks. They suit the club's needs for walks' locations, ensuite facilities, good food and service, and of course, boot rooms!
 
As the Group Leader I appreciate the help I received from the staff in the Groups Department, which all contributes to the success of the breaks."
Tell us about your group holiday and you too could receive a 6 month subscription to Country Walking Magazine just as Barbara has!