Details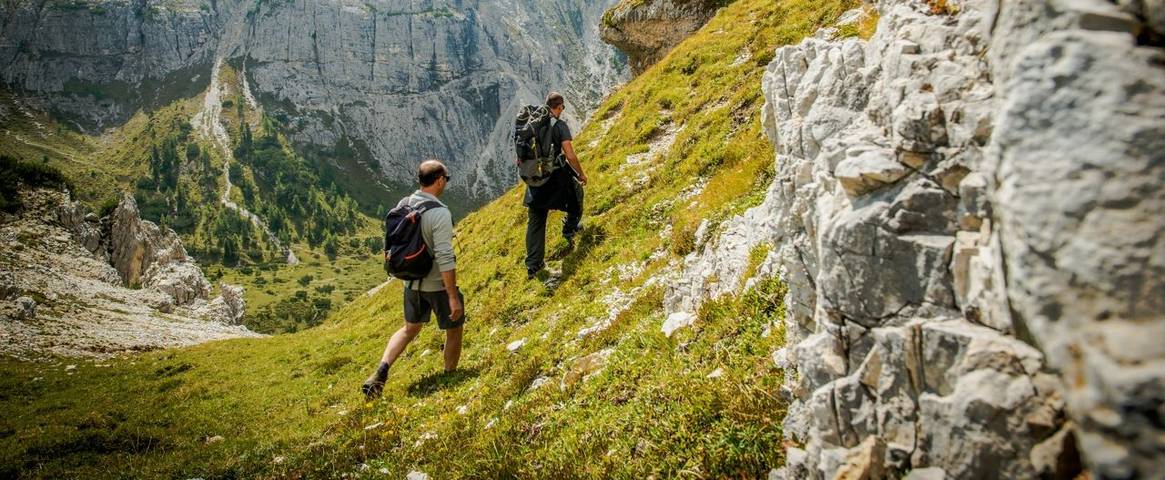 Whatever time of year you walk in the UK, mother nature always serves up a feast for the senses. Orchids are flowering and several varieties can be spotted on road banks and in old grassland.
The smell of honeysuckle is in the air and an array butterflies will add a splash of colour to any landscape – a handy pocket-sized guide in your rucksack will help you recognise the varieties. By day fledgeling birds take their first solo flights and as evening falls bats are on the move overhead. Also keep your eyes peeled for glow worms on hedgebanks and along woodland ridges, particularly in limestone areas.
With over 50 groups due to holiday with us during June, we hope there are some budding photographers amongst you to capture your favourite moments for our new photo competition or to share your holiday story with other groups for next months enews!
---
Top Offers
Group booking offers for October and SAVE up to 50%!
Book by 30 June - subject to availability and limited to 1 x group per date, minimum group size of 10.
For more details or a personalised quote for a group break call 0345 470 7557 or email us

---
Group Leisure Awards - vote for us!
We need your help to retain and increase our wins in 2017! So if you LOVE what we do please take the time to vote for us in one or more of the following categories:
Best Group Tour Operator – Long Haul




Best Group Tour Operator – Short Haul




Best Coach or Tour Operator – UK




Best Group Dining Experience




Best Group Accommodation Provider

 
We thank you in advance for taking the time to vote for us...it really means a lot!
You can help raise our profile to other groups who may be considering visiting us in the future, help us to know you value what we offer and give the Groups & House teams a great boost to know that they are valued by you too.
---
Why visit Dolgellau?
It began its life as a village in the 12th century developing into a bustling market town largely due to its place in Wales' woollen industry when wool was transported down the River Wnion, which runs through the town, before ending up in the port of Barmouth (about 10 miles away).
Snowdonia National Park itself is situated on the north-west coast of Wales. Covering 827 square miles of diverse landscapes, the Snowdonia National Park is a living working area. Home to over 26,000 people it boasts the highest mountain in England and Wales, as well as beautiful coastline, woodland, delightful river valleys, waterfalls and many picturesque villages. It is the largest National Park in Wales and the 3rd largest in the UK. It was one of the first National Parks to be designated in 1951, and approximately 10.5 million people visit annually.
The Talyllyn Railway, one of the Great Little Trains of Wales was the first railway in the world to be taken over and run by volunteers.  All of Snowdonia gauge stream railways offer highly scenic journeys.
Another iconic figure is the Harlech Castle, built by King Edward I after his conquest of Wales, with its World Heritage status it's a must see for any history lover.
For more details or a personalised quote for a groups break in Dolgellau call 0345 470 7557 or email us

---
Gold for Monk Coniston!
HF Holidays are proud to announce that Monk Coniston has been awarded Gold by Green Tourism - the highest award possible to achieve. We are immensely proud at HF Holidays of our team at Monk Coniston, who dedicate so much time and effort to make sure our guests have the best quality of service and enjoyment from their stay, as well as protecting and helping the local environment.
Discover more about Monk Coniston
For more details or a personalised quote for a groups break call 0345 470 7557 or email us

---
HF Photo Competition
We love hearing the stories of your memories with HF, big or small, because they matter to you. That's why we're re-launching our fun photo competition so we can share in your best HF moments, and of course give some prizes along the way!
The shots don't have to be perfect, but they should tell the story of your adventure. From experiencing something new, encountering local wildlife, achieving a personal or sampling that wonderful cuisine, we welcome all entries.
If you want to increase your chances of winning, you can enter as many photos as you like! Video clips are welcome too!
We will be giving away 12 monthly prizes for the best photo and one prize for the 'Photo of the Year'.
The rules are simple... share the photos of your favourite HF holiday moments via Instagram, Twitter, or Facebook. Or you can email your entry to tftb@holidays.co.uk. Add a short description about the photo and why it's special to you. Join us on social media and use #myHF
View here for all terms and conditions.
Have fun!
---
Feedback from Evia
Recently, we had guests visit our new Greek resort in Evia, Greece along with some of the team to make our guests got the HF Holiday welcome they expect. Proudly, we can say the launch of our Evia Holiday has been successful with one guest saying:
"5*, as a leader there is nothing more you would want from a hotel. The guests love its contemporary nature. The owners, staff, chef couldn't be bettered",
and on the transport:
"Fantastic. Kostas is a star, I can't recommend strongly enough that we use him throughout the season even with low numbers. He is an asset to the holiday. We had his son with us most days, who enjoyed joining some of the walks. He had never been to the top of Mt Ochi! He speaks good English and made arranging the pickups a breeze. The day we were meant to be dropped off at the top of Dimonsari gorge provided a real litmus of Kostas' support. He couldn't get his bus to the very top because of recent water damage. He then took on himself to get his daughter to bring their van to the bottom of the gorge so as to meet some guests earlier as he thought they may need help because of the unintentional extra ascent. He has been on to the local Mayor, who says the road will be graded ASAP (but it is Greece!)."
For more details call 0345 470 7557 or email us

---
 Success stories at HF
Wedding Smiles
Congratulations to Chris and Pam (Mr and Mrs Buckland) who had a fantastic wedding at our Malhamdale House. Everyone here from HF Holidays would love to wish you both all the happiness you deserve! Chris Buckland is, in fact, one of our HF leaders so we take great appreciation in their choice to spend their magical day together with us.
Chris shares his special day about his wedding at Malhamdale house:
"A big THANK YOU Stefania for all your help with our booking. Our wedding went according to plan and better. We had a great time and lots of very positive feedback about HF and Malhamdale House and staff who were lovely."
Rushcliffe, Ramblers
Angela Dobie from the Ramblers, Rushcliffe Group stayed in our Abingworth house with 43 other Rushcliffe Ramblers and they were thoroughly pleased with the service the staff provided. This is what Angela had to say about their recent trip to Abingworth:
"For 10 years we have held our spring weekend away in an HF Hotel, visiting a different area each time. This year we chose Abingworth, or to be exact, two years ago we chose Abingworth. We're always two years ahead in order to get the hotel of our choice."
"Everyone likes our HF weekends because HF provides what we need. This includes hotels in areas of outstanding natural beauty, hearty meals of good quality and plentiful, friendly, efficient service, a room for our evening entertainment with a bar, comfortable en-suite bedrooms and lots of single en-suite rooms. We loved the conservatory at Abingworth and congregated here whenever we could. The grounds are extensive and a wander round to meet the geese and their young or to stand on the highest point in the dark and look towards the coast was a treat."
Comments from their members at their time in Abingworth:
'Thanks from both of us for another wonderful walking weekend. We enjoyed it so much the date for next year at HF Selworthy is in our diary.' – Karen

'The weekend was absolutely fabulous, we both thoroughly enjoyed ourselves.' – Morag

'A huge thank-you for organising our stay in Abingworth, we really enjoyed ourselves.' – Pat

'What more could we ask for fantastic company, amazing walks and scenery and lots of good food to eat.' – Hazel

'Another great walking weekend due to the excellent organisation. I thoroughly enjoyed my weekend away.' - Jan
"Thank you HF for making our weekend in West Sussex special; a happy memory that will stay with us for a long time."
Tell us about your group holiday and you too could receive a 6-month subscription to Country Walking Magazine just as Angela has!
To find out about your next adventure call the groups team on 0345 470 7557 or email us