Details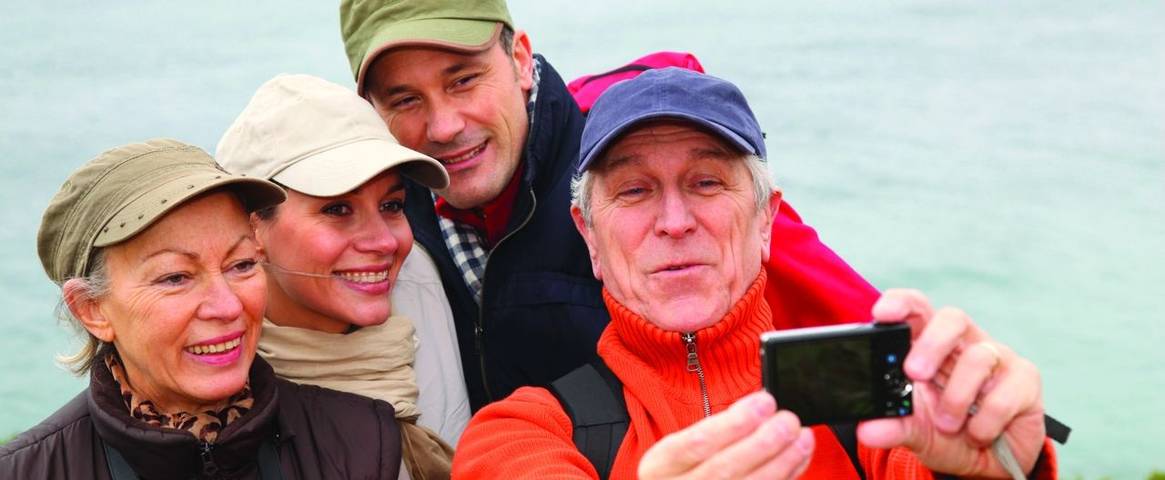 Welcome to all our new organisers who've signed up over the Christmas period – it's great to have you on board!
Its been an exciting few weeks for us, with HF Holidays running a TV campaign for the first time in 20 years with a fantastic response from new holidaymakers keen to know more about us! If you missed it, there's another chance to see it below.
The Groups team have been busy at the Excursions show at Alexandra Palace. Our regional snack giveaways went down very well with visitors!
Plus today we launch our Autumn Groups Sale and as a subscriber to groups news you get first refusal on these offers before we mail out information to other organisers in a weeks time, so do get in touch now if you want to bag a bargain for your group!
This month we're adding a new feature to enews that will run throughout the year. As so many of our guests ask our chefs for the recipes of meals they've enjoyed when on holiday with us we've decided to help you build your very own little HF holidays recipe file. Feel free to print and share the ideas with friends.
Finally, we're now only a matter of weeks away from starting to book through our advanced registration service for 2019. Read on for more information on how to secure your preferential house/date for 2019 UK country house holidays.
Until next month, stay warm and enjoy your winter walking! 
Exclusive Group Organiser offer
Try before you buy: Travel to Scotland on selected dates between 2 Feb – 2 March* Alltshellach – Glen Coe
Enjoy a minimum 2 night stay on a self guided basis, full board for only £50pppn
During this period Plas Y Brenin – the National Mountain Sports Centre in Wales are hosting their own event with a number of outdoor skills based courses for their customers.
Due to the capacity of the property HF Holidays are offering self guided walking holidays with the remaining rooms available and we have managed to secure a small number of these especially for Group Organisers at a subsidised rate to enable you to experience what this wonderful area of Scotland has to offer you and your group for walking or local sightseeing in the future.
To check availability or to book at this special rate please call the groups team on 0345 470 7557.
*Limited to 1 x Double / Twin or Single room at £50pppn. Further rooms can be booked on our best available rate as advertised on our website. 
Top Offer
Last chance offers for a spring group getaway. Save up to 50% off Guided Walking in the North York Moors:
Autumn Group Sale
Discover the best walks in the UK, get outside and enjoy a full day's walking and leave all the planning and navigation to us; it's what we're best at.
Limited time only grab a Guided Walking Holiday with savings up to 40%. Book by 28 February 2018 to receive these great offers:
Plus standard group benefits including:
1 x free place in 15
Free room upgrade for organiser
Half price premium room upgrades for group members
Self guided options may be available on these selected dates - call for availability and prices.
Terms & Conditions: Available for groups of 10+ subject to availability. New bookings only. Based on 2 people sharing a standard room. Full board from dinner on arrival until breakfast on departure. 
Call the Groups team on 0345 470 7557 or email us to book. 
Spotlight on Discovery Tours
Our Discovery Tour holidays involve active sightseeing. Optional walks of up to 2.5 miles allow you to stretch your legs and see the best of the local scenery, plus with a free day included you can then choose to relax at the hotel, take on a longer self guided walking day or enjoy an independent local excursion.
This is a great option to introduce new friends to HF Holidays who would not necessarily join you on a group Guided Walking holiday as Discovery Tours offer a good mix of shorter walks plus travel by private coach to each excursion.
City of Birmingham Ramblers Group
Roger Gibbs and his group 'City of Birmingham Ramblers Group' speak about their festive break at Harrington House, Bourton-on-the-Water:
Our comparatively modest group of 18 thoroughly enjoyed a 5-night Festive Discovery Tour at the fine HF Harrington House in Bourton-on-the-Water over the new year period.
We travelled to the venue by car, and, being keen to get started, arrived too early to book in. However, after having been warmly welcomed and invited to leave our cases at the house, we adjourned to the neighbouring "Duke of Wellington".
As soon as 2pm came round, we were soon finding our rooms and ordering our choice for the first of 5 superb meals, as we all have come to expect with HF. The daily option of afternoon tea with cream scones, cakes, etc. didn't impair our appetites unduly.
Evening activities were traditional HF Holiday entertainment with quizzes, an illustrated talk on the Cotswolds, New Year's Eve dancing and singing with a live band, and a last night performance of party pieces from the assembled membership.
Every day, after an HF breakfast, we boarded a coach from the house to pursue the planned events.
Each day we were also treated to lunch, usually soup and sandwiches, but on day one, a visit to the restaurant at the Royal Shakespeare Theatre at Stratford-upon-Avon after we had been treated to a backstage tour. We were inspired to take any future opportunity to attend a performance to witness the results of all the hard work and attention to detail explained on the tour.
In the afternoon, we were each provided with "The Full Story" ticket allowing entry into all 5 of Shakespeare's Family Homes for a full year! We then had every option available to us in the time available, including coach transport to Ann Hathaway's Cottage if required, and a visit to Shakespeare's grave.
The second day started with a trip to Stow-on-the-Wold to view the town, the oldest pub in England (The Porch House), the ancient yew trees at the north porch of St. Edward's Church, the memorial stone to the Battle of Stow, and for some retail therapy for the ladies.
From there we went to Toddington to start a trip on the steam driven Gloucestershire and Warwickshire Railway to Cheltenham for lunch and an exclusive tour of the Wilson Museum.
New Year's Day started with a visit to Birdland in Bourton for most, but two of our party chose a guided walk to the Slaughters, followed by lunch at Harrington House. The afternoon was one of the highlights of the holiday. We were treated to a most entertaining presentation by the hostess at Chavenage House followed by a tour of the Elizabethan property, which has been used in films and TV such as Poldark.
The final day's activities started with a trip to Blenheim Palace and a ticket for the full tour, followed by a pub lunch and a journey to Oxford to visit the Ashmolean Museum.
It was a well planned itinerary throughout the 4 days, and good value for money.
Our group have nothing but praise for the holiday content, the HF accommodation and catering, the leadership, administration, staff, and management.
Well done to all!
Roger Gibbs
City of Birmingham Ramblers Group
Roger Gibbs and his group enjoyed our New Year Festive Discovery Tour at Bourton.
Madeira
Situated in the Atlantic Ocean, the small island of Madeira is volcanic with rugged mountains draped in lush colourful vegetation and crammed with bright flowers. Only 35 miles long and 13 miles wide, this tropical gem has so much to offer, making this a truly 'must-see' destination for everyone who loves the Great Outdoors.
Discover Funchal, the island's capital, Ribeiro Frio National park, and Madeira mountains and coastline which provide spectacular views.
T&C's: Accommodation only price. Price shown has received 5% discount* from Brochure prices applicable to groups of 8+. Bespoke travel dates may be available. To discuss further, or request quotes to include flights and transfers please contact the groups team
Recipe of the month
Abingworth Hall share a soup, salad and scrummy pudding recipe. Our recipes will make you spend less time in the kitchen and more time entertaining your guests whilst still serving a delicious HF quality meal.
Butternut Squash & Coconut Soup
Ingredients:
Tablespoon olive oil
Cut thinly sliced shallots
Minced peeled fresh ginger
Canned coconut milk (full fat or half fat)
Salt
Ground red pepper
Fresh cubed butternut squash
Fresh lime juice
How to make it:
Heat a large heavy saucepan over medium-high  heat. Add oil to pan; swirl to coat. Add shallots; sauté until softened,  stirring  occasionally. Add  ginger; sauté 1 minute. Add water, coconut milk, salt, red pepper, and squash; bring to the  boil. Cover, reduce heat, and simmer until squash is tender, stirring occasionally.
Blend  until  silky  smooth.
Crab & Cucumber Salad
Ingredients:
Mixture of white and brown crabmeat
Salt
Black pepper
Cucumber - sliced lengthways
Whole cucumber to blend
Squeeze fresh lime juice
How to make it:
Season the crabmeat and roll into portions. Roll the sliced cucumber around to hold together. Blend the whole cucumber along  with a squeeze of fresh lime then pour a little around the crabmeat. Garnish with tomato concass and peashoots. 
Eggnog Panna Cotta with Mulled Berries
Ingredients:
Gelatine leaves
Milk
Double cream
1 vanilla pod, split lengthways, seeds scraped out
Sugar
Eggnog syrup
Fruits of the forest berries
Honey or syrup
How to make it:
Soak the gelatine leaves in cold water until soft. Place the milk, cream, vanilla pod and seeds, sugar and syrup into a pan and  bring to a simmer. Remove the vanilla pod and discard.
Squeeze the water out of the gelatine leaves, then add to the pan and take off the heat. Stir until the gelatine has dissolved.
Pour the mixture into tumblers and leave to cool ... place into the fridge for at least an hour, until set.
Add a little mulled wine to the berry mixture, also honey or syrup to sweeten if necessary.
Spoon the berry mixture on top of the panna cotta just before service.   
We'd love to hear how you get on with making these dishes – feel free to share your successes on our social media pages; Twitter, Facebook or Instagram.
Ever considered Worldwide? 
Elizabeth and her small group recently visited to Vietnam with us, her wonderful feedback provides great insight on our Vietnamese holiday. Elizabeth leaves with high impressions of both Vietnam and HF. 
Vietnamese Highlights 2017
Leader: Trevor Irvin
This guided tour exceeded the promise of its advertising – it was very interesting, informative and most enjoyable. We were a relatively small group, 10 in total including our HF leader. There was a very pleasant camaraderie amongst the participants, due in no small part to the leader, Trevor Irvin.
We were able to experience the variety of the country from south to north, from the Mekong Delta to the Sapa hills, jungle, paddy fields, cities and towns, museums, temples - including the My Son Holy valley - an excellent market garden, and historically significant buildings. Transport included our bus, plane – very appropriate given the distances to be covered – bicycles, small boats, rickshaw, train, walking, and the very comfortable boat on Ha Long Bay. Marvellous variety!
The cities were colourful, crowded and the traffic amazing – crossing the road is a memorable experience!
I think some of the group found some days were long, but given the activities and distances, I think that the times were quite acceptable. There were usually opportunities to have a rest rather than participate.
We had guides local to the south, middle and north of the country. These guides provided commentary about points of interest, including way of life, history, and the "American" war. I thought that the second of these guides (Da Nang/My Son/Hoi An) was exceptionally good.
There was a good balance of cultural experiences. I really enjoyed visiting markets in various places. All the markets were different, and provided glimpses of local life. The market garden we saw was excellent. I thought that the Ha Long Bay experience was very pleasant end of the tour.
We enjoyed some delicious meals. Given the apparent lack of major gastrointestinal disturbances in the group, I think that the restaurants were chosen with care. Although we missed out the more adventurous street food, we avoided some of the less welcome potential consequences of this.
Our trip was well planned and coordinated. Having hotel rooms for several hours after the train trip, and on the last day was an excellent idea. It became apparent during the trip that having an HF guide as well as local guides ensured that our trip ran according to schedule, with occasional confusions being sorted out by Trevor.
I have had the privilege of a great holiday, but more than that, I have lasting impressions of a hardworking, stoic people who appear to have a great sense of community, and a country still recovering from the shocking devastation of many years of war.
Elizabeth Brown
If you want to feature your groups story into our monthly e-shots, send your story to the Groups team - you could win a HF Holidays exclusive walking mug!