Details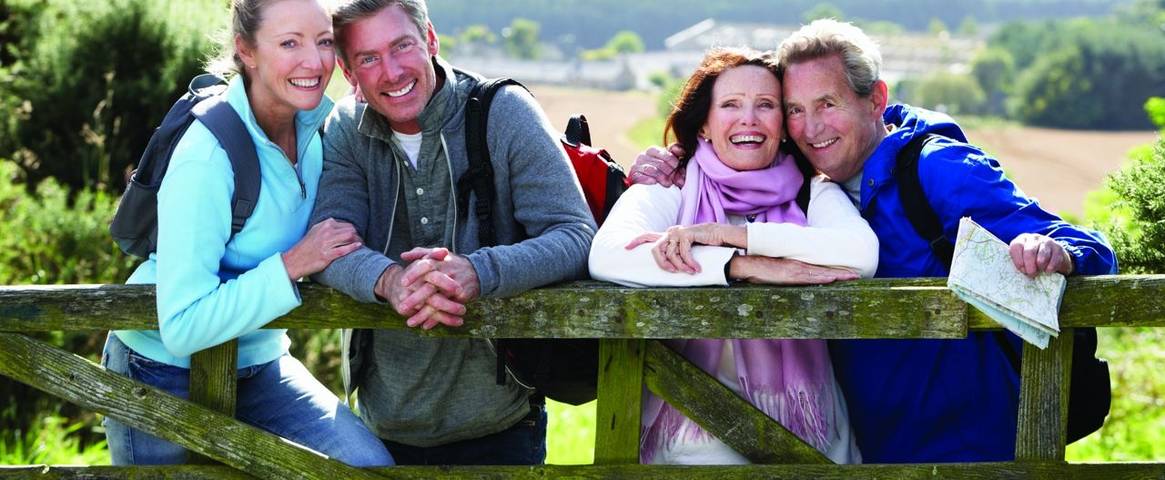 July and August is traditionally a quieter time for group holiday departures as many of you take up the role of caring for children during school holidays or visit friends and relatives.
Nonetheless, we know you're busy planning for 2018 day trip and holiday programmes, so this month we'd like to help you by providing some of the key offers and holidays for you to consider for 2018.
As a team we're using this 'quieter time' wisely to visit some of our country houses so we can share our knowledge with you when you call to enquire. We can't wait to stretch our legs and explore the local area so look forward to hearing us share our experiences over the coming months.Christmas & New Year walking in Wales PLUS Don't miss out on our fantastic Christmas and New Year breaks in Wales, with specially added rates just for groups!
Call the groups team on 0345 470 7557 or email us for more information and to book!
We've had a phenomenal response to the launch of our 2018 Group holidays across the UK and overseas. So much so that we've already placed over 50% of the total business we have had for 2017 into next season! It's fantastic to hear from many new Group Organisers as well as such a high proportion of return bookings and some of our houses are now nearly full on peak dates.
For those of you still in the planning stage, we thought it would be good to highlight some of the early booking offers still in place until 31 August to help show you where we can accommodate you, as well as where you can receive additional savings.
Save £100 off UK
Book by 31 August 2017 for any of the dates below

When you book a HF country house group holiday from 2 Feb-2 Mar or 9 Nov-7 Dec 2018.1 in 10 free
Minimum 3 night stays, minimum group size of 10. Subject to group allocation availability and individual house open/close dates.
Save £100 off Europe
Hurry! Only 10 x group bookings spaces left as part of this offer
Book by 31 August 2017 for any of the dates below
Call the Groups team on 0345 470 7557 or email us to book.
---
Stefania's been out and about
At HF Holidays we encourage our staff to visit our UK country houses so that they can understand what makes each one unique. Read more about Stefania's recent visit to Nythfa House in Brecon and find out her highlights of the trip.
"My recent visit to Nythfa House saw me travel up to Brecon with friends and family over the Bank Holiday weekend in May. Approximately 3 and a half hours from London via the A40, this was the perfect opportunity to combine pleasure with work as Brecon has so much to offer! 
Sightseeing opportunities are stunning in this part of Wales and you have a wide choice of places to visit. The waterfalls are probably one of the main tourist attractions as well as the Llyn y Fan Fawr Lake and Black Mountains. After a day's worth of exploring and taking some great pictures with my group, we were all looking forward to getting back to the country house and relax for the evening. Back at Nythfa House you're free to do as you please. There's the option to relax in the swimming pool and go for an evening swim or you can grab some drinks at the bar and interact with other guests, telling them about your days' travel experiences. It's heaps of fun either way round!
At HF Holidays we are all part of the same family striving to deliver best service to our guests, making them feel like home on holiday. Tiffany, the house manager and her team always excel in exceeding guest's requests. I embraced the opportunity to learn more about the set up of the house, lounges, rooms and their secret ingredient in providing a memorable experience for group holidaymakers. Overall I was thoroughly pleased with my stay at Nythfa House. Whenever you have the chance to visit Wales, I highly recommend that you don't miss Brecon!
P.S. Brecon is a great base to for you to visit Cardiff and Bath (home to the Roman Thermae Baths) as they're only one hour away from the house. Two lovely cities that take you back to medieval times within seconds - a unique life experience." 
For more information on Brecon call 0345 470 7557 or email us
---
Generous donation from the HF Pathways Fund
Two storm destroyed bridges in one of the Lake District's most beautiful valleys are being replaced thanks to funding from HF Holidays Pathways Fund.
Falling outside the remit of the £3m flood recovery payment scheme, Ghyll Brow and Ghyll Bank in the Newlands Valley will now see building work start next month. Lake District National Park area ranger, Cath Johnson, saidcountless walkers would be grateful to HF Holidays for helping re-open this popular route devastated by Storm Desmond.
"The cost of replacing these bridges is nearly £22,000. They had been repaired following 2009's floods but, while they had in-built flood resilience, they had not been able to withstand the extreme pressures of 2015's storm".
Straddling Keskadale and Newlands becks, the bridges are part of a stunning, low-level, circular walk from Hawes End through Newlands Valley, providing astounding views of Derwent Fells and Causey Pike.
"Without the bridges the route is impassable. We are delighted by the generosity of HF Holidays' and all those who have
helped us do this work."
Find out more about the Pathways Fund and how you can help here.
---
Success stories at HF
The Silk family
This month we feature the lovely Silk family who tell us all about their fantastic time in Dovedale. Their big group consisted of 22 adults and 4 little explorers who reunited from all over the UK to enjoy this holiday together. Mary had plenty to share with us about her and her family's experience with HF Holidays:
"What an absolutely fantastic time the 22 adults and 4 little ones have just enjoyed at Peveril of the Peak. Thank you for managing to sort out our complicated booking! We loved every minute and as Denis and I are the only HF members in our family, I can truthfully say it was a real eye-opener to them all and HF did us proud. Dovedale is such a beautiful area and the accommodation and meals provided were excellent. Not to forget, we were made so welcome by everyone.
The Dovedale Ceilidh Band were just amazing and enjoyed by other guests as well! We also loved the concert the Ukele Group gave – absolute fun. And most importantly, we were highly impressed with the wonderful service Gabriella, Marek and Richard gave us – quite a team!
What made it really special was the fact that most of the family loved climbing the hill at the back of the house. There were amazing views all round before we descended to the stepping stones (an activity we did on both days) - even the two year old and his very pregnant mum enjoyed doing! When the family stretches from Edinburgh and Dollar to the Isle of Wight, Exeter, Oxford, Birmingham and Cambridge we seldom all meet up, but I hope that one day we might manage to do it all again! Thanks again."
Tell us about your group holiday and you too could receive a 6-month subscription to Country Walking Magazine just as Mary has!
---
New hotels for Mallorca and Malta
Mallorca
In Mallorca, we are moving to the 4-star Sóller Beach Hotel on the beachfront of Port de Sóller in 2018. This hotel has recently been refurbished and guests will love the location of their accommodation as it is closely situated near the shops, beach and the local tram - all easily accessible with a short walk.
Malta
In Malta, from Christmas 2017, we are moving to the 4-star hotel Pergola Hotel & Spa where we will still be located in Mellieha. It is located in a quieter part of the village and offers great panoramic views of the bay. You can also get some views across to Gozo and Comino Islands from the new rooftop restaurant and there's a recently built swimming pool to enjoy. Most rooms overlook an inner courtyard which holds another swimming pool and our all guests booking onto this holiday will enjoy an evening meal twice a week in the new rooftop restaurant.
Why not make Mallorca or Malta your next walking holiday for 2018?  Call the Groups team on 0345 470 7557 or email us to book.