Details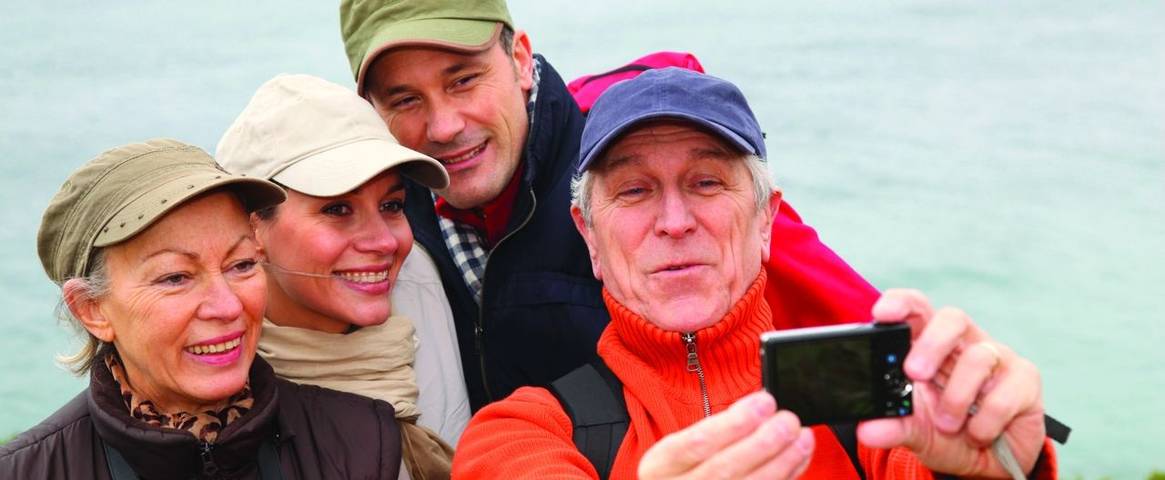 Welcome to the June edition of Groups E-News. 
What a month it's been! There's been record breaking temperatures, England are still in the World Cup and HF Holidays have launched 2019 brochure 'discover the world on foot'!
The groups team have been discovering the world themselves on personal holidays to Thailand, Dominican Republic, Romania and closer to home in Whitby. You can read about Aga's family holiday to Larpool Hall in this edition and we're now busy finalising the 2019 Group Organiser Guide and price list, due to land through your letter box or on email mid July.
In the meantime , enjoy this months newsletter and if you have any booking requirements or would like to share your groups story please don't hesitate to get in touch. We'd love to hear from you.
Group stories - Wellington Invincibles Walking Holiday in Brecon Beacons
Nythfa House, Brecon – 18th -25th May 2018
"This year we had a particularly enjoyable week at Nythfa House in Brecon. Tiffany and her staff became friends and even provided those avid royal wedding fans with an especially large screen and a jug of Pimms to celebrate Harry and Meghan's special day. Of course, Brecon is an ideal centre for a walking holiday and we explored Pen-y-Fan and nearby peaks, the numerous waterfalls up and down the Hepste, Mellte and Nedd-Fechan rivers and enjoyed the tranquil, shady paths along the rivers Usk, Tarell and Honddu and the Monmouthshire and Brecon canal. Those, not so able, members still enjoyed walks around the nearby reservoirs and explored the local villages. The swimming pool helped ease the aching limbs after a day's exercise.
Although we are able to provide our own evening entertainment we were also able to enjoy a talk by a local mountain rescue volunteer, partook in the country-wide HF quiz, sampled local wines and beers and played a lively game of knock-out skittles set up by Tiffany and her staff.
Altogether it was a very enjoyable week particularly so as the weather was exceptional without a cloud in the sky, once the morning mist had cleared until our last day of walking which served to emphasise how fortunate we had been on the previous six days."
Want to know more about the group themselves?
"We are members of a 50 + sports club based at Wellington College Health and Fitness in Crowthorne, Berkshire, called "The Invincibles". Every year since 1996 (apart from 2001 when foot and mouth intervened) the group have gone on a walking holiday based at one of the HF Holiday Hotels in the UK. The places on these holidays are limited and such is the demand that there is a queue to sign up on the day, usually 10 months in advance, when the next year's holiday list goes up on the notice board.
All the venues provide such a hospitable atmosphere and accommodate our dietary, physical, leisure and walking needs with such care and attention that it is a pleasure to join the holiday. Several of our octogenarians have managed to come every year and even those who can no longer cover 15 miles a day enjoy a shorter walk. We organise and lead our own walks but make good use of the various walk details available at the discovery points in each hotel."
---
Aga & Dominik
We wanted to highlight what makes these holidays so enjoyable for families, especially children. And what better way to do this than to ask the kids directly! Aga Serek, from our Groups Team, recently enjoyed a family break with her seven year old son, Dominik, at Whitby. We spoke to Dominik about his experiences:
What do you love about HF Holidays' packed lunches?
I love the cheddar cheese sandwiches and pick-and-mix choices!
What do you always pack for an HF holiday?
I always take some toys and my waterproofs.
What is the most exciting thing you have found while out walking?
I have found rabbits on a walk.
Do you like wildlife?
I love lambs. And caterpillars.
What's your favourite evening activity/game at the HF Houses?
I enjoy the quiz and really like the bedtime stories.
Where do you plan to persuade your mum to go next?
I would love to go back to Church Stretton because I love playing in the outdoor pool!