Details
Reading time: 3 - 6 minutes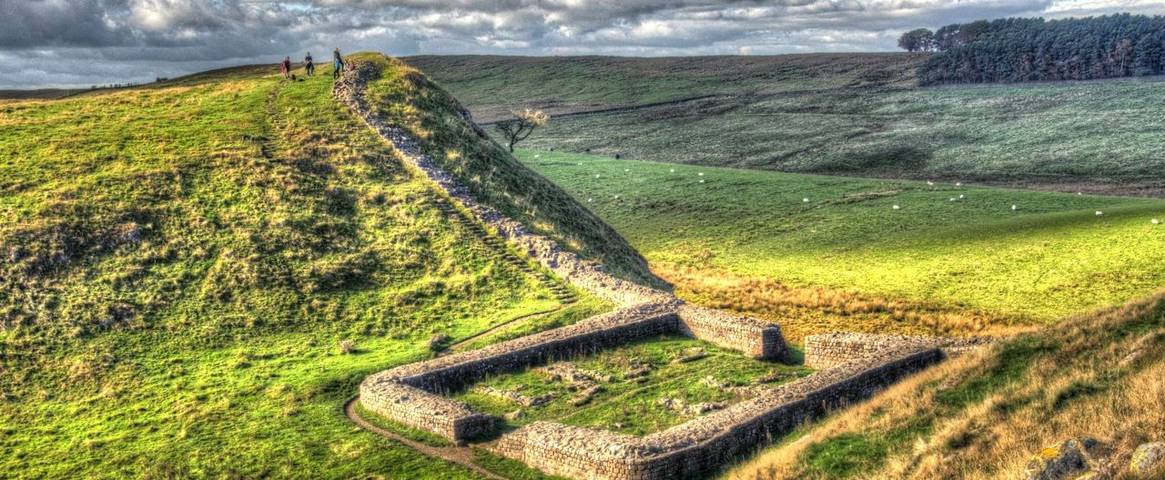 When it comes to claiming the title of Britain's most spectacular ancient ruin, little competes with Hadrian's Wall – the legendary pile of stones that marked the frontier of the Roman Empire for nearly 300 years. Stretching for 73 miles across northern England, this once formidable fortification is now a UNESCO World Heritage Site and a much-loved walking destination. Whether you're covering a short section or its entire length, here are our top tips for walks along Hadrian's Wall. 
Before setting off, it's worth brushing up on the history of Hadrian's Wall to get the full effect. The crumbling remains you'll encounter along the way once kept watch over the farthest northern reaches of the Roman Empire and in its heyday, around 9,000 soldiers were garrisoned in the 80 forts (known as milecastles) along its length. Built on the orders of Emperor Hadrian in 122AD, the wall was more than just a statement of might – it also protected conquered lands from the fearsome tribes of Caledonia, now modern-day Scotland.
Once you've schooled yourself on Rome's 1st century conquest of Britain, you'll want to decide which way to walk. The traditional route runs from east to west, the same direction legions of Roman soldiers built the wall centuries before. It starts at Segedunum Roman Fort in North Tyneside and ends at Bowness-on-Solway on the Cumbrian coast. Note that the walking in earnest doesn't begin until you've left the city sprawl of Newcastle behind and reached the little village of Heddon-on-the-Wall (around 12.5 miles in). 
If you're happy to break with tradition, walking the wall in reverse is how the experts do it. The inevitable spot of wind and rain that whips in from the Irish Sea is likely to be at your back and you can round off with a night on the town (neet on the toon in Geordie parlance) in Newcastle. To make it a full coast-to-coast walk, consider extending your trip to South Shields - the seaside town famous for being the finish line of the Great North Run as well as offering some seriously good fish and chips.
Walking is about the joy of the journey, but if conquering all 84 miles of the official Hadrian's Wall Path is your aim, be sure to have a reasonable level of fitness. Expect to put in six to eight hours of walking a day if you want to complete the whole trail in the average time of just under a week. For those wanting to tick navigation off their to-do list, let an HF Holidays Leader take care of it on our Hadrian's Wall Complete Guided Trail holiday.
For a Hadrian's Wall walking experience that requires less stamina than the full trail, try hiking the section between Brampton and Corbridge. It's home to the most remarkable parts of the wall and a selection of excellent visitor attractions. And if you'd like to do little to no planning, our Best of Hadrian's Wall holiday picks out all the highlights. You'll explore the crumbling remains of a milecastle at Birdoswald, spend time at Housesteads (the best-preserved Roman fort in Britain), and walk through the southern part of Northumberland National Park.
With all that walking to do, it's important to keep your energy levels up. Thankfully Hadrian's Wall covers a region famous for its hearty local foods. Cumbria doesn't disappoint when it comes to picking places to eat. And when you do, you're likely to encounter the wheel-shaped Cumberland sausage. Northumberland serves up seafood from the nearby coast (keep an eye out for Craster kippers), while in the northeast, you'll find bakeries stocked with stotties – a large round flatbread traditionally halved and filled to make a huge sandwich. 
Indulge in post-walk comfort
After a long day of walking there's no better feeling than slipping off your boots and cosying up somewhere comfortable. Fortunately, there are some great places to stay in Hadrian's Wall country. The Twice Brewed Inn is one of our favourites, not least for having a drying room, stargazing observatory, its own brewery, and a standout location right on the trail. We also love the Centre of Britain Hotel in Haltwhistle. It's one of the region's oldest buildings and part of the hotel was once a 15th century Pele Tower used by the Border Reivers. 
There are more than 20 intriguing archaeological sites along Hadrian's Wall but one of the most visit-worthy is Vindolanda – and our Best of Hadrian's Wall holiday gives you ample time to discover it. The excavated ruins include carefully reconstructed towers and temples, while the museum boasts treasured artefacts and an immersive 3D experience that gives a fascinating insight into what life was like in a Roman garrison town. Don't miss the Vindolanda Tablets – they're some of the oldest surviving handwritten documents ever found in Britain and even contain a birthday party invite from 100AD.
If the incredible ruins weren't enough, the scenic rewards of a walk along the wall are huge. The central section of the Hadrian's Wall Path enjoys sweeping views across the North Pennines on one side and Northumberland National Park on the other. Look out over the dramatic stretch of steeply sloping landscape at Cawfield Quarry and snap a photo of Sycamore Gap – a lone tree nestled between two hills that featured in the 1991 hit Hollywood film, Robin Hood: Prince of Thieves.
Even when you're not walking alongside the wall, it's still all around you – either where the Romans left it or repurposed elsewhere after they departed. For centuries locals have used Hadrian's Wall like a huge open quarry, reusing its stones to build everything from farmhouses to pubs. Thirlwall Castle is a ruined 12th century fortress that was strengthened with reclaimed brickwork from the Roman frontier. Another must-see is Lanercost Priory, which has played host to some of the most famous names in history, including Edward I, Hammer of the Scots, and Robert the Bruce.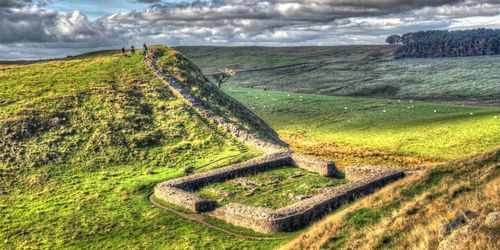 Accommodation: Centre of Britain Hotel, Haltwhistle
Departures: April-Oct 2023, 6 nights
Price from: £999
Call 020 3974 8865 to book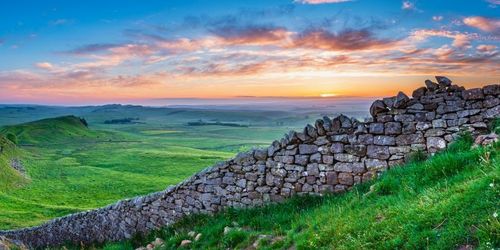 Accommodation: Selected partner hotels along the trail
Departures: May-Sept 2023, 7 nights
Price from: £1179

Call 020 3974 8865