Details
Reading time: 3 - 6 minutes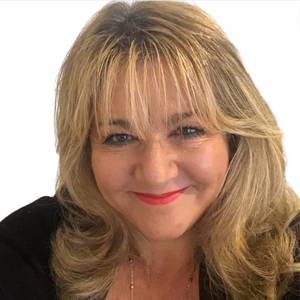 Su
 Grainger has built a career on coaxing every sort of singer to take their performance to the next level – regardless of talent. As the founder of the Liverpool-based Singing Our Socks Off community choir, she's collaborated with all manner of bands and artists – even sharing the stage with celebrity tenor, Russell Watson. We couldn't be more excited that this established singer and voice coach is leading our HF Holidays choir breaks next year.
What is your musical background?
I don't have a formal music background, but I've been singing since I was a very small child. I remember being in many concerts and plays at school and recall having to sing in the playground, surrounded by classmates who wouldn't let me leave until I had sung Paper Roses by Marie Osmond.  
What do you love about teaching music?
I came to teaching quite late in life. Whilst I wasn't experienced, I learned I have a natural ability to teach harmonies by ear and I discovered many teachers who do the same. After getting involved with the Natural Voice Practitioners Network, I trained with the British Voice Association. I'm now a fully trained Estill vocal coach (a vocal skills technique developed by American singing voice specialist Jo Estill). I love the freedom this type of teaching gives. It allows anyone, no matter what their ability, to have a go at singing and join in with a choir. 
I started the Singing Our Socks Off (SOSO) community choir 16 years ago and since then, we've performed at all the well-known and iconic venues across Liverpool and Merseyside. Alongside regular collaborations with local bands and artists, we've sung with British harmony group, Blake, at The Atkinson Theatre Southport and with Russell Watson at the Royal Liverpool Philharmonic. 
What are some of your favourite choirs?
Community choirs where there are a range of voices and abilities – people who you can see enjoy singing together. My favourite choirs are gospel and soul ensembles. They sing with such passion.
What attracted you to leading HF Choir?
I wanted to combine work with my passion for travel and discovering new places. After researching several companies that offer singing holidays and weekends, I discovered HF Holidays. I was immediately drawn to what they offer guests; from the beautiful country houses in fabulous locations to the ethos of fun, friendship, fellowship, and the feelgood factor. I applied and was lucky enough to be successful.
What do you enjoy most about singing holidays?
I've been working with HF Holidays now since 2016 and have led holidays focused on singing for beginners, songs from around the world, sounds of the 60s, The Beatles, and Christmas, too. The weekends are a chance for me to meet and teach new people. Some guests are experienced and very competent singers whilst others have never sung before. I love how the weekend evolves with everyone coming together, supporting each other, and eventually feeling comfortable. It doesn't take long before they are harmonising and sounding lovely, which always surprises them. During one weekend we mixed with guests who wanted to join in. We had almost 40 singers enjoying the weekend singing and socialising together, ending with a fabulous performance for the other guests. 
What can guests expect from the HF Choir programme?
The HF Choir programme gives guests an opportunity to get to know each other over a few holidays rather than just one. The first holiday will be a chance for them to get used to my style of teaching and learn around eight new songs from different genres. I teach harmonies by ear, so no sheet music to read, but I will provide lyrics. Some songs will be familiar, and some will be from other cultures. They range from pop and contemporary to classic.  
Each holiday I'll introduce two to three new songs and rehearse the songs learned previously. At the end of each holiday there'll be a performance for other guests showcasing what they've learned and giving a taste of what it's like to perform together.  
Do you need to be an experienced singer to join the HF Choir?
I'm proud to specialise in teaching the terrified and tone deaf. I feel singing is for everyone. All that's needed is an open mind and the desire to put in your best efforts. Anyone who's always wanted to have a go will love this type of singing weekend. A mix of skills is always best because the experienced singers help the inexperienced feel confident and able to blend in with the group. And because I get to know people over several weekends, I'm able to give advice on what harmonies suit their voice best. Whether you're a couple, a group of friends, family, or joining by yourself, everyone is welcome.
Do you need to take part in each holiday to enjoy HF Choir?
We aim to finish the programme in November 2023 with a special concert performing all the songs learned over the course of the year.  If somebody wants to join us without attending every weekend, they are more than welcome. They'll still have had a fun, inclusive singing weekend, made new friends, and performed as they would with any of our regular singing weekends.
What are your interests outside of singing and leading choirs?
Having introduced my SOSO choir to the delights of HF Holidays, we've enjoyed many weekends as a group in Malham, Church Stretton, Bourton-on-the Water, and the Peak District.  
Outside of my work as a singer and voice coach, though, I also enjoy writing. I have to be creative with words, so I write poetry and songs, and I'm in the middle of writing both a pantomime and a personal memoir called Walk While You Can. Socialising with friends is a big part of my life and I recently entered a ballroom dance competition for charity – I'll be dancing the Rumba in November. I've loved discovering dancing and will keep it up after the competition, even if I don't win! 
You've had a successful career as a vocal coach, do you have any famous past students?
No one famous, yet.  But I have taught a couple of very talented teenagers who have fabulous voices and have gone on to sing at local festivals. One young lady now sings with Disney. Their journeys are just beginning so who knows. I do sing with successful coaches across Merseyside and together we have performed alongside Take That and Lulu at Anfield football stadium for over 50,000 people and for Cream Classical in Sefton Park with The Kaleidoscope Orchestra, K-Klass, Roger Sanchez, Paul Oakenfold, and Faithless. What an experience!