Details
If you're looking to immerse yourself in nature, there is no better way to do so than on a hike and if you're looking for something to push you both mentally and physically, following a 50-mile path could be the right choice for you.
Megan from the travel blog Mapping Megan recommends making sure that you have the mental strength to undertake 100,000 steps whilst on a walking holiday. "You can be physically fit and capable of completing a long-distance walk, though if you don't have a determined mindset and a positive approach to the challenge, you'll give up before it's over. You need to be physically fit, of course, but often it comes down to whether you're strong enough mentally to keep putting one foot in front of another once you hit a wall."
We also heard from Daphne and Tamara from Girlswanderlust, a blog offering unique travel tips. They believe that hiking is one of the best things that you can do and provided us with some advice: "Hiking is one of the greatest and most liberating things you can do. It is an escape to a beautiful environment that is always out there and waiting to be explored. It is important to embrace nature and leave it behind just as beautiful as we found it. As a hiker, you can make simple choices in order to lessen your negative impact on the environment. For example, try to stick to the paths to ensure animal habitat and nesting fauna remain undisturbed, do not mess with the wildlife, bring along a small bag and pick up any trash you spot along your hike, and light fires responsibly. Each one of these choices makes only a small difference, but together we can have a huge impact."
100-Mile Wilderness

Take a virtual walk through the wilderness on our interactive map
The Appalachian Trail is a hiking-only footpath in the United States. Stretching for 2,190 miles, those who commit to completing the walk will travel across 14 states, typically completing the hike in just shy of six months. When on the trail, you'll be greeted by challenging ascents, beautiful views and a community spirit to motivate you on your way. Covering the Appalachian Trail in its entirety can take months of planning and prepping, it challenges both your mental and physical strength. However, for those who are interested in seeing some of what the trail has to offer, there are many day routes for you to explore.
Known as the 100-mile wilderness route, this section covers the second-to-last part of the walk that sobo, or southbound, hikers will undertake. Although 100,000 steps of the Appalachian Trail would see you cover half of this route, this is widely regarded as one of the more difficult sections to navigate, so care and consideration should be taken.
Sophie started her blog Wunderhead in 2018 following a trip to Seville with her fiancé, Matt. Although not an avid walker, she loves to visit new and exciting places. We spoke to her about what equipment she would bring when tackling a longer walk, and she shared the following with us: "Firstly, you need a 50L-70L backpack with a waterproof cover. Then you can fit all of the gear inside:
"Clothes: Boots, 2 pairs socks, 3 pairs underwear, walking trousers, waterproof trousers, 1-2 baselayer tops, fleece, waterproof, hat, waterproof gloves - and a dry bag to keep it all in.
Tent: If you're not walking alone, you can split the tent between a group of you, so one person carries poles and fly sheet, another the groundsheet.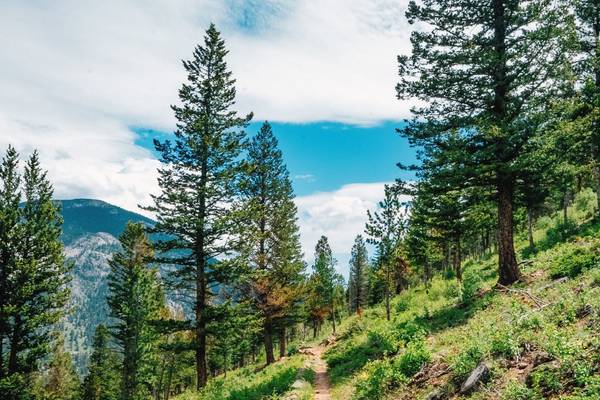 "Camping: Roll mat, sleeping bag and liner, mess tin and cutlery, camping stove and pot (or a trangia), camping gas, water bottle or Camelbak. 
"Food: Easy cook porridge for breakfast, wraps and fillings for lunch, pasta or rice meals with tinned sauces and dehydrated veg and meat for dinner, nuts and raisins for snacks, sweets and chocolate for morale boosts in bad weather.
"Essentials: first aid kit, knife, map, compass, battery pack, waterproof sealed baggie for your phone, wet wipes, loo roll, shower gel, dry shampoo, hand sanitiser, toothbrush and toothpaste.
"You'll need a water bladder if you won't have easy access to water. In Oman, we carried up to 10L each for 2-3 trips out from basecamp. If you're sourcing water from rivers make sure you have water sanitisation tablets."
Somerset & North Devon Coast Path

Take a virtual walk along the Somerset & North Devon Coast Path on our interactive map
The UK boasts a plethora of coastal paths, however, the South West Coast Path is one of the most picturesque, offering fantastic views over the glistening sea. Perfect for those with experience hiking, the coastal path has a variety of terrains for you to navigate and stretches for approximately 630 miles. Although some of the paths can be difficult, the coast path is great for intermediate walkers who can look to enjoy sights of wildlife and geology whilst discovering more about the heritage of the area.
The Somerset and North Devon Coast Path offers a friendly atmosphere, and with sweeping views of the breathtaking scenery, you can enjoy a relaxed walk. Witnessing the beauty of the South West, the rugged coastline, golden sandy beaches and unspoilt countryside, you will experience a gentle incline, although some areas can be slightly steeper. This particular stretch of path covers 50 miles, so is the perfect way to spend a weekend. With many interesting sights to see whilst on your way, be sure to take a camera with you to show your friends back home.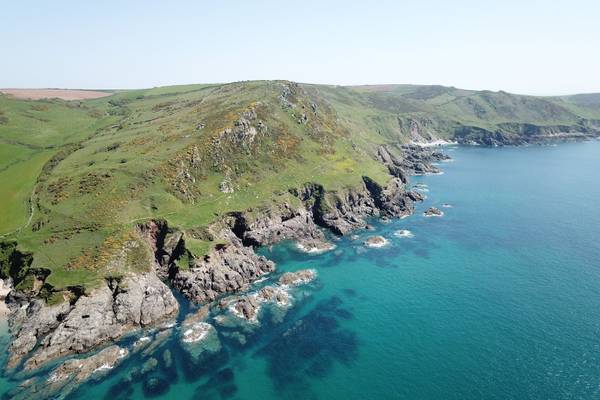 We asked Megan from Mapping Megan how she would prepare for a walk like this. She told us: "By breaking your shoes in for a start - one of the biggest mistakes long distance walkers make is buying a new pair of shiny hiking boots / walking shoes but not breaking them in before you go. Make sure that you train in advance, but more importantly, you need to train in the shoes you'll be actually walking in. Otherwise, it's a recipe for blisters and beaten up feet."
Best of Hadrian's Wall

Take a virtual walk along Habrian's Wall on our interactive map
Nestled in the Cumbrian countryside, Hadrian's Wall takes you from coast-to-coast, wandering up and over the rolling hills. Built in AD 122, the original 73-mile long wall was built by the Romans to mark their northern boundaries. Each of the Roman miles along the way was marked by a milecastle, many of which you'll be able to spot as you undertake some of the hike across the incredible English landscape.
Caroline from Pack the Suitcases, an award-winning, UK-based blog believes that her biggest challenge doing a 50 (or more) mile walk "would definitely be pacing myself. I struggle to not wear myself out trying to do too much in one day. I always get overexcited on holiday and end up walking much further than I'd planned to because the adrenaline kicks in and I don't want to stop. If I was setting myself a challenge, I'd plan stopping places and a maximum mileage per day. Check yourself before you wreck yourself, as they say!"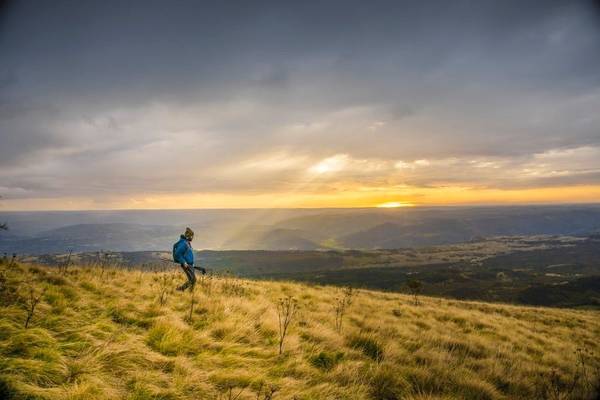 As far as historical walks go, following Hadrian's Wall across the north of England is one of the best examples that there is. Although the whole of the wall reaches past 50 miles, it is possible to visit some of the highlights, passing Roman settlements and ruins. As you work towards covering 100,000 steps, the dramatic views of the undulating hills provide a wonderful backdrop for this walk and serve as a welcome distraction as you tackle the occasional step ascent.
Hadrian's Walk is a lengthy path, and the bloggers behind Girlswanderlust informed us that being tired is one of the biggest obstacles you'll have to face: "This sets in when you are physically and mentally exhausted, which can easily happen if you are undertaking a 50 mile+ walk and carry a backpack with you. To prevent fatigue, make sure you have had a decent night's sleep before you descend on your big walk and make sure you eat and drink enough during the walk to give your body enough power."
The Jubilee Line

Take a virtual walk along the Jubilee Line on our interactive map
Not to be confused by the Jubilee Walkway, the Walk London route that heads through some of the most iconic sights in the capital, it is possible to walk the length of the Jubilee Line, passing through some of London's most vibrant communities as you travel 50 miles. Walking is one of the most environmentally-friendly ways to travel in the city, and with landmarks and points of interest along the way, it is a great way to make the most of your sightseeing opportunities.
Mark from The Importance of Being Trivial has walked the length of the tube line, and has provided this information for those who are looking to do something similar:
"The thought of slogging away for 50 miles is a pretty daunting one. I found the trick is to not even think about the destination - just take it a mile or so at a time. If the journey of a thousand miles begins with a single step, so does the journey of 50 miles.
"Make sure you know roughly where you want to be at the end of the first day. Obviously, that's crucial if you're booking an overnight stop in advance, but also it helps you make sure the walk is achievable. A few of my walks for 'Walk the Lines' (my book about walking the whole Tube system overground) took more than a day - the Metropolitan Line, for instance, was over 70 miles, spread across three days. By then I knew my rule of thumb - anything up to 20 miles a day makes you feel great, gives you an exercise high. Between 20 and 30 miles a day brings you down again, gets you feeling tired. Anything over 30 is a real challenge. The longest day's walking was my second day on the Piccadilly Line - 39.5 miles. Boy do you know you've done that by the end!"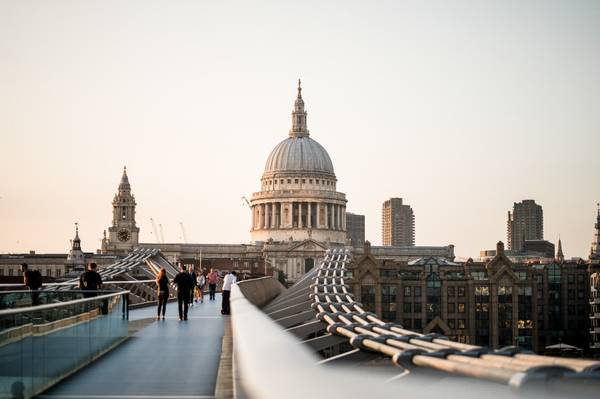 The Jubilee Line was introduced in 1979 and passes through 27 stations, allowing commuters to travel from Stanmore in North East London across to Stratford in the West. Your journey following this London Underground tube line will take you both sides of the river, to shopping spots Bond Street and Stratford, as well as through the financial district of Canary Wharf. Plus, as you walk past Westminster and across London Bridge, you can mark other sights off your list such as the Houses of Parliament, Tower Bridge and the London Eye. For certain areas of the walk, you may need to check your pedestrian right of way, but the paths typically pass through residential areas, which is great if you're looking to experience a different side to London.
A Marathon

Take a virtual Marathon walk on our interactive map
A marathon is a gruelling test of your endurance and strength, as you attempt to run just over 26 miles. Although tackled at a different pace, in order to travel 100,000 steps, you would be expected to run a marathon twice. Running a marathon requires intense training, allowing you to build up your energy and fitness levels. These plans normally last somewhere between 12-20 weeks but depend on your ability beforehand and can make or break your experience on the day.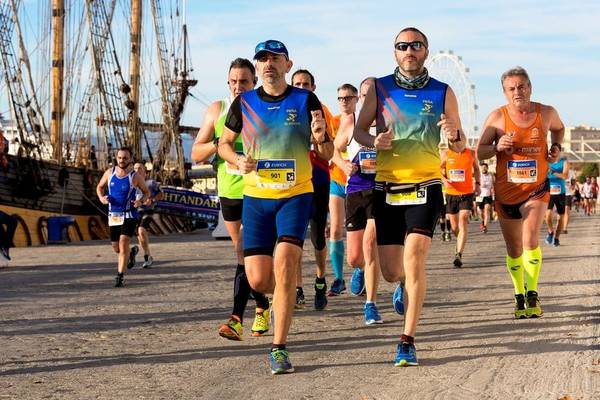 The length of the marathon remains the same worldwide, however, there are countless different races in each country that allow you to view some incredible sights. Boston Marathon, London Marathon and the New York City Marathon are some of the most famous races, with the New York City Marathon the largest of the three as 52,000 entrants cover the course.
Snowdonia

Take a virtual walk along the Snowdonia on our interactive map
Covering the Llyn Peninsula, Cambrian Coastline, Conwy Valley and Hiraethog, Snowdonia is truly a sight to behold. Towering, mountainous landscapes dominate the skyline, with Mt. Snowdon reaching 3,560 feet into the air, whilst deep blue gorges contrast against the lush greenery. The mountain is one of Wales' most famous sights, with many people taking on the challenge of walking to the top each day. In fact, Snowdon is part of the Three Peaks Challenge, that sees hikers cover Snowdon, Scafell Pike and Ben Nevis - a 23-mile long trail.
When walking Snowdonia, making sure you're prepared with the right kit is essential. Alexandra from the blog Shurupchik told us that she always packs: "Enough water to last until a long break, extra t-shirt, camera, light (in weight) snacks, sunscreen and light waterproof clothes. A hat or a cap is also a good idea. We also usually pack a beeswax lipstick so that the lips don't break from the wind."
Alexandra also offered this insight as to how she would prepare for a longer walk: "Comfortable shoes and clothes are essential for us when we go for a long walk. Nothing bothers more than nasty blisters. A bit of training is good too - try walking every day for an hour or more, so you know what you'll be dealing with.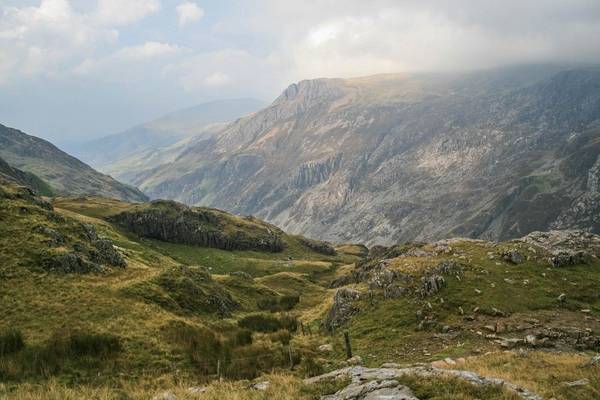 "Always check for the weather forecast to wear appropriate clothes and get familiar with an area. We've seen people doing mountain climbing in sneakers and apart from being dangerous, it made their climb unnecessarily uncomfortable."
If you're looking for more of a challenge, why not attempt to ascend 15 Welsh mountains? The Snowdonia Welsh Three's in a Weekend Holiday takes you to new heights, as you head from Crib Goch ridge, across the Glyders and Ogwen Valley before heading to Pen yr Ole Wen and the Carneddau range. This incredibly difficult walk is no easy feat, so only the most experienced should attempt to take on this walk. However, those who do will be rewarded with unforgettable views and memories to last a lifetime.
Peru, The Inca Trail

Take a virtual walk along the Inca Trail on our interactive map
Finishing at Machu Picchu, the Inca Trail is one of the most famous hiking paths in the world, with visitors flocking to Peru each year to make the journey through the South American landscape. The classic trail is 26 miles long, although the difficult terrain means that this normally takes 4 days, with hikers camping for three nights before they reach their final destination – Machu Picchu. The views along the trail are spectacular, and the winding, narrow path takes you deep into the heart of Peru.
When undertaking 100,000 steps, it should come as no surprise that your feet will begin to hurt! We spoke to Jennifer from Just Chasing Rabbits, who offered this insight to keeping your feet healthy whilst walking:
"The biggest challenge of taking a 50 + mile walk is caring for your feet. I have problems with my feet when walking during our usual travels, which can be from 5-10 miles per day on average when exploring a new city. I always recommend accommodating yourself to walking longer distances if you don't walk much each day. Begin walking at a local park, around your neighbourhood, or get a treadmill so you can get your body used to the exercise and the strain it will put on your body, joints, and feet.
Research what type of shoe you need for your walk. Will you need a walking shoe? A hiking shoe? Find a shoe that fits your specific needs. Be sure to try out the shoes and break them in before your trip. Your feet will thank you! My feet turn out to the sides (supination), so I always look for a sneaker or walking shoe that is built to help my stride. It assists in taking pressure off of my ankle and makes walking a lot more comfortable.
A cushioned support will also help to ease discomfort. These can be bought in most any big box store or pharmacy or can even be prescribed specifically for you by a doctor. I also take callus removers and pads with me during trips and actively try to take care of these issues BEFORE a trip as well. Calluses can be so extremely painful to walk on, so be sure to tend to any existing food conditions before a walking trip as well.
One of the best products I have found for blisters is Foot Glide. It looks very similar to a stick of deodorant, but you roll it on the back of your foot or other areas that are prone to blisters. I also try to cover problem areas with adhesive bandages to prevent blisters as well. It's always a good idea to have a few bandages in your bag because walking on blisters can be a miserable experience."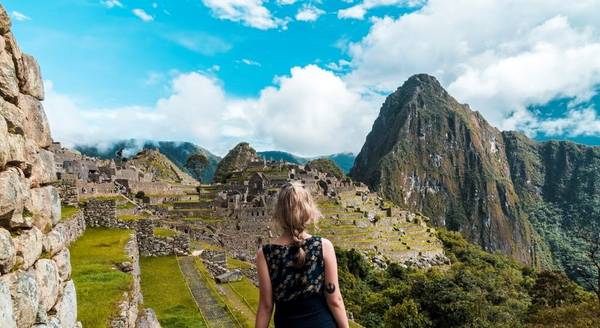 The high altitude is one of the biggest challenges those who decide to hike this path have to face, so acclimatising along the way is crucial. This will help you to avoid nausea, dizziness and headaches and means that you will have a much more enjoyable time along the trail. As the path navigates the winding mountains of Peru, and with the increased footfall of the area, you should take careful consideration when planning your walk, as you will need to do so as part of an authorised tour. When booking onto one of these, they will provide you with all the necessary information for your hike, as well as offer equipment guidance to make the walk easier.