Details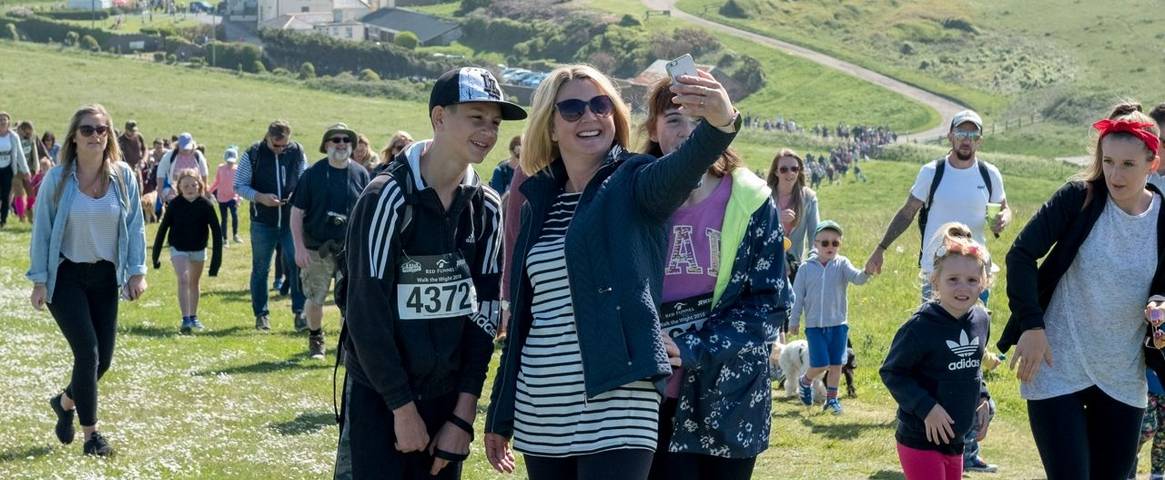 For several years, HF Holidays has sponsored the Mountbatten Hospice Walk the Wight charity fundraising event. Participants choose from a variety of walking routes across the island and raise funds to support the fantastic work that the Mountbatten Hospice does each year.
2020 marks Walk the Wight's 30th anniversary and takes place on Sunday 10 May. This year, in addition to our sponsorship, we are inviting all guests staying at Freshwater Bay House to join us on one of the walks. In addition to the usual three guided walking options on offer, we will also offer a fourth option.
We will transport guests and an HF Holidays leader to Carisbrooke – the start point of Walk the Wight's '2nd Half Walk' – a 14-mile walk to Alum Bay across the centre of the island which goes right past Freshwater Bay House en route. Having completed the walk at Alum Bay, participants will receive the iconic Island-shaped Walk the Wight with Mountbatten medal. An HF Holidays Leader will then guide guests back to Freshwater Bay House.
To see a map of the walking route, please go to: Mountbatten Hospice, i'm doing the second half
It is expected that up to 12,000 people will be walking on the five different walking routes, including some of the HF Holidays office team. Tony (the house manager at Freshwater Bay House) has supported the event in various ways over the years and 2020 will be no exception. The house is ideally placed to be a convenient pit-stop for walkers with the team handing out refreshments and offering the use of facilities.
YES, I WANT TO TAKE PART!
If you are already booked to stay at Freshwater Bay House on the 10th May, all you need to do is register to join in via Walk the Wight's website. You will need to wear an official number while you walk and make a donation. We will give you details about reaching the start of the walk once you arrive at Freshwater Bay House.
For full details and to register please visit: Here
If you would like to take part in Walk the Wight, we currently have some availability at Freshwater Bay House on our 3 and 7-night Guided and Self-Guided Walking holidays as well as our 3-Night Discovery Tour. Guests on any of these breaks are welcome to join us on the Walk the Wight walk from Carisbrooke to Alum Bay.
For more details about Walk the Wight, please go to: Mountbatten: Walk the Wight
ABOUT MOUNTBATTEN HOSPICE
Earl of Mountbatten Hospice provides care and support for those people living with, affected by, or curious about death, dying and bereavement across the Isle of Wight. They provide access to expert, compassionate and cost-effective care of the highest quality, whatever the illness, whoever they are and wherever they happen to be and are a kind and compassionate place for their patients and families, and local IoW community. Visit www.mountbatten.org.uk for more information