Details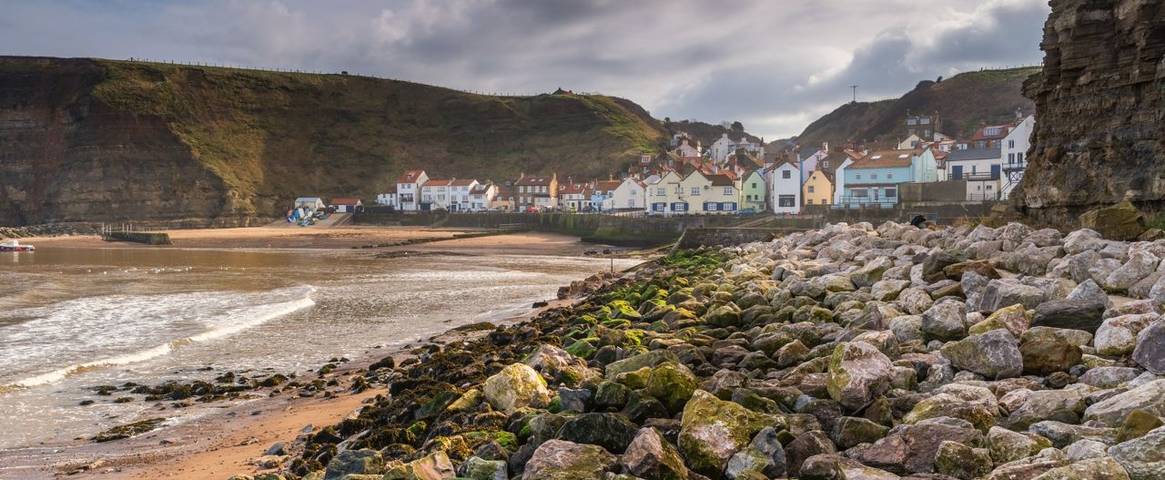 The Cleveland Way, My Kind of Walk!
HF Holidays guest Gillian Denham recently walked The Cleveland Way Guided Trail. It's an area she knows from childhood holidays and from living and working here in years gone by. Here Gillian muses about the pros and cons of walking as part of a led group and of her experiences on the trail.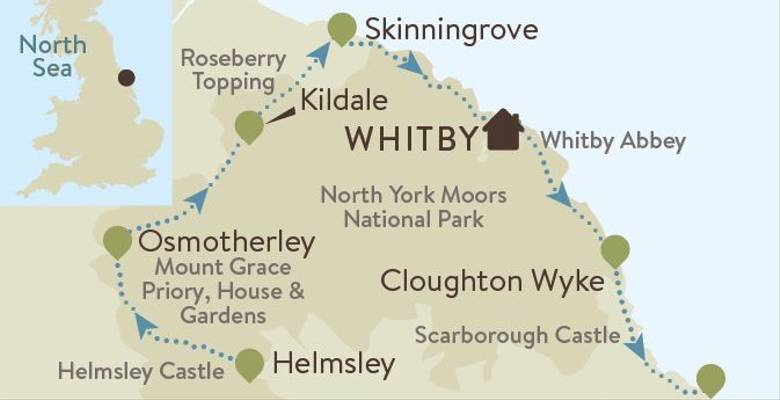 The Cleveland Way
In a nutshell
The Cleveland Way National Trail is a 109 mile (175 Km) walking route through the ever changing scenery of North Yorkshire. Starting at Helmsley, it follows a horseshoe line around much of the beautiful North York Moors National Park, first heading across the inspirational and sometimes vibrant heather moorland, before reaching the coast at Saltburn. From here it's a visual feast along the dramatic coastline to Filey, passing old fishing villages and lively coastal towns.
The Cleveland Way National Trail has so much to offer. Being 109 miles long, it's ideal to fit into a week's holiday. Half and half inland to coastal with well-maintained paths from start to finish, there are no scrambles or rough terrain so you can really stride out. I like stiles, but not everyone is a fan; this walk has zero stiles! Navigation is straightforward, helped by good signs, many of them new. The views are fabulous.
The trail follows a horseshoe shape around the North Yorkshire Moors; one section follows an escarpment for more than a day enabling views for miles. Typically, you can see where you have been the previous day and where you are heading for the current day. Roseberry Topping is visible for ages and looks so enticing (it also sounds like something to go on your dessert) - you surely can't not go up it (it is optional). It's only a little hill but such a lovely shape. You are also heading for the coast and the joy of reaching the sea; being by the sea for the second half is special. Apart from the popular resorts of Whitby and Scarborough, there are charming coastal villages like Staithes and Robin Hood's Bay with old buildings on impossibly steep, narrow roads. There's the joy of the peace of the smaller bays, a walk on the beach at Runswick Bay and Sandsend.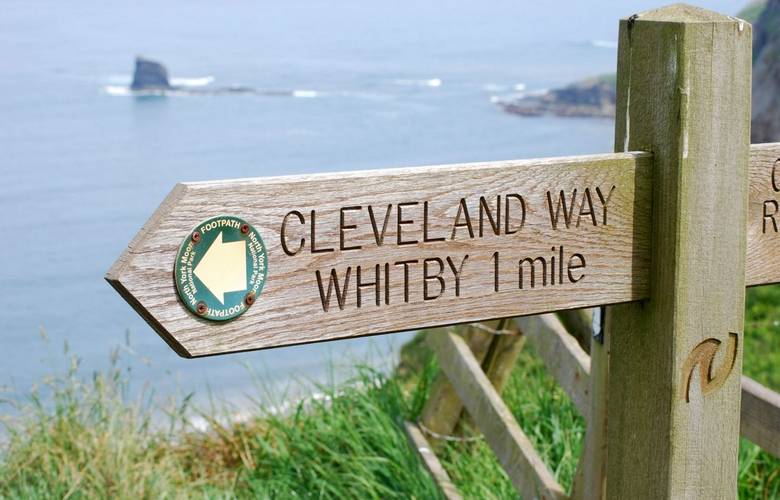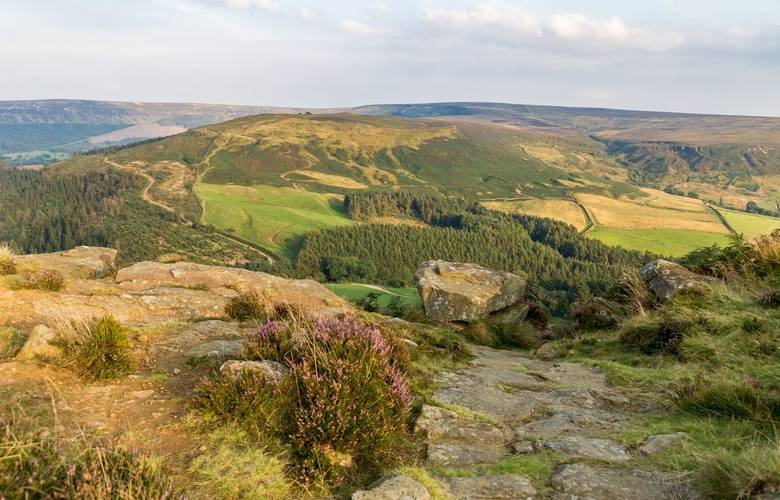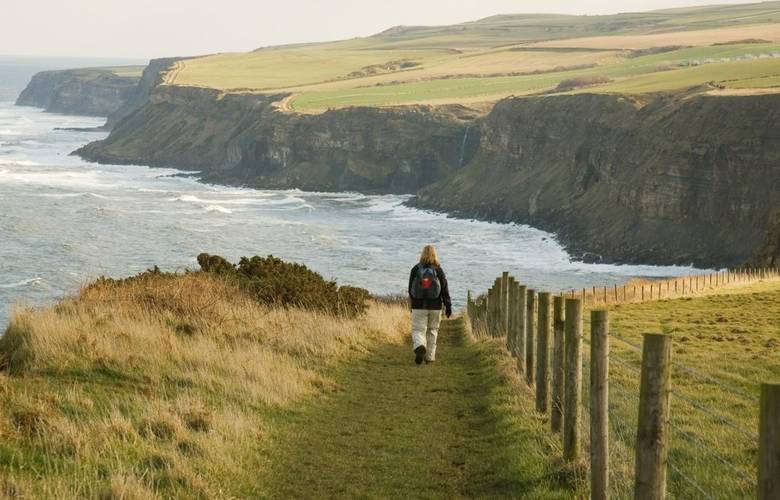 My good walking friend and mentor encouraged me to try walking a trail in a group; up to now I had always chosen to go alone. HF Holidays offer the Cleveland Way in six days of walking, aiming for 3.5 miles/hour which I found attractive, especially compared to most group holiday offerings. I thought: "if ever there was a time to try a group trail it is now". Not only because of all the lone walking due to Covid restrictions but also how difficult it is to book your own solo trips now with youth hostel dorms still closed and many B&Bs still resisting 1-night stays.
I really enjoyed both the walk itself and the group experience. It was also a single base holiday from Larpool Hall in Whitby, ideally placed half-way round the 'horseshoe'. The longest bus ride was an hour and always on good roads. The strange thing about it was, you covered ground by transport that you would later walk. This was less important to me on the Cleveland Way as I was joining up many places from my past; I didn't need to be surprised.
The route included places I had previously lived and worked in as well as places I had holidayed too: Many childhood holidays from Osmotherley; a summer working at Scarborough Youth Hostel when I was a student. On days off, I remember walking from Scarborough to Whitby staying at the YHA and continuing to Saltburn and busing back. When we passed Boggle Hole YHA I remembered I had stayed there at some point too! When doing my first job (in the steel industry) I lived in Guisborough (a mile or so off the path).
When joining a walking group, all you can really hope for is that you will all be of a similar pace and ability. If you like the people too that is a bonus; of course, this is quite likely as you share a common interest. One of the many benefits of walking as part of a group is that you might get to see something that you wouldn't have on your own. One of our group spotted dolphins way off; that day I had left my binoculars at the hotel (I was saving weight in favour of water - how lazy). The next day I took them, and we saw some more so at least I was able to share the joy of a closer view using the binoculars.
On the flip side you will doubtless see less wildlife overall in a group as you are likely to be less attentive and the wildlife is more likely to be disturbed. However, I found keeping to a consistent pace as part of a group helpful, and I still took a lot of photos, so it wasn't too fast.
When I am on my own, the added flexibility can lead to spending too much time in places I fancy and I end up having a longer than intended day and getting over tired. Whenever I have reached the end of a trail on my own there is a strange feeling because no-one else knows; it can feel like an anti-climax, plus it is the end of something wonderful as well as an achievement; so bittersweet. In a group we could celebrate together. In fact, our fabulous leader (John Flanagan) secretly carried champagne and glasses on the last day and produced them at the finish; this felt wonderful.
Carrying a lighter rucksack and having some luxury items back at the hotel is a treat, although this is about having a single base rather than a group necessarily. No navigation was required. I took the guidebook, but I didn't need it; John was so good. He lived locally and loved the Cleveland Way; this was his fourth time leading it. He showed us some hidden gems like the only view of Rievaulx Abbey, the perfectly framed view of Roseberry Topping and the 'Lemon Tops' - a Saltburn speciality of ice cream swirled with lemon sorbet. The group motivation factor.
You don't get the flexibility of having your own agenda in a group, so you can't afford to feel precious about specific attractions en-route. You might want some quiet time. I don't talk all day when I walk in a group anyway, so I'm sure I got enough quiet time and I didn't ever feel that I was longing for it.
To finish with a few things I loved about the walk itself: The miles of heather moorland with Swaledale sheep and drystone walls. The second day gave six hills over moorland and of course the coastal section doesn't disappoint with ups and downs. Whilst it isn't particularly high you do reach the highest point on the North Yorkshire Moors on Urra Moor and the highest point on the east coast at Boulby, so you command huge views. The sea breeze was so invigorating. The industrial heritage of mining, alum and steel works. I love a tea stop and on the first day we had one at 'High Paradise Farm'; it lived up to its name and you felt more like you were in an Alpine Hut.
All in all, it was a fabulous experience.
Guided Trail Walking with HF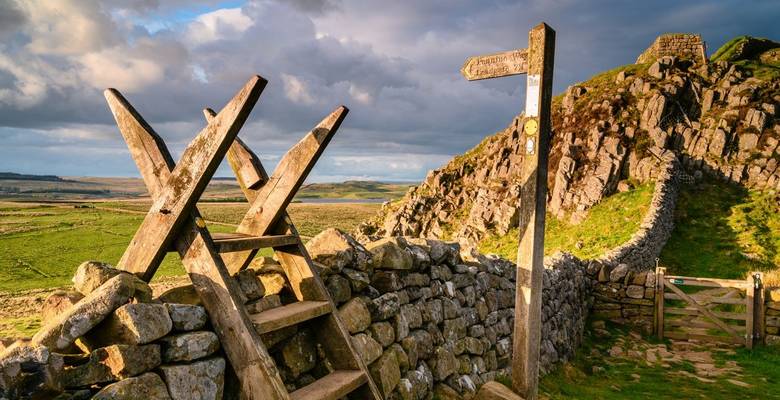 Guided Walking
Trail Holidays
Our trail walking holidays let you follow world-famous trails from the Coast to Coast and Hadrian's Wall Path to the West Highland Way. Follow historic routes and discover renowned landmarks – they're the perfect blend of challenging and inspirational. Although you can tackle a range of classic long-distance paths and national trails with HF staying at handpicked partner hotels, we also offer a range of trail walking holidays right from our own country houses too.
Step out on a guided trail holiday