Details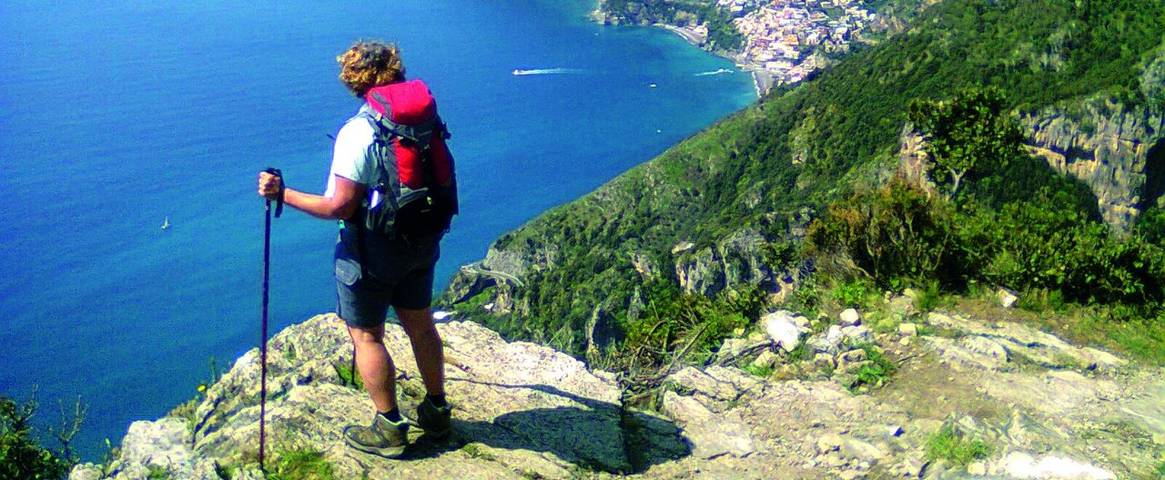 Spring is in the air and those creaking winter limbs might be ready for a warm up. My featured holidays in this edition of Lace Up are our ' Best of ' holidays. These holidays include the luxury of staying at just one hotel for the duration of your stay, while walking every day enjoying the Best of Hadrian's Wall, Best of the Fife Coast or Best of the Isle of Man.
What a great way to warm you up for something bigger later in the year perhaps. 
I am going to be off on my adventures this month looking at new holidays for 2019 so expect some new European trails to feature as well as Scotland and a new holiday based at our Whitby Country House. But can you guess where the image on the right was taken?
I am going to be off on my adventures this month looking at new holidays for 2019 so expect some new European trails to feature as well as Scotland and a new holiday based at our Whitby Country House.
I am always on the look out for ideas for new Trails and Island Hopping holidays. I would love to hear any stories or receive any photos I could feature in future editions about any Trail and Island Hopping adventures you have experienced with HF and would like to share with future guests who might be interested in joining one of our holidays.
---
Introducing Harris - My new four legged friend
For those of you who follow my Lace Up newsletter, I mentioned in my last edition I was going to complete the Wainwrights with my best friend Labrador Stella. Sadly, Stella is no longer with me, but I now have a new Border Collie Labrador called Harris, named after the Scottish Island, which must be one of the favourite places I have discovered since working for HF Holidays. It features in our Harris & Lewis Island Hopping holiday, however, It will be a few months before he can join me on a Wainwright!
Explore with our ' Best of ' holidays 
Did you know there are two varieties of the Manx Cat? One is a "Rumpy" with no tail and the other is a "Stumpy" with a small vestigial tail. You should never mention the word "rat," as if you mention this 4-legged rodent you will have a lifetime of bad luck. Hence, they are called a "longtail"! Beer and Cider Festival; Cycle Challenges; a Celtic Music Festival and a Fell Race from Laxey Beach to the top of Snaefell (2,036ft high) called Sea-to-Summit. It also has some quirky facts which I love!
Douglas is quite a vibrant town despite some areas still looking like something from the 1950's heyday it does have some great things to do and see. The two-mile sweep of Douglas Bay is lovely to walk along, and The Great Union Camera Obscura on Douglas Head is worth a visit. The marina area is quite cosmopolitan, and the Manx Museum is worth visiting. From Douglas you can ride on the Victorian Steam Railway; Manx Electric Railway; Douglas Bay Horse Tramway as well as the Snaefell Mountain Railway taking you to the top of the highest mountain where you can see England, Scotland, Ireland and Wales.
Douglas is very easy to get to from many airports across the British Isles or catch one of the ferries from Heysham, Liverpool, Dublin or Belfast. It is all part of the holiday experience.
There are so many highlights to encounter during your walks on our holiday and here are just a few:
Views to The Calf of Man (A Nature Reserve and Bird Observatory) at the southern tip. Abundant with nature's wonders this is a hotspot for seal spotting and possibility of viewing dolphins and basking sharks as well as birds which can include Choughs; Puffins and Manx Shearwaters.
From Port St Mary to Port Erin you also pass breath-taking cliffs and scenery passing The Chasms, Sugar Loaf and The Anvil.
Castletown with characterful narrow streets and small fishing cottages and the medieval Castle Rushen and Peel with its attractive castle and harbour.
Niarbyl Bay on the wild shore of the west coast with its thatched fishermen's cottages, rolling hills, thatched cottages, dramatic coastal paths leading to white beaches.
The Great Laxey Wheel; a feat of Victorian engineering and the largest surviving waterwheel of its kind. Climb the 95 steps to the top for great views and watch the mighty wheel turn.
The Isle of Man has some amazing coastline, beaches and small towns and villages along the coast. It has a fascinating history and wildlife in abundance as well as a wealth of wild flowers and butterflies. Our walks cover around 45 miles and centre on the most spectacular sections of the coast and an option to climb Snaefell mountain. The accommodation is the Ascot Hotel which is friendly and welcoming and centrally located in Douglas. All accommodation and meals are included in our holidays and the services of one of our friendly and knowledgeable leaders throughout your stay.
---
Explore the never ending Fife Coast
Fife has 50 golf Courses and is home to the oldest professional ice hockey team in the UK. The Fife Flyers were established in 1938. We think a great reason to visit is to join our walk from Dalgetty Bay to the historic town of St Andrew's, seeing a wealth of sites which form a legacy from the many people who have inhabited the region since the last Ice Age. Our journey starts within sight of the Firth of Forth Bridges and finishes in the historic town of St Andrews with its cathedral, university, golf courses and beautiful sands stretching for miles. Along the way we see such structures as St Bridget's Kirk, a ruin dating back to the 12th century to Wemyss Caves believed to have been formed 5000 to 8000 years ago and containing the highest number of Pictish cave drawings in Britain. The beach at Elie Harbour is composed of dark golden sand backed by dunes. Discovering the charming fishing villages and stone walled harbours of Crail, Anstruther, Pittenweem, St Monans and Elie are a delight.If you want to enjoy golden beaches, picturesque fishing villages, woodland and even a mountain to climb, birds and wildlife as well as lots of industrial history and a visit to the beautiful city of Edinburgh then give this holiday a thought. It might just be what you are looking for in 2018.
A warm Scottish welcome will also await you at our accommodation for the 7 nights The Old Manor Hotel at Lundin Links, overlooking the sea. It is a family run hotel and Alastair and Morag will make sure you are well looked after. It is close to the beach and has spectacular views from the dining room. It is easily accessible from Edinburgh.
We avoid the industrial south and concentrate on the beauty that is the coastline and then add a day in the Lomond Hills taking in both East and West Lomond. West Lomond is the highest point in Fife at 1713 feet. The Kingdom of Fife has a long association with royalty and Falkland Palace in the pretty village of Falkland was a favourite royal holiday home. The archbishop of St Andrew's was the most important seat of church power in the country and home to the first University in Scotland. Fife thrived on sea trade and fishing and sitting on the harbour wall at Anstruther with a bag of fish and chips from the famous fish bar is just the best. With fishing links to continental Europe, a lot of the architecture here has Flemish origins. The variety of things as we walk along is amazing from the sandstone stacks and holes of the Caiplie Caves where the Irish monk St Aiden died at the hands of the Vikings in 875 AD to the ruins of windmills and salt pans and the winding gear of former coal yards and ruined castles.
Fife has been awarded the No 1 outdoor destination by Scottish National Heritage 8 years in a row and the Fife Coastal Path is Scotland's longest continuous coastal trail. Leven beach near our accommodation was the inspiration for the famous painting "Singing Butler" by Jack Vettriano. If you're feeling adventurous, why not try the Elie Chain Walk, which has been described as Britain's most exciting walk!
---
Follow along the historic Hadrian's Wall
Hadrian's Wall was constructed by the order of Emperor Hadrian to "separate the Romans from the Barbarians" in the North of England and stretches for 84 miles from the East coast to the West coast. It is the best-known frontier of the entire Roman Empire and is a World Heritage Site. The central section of the Wall is home to iconic places such as Housesteads, Vindolanda, Chester Roman Fort and Corbridge Roman Town, all of which are visited on the HF Holidays Best of Hadrian's Wall holiday. Combine that with wild and majestic landscapes as you walk along the Wall with crags, turrets, forts, barracks and milecastles and we think we have a winning combination.The Centre of Britain Hotel in Haltwhistle, our base for the 6-night holiday, claims to be geographically the exact centre of Britain and has history going back as far as the Bronze and Iron Ages but is more famous for the first century AD when the Romans came to defend the northern frontier of their Empire. A warm and enthusiastic welcome awaits from your host Christine and the fantastic food served is always a hot topic. Fully charged with porridge and a great cooked breakfast your local driver takes you to the start of the walks. He is a chatty local full of information and a great Geordie accent. Some of our leaders such as Bob McFall who is leading our May holiday have led this holiday several times and are also full of information, so you can learn a lot about Roman Ditches, The Berm, The Vallum, Milecastles and Turrets. Everyone is always enthused by the ancient Roman culture and heritage which comes alive through all the amazing ruins and artefacts but be rest assured these Roman museums, reconstructions and visitor centres are not piles of old stones and relics in old cabinets but really exciting insights into how it must have been to live on the Roman frontier.
I sometimes join one of our Best of Hadrian's Wall Trail holidays for a day as this is close to home for me. I just love a very Roman day out, walking along the Wall, visiting a Roman Site and Museum and even enjoying a unique HF Legion Roman Banquet in the evening. The arrival of a Roman soldier to talk about how it was to live in the Roman Army and to try on various helmets and armour really gives the final night of the holiday a great atmosphere.
---
Tackle one of our Welsh Trails
---
Wales is famous for a lot of reasons, but perhaps the one thing that isn't pointed out as much is the beautiful Welsh Coast Path,  which runs for 870 miles and goes through 230 beaches along the way. The three sections of Coast Path that we include on our trails holiday are the Pembrokeshire Coast Path, Ceredigion Coast Path and Llyn Coast Path. Along the way you'll experience the very best of Wales: stunning scenery, stirring history, Welsh culture, and wildlife in abundance. Or you if you fancy a change of scenery, the stunning welsh mountain regions allow you to walk the brilliant Cambrian Way and the unmissable Beacons Way or if you would prefer a shorter route you could go through the Ardudwy Way trail and experience the outstanding views and observe the wildlife.
All of us here at HF, and members of the HF community, would love to hear your stories and see the awesome pictures of your latest holiday, so why not share them on one of our social channels below?Share your journey with the world
To get started, simply click on the social icon you wish to share on. We can't wait for you to join the conversation.