Details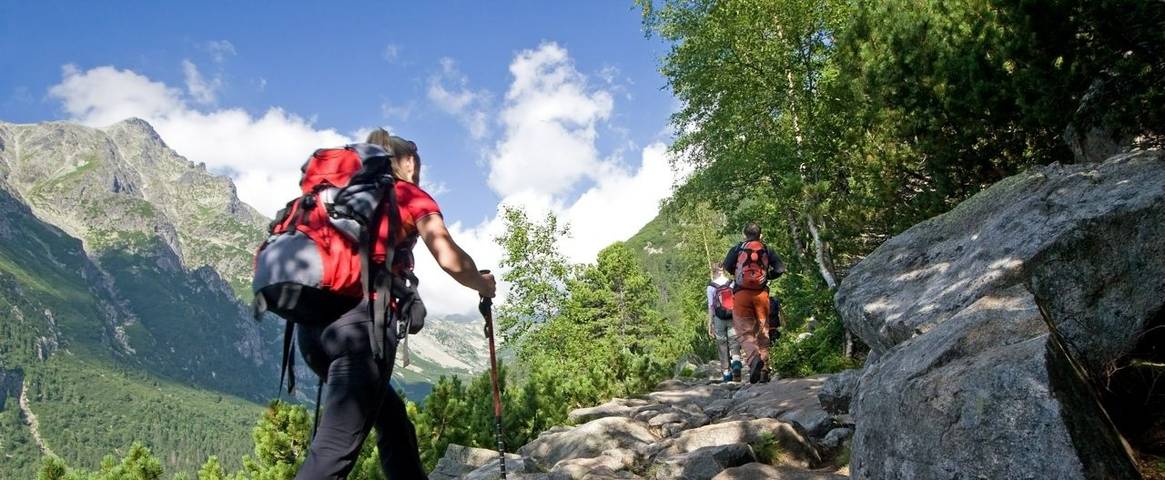 How Will You Challenge Yourself in 2018?
If, like me you have had enough of tinsel and turkey, wearing a silly hat and a festive jumper, your thoughts might now be turning to getting out, getting fit and feeling ready to achieve something amazing in 2018.  I am lucky enough to live in the beautiful Lake District and my challenge is to revisit all the 214 Wainwright Fells with my best friend Stella; my black Labrador.
Here at HF Holidays we have lots of thrilling challenges and achievements to be found amongst our Trail and Island Hopping Adventures. Whether you are looking for your next adrenaline fix, or for something more leisurely, why not join a group of friendly people and be led by one of our experienced and knowledgeable leaders on your next adventure.
Whatever your fitness, favourite location, or level of experience there will surely be a challenge for you. With a little fitness training everyone will be able to tackle something in our great mix of Trails and Island Hopping holidays, but if you do fancy one of the more demanding challenges, then it's going to take some more serious fitness preparation. Go on and challenge yourself to an experience of a lifetime and choose an adventure with us in 2018.
---

Your leader will be Simon Munnings, who has lived in the French Alps for over 15 years, spending most of that time exploring, walking, climbing and guiding.  He works all year round guiding treks and snow-shoeing. Simon is an accredited guide for the Reserves and Espaces Naturelles of the Mont Blanc region, so you will be in superb hands.You could take on a challenging foot race in Europe such as looping the Mont Blanc massif and taking 25 hours to complete around 166km with a height gain of 9,500m…. However, if like me that is an ambition which is definitely only a dream, we could offer an equally exciting challenge on our Tour du Mont Blanc experience which is completed over 10 much more leisurely days and staying in comfort along the way. Starting in Chamonix you can traverse the alpine passes and pastures of Switzerland, France and Italy as you circumnavigate the whole of the Mont Blanc massif. Our 27 June and 29 August departures in 2018 are nearly full but still plenty of room on 8 August departure.
---
 Epic medieval pilgrimage of the Camino de Santiago

If you walk the last 100km into Santiago you can receive your Compostela certificate. This makes Sarria to Santiago the most popular route as it covers 111kms and the route you can take with HF Holidays. You collect at least two stamps per day on your pilgrim passport to get your Compostela certificate at the end of your Camino journey. Before you start your Camino journey we will help you get your pilgrim passport. When you arrive in Santiago you present it in the Pilgrims Office. Yellow arrows and yellow scallop shells mark the way of the Camino trails and become more frequent as you get closer to your finishing point in Santiago. The scallop shell, often found on the shores in Galicia, has long been the symbol of the Camino de Santiago. Over the centuries the scallop shell has taken on a variety of meanings although it relevance may have actually derived from the desire of pilgrims to take home a souvenir. Wearing a shell denotes that one is a traveller on the Camino de Santiago. Most pilgrims take a shell at the beginning of their journey and keep it with them on their journey. The scallop shell may have served practical purposes for pilgrims on the Camino de Santiago. The shell was the right size for gathering water to drink or for eating out of as a makeshift bowl.A challenge of a different kind is the opportunity to walk the epic medieval pilgramage of the Camino de Santiago. Perhaps the oldest and most celebrated trail of the old continent The Camino is known in English as 'the Way of St James'. All Camino pilgrimage routes lead to Santiago de Compostela designated a World Heritage Site since 1985 as this is where the remains of St James were discovered in the 9th century. The pilgrimage was popular in the 10th, 11th and 12th century and then slowly declined in popularity. In recent times it has become increasingly popular and today over 250,000 Christians, pilgrims and many others set out each year from their front doorsteps or from popular starting points across Europe, to make their way to Santiago de Compostela. Most travel by foot, some by bicycle, and a few, as in the medieval times, on horseback or by donkey. In addition to those undertaking a religious pilgrimage, many are hikers who walk the route for other reasons including simply the challenge and the experience. Many do consider the experience a spiritual adventure to remove themselves from the bustle of modern life and it serves as a retreat for many modern pilgrims.
Walking any section of the Camino is a magical experience. Each route has its own historic significance and unique landscapes. While on the trail you will meet fellow pilgrims of many nationalities and enjoy some of the most delicious food in Northern Spain. The popular Spanish name for the astronomical Milky Way is El Camino de Santiago. According to a common medieval legend, the Milky Way was formed from the dust raised by travelling pilgrims. Compostela actually means "field of stars".
---
Trail Challenges from 10-14 nights
We have three holidays based at our own Country House which include: Here at HF holidays we have been increasing your opportunities to take a longer holiday and complete some iconic Trails at the same time. Our guests seem to be loving this chance to take part in these more demanding and challenging holidays. Remember, these are all guided trails with a friendly and experienced leader and all accommodation and meals are included, plus all transport to and from each walk.
We have three holidays based at our own Country House which include The Beacons Way covering 100 miles across the Brecon Beacons National park and traversing the mountain ranges including The Black Mountains and Brecon Beacons.

 

 
| | |
| --- | --- |
|   | The South Downs Way covers 100 miles following the crest of the South Downs from Winchester to Eastbourne taking in the Seven Sisters and Beachy Head. |
| | |
| --- | --- |
| New for 2018, The Dales High Way which covers 90 miles following ancient drovers' ways, packhorse tracks and green lanes from Saltaire in West Yorkshire to Appleby in Cumbria.  |   |
---
Walk the Coast
Coast to Coast
One of the most famous and one of our most popular trails, is the Coast to Coast. Devised by the famous fellwalker Alfred Wainwright, it traverses the beautiful landscape of northern England from St Bees on the Irish Sea to the pretty Robin Hood's Bay on the North Sea.
We cover the 192 miles whilst staying in comfortable hotels and guest houses along the way with all meals included and led by one of our very own HF leaders. All your luggage is transferred as you move on and all your transport to and from the start and finish of each days walk. Also included are transfers to the first hotel.. 
The South West Coast Path
The South West Coast Path is England's longest National Trail. The 630 mile route starts in Minehead, Somerset, and follows the wild coast around Devon and Cornwall into Dorset, finishing in Poole.
To walk it in one go you'll need a couple of months, but you can tackle it in sections. The scenery is outstanding – the path has sections designated Area of Outstanding Natural Beauty, Heritage Coast and World Heritage.
Offa's Dyke
A great addition in 2018 to our longer trails is the Offa's Dyke Path which covers 177 miles over 14 nights trekking across the borderlands between Wales and England following the spectacular dyke built by the 8th century King Offa.
Once again you can do it in comfort and style with practically everything covered so all you have to concentrate on enjoying each stunning daily walking challenge. Let us do the rest!  
---
Experience unique and fascinating island hopping on the Channel Islands
For something a little less strenuous but that ticks off a location you have always been intrigued by; The Channel Islands is a great holiday destination and though closer to France than the UK, it is part of Britain's Island Hopping is experience. Island Hopping with HF Holidays is a unique experience visiting the stunning islands of Guernsey, Alderney, Sark and Herm.
We include all the travel during your centre based holiday on Guernsey including boat trips to both Herm and Sark and flying with the "islanders" own airline Aurigny to Alderney for walks on these amazing islands. We contract our very own flight for this holiday. Aurigny has been flying since 1968 and is a vital link for the local community as well as carrying holidaymakers like ourselves on their small planes to this tiny island only 1½ miles wide and 3½ miles long. We stay on Guernsey at the Moores Central Hotel in St Peter Port and you can choose to join our flight to the island or select your own but we include your transfer to the hotel in the package too. 
We also visit Jersey; the largest of the Channel Islands where we walk the entire coastline. It has it all; rugged coastline; sandy beaches; pretty harbours; secluded coves and castles and a fascinating history. I fell in love with Jersey a few years ago: only 9 miles long and 7 miles wide but with some 50 miles of coastline to explore, it has everything. You feel totally indulged at Greenhills Country Hotel with Carmelita and Joe and their staff providing a really welcoming atmosphere and the food is simply superb.
The pool and palm trees are also very inviting at the hotel. A favourite is walking to the lighthouse at La Corbière Point, and the dramatic cliff top path to Greve de Lecq. With HF you can walk the entire coast path. Visiting the Gerald Durrell Wildlife Park (working with endangered animals across the world in countries such as Galapagos, India, Madagascar and the Caribbean Islands) is amazing, as are the Jersey War Tunnels, constructed in the Second World War and very emotive with half a mile of tunnels and chambers hewn through rock by slave labourers. There is so much to see and do both on the walking days and the free day when you can explore yourself. 
---
Channel Island Facts or Fiction
There are so many fascinating things to love and know about these gorgeous islands and so here is a little quiz to see what you believe to be fact…or fiction.
1.Alderney has the smallest airport and has a box of unfinished knitting for you whilst you wait for your flight.
2.The tidal range is one of the largest in the world and transforms the coastline roughly every six hours.
3.Witches Seats are unusual pieces of granite protruding from house walls. They were said to be added to homes to appease the witches who would rest on them instead of flying around on their broomsticks casting spells.
4.The Channel Islands was the only part of the British Isles to be occupied by the Germans in World War II.
5.The post box in Union Street, St Peter Port on Guernsey is the oldest cast iron pillar-box still in use anywhere in the British Isles. It is painted red but all the others are painted blue.
6.The first underwater arrest was on Guernsey. Mr Kempthormnne-Leigh was illegally harvesting ormers, a protected mollusc and was arrested by scuba-diving police.
7.Jersey is only 9x5 miles (45 square miles) and has been an island for 8,000 years and the original airport was on the beach at St Aubin's Bay.
8.Alderney is also home to a blond hedgehog which is extremely rare. It is rumoured it arrived inside a Harrods shopping bag.
9.Herm was leased to Prince Blücher during World War I and he tried to introduce wallabies but they did not survive.
10.Herm and Sark have no cars.
11.Sark was the first island to be given Dark Skies status in 2011.
12.Victor Hugo whilst in exile in Guernsey from his homeland France wrote Les Misérables and a host of other titles.
You are a winner if you believe they are all fact (Maybe not the hedgehog in the Harrods shopping bag). But who knows, as it has been said the people of Jersey and Guernsey think they are descendants of fairies (pouques - pronounced pooks) and the last reported sightings were in the early 1900's.....
Share your journey with the world
All of us here at HF, and members of the HF community, would love to hear your stories and see the awesome pictures of your latest holiday, so why not share them on one of our social channels below?
To get started, simply click on the social icon you wish to share on. We can't wait for you to join the conversation.