Details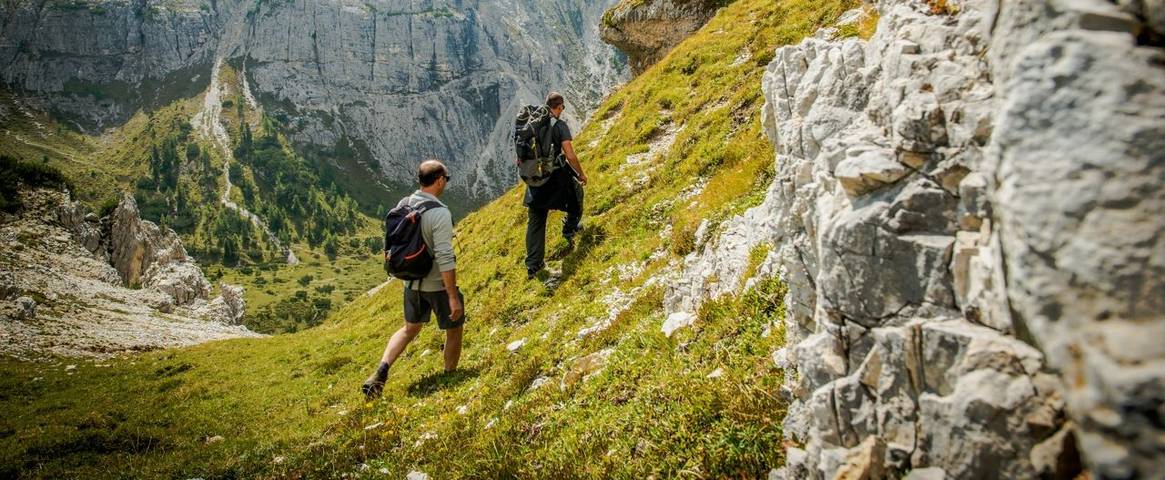 I am thrilled to report that we have had record breaking bookings on our Trails and Island hopping Holidays in 2017, which is fabulous news and the feedback has been amazing.With some guests commenting "The holiday was excellent thanks mainly to our exceptional guide who supported the group throughout." and "A challenging experience and such a reward to achieve it."Along with these positive comments we have received 237 responses on Feefo, with an amazing 55% of guests ranking us with 5 stars. 
At the same time we have been putting together all our new guided Trail and island hopping holidays for 2018. In this edition of Lace Up!, I am featuring new holidays for 2018 including a big one; The Offa's Dyke Path and also a section of the stunning South Devon Coast Path from Plymouth to Brixham. Both holidays stay at some lovely welcoming hotels along the route and I hope you might be tempted to join us.
The Dales High Way is our new 10 night guided trail holiday staying at our very own country houses, Malhamdale (7 nights) and Sedbergh (3 nights). Also we are including the Shropshire Way Eastern Hills, staying at Longmynd House in Church Stretton to complement our popular Shropshire Way Western Hills which has been running for a few years. Due to popular demand, The Cleveland Way in a week from our country house in Whitby has also returned.
I imagined I might lose some weight on this holiday; as we all know Switzerland is an expensive place to visit; but despite some great walks each day, the food supplied at the hotels and the amazing group picnics; which were a highlight meant complete failure! Even the nights we ate out as a group, paying our own way were excellent. The hotels we stayed at were all well located in the villages of Lauterbrunnen, Kanderstag and Zermatt and the staff very friendly and helpful.  From the moment we all met in Geneva to the moment we waved goodbye, we had an amazing journey taking us via some stunning Swiss highlights on our Eiger to the Matterhorn holiday. Nigel our leader was full of infectious enthusiasm and eager to pass on his knowledge about Switzerland as well as all sorts of random things which certainly kept us entertained. He was calm, kind and gave us great leadership. Thanks Nige! You were a star!
The weather absolutely did its best for us until the last day when we did get a bit damp to say the least but it could not spoil the day as we walked a high level traverse opposite the north face of The Matterhorn.
The highlights were numerous but included: a close up experience with a Marmot; the walk to the Trift mountain hut from Zermatt where we stayed the night and then walked back to Zermatt; apple strudel homemade by Hugo and his team who run the Trift Hut;  stunning views of The Matterhorn and the ranges of mountains all around; picnics including everything from smoked salmon and olives to local cheeses and meats, salads, fruit, and of course chocolate (well we were in Switzerland!);Nigel our leader with his fantastic sense of humour ; an amazing bunch of guests with a far ranging world of experiences to share and lots of laughter; Waterfalls, waterfalls and more spectacular waterfalls around the UNESCO region of Lauterbrunnen where we stayed the first 3 nights (apparently there are 72 in the valley altogether); views of the snow capped mountains towards the Eiger; wild flowers and lovely green high alpine meadows and cute wooden chalets; the amazing deep blue turquoise lake of Oeschinensee above Kanderstag.
What a fabulous experience shared with some lovely people.
After three years at HF Holidays I thought it was time I took on a Trail. Having scaled Lake District peaks, discovered Welsh mountains, strode along the South Downs Way, I was ready for a proper long and challenging walk. Or so I thought. What followed was a series of conversations with Annie Coutts, our knowledgeable and passionate Trails and Island Hopping Product Manager, where she expertly negotiated the gap between my perceived capability and reality. So it was agreed, our new Harris and Lewis holiday, graded 3, looked like the perfect holiday for me. 
Admittedly, we had to put our head down against the wind and rain a couple of times, and we spent a good few hours bog hopping. But this was all done in good spirits – helped along by the excellent leadership of David Allen – a quiet but ever reassuring and encouraging presence and who seemed personally hued from the Scottish landscape. In fact there was only one minor outbreak of swearing amongst our group when the short easy walk back to the minibus turned out to be mostly a short vertical walk.
The finale was a truly beautiful walk in Harris along the coffin trail, passing stunning inlands lochs, to reach the dramatic Luskentyre sands. As we pulled our boots from our tired feet and joyfully paddled in the cooling Atlantic waters, I felt very proud of the holiday Annie and her team had put together...and I knew I was now hooked on Trails.As always with an HF holiday, the walking was mixed up with some really interesting cultural highlights. The ancient Callanish stones, the restored blackhouse village of Na Gearrannan, and particularly the exceptional Iron Age house at Bostadh all worked their magic on us. When we weren't walking we were eating, drinking and talking. The food was particularly of note at the Harris Hotel and the wine and conversation flowed easily helping what seemed a motley bunch to become a well bonded team. It will be of no surprise that the company of David, Virginia, Linda, Bobby, Steve, Sheree, and Rosy made what was a very good holiday into a great holiday.                       
Fancy a Short Break Trail? - Try the Ardudwy Way which Sarah Davis, from our Sales and marketing team, recently joined. Sarah says… I absolutely loved the mix of coastal and mountain Welsh scenery, one of the reasons I chose this holiday.
And everyone was so welcoming. I loved the fact that we'd all come on a walking holiday, from all walks of life, with one thing in common – to enjoy the outdoors. The food at Dolserau Hall was the BEST I've ever had on an HF Holidays. The presentation of every course was fabulous. There was a lot of food envy!!! Plus the little extras like peanut butter fudge for your picnic lunch was most welcome.The walk included various prehistoric sites including Bryn Cader Faner; a Bronze Age round cairn, and the chance to spot rare birds of the area. The guided trail is way marked with the Buzzard logo. We were blessed with some brilliant sunny days; albeit incredibly wet under foot – my boots worked hard to keep my feet dry, and the boot room came in handy for drying them out each night. Having made sure we'd packed every piece of walking equipment we'd need, should we experience the unpredictable mountain weather…. what a shame I didn't actually get to use my waterproof trousers!!!!!  It was a lovely mix of guests. 
Nicholas Von Benzon was our leader. His knowledge of the area was great. Very calm and patient with all of us guests from the fastest guest who was always a blob in the distance, and the slower paced guest with a passion for bird watching.
I came back feeling relaxed, that we had achieved something and ready for our next adventure! Oh and everyone loved getting their certificate for completing the 32 miles!!!!
New for 2018 holidays 
This trail follows the spectacular Dyke that was constructed in the 8th century by King Offa to divide the kingdoms of Mercia and Wales. It is a sea to sea walk from Sedbury Cliffs near Chepstow to Prestatyn on the North Wales Coast. It follows the border of England & Wales and the trail was opened in 1971. Built of turf with a deep ditch on the western side, it follows contrasting landscape. It is the longest scheduled ancient monument in Britain and sometimes you are high up on ridges, crossing mountains, by rivers, through small towns, crossing farming land and moorland but always following fascinating history. We offer a challenging and undulating 14 night holiday with 13 days continuous walking and covering 177 miles.
You cross the modern Anglo-Welsh border more than 20 times and pass through 8 different counties so a good job a passport is not needed! Walking the whole route is said to be the equivalent to climbing Mount Everest! Don't let that put you off though as we have six great hotels along the way with some fine food and a bit of luxury to make the journey a comfortable one. We also have transport to get you to and from the start and finish each day and move your luggage on. Bill Chase one of our most experienced leaders, who lives close to the trail and has recently walked it himself for charity has been helping create our new adventure and will be leading the first holiday in June. Our very own Welsh leader who also lives close to the route, Dai Rowlands will be leading the August date.
Tick off 68 exhilarating miles of the South West Coast Path, taking you from the famous naval port of Plymouth - from which the Pilgrim Fathers departed - to the bustling marina and fishing harbour of Brixham in Torbay. The South West Coast path in total covers 630 miles and is the longest National Trail in England and Wales. This section of the Coast Path crosses several estuaries and climbs several cliffs (none severe), with pasture, arable, woodland and moorland scenery on our left and an equally varied English Channel seascape close by to the right. 
Our first hotel where you will join the holiday is in Plymouth at The Invicta, a lovely family run hotel near The Hoe and sea front. Our final hotel, The Stoke Flemming Lodge is well used to walkers with great food, indoor pool and outdoor pool and a very friendly and comfortable base to end our holiday before we drop you off at Totnes to journey home. Our first holiday in April will be led by Tony Vickers who has helped put the holiday together and is very passionate and knowledgeable about the path.
The Dales High Way is a 90 mile walk  over the high-level countryside of the Yorkshire Dales. This trail is ideal for people who have done the Dales Way and now feel they can tackle something a little more ambitious. The Dales Way is essentially a riverside walk with valley paths whereas the Dales High Way, as its name implies, crosses the tops. It does have some sharp ascents and step summits to challenge you but the rewards of the views from the top make it all worthwhile.
Created 10 years ago, it begins at the Victorian model village of Saltaire and follows ancient drovers' ways, packhorse tracks, and green lanes to the historic market town of Appleby. Highlights include Rombald's Moor with its Neolithic rock carvings, the dramatic scars, gorges and cliffs of Malhamdale, the Stainforth waterfalls, an ascent of Ingleborough; one of Yorkshire's Three Peaks and the green, tranquil valley of Dentdale and a ridge walk traversing the Howgill Fells. Wildlife is rich and varied; rivers provide habitat for a wide range of birdlife and the high moors also provide a summer home to Curlew, Lapwing, and Golden Plover.
NEW Cleveland Way
The Cleveland Way National Trail is a 109 mile walk through the ever-changing scenery of the North Yorkshire Moors. Starting at Helmsley it follows a horseshoe around the beautiful North York Moors National Park crossing vibrant heather moorland, to join the coast at Saltburn. The Way then follows the dramatic coastline to Filey, passing old fishing villages and coastal towns.
This is very challenging 7-night holiday with 6 days walking and with long days and sometimes early breakfast and late back. With many steep ascents and descents and no day off, stamina is required but the final reward when you reach the end at Filey is immense. The Cleveland Way has not been in our programme for the last 2 or 3 years so it is a "bring back" holiday due to requests from guests.
NEW Shropshire Way Eastern Hills
The Shropshire Way Eastern Hills trail is 58 miles of enjoyable, yet occasionally challenging ridge and hilltop walking. You will pass through the Shropshire Hills Area of Outstanding Natural Beauty (AONB), beginning at Long Mynd ridge and progressing towards Ludlow.
Set mainly in quiet countryside, the route passes numerous ancient sites and tracks, as well as more 'modern' castles and follies. This holiday offers excellent opportunities for many outstanding hilltop panoramas, in contrasting scenery.
Share your journey with the world
All of us here at HF, and members of the HF community, would love to hear your stories and see the awesome pictures of your latest holiday, so why not share them on one of our social channels below?
To get started, simply click on the social icon you wish to share on. We can't wait for you to join the conversation.