Details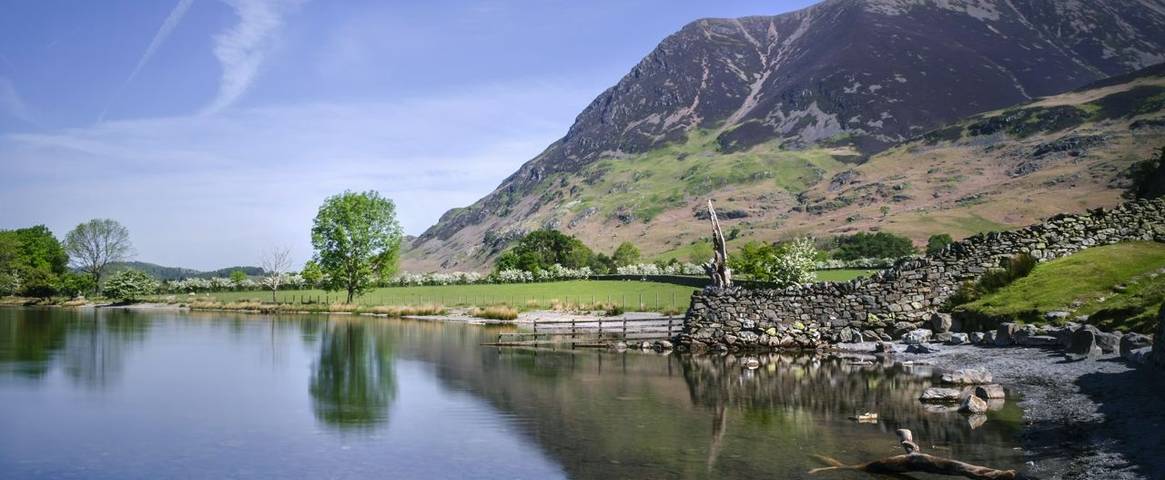 In 2015 Storm Desmond hit various parts of the UK with a vengeance. In the Lake District it caused major flooding including along the River Greta where 200 metres of the Keswick to Threlkeld Railway Path was washed away. This is a popular and very accessible path for walkers and cyclists through some of the most beautiful countryside of the northern lakes. Two old railway bridges over the River Greta – Low Pearson's Bridge and Brundholme Bridge - were destroyed while Rawsome Bridge was left at risk of collapse and had to be closed.
The HF Holidays Connection:
The path is very close to Derwent Bank – our country house in the northern Lake District. Several of the walking routes we use are affected by the damage caused by Storm Desmond. The missing bridges mean that long detours are necessary for walkers, runners and cyclists.
The Project:
Phase 1 – Between 2015 and 2017 the focus was on securing alternative routes for walkers and cyclists. In additions, sections of the path and bridges were made safe.
Phase 2 – Between October 2017 and October 2018 contractors were hired to plan a new route. Consultation and planning processes were followed and fund-raising activities undertaken to enable the required work to proceed. Planning permission for the proposed works was granted, with certain conditions, in September 2018.
Phase 3 – Between December 2018 and September 2019 the planning and consultation process continued on various aspects of the project. April 2019 saw construction begin with the creation of a construction compound and access tracks. Going forwards, construction is planned as follows:
Low Pearson's Bridge:
The bridge was totally destroyed during the floods. Structural work to abutments and revetments is scheduled from Sept 2019 – Nov 2019. The work to the bridge should be completed by April 2020.
Brundholme Bridge:
This bridge was all but destroyed and the river span increased by approximately 20m. Structural work to abutments and revetments will take place from Sept 2019 – Nov 2019 and works fully completed by April 2020.
Rawsome Bridge:
This bridge was damaged and weakened during the floods and had to be closed for the safety of the public. Repairs and improvements to the bridge are underway and are due to be completed by November 2020
Big tunnel excavation:
As part of the work to improve the route, a disused railway tunnel known locally as 'the big tunnel' or the 'bobbin tunnel' is being excavated. Having previously had its entrances blocked up, they were recently excavated and saw light for the first time in 40 years. The tunnel is going to be extended following which, path users will be able to go through it. Extension and stonework repairs are expected to be completed by April 2020 with that section of route re-opening in August 2020.
Brundholme Bottoms:
There will be a new section of path constructed to replace 200m that was washed away during floods. Bank stabilisation and protection works will be carried out with an expected completion date of September 2020.
Threlkeld zig-zag path:
The project will include the construction of a graded path to increase accessibility for all users. Work is being carried out between September and December 2019.
Tree planting:
It has been necessary to cut back or remove a number of trees during the construction phase to enable access to the required heavy machinery. Between autumn 2019 and autumn 2020 a tree planting programme will be carried out. The total number of trees to be planted will exceed the number removed on a 3:1 ratio – that's about 1,500 trees being planted in total.
Funding:
HF Holidays has donated £20,000 from the Pathways Fund towards this multi-million-pound restoration project.
More information about the project can be found on the Lake District National Park website.