Details
Reading time: 2 - 4 minutes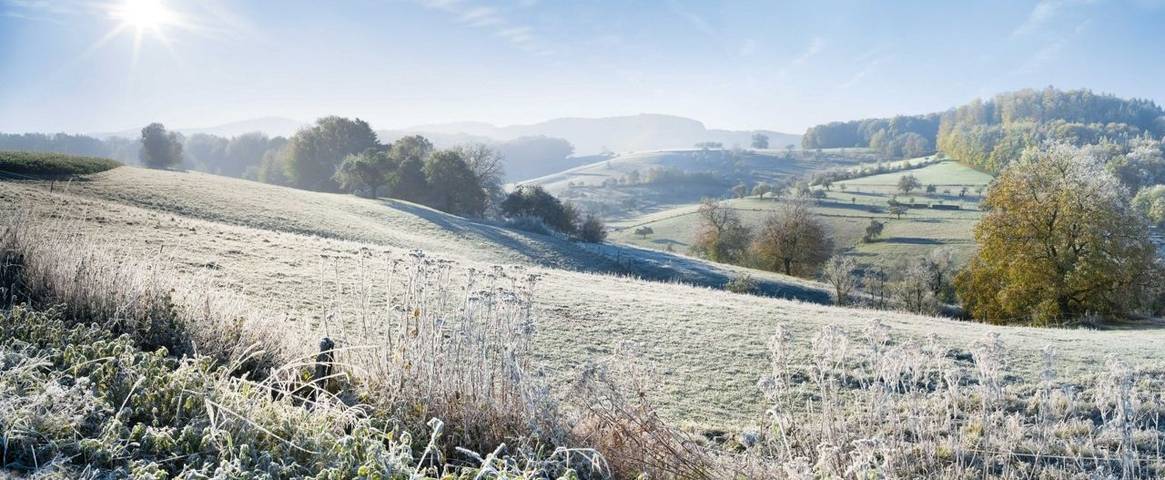 When the mercury drops, the days get shorter, and the air is bracingly cool, it's all too tempting to hibernate indoors, snuggle under blankets and throws, cosy up by wood burning stoves, and forget about the dark and drizzle.  
Yet walking during the winter months can spark pure joy – and bring some surprising health benefits, too. Not only do lower temperatures boost our brain cells and kick our immune systems into gear, but they also help reduce inflammation, burn calories, improve sleep quality, and help with allergies (pollen counts are virtually non-existent in wintry weather).  
And then, of course, there's the photogenic glories that come with this season; from wildflowers lit up by the sun and frost-encrusted trees in all directions to open expanses of snow-covered fields. By spending winter right here on our shores, little is more magical than wrapping up warm and exploring a glistening wonderland of frosted hills, mountains, forests, lakes, woodlands, moorlands, hilltops, and more. 
Whether you choose a guided winter walk with one of our experienced HF Holidays Leaders or opt for a self-guided holiday with a focus on flexibility and freedom, our walking holidays are perfect. You'll be staying at one of our 16 characterful country houses where the countryside or coastline takes centre stage. While each has a one-of-a-kind charm, all share the same welcome sense of warmth and high standard of service.  
Here's just three of the properties in our line-up that hold such appeal for walkers during the winter months – even when the weather shows no mercy.  
Winter walks in the Peak District
For those easily seduced by the walking delights of the Peak District, The Peveril of the Peak is a dealbreaker. Set in the tiny village of Thorpe, you'll be less than a mile from the famous Dovedale Stepping Stones – a series of 16 limestone-capped stones that were laid out in the 19th century to allow for a safe crossing over the River Dove. There's plenty of big-name attractions nearby, most fabulously the Twelve Apostles that is best viewed from the limestone promontory known as Lover's Leap. And there's no shortage of walking thrills, either, especially around the Roaches and the impressive Stanage Edge. Equally fabulous is the cone-shaped Thorpe Cloud, a limestone hill on the southern end of Dovedale and along the rolling green hills of the Staffordshire/Derbyshire border.  
Winter walks in the Yorkshire Dales
Looking every inch the baronial mansion, Newfield Hall sits in two acres of grounds near the village of Malham at the southern base of Yorkshire Dales National Park. Given it was this very landscape which inspired Wordsworth to write a sonnet and Charles Kingsley to pen The Water Babies, the countryside views are as gorgeous as you'd imagine. You'll also have plenty of sightseeing greats within easy travelling distance, most notably Malham Tarn, Janet's Foss, Gordale Scar, Malham Cove, and The Dry Valley of the Watlowes. And then, of course, there's Yorkshire's Three Peaks, a well-worn 24-mile trail allows you to tick-off a trio of summits – Pen-y-ghent, Whernside, and Ingleborough. 
Winter walks in the Lake District
Adored by poets, painters, and literary giants for centuries, the Lake District has always had an irresistible pull. It's no surprise, then, that Derwent Bank holds such appeal, not least for its setting in lovely grounds that slope down to the shores of Derwentwater. The location couldn't be more perfect; to the west is Cat Bells, to the east is Keswick, Walla Crag, and Latrigg, and to the south is the entrance to the Borrowdale valley. There's a wealth of big-name attractions within easy travelling distance, including Blencathra, Helvellyn, and Ullswater. Also visit-worthy for walkers is Scafell Pike for its well-trodden routes and trails and the 73-mile-long Cumbria Way for its mist-shrouded peaks, glacial valleys, and many excuses for pit-stops and picnics.