Details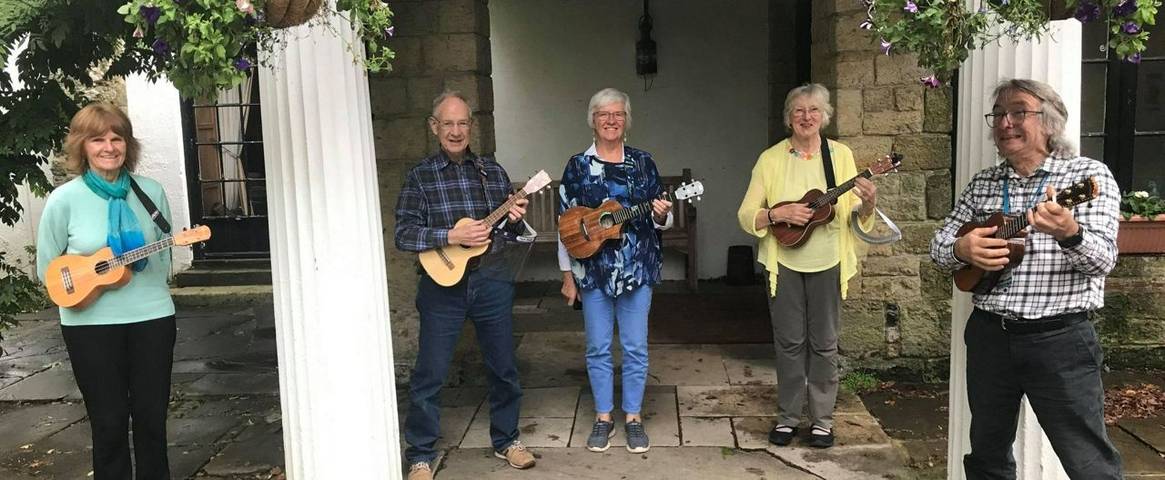 FUN AND LAUGHTER WHILE PLAYING THE UKULELE
If you have always harboured a secret – or not so secret – desire to learn how to play the ukulele or if you play already and would like to improve your skills, you may have considered joining one of our ukulele-playing breaks. On these breaks, you will receive expert tuition from our leaders and plenty of time to practice in a supportive environment where the focus is on having fun while you learn.
In October, HF Leaders Chris McShane and Catherine Embleton led two breaks at Abingworth Hall in the South Downs – Play Ukulele and Play Ukulele Next Step. Across the two breaks, the guests ranged from complete beginners to those who already played with ukulele groups. On both breaks social distancing measures and house adaptations for Covid-19 were in place ensuring compliance with all government guidelines.
Leader Catherine Embleton reports:
"We covered a huge range of music to suit all tastes from Tallis' Canon to Queen with some Elvis thrown in for good measure. Restrictions on singing didn't hold us back and one guest embraced her creative side by choreographing actions for 'How much is that doggie in the window?' which were, quite literally, beyond words. It was decided that we should dedicate our rendition of 'Singing in the Rain' to the walkers in the house as commiseration for the rather changeable weather that week. On the final evening of each holiday, Chris and I gave a performance for our guests with audience participation, including several seated dance moves (patting the dog, changing a light bulb, stacking the shelves). One guest commented that the holiday should be called 'play ukulele and laugh a lot' and we certainly did both of these things. A huge thank you to all the guests and staff for making this week so special. "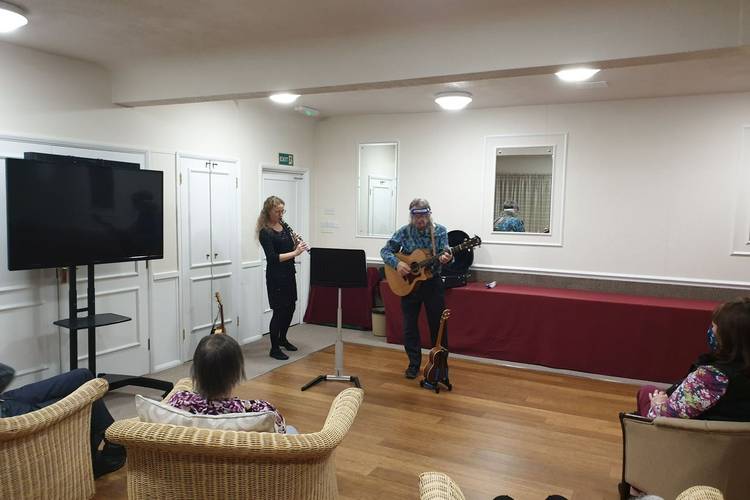 "Still buzzing from the workshops and break at Abingworth Hall. Looking forward to booking another HF Uke workshop - next year with you hopefully."
"I have just been doing some ukulele practice - I am determined to try and remember all the things you taught us, Catherine! Thank you so much for making our sessions interesting and fun."
"Thanks for your excellent tuition, organisation and commitment to our weekend at Abingworth. You made it a real pleasure for me to be part of it. Hope to see you both at a future HF weekend."
"Thanks again for such an enjoyable and productive weekend at Abingworth. Chris and Catherine – you are such gifted musicians; I'm grateful to you both."
"Thanks for a great holiday; such fun learning! I've signed up to join a local group, although they can't meet at the moment. Will also look out for the 'next steps' holiday."
"I just want to say how much I enjoyed your tuition on my recent stay in West Sussex; it was very informative without being intense so therefore relaxing and fun."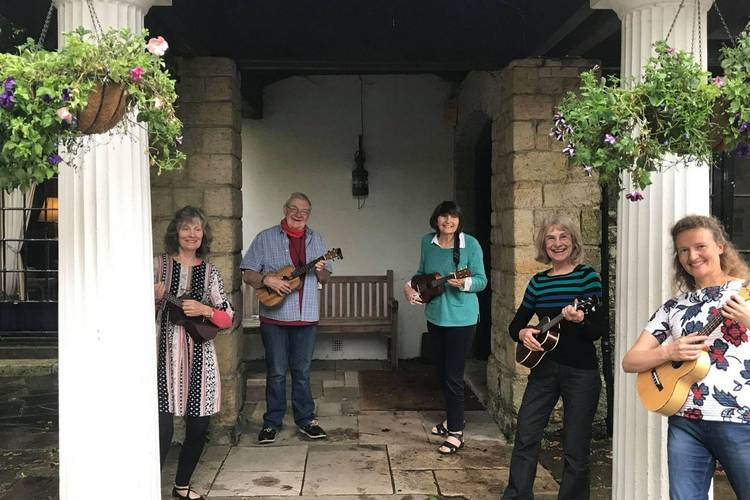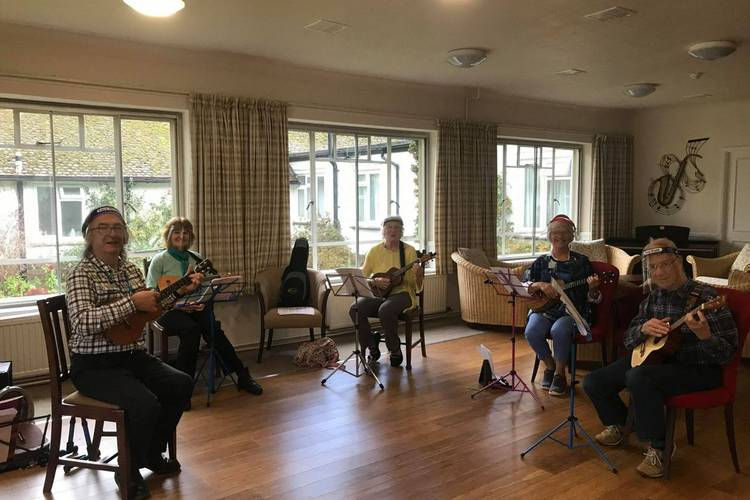 "As usual, the house was amazing. I upgraded the room and it was lovely. The food was amazing - tasty and plentiful. The staff were friendly and helpful. This was a Learn to Play Ukulele break and I can thoroughly recommend it. As a complete beginner, who hasn't done anything musical for decades, it started at a very basic level but introduced more challenging things as we went along. The tuition was in the morning and just before/after dinner, but the afternoons are free to do a self-guided walk or visit the local area. Catherine, who led the course, was very patient, informative and talented in ukulele and clarinet. After three days I can play ukulele - amazing! Can't wait to find an improvers holiday."
The ukulele is small, lightweight, relatively inexpensive to buy and easy to learn compared to other instruments so it's great for beginners. With only four strings, learning to play is more straightforward than on other string instruments. In addition, the strings are easy to press down so don't require the build-up of finger muscles or skin calluses in order to play it with ease in the way that learning the guitar does. With the mastery of just three simple chords, it is possible to play hundreds of ukulele tunes. Being eminently portable, it is easy to carry a ukulele to any location which makes the practicalities of learning and playing with others very straightforward.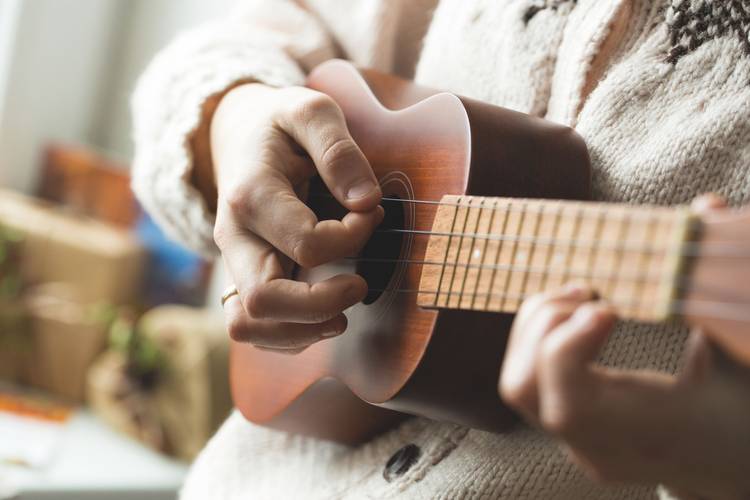 Benefits of playing the ukulele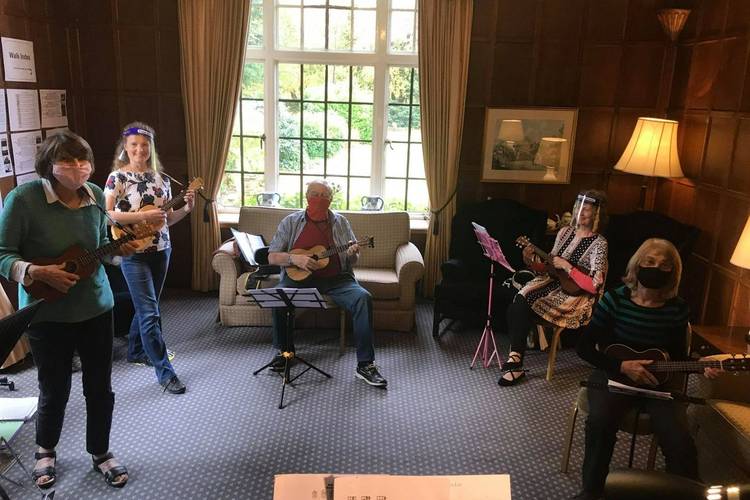 Playing any musical instrument helps to keep the mind sharp and the ukulele is no exception. Learning to play is quite easy so you can quickly gain a sense of achievement without a struggle. Playing can open up new social interactions with other people; there are many ukulele playing groups and clubs across the UK where you can join in friendly jamming sessions and have fun. Playing music can also relieve boredom and stress and provide a something positive to focus on.
HF Holidays runs a range of ukulele playing breaks all suited to different experience levels. If you are a complete beginner or have limited skills, try a Play Ukulele or Play Ukulele Beginners holiday. If you have some experience, try a Play Melodic Ukulele or Ukulele Bonanza holiday.
Chris McShane
Chris formerly worked for Barnsley Music Service as Curriculum Development Officer for Guitar, Keyboard, Vocal studies and Music ICT and is now a freelance musician and instrumental teacher. In recent years, Chris has been active in promoting and teaching the ukulele. This teaching has ranged from full classes of 30 children in schools to groups of seniors in retirement homes. Chris also runs workshops at festivals and summer schools. He also runs a monthly ukulele club which is in its fifth year with over 60 members attending. Chris is also the musical director of the Uke Power festival.
Catherine Embleton
Catherine is an experienced professional musician and woodwind teacher. In addition to performing on clarinet and saxophone with a variety of ensembles, including dance bands, orchestras and chamber groups, she also coaches and conducts several wind ensembles. Having taught in schools for many years, she now specialises in sharing her passion with adult players and in making a varied repertoire accessible to all abilities. Aside from music, she enjoys yoga, walking and homemade cake.