Details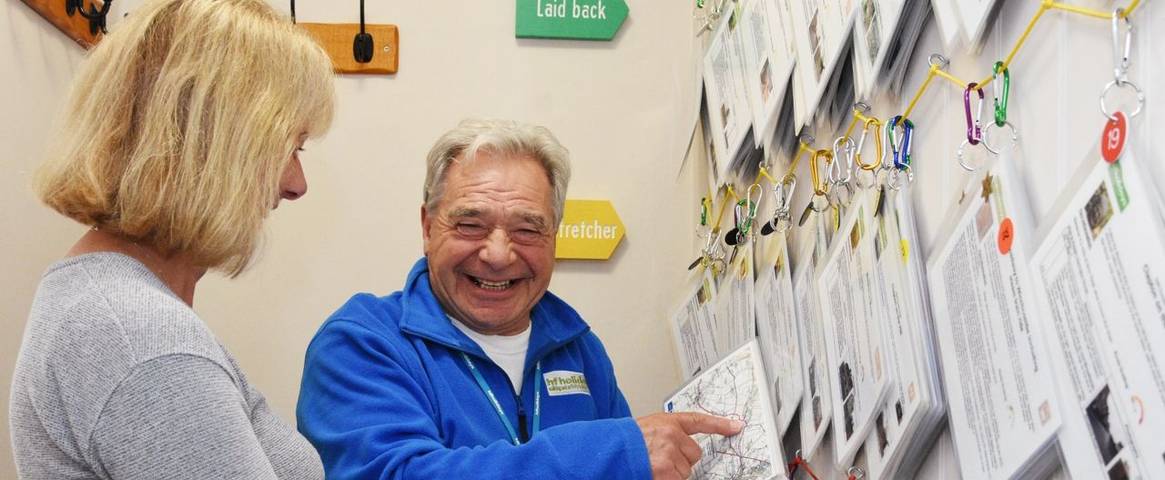 Each of our holidays is different, but they do have one thing in common; our fantastic guides. With a wealth of knowledge and unwavering enthusiasm, our leaders are what make our holidays so special. Our team of over 700 walking holiday leaders are dedicated to what they do. Their experience, enthusiasm and common love of the great outdoors is the perfect combination to make our holidays the best on offer. Whether they're walking amidst the green hills of England, the Alpine meadows of Austria, or the raw beauty of the Alaskan wilderness, our walking guides have a passion for the great outdoors.
All our leaders in the UK have passed our rigorous assessment, so you can be confident that you're in safe hands. And our holidays are so much more than just walking. At the end of a day out exploring, our leaders are with you throughout mealtimes and into the evening to ensure you have a sociable and enjoyable holiday from start to finish.
Meet Stuart 
Stuart has travelled the world in pursuit of mountain adventures and has led expeditions for the services and with young people. He loves enabling guests to venture to places they might not go to on their own and provides lively companionship on the way.
Favourite Walk: My favourite walk is the Sassolungo in Selva as the views of the dramatic Dolomites in all directions are outstanding.
Top Tip: Maximise your walks by using the expansive cable car network in Selva - a great way to get around the area.
Meet Tess
Midwife, Events Coordinator and mum, Tess recently hiked and camped for five weeks through the wilds of Scotland. Tess helps plan walks in the Lake District and her wealth of local knowledge and love of the Cumbrian Fells to help our guests find adventure in this beautiful area.
Favourite Walk: Causey Pike in the Lake District. With a short, steep ascent, a little scramble, a fine ridge and superb views this hill has it all!
Top Tip: Take a dip, hire a kayak or enjoy the Keswick launch to see the hills from a different angle.
Discover the Northern Lake District >
Meet Nick
As a former Countryside Manager, Nick loves to share his deep knowledge of natural history with guests. However, his interests extend way beyond this and he loves to spot the unusual on walks and enthrall his group with something unexpected.  
Favourite Walk: Anywhere along the chalk South Downs ridge where views of patchwork fields and woods across the Weald contrast against the sparkling sea beyond. An unfailing mix! 
Top Tip: Walk along the Seven Sisters and be mesmerised by the sea as it meets the white chalk cliffs.
Meet Chris
Always smiling, Chris has been leading with HF Holidays for 13 years and often leads alongside her husband Mervyn. She says leading is a privilege as it takes her to many of the best walking areas in Europe and enables her to meet and enjoy the company of so many lovely guests. 
Favourite Walk: The 'Path of the Gods' in Sorrento. The surrounding area has a world-class combination of beautiful scenery and fascinating history.
Top Tip: Savour the sea views from the 'Path of the Gods' before descending to the Amalfi coast for a delicious Italian gelato.
Discover the Sorrento Peninsula >
Meet Cheryl
Cheryl has called the 'Great Land' home for the past two decades. She loves the beauty and scale of the magnificent Alaskan outdoors and enjoys hiking and exploring this stunning wilderness. Passionate, friendly and people-loving, Cheryl is not only a fantastic holiday leader but also a wonderful travel companion. 
Favourite Walk: Lion's Head, which towers over the mighty Matanuska Glacier. A short but challenging hike offering sweeping panoramas of the glacier as well as Chugach and Talkeetna Mountains. 
Top Tip: Try Alaska's wild salmon, fresh from the sea, to give you a real and delicious taste of Alaska.
Discover Alaska with Cheryl this June or July>
Still looking for inspiration?
These are a just few of our September recommendations. If these destinations don't work for you, don't worry, we have lots of other wonderful ideas for walking holidays and adventures worldwide. For more inspiration, click through and explore!
If you are interested in becoming an HF Holidays leader you can find more out here >