Details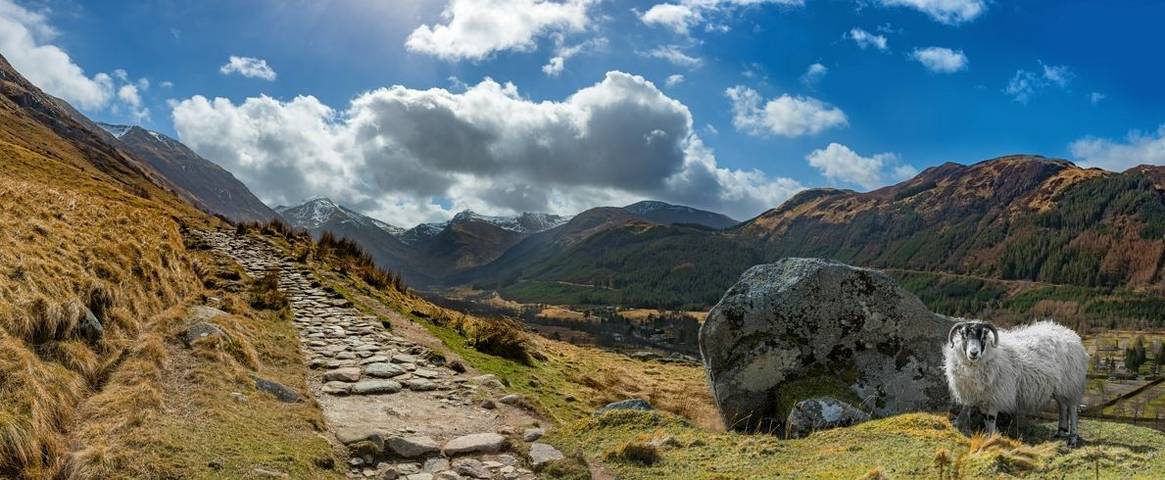 Whether you want to tackle one - or all - of the UK's highest peaks, tick off a series of Wainwrights or Munros, walk Yorkshire's Three Peaks or simply discover some less well-known walks in upland areas, step this way! We have a wide range of UK mountain walks that take in the best routes with glorious views. And after, at the end of each day, you can rest weary legs in the comfort of one of our own UK country houses. Choose to go self-guided or join our experienced HF walking leaders on guided walks in the company of a small group of fellow guests. Read on for a round up of some our favourite UK high points. How many have you already bagged?
Scotland is home to some of the UK's least inhabited and most mountainous scenery, offering a fabulous variety of walking opportunities, the chance to get away from everyday life and to be at one with nature. In the valleys, sparkling lochs reflect the craggy peaks and forested slopes above, while strategically located castles tell of Scotland's powerful families and military skirmishes. There are Munros to bag, ridges to traverse and the chance to climb the UK's highest peak – Ben Nevis.
Did you know?
Munros and more
There are 282 Munros (mountains over 3,000 ft) In Scotland – something to aim for! As well as Munros, Scotland also has names for lower peaks. You could tackle Munros, Corbetts, Grahams, Donalds and Marylins all in one day!
Our favourite highpoints in the Scottish Highlands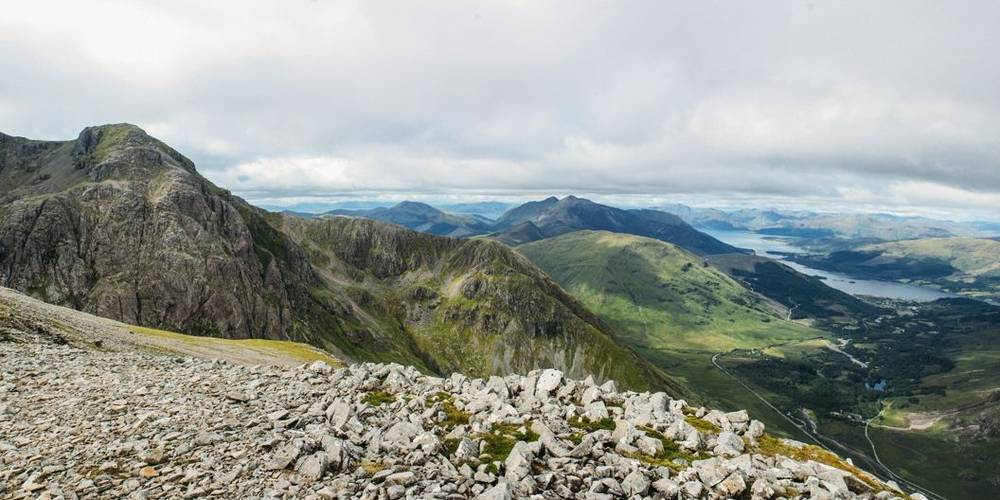 Bidean nam Bian
3,658 ft (1,150m)
The highest peak in Glencoe is one of the many Munros in the area (peaks over 3,000 ft). To reach the summit is a serious walking challenge but the views across Glencoe make it worth the effort.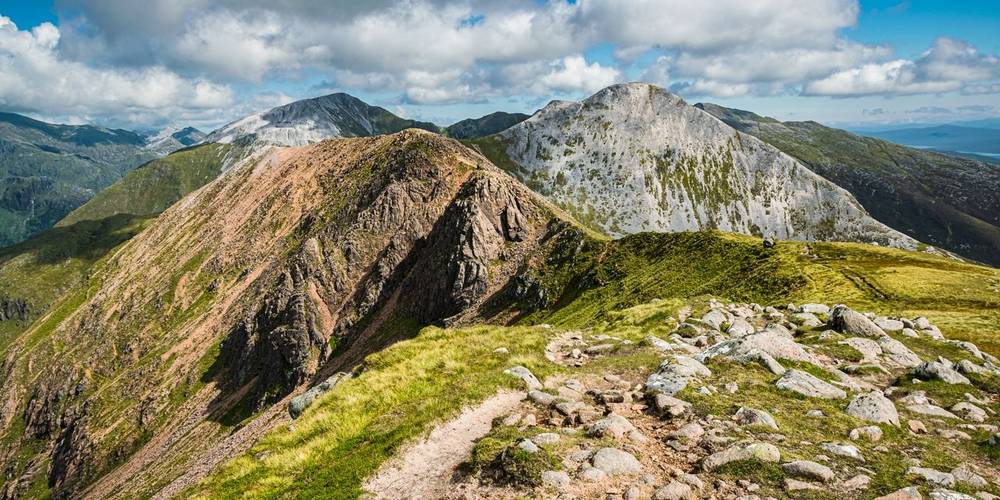 The Mamores
3,707ft (1,130m)
With 10 Munro summits, the rugged Mamore ridge contains some of Scotland's finest mountain walking. Reach summits including Sgorr Eilde Beag and Na Gruagaichean and enjoy top-notch scenery.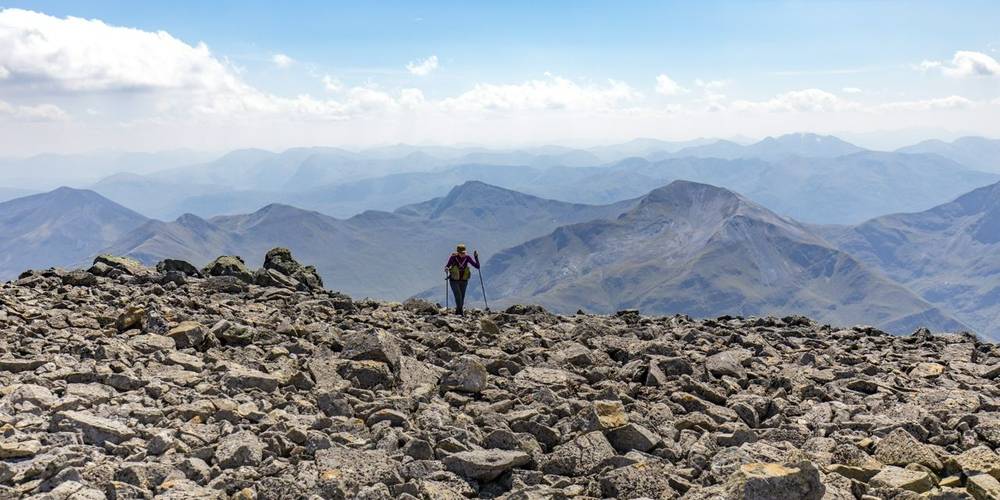 Ben Nevis
4,411ft (1,345m)
The mighty Ben Nevis is the UK's highest mountain. Climb to the top for amazing 360 degree panoramic views down to Loch Linnhe and a huge sense of satisfaction that you've 'done it'!
Snowdonia National Park encompass an area of glaciated mountains and lake-filled valleys that offer endless walking options. There are many peaks to summit including Wales' highest – Mount Snowdon - in the north of the park. The southern reaches tend to be more lightly trodden but they too have plenty to delight walkers, from the impressive peak of Cader Idris, the balcony paths of the New and Old Precipice walks, and the wild terrain of the Rhinogs.
Did you know?
Cwms, corries and Cirques
A cirque is a rounded hollow found on mountains that has been formed by glacial erosion. In Scotland they are called corries from the Gaelic word coire meaning pot or cauldron. In Wales they are called cwms – the Welsh word for valley.
Our favourite highpoints in Snowdonia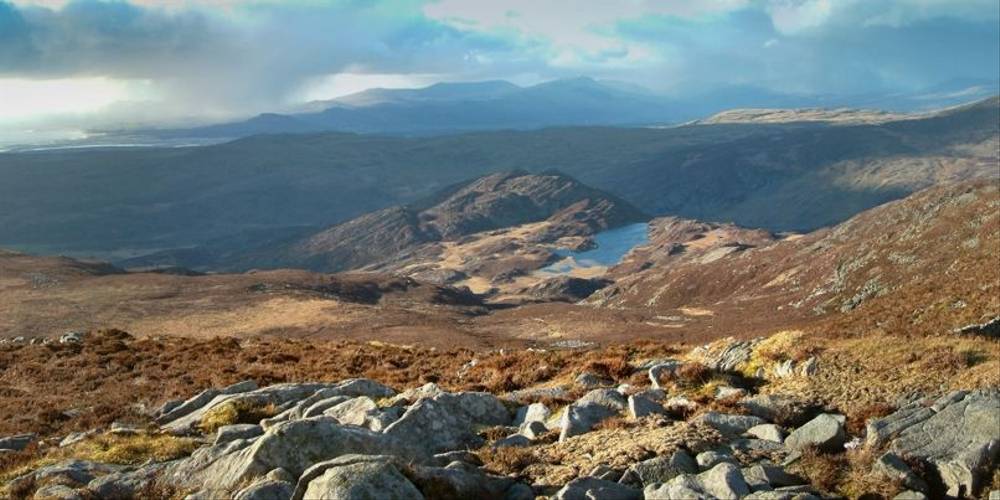 Rhinog Fawr
2,360ft (720m)
The Rhinogs are a complex range of hills - as wild as anything south of the Scottish Highlands - where distinctive paths are few and far between. Walking the whole ridge from North to South puts you in a relatively small club!
Cader Idris
2,927ft (892m)
This mighty peak can be reached directly from Dolgellau and rewards with stunning views over Barmouth Bay. Legend has it that if you stay on the mountain all night you will either end up going mad or turning into a poet!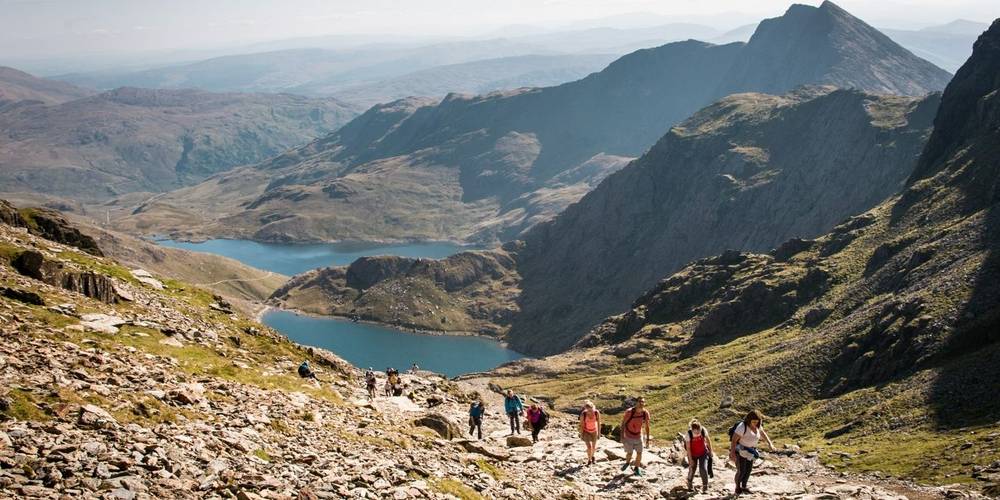 Mount Snowdon
3,560ft (1,085m)
Britain's second highest peak has a choice of paths to reach the top. Only choose scrambling across the ridge of Crib Goch if you have a head for heights! There are easier options too; all lead to splendid panoramic views.
The Northern Lake District
The northern reaches of this outdoor enthusiasts' honeypot have something for everyone from gentle lakeside strolls to scaling famous peaks such as Cat Bells, Skiddaw, Blencathra and Helvellyn. It's no wonder that the stunning blend of expansive lakes and sprawling mountains has inspired authors and poets including Wordsworth and Beatrix Potter and of course walkers including Wainwright himself.
Our favourite highpoints in the Northern Lake District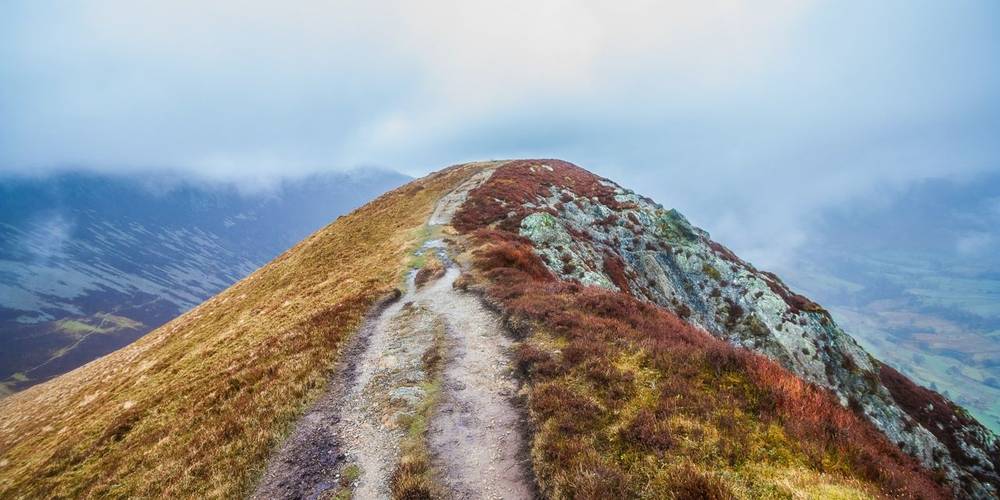 Grisedale Pike
2,593ft (791m)
A summit with a distinctive profile which enjoys views of the Western Fells and Skiddaw Fells. This peak can be reached by walking directly from Keswick and can be combined with other fells such as its higher neighbour - Grasmoor.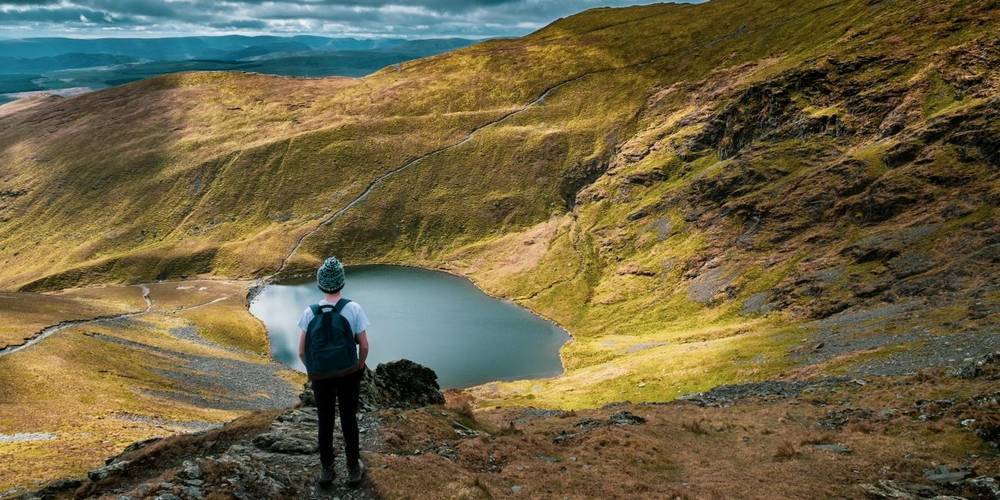 Blencathra
2,848ft (868m)
The sweeping curve of Blencathra has six separate fell tops, the highest of which is Hallsfell. Whether you choose to reach it via the classic Sharp Edge or the slightly easier Narrow Edge, the views from the top are sublime.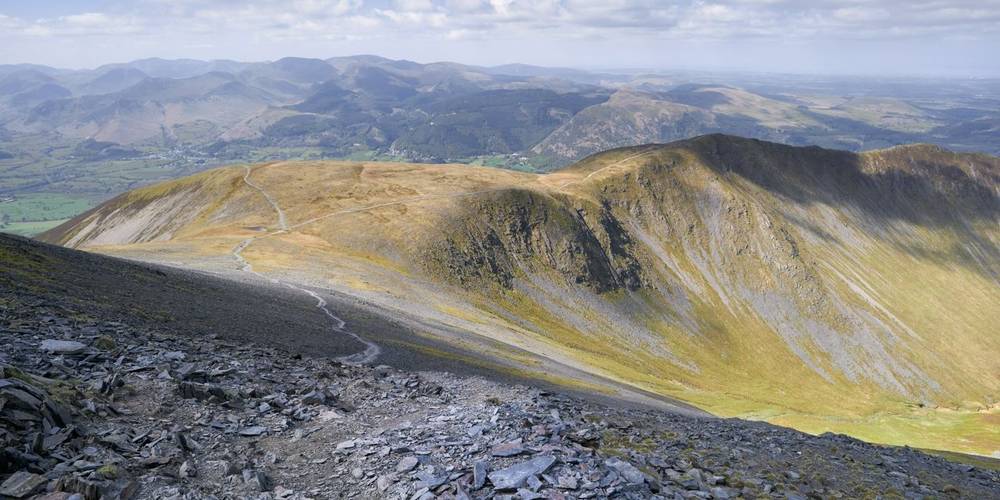 Skiddaw
3,200ft (931m)
The Lake District's 4th highest peak at the northern end of Derwentwater is set apart from its neighbours and enjoys sweeping views across the Derwent Valley. From the summit you can enjoy bird's-eye views of other, lower peaks.
The Southern Lake District
The Southern reaches of the Lake District are home to impressive peaks, including Scafell Pike - England's highest. There are also rocky ridges and plunging valleys aplenty. The area is centred between the Langdale Valley to the north, Wastwater to the northwest, and Coniston village and Ambleside to the northeast. 
Did you know?
Heaven on earth
According to Wainwright: "All Lakeland is exquisitely beautiful, the Southern Fells just happen to be a bit of heaven fallen upon the earth."
Our favourite highpoints in the Southern Lake District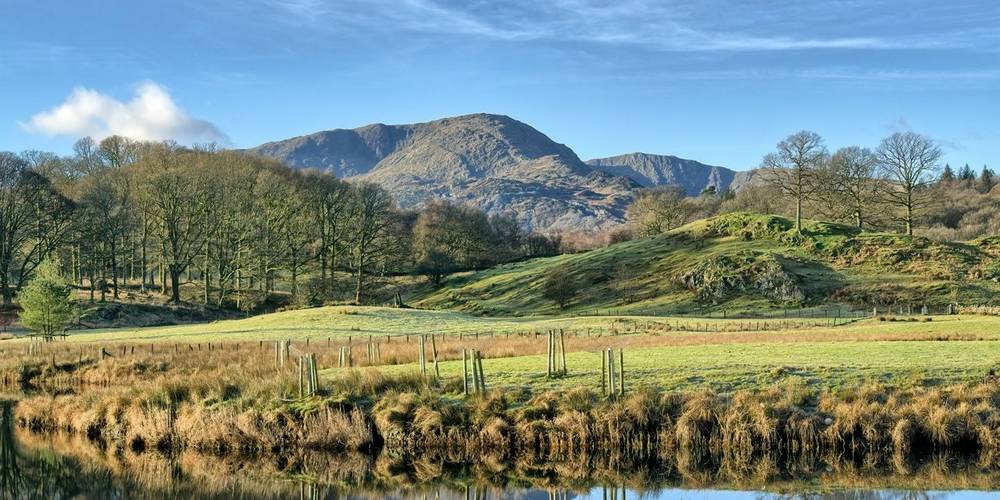 Wetherlam
2,500ft (762m)
A craggy top with lovely views over the Langdale Valley. It can be reached via a wonderful circular walk from Coniston, passing through the Coniston Fells and taking in Swirl How from which it is reached by the Prison Band ridge.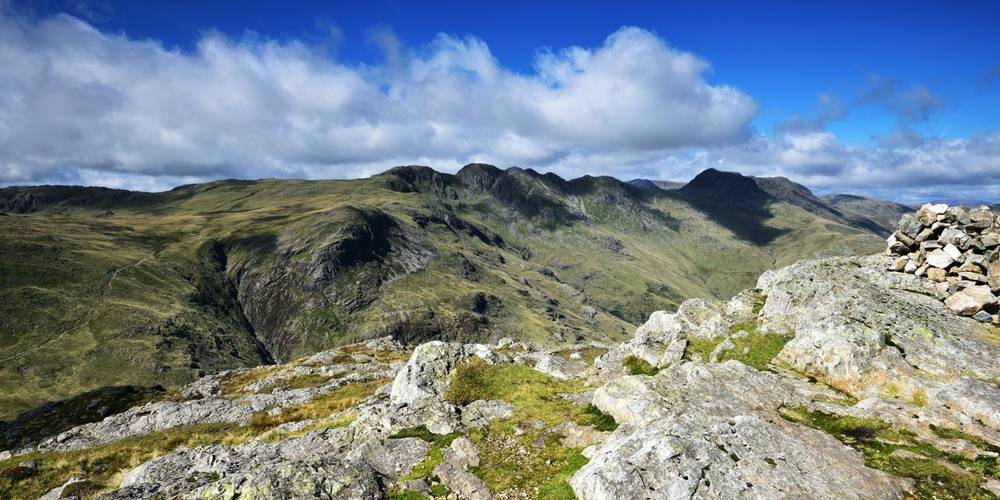 Langdale Pikes
3,050ft (940m)
This craggy group of peaks with names such as Harrison Stickle and Pavey Ark are in the heart of a glorious panorama of fells with dizzying views down the steep-sided Mickleden Valley. They provide some cracking walking routes.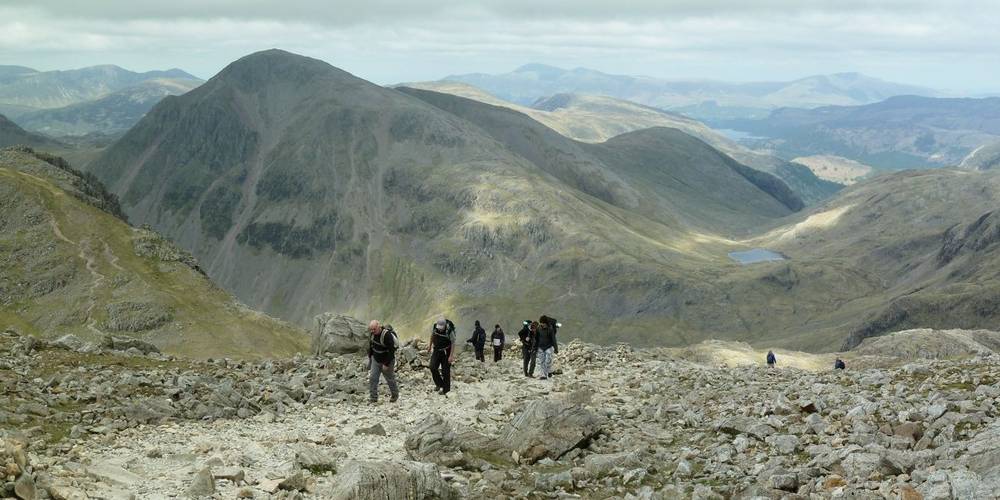 Scafell Pike
3,209ft (978m)
The UK's third highest peak rewards with views of all four of the UK's nations from the top. There are three main routes to the top to choose from but all end at the very rough and rocky summit. Some say Scafell is more difficult than Snowdon!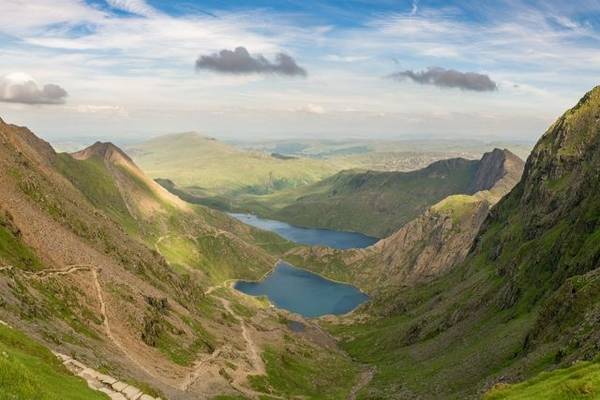 A Guide to
Climbing the UK'S BIGGEST MOUNTAINS
The highest points in Scotland, Wales and England - Ben Nevis, Snowdon and Scafell Pike - all have something unique to offer hikers. Read our guide to find out more about each route, and take a virtual trip to the summit with our 3D flyover videos of the climb!
Find out more