Details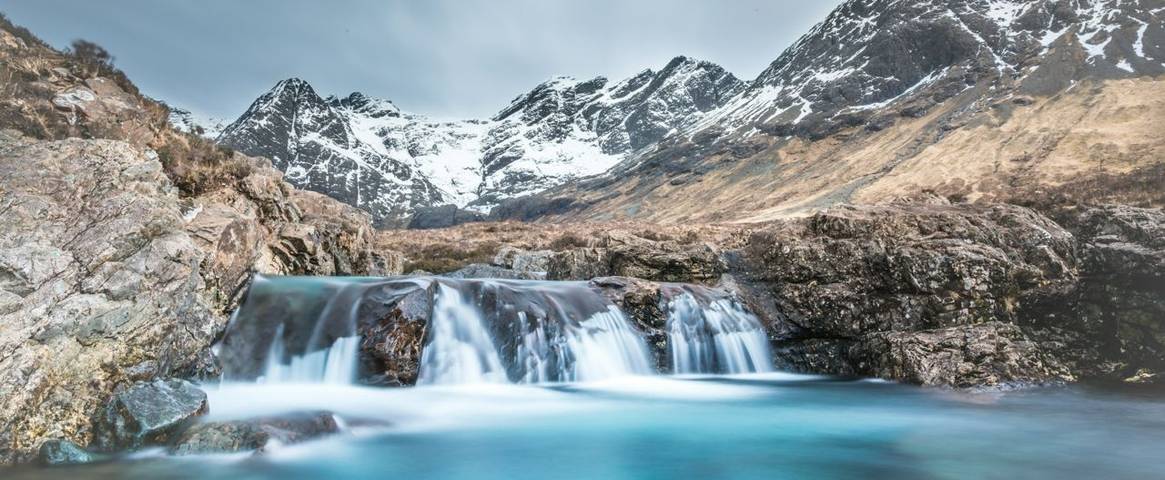 Staycations are booming right now and the trend to explore the UK has never been greater. Local needn't mean lacklustre though because there are hatfuls of beautiful places to discover on our doorstep as part of a walking holiday. Some of the natural beauty spots and locations are so breathtaking you might not believe they are in the UK though. Take our quiz full of surprising tidbits and find out a bit more about the incredible range of landscapes and locations right on your doorstep. It's just-for-fun, so score yourself and see how well you do
A) St Michael's Mount, Cornwall
Normandy's Mont-Saint-Michel might be what you're thinking of but this is the tidal island of Saint Michael's Mount, near Marazion in Cornwall, which is linked to the mainland by a man-made causeway of granite setts, passable between mid-tide and low water. Visit when you stay at Chy Morvah in St Ives!
A) Portmeirion
The enchanting Italian style village of Portmeirion sits on the coast of north Wales. Designed by Sir Clough Williams-Ellis, it's a tribute to the atmnosphere of the Mediterranean, and sat at the foot of Snowdnonia makes a charming dislocation. Discover it from Dolserau Hall!
A) Hadrian's Wall, Northumberland
OK, it's not quite as monumental as the Great Wall of China, but the magnificent structure that marks the northernmost boundary of the Roman Empire is still mighty impressive, and a walk along its length is literally to be walking through history. Trek the complete Wall or join us to discover the best bits.
A) Luskentyre Sands, Isle of Harris
The Caribbean this is not. In fact, sugar-white, turquoise-lapped Luskentyre Beach is on the Isle of Harris in the Outer Hebrides. It might take almost as long to reach as the Caribbean, but once there, you can walk along blissfully empty sands and dunes and explore the surrounding machair plains.
A) Minack Theatre, Cornwall
Although it has all the hallmarks of a Greek amphitheatre and might be better suited to an island in the Med, Cornwall's Minack Theatre in fact sits above the Atlantic Ocean on a rocky granite outcrop jutting into the sea. Bag a seat when you stay at Chy Morvah.
A) Glyderau, North Wales
It's the latter. Edmund Hilary trained for Everest on the craggy summits of Snowdonia's Glyderau. Although the mountain group may only each heights of 1,000m, they don't scrimp on being wild and spectacular. Tryfan is the peak to pick for scrambles but the whole area offers a wide variety of walking, accessible from Dolserau Hall or as part of the Snowdonia Way Guided Trail.
A) Wasdale Valley, Lake District
Wasdale Valley in the Lake District looks a lot like Yosemite.Ok, so it's not quite as mountainous or as vast but the region does have England's deepest lake and Scafell Pike, England's highest mountain nearby. Explore when you stay at Derwent Bank.
A) Royal Pavilion, Brighton
While the styling might be a reminder of the Raj and temples in India, this is Brighton's very own Royal Pavilion, once a royal residence and seaside retreat for George, Prince of Wales, who became George IV in 1820. Now a Grade I listed architectural landmark, you might fancy visiting from Abingworth Hall in the South Downs.
A) Kynance Cove, Cornwall
With its stunning sea, a slip of white sand revealed by the tide, shaky sea stacks and tucked-away caves, Kynance Cove in Cornwall feels like it should be in the Med, especially when flowers colour the cliff tops and basking sharks arrive offshore. Stroll the cliff paths here when you stay at Chy Morvah.
A) Heacham, Norfolk
Since 1932 the fields of Heacham have turned lilac with lavender blooms. There are nearly 100 acres of fields under cultivation and during the summer the air is full of the exotic fragrance. Stop in to see for yourself when travelling to or from the Norfolk Coast Path.
A) South Stack, Anglesey
This lookout beacon stands on Landdwyn Island, off the west coast of Anglesey. Come for the views while walking the Anglesey Coast Path and stay to watch flocks breeding seabirds including cormorants, shags and oystercatchers.
A) Dorset
England has a growing reputation for its wines. Where the Sussex wines led, Dorset vineyards, which share the same geology and a similar climate, are following. Combine wine sampling sessions with stunning Dorset downland walks for the perfect short break.
A) Cheddar Gorge, Somerset
At 3 miles long and almost 120m deep, Cheddar Gorge is England's largest gorge, carved from the Mendips limestone a million years ago. Look out for dramatic cliffs and stunning stalactite caverns.
A) Isle of Skye, Scotland
The Isle of Skye in the Inner Hebrides has a hugely indented coastline and a mountainous interior full of wonderful features. Look out for rocky pinacles and fairy pools filled by seemingly vibrant blue and green cascades as part of our island hopping holiday, Hebridean Hopscotch.
A) Tresco Abbey Gardens, Isles of Scilly
Tresco Abbey Gardens on the island of Tresco comprise 17 acres of gardens around a Benedictine Abbey, originally established by Augustus Smith in the 19th Century. Here, spring comes early, autumn stays late and winter hardly exists. Discover the unique beauty of the whoile archipelago on an island hopping holiday around the Isles of Scilly.
.
Score Yourself
So, how did you do? There are a total of 15 points on offer There are no prizes so, just for fun, score yourself...
1-3: Ah, that's not great! Brush up on your knowledge and have another go!
4 - 6: Could do better...hmmm, you've got lot's to learn about the incredible landscapes and locations in the UK. Guess you should start planning a trip...
7 - 10: Not bad but there's room for improvement and there are lots more things to discover so keep on exploring!
11 - 13: That's great, well done! You know lots about the UK and what's available to discover on our doorstep.
14 - 15: Excellent, what a result! Great knowledge, you clearly know your stuff and are very familiar with UK. Continue to explore and enjoy!