Details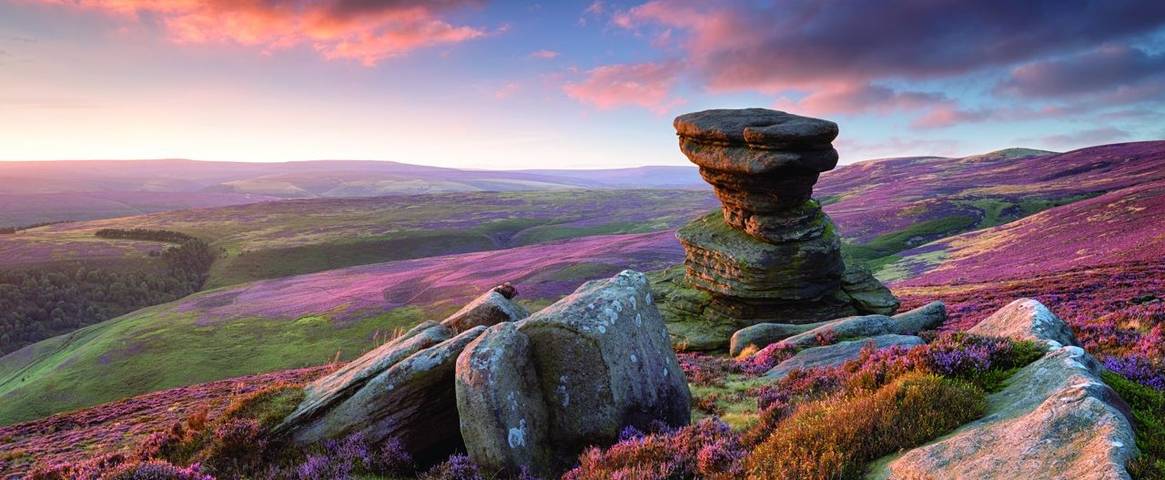 Lake district landscape vs peak district panorama
Both the Lake District and Peak District are loved for their beautiful wilderness. But which one do you know best? We put them head to head, comparing their walking, wildlife and cultural clout..take our quiz full of insights, facts and figures and find out a bit more about both. It's just-for-fun, so score yourself and see how well you do.
We think that it's little wonder that the Peaks and Lakes have both inspired a raft of art and literature: who could fail to be moved by these dramatic landscapes? You could spend a wild weekend in each of them at our country houses, squeezing in walking, wildlife, heritage, local food and striking scenery. But you could also fill a full week in either park, and still have plenty left to do. Our recommendation? Do both, of course!
A) Lake District
The Lake District is a generous 885 sq miles (2,362 sq km) while the Peak District is a slightly more compact 555 sq miles (1,438 sq km) in size. The Lake District is the largest national park in England, and the second largest in the UK, after the Cairngorms.
B) Peak District
The Peak District was the UK's first National Park, designated on 17 April 1951 - the Lake District was established just a few weeks later on 9 May 1951. Snowdonia and Dartmoor were also designated in the same year.
A) Lake District
The Lake District was inscribed as a UNESCO World Heritage Site in early July 2017. It is now part of a special family of iconic places across the planet, sitting proudly alongside the likes of the Taj Mahal, Easter Island, the Barrier Reef and the Grand Canyon.
A) Lake District
Scafell Pike (978m) is the highest point in the Lake District, and indeed in England. Despite its name, the Peak District high point is Kinder Scout, which at 636m is only 26m over the official minimum height of a mountain, as defined by the OS.
B) Peak District
Now we're talking. Bakewell tart is the real Derbyshire deal. Consisting of a shortcrust pastry shell beneath layers of jam, frangipane, and a topping of flaked almonds, it is a variant of the Bakewell pudding, closely associated with the town of Bakewell. In the Lakes though, look out for sticky toffee pudding, reputed to have been first thought up here in  the 70s.
A) Lake District
The famous children's author Beatrix Potter is best known for her beautifully illustrated books featuring Peter Rabbit, Jemima Puddle-Duck and friends; she was inspired by holidays in the Lakes and, with the profits from her publications, she bought Hill Top farm and other hill farms and estates in the Lake District.
A) Lake District
The coniferous woodland here is home to some of England's last red squirrels. When visiting, also keep an eye out for red deer, kestrels, buzzards and ospreys.
B) Peak District
Outside the Scottish Highlands, where it is native, the Peak District, where they were reintroduced, is the oinly place in England where you can see mountain hares, whose brown coats turn white in winter.
B) Peak District
A scheduled monument is a protected archaeological site or building that is of national importance. There are 281 in the Lake District but a whopping 469 in the Peak District.
A) Lake District
Castlerigg Circle close to Keswick and dramatically sited with panoramic views and the mountains of Helvellyn and High Seat as a backdrop is often described as the 'Stonehenge of the North'; this enigmatic Neolithic monument is thought to have been constructed some 5000 years ago.
B) Peak District
These two impressive heritage properties can both be found in the Peak District. The former is the traditional home of the Duke and Duchess of Devonshire and the latter was an Augustinian Priory before becoming a Baroque mansion.
B) Peak District
Mam Tor is a 517 m hill near Castleton. Its name means "mother hill", so called because frequent landslips on its eastern face have resulted in a multitude of "mini-hills" beneath it. The viewpoint at Mam Tor stretches north over the Edale Valley to Kinder Scout and the Derwent Moors, making it one of the most dramatic viewpoints in the Peak District.
A) Lake District
Grasmere is one of the most-visited places in the Lake District with its spectacular lakeside setting, scenic walking trails and charming village cottages. The poet William Wordsworth resided here for 14 years until 1813, and his home Dove Cottage still stands today; he is quoted as describing Grasmere as 'The loveliest spot that man hath ever found.'
A) Lake District
Ashness Bridge is a traditional stone-built bridge on the single-track road from the Borrowdale road to Watendlath, in the Lake District. It is famous for being a fine viewpoint across Borrowdale towards Skiddaw.
B) Peak District
Derwent Reservoir is the middle of three reservoirs in the Upper Derwent Valley in the northeast of Derbyshire. The River Derwent, Derbyshire's and the Peak District's major river, flows first through Howden Reservoir, then Derwent Reservoir and finally through Ladybower Reservoir. If you're thinking Lake District, you might be confused with Derwentwater, on whose shores our country house stands!
B) Peak District
Resting on windswept moors and in shady woodlands throughout the Peak District are more than a thousand abandoned millstones, covered with lichen and moss, weather-worn and often hidden to all that pass by. They're echoes from a past industrial age, when this part of England was filled with the sounds of quarrying and the steam and dust from hundreds of mills; they weren't all used in mills for grinding flour though, some of the stones seen scattered throughout the Peak District were used as grindstones for sharpening steel.
A) Lake District
In a typical year, the Peak District might receive around 8.5 million visitors. The Lake District likely receives double that. Fortunately for you, we have country houses in both so you can choose and visit either!
Score Yourself
So, how did you do? There are a total of 18 on offer There are no prizes so, just for fun, score yourself...
1-3: Ah, that's not great! Brush up on your knowledge and have another go!
4 - 8: Could do better...hmmm, you've got lot's to learn about two of our favouirite locations. Guess you should start planning a trip...
9 - 12: Not bad, a quiz full of peaks and troughs but there's room for improvement and there are lots more things to discover so keep on exploring!
13 - 15: That's great, well done! You know lots about boththe Lake and Peak District.
16 - 18: Excellent, what a result! Great knowledge, you clearly know your stuff and are very familiar with this special season