Details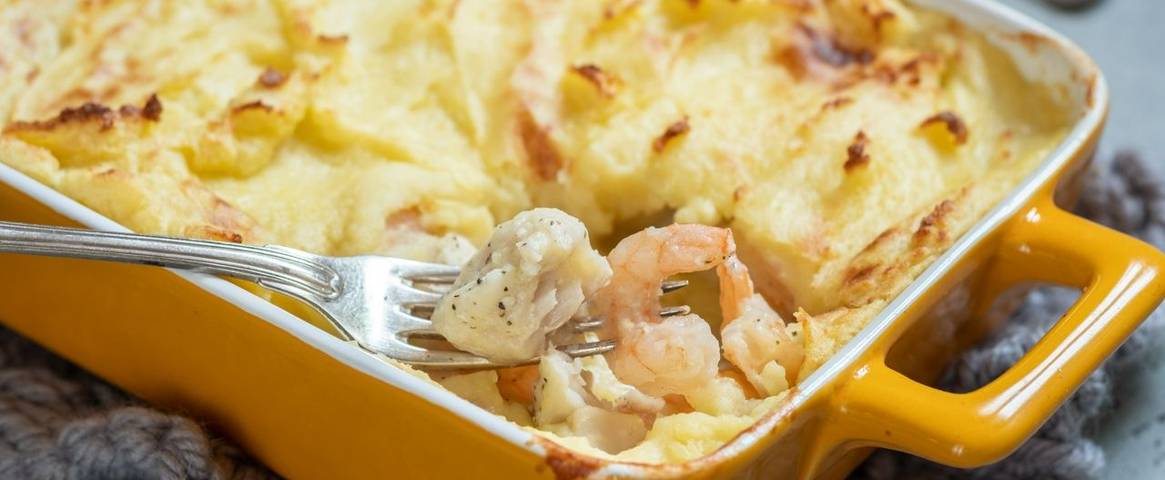 At all our UK country houses food plays a central part. Meals are varied and tasty, with a strong emphasis on ingredients from the area and seasonal produce. Here our chefs take the opportunity to share some of their creations with delicious recipes from the HF kitchens for you to try at home.
Here, Sean from Dolserau Hall in Southern Snowdonia gives us his take on a Catch of the Day Fish Pie – follow the recipe below or watch Sean in action on the video and give his recipe a go.
Ingredients
10 medium size potatoes
5 egg yolks
75g cheddar cheese grated
500g of your fish of choice (we used coley, salmon and smoked haddock)
50g plain flour
50g butter
700ml milk
250g fresh spinach (washed & drained)
2 carrots
1 cup of peas (optional)
1 cup of sweet corn (optional)
1 leeks (optional)
1 white onion diced
1 stick of celery
Zest of 1 lemon
Splash of white wine
1 tin of laverbread (optional)
Dill, salt and pepper for seasoning
METHOD
Step 1.
Start by making the duchess mash potato.
Boil your spuds until soft and mash, then slowly add your egg yolk and season with salt and pepper.
Put to one side for later.
Step 2.
Next cut your fish into big chunks and season, then roast at 160 degrees for 15 minutes.
Put to one side for later.
Step 3.
Next add your onions, leeks, carrots and celery to a hot saucepan with a drizzle of oil.
Sweat the vegetables down for 5 minutes.

Step 4.
Next, add the butter and flour and cook out for 1 minute.
Now add your milk in stages while constantly stirring.
Add your fish or vegetable stock and cook for 10 minutes, constantly stirring until you have a velvety white sauce.
Step 5.
Now add your peas, sweet corn, lava bread, dill, parsley and lemon zest.
Step 6.
Put your cooked fish into your pie bowls and port the white sauce over.
Tap the pie bowls to make sure the sauce drops to the bottom.
Step 7.
Next add your mash generously and sprinkle some oats and cheese on top.
Step 8.
Bake at 160 degrees for 35 minutes.