Details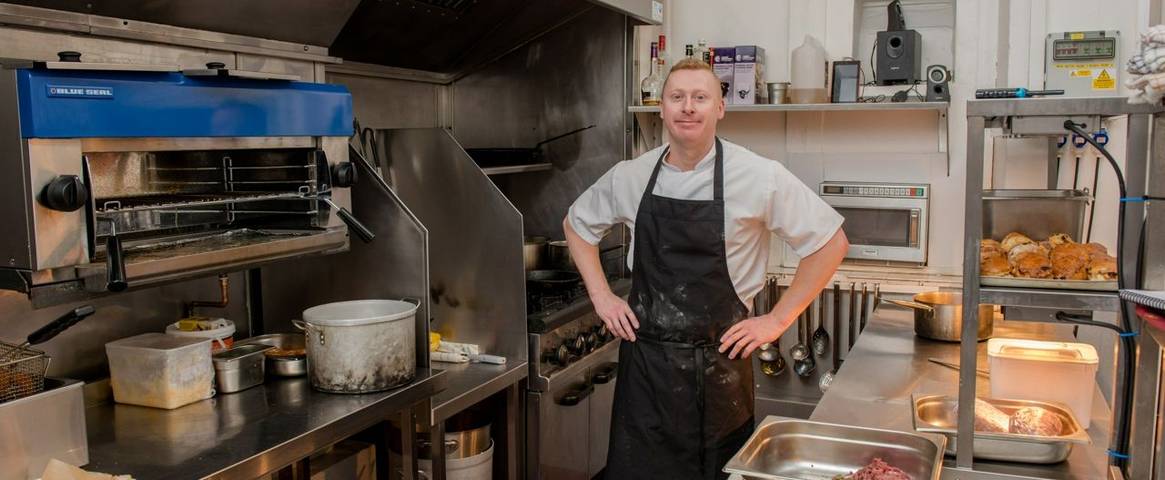 At all our UK country houses food plays a central part. Meals are varied and tasty, with a strong emphasis on ingredients from the area and seasonal produce. Here our chefs take the opportunity to share some of their creations with delicious recipes from the HF kitchens for you to try at home.
This time Sean from Dolserau Hall in Southern Snowdonia gives us his take on a Welsh lamb, leek, bacon and herb shortcrust pie – follow the recipe below or watch Sean in action on the video and give his recipe a go.
Welsh Lamb, Leek, Bacon & Herb, Shortcrust Pastry Pie
Ingredients
Shortcrust pastry
200g plain flour
50g butter
50g lard
1 tablespoon milk
1 egg
Ingredients
Pie mix
500g of diced lamb (we use shoulder)
2 rashers of smoked bacon, chopped
1 leek, sliced
1 carrot diced
Small bottle of local ale
Mixed herbs
500ml of lamb or beef stock
2 tablespoons of flour
Cheese for garnish
Salt and pepper for seasoning
Method
Pre-heat oven to 160 C
Step 1.
Put the butter, lard and flour into a mixing bowl and season. Mix using a paddle attachment until it resembles breadcrumbs. If you don't have a mixer you can do this by hand by rubbing between your fingers. (As shown on video).
Step 2.
Next add milk and eggs, and mix until you form a nice soft dough. Wrap in clingfilm and put to one side.
Step 3.
Heat oil in a frying pan until smoking hot and then add diced lamb and cook until golden brown all over. Once cooked drain through a sieve or colander, discarding the fat.
Step 4.
Add a small amount of oil to the pan and then add vegetables, herbs and bacon to sweat down for 5 minutes, tossing frequently until cooked through.
Step 5.
Add a splash of beer to de glaze the pan and cook out until the beer is evaporated just leaving the flavour.
Step 6.
Combine the earlier cooked lamb to the pan and add flour and cook out until everything is thoroughly coated. Add the stock in stages and beer until you get a gravy consistency and then simmer for 5 minutes.

Step 7.
Transfer the mixture form your frying pan to a baking tray, seal with foil and bake in the oven for 2 hours at 160 C.

Step 8.
Brush your pie dishes evenly with oil and then coat in flour and tap to remove excess (see video).

Step 9.
Now divide the dough into 4 portions, roll out and cover the inside of the dish leaving some pastry over lapping the rim. Trim excess and reserve some pastry for the lids. Put prepared dishes in the fridge until lamb is cooked.
Step 10.
When lamb is cooked remove from oven and mix thoroughly. Pour into prepared pie dishes three quarters to the top. Egg wash the pastry and add lid and pinch to seal (see video).
Step 11.
Pierce the lid with a sharp knife to let air escape and bake in the oven at 160 C for 1 hour.
Step 12.
10 minutes before the end add cheese of your choice to the lid.