Details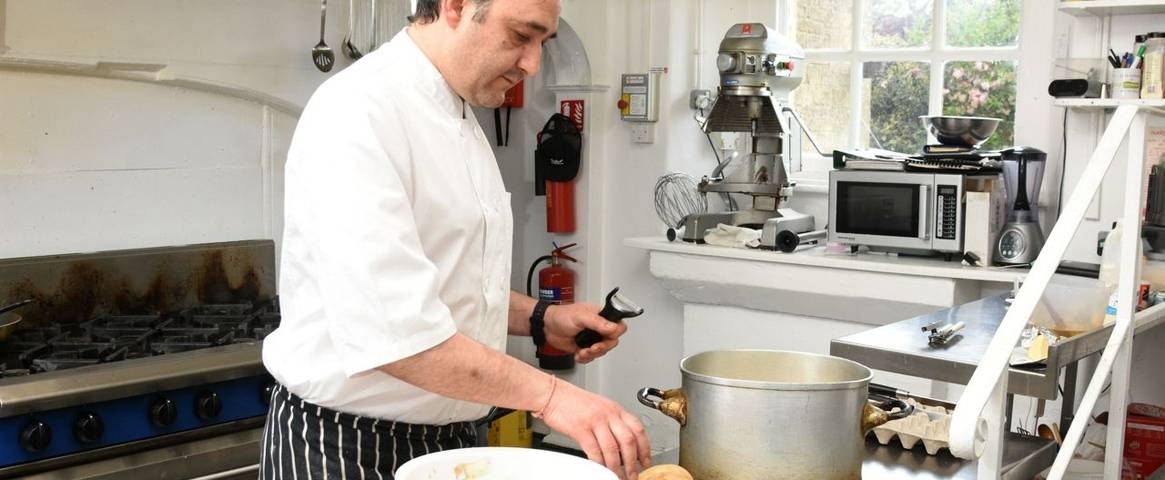 Longmynd House share a shepherd's pie, soup and lovely pudding recipe in February 'recipe of the month'. Our recipes will make you spend less time in the kitchen and more time entertaining your guests whilst still serving a delicious HF quality meal. If they love the meals as much as you do, why not share the recipes with your guests? It might just convince them to join you on a HF holiday if they haven't already.
Sweet Potato and Black Bean Shepherd's Pie
Ingredients:
3 large sweet potatoes
1½ cups of finely grated sharp cheddar cheese
¾ cup of whole milk at room temperature
4 Tablespoons of unsalted butter, melted
1 teaspoon of salt
 Cracked black pepper
1 Tablespoon of vegetable oil
1 large red onion chopped (about 1½ cups)
1 red bell pepper, large diced
1 yellow bell pepper, large diced
1 celery stock, finely diced
2 small carrots cut into a large dice
3 cloves of garlic, minced
¼ cup of sun dried tomato paste
2 (15 oz) cans of black beans rinsed & drained
2 Tablespoons of sherry vinegar
1 Tablespoon of honey
½ teaspoon of cumin
¼ teaspoon of chili powder
chopped fresh cilantro for garnish & serving
How to make it:
Heat the oven to 400 degrees F. Poke the sweet potatoes with a fork and place them in the microwave on high for 15-20 minutes, until they are tender. When cool enough to handle, scoop the flesh into a large bowl. Mash with a potato masher. While still hot, add the cheese, butter, milk, 1 teaspoon of salt and several grinds of fresh pepper. Stir to mix and set aside. Heat the oil in a large, heavy saute pan. When the oil is hot, add the onions, peppers, celery, carrots, and garlic. Saute for about 5 minutes, or until the vegetables have softened slightly. Add the black beans, tomato paste, vinegar, honey, ½ teaspoon of salt, cumin, chili powder and a few more grinds of fresh pepper. Cook for another 5 minutes, stirring to combine. Remove from the heat and set aside. Grease a 4 quart casserole or baking dish with cooking spray. Add the bean mix and spread evenly.Top with the sweet potato mixture and spread evenly.Sprinkle the top with a pinch of cumin and a pinch of chili powder. Bake for about 30-40 minutes; until the top and sides begin to turn golden brown.
Serve with cilantro and sour cream if desired.
---
Creamy Celery, Potato and Stilton Soup
Ingredients: 
25g butter
5 celery sticks, chopped, leaves reserved
100g potatoes, peeled and chopped
1 leek, trimmed and sliced
700ml vegetable stock
1 bay leaf
300ml semi-skimmed milk
salt and freshly ground black pepper
50gr of Stilton
How to make it: 
Melt the butter in a large saucepan over a low heat. Add the celery, potatoes and leeks and cook gently for 5 minutes.
Pour the stock into the pan and add the bay leaf.
Bring to the boil, then reduce the heat, cover and simmer for 20 minutes or until all the vegetables are tender.
Remove the bay leaf. Add stilton cheese. Cool slightly.
Using a draining spoon, lift out the vegetables and put them into a blender or food processor with some of the liquid.
Whizz to a purée. Return the purée to the pan with the rest of the liquid, add the milk and heat gently.
Season to taste with salt and pepper.
Ladle the soup into warm bowls and grind a little more pepper over the top.
---
Chocolate Banana Bread Pudding
Ingredients:
4 eggs
500ml milk
200g sugar
1 tablespoon vanilla extract
425g cubed French or any other white bread
2 bananas, sliced
170g chocolate chips
How to make it: 
Preheat oven to 180 C / Gas 4. Grease a 23x13cm loaf tin.
In a large mixing bowl, mix eggs, milk, sugar and vanilla until smooth.
Stir in bread, bananas and chocolate chips, and let rest 5 minutes for bread to soak.
Pour into prepared tin. Line a roasting tin with a damp kitchen towel.
Place loaf tin on towel inside roasting tin, and place roasting tin on oven rack.
Fill roasting tin with water to reach halfway up the sides of the loaf tin.
Bake in preheated oven for 1 hour, or until a knife inserted in the centre comes out clean.
We'd love to hear how you get on with making these dishes – feel free to share your successes on our social media pages; Twitter, Facebook or Instagram.
---
Coelic
Did you know? HF Holidays is the first hotel chain to achieve Coeliac UK accreditation! It's a great reward for all those who work hard to provide a safe environment for all our guests with food allergies and dietary requirements – and one of many, many reasons why we're a great choice for your next break!
Find out what our Head of Operations, Matthew Humpreys had to say...