Details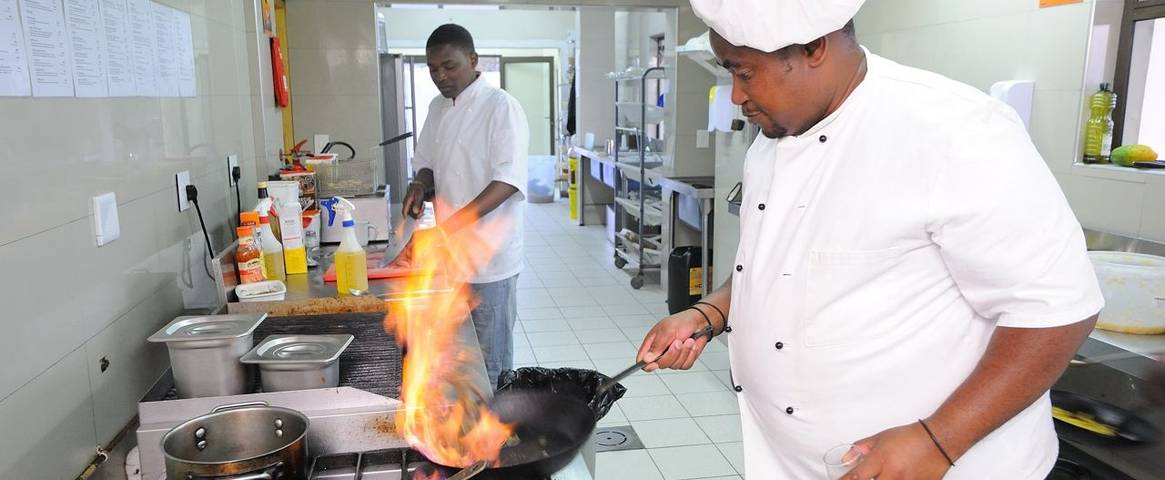 West Lulworth House, Lulworth Cove, Dorset, shares a starter, main and dessert in June's 'recipe of the month'. Our recipes will make you spend less time in the kitchen and more time entertaining your guests whilst still serving a delicious HF quality meal. If they love the meals as much as you do, why not share the recipes with your guests? It might just convince them to join you on an HF holiday if they haven't already.
Mixed Bean & Mushroom Pate
Cook for 4 persons
Gluten free/Dairy free/Vegan
Ingredients:
2 teaspoon coconut oil
2 teaspoon vegan spread (vitalite)
280g mushrooms - chopped
2 cloves garlic - minced
1 tin mixed beans - drained
1 teaspoon thyme - fresh or dried
1 teaspoon allspice (optional, but worth it)
1 teaspoon cracked black pepper
8 tablespoons / 120ml vegan cream (alpro is a good brand available from most supermarkets)
2 teaspoons soy sauce
1 teaspoon sea salt
Method:
In a pan, heat coconut oil & vitalite and add the chopped mushrooms, garlic, thyme, allspice, black pepper, soy sauce & sea-salt and fry until the mixture becomes mostly dry
Transfer to a food processor and add the mixed beans & vegan cream & blend until smooth
Share the mixture between four ramekins or one larger serving bowl & chill for 20-30 mins before serving
Serve with gluten free toast or oatcakes & a wedge of lemon
Butternut squash & sweet potato curry
Cook for 4 persons
Gluten free/Dairy free/Vegan
Ingredients:
1 x large butternut squash
2 x sweet potatoes
2 x red onions
1 x teaspoon garlic purée
1 x bag spinach
1/2 x cup red lentils
1 x tablespoon curry powder
1 x tablespoon curry paste
1 x can coconut milk
1/2 cup soy sauce
1 x lemon juice
1/2 cup soft brown sugar
Method:
Finely slice onions & fry slow & gently until very well cooked without colour, add garlic purée & a good pinch of black pepper
Peel & cut squash & sweet potatoes into big bite size chunks & add to the cooked onions
Gently fry together & add curry powder & paste & red lentils
After about 5 mins gentle cooking mix together coconut milk, soy sauce, lemon juice, brown sugar & a cup of water & add to the pot!
Simmer gently for about 10-15 mins or until veg & lentils are tender
Stir in washed fresh spinach just before serving
Enjoy
Indonesian style basmati rice
Ingredients:
2 x cups easy cook basmati rice
1 x small/medium white onion
1/2 teaspoon garlic purée
1 x teaspoon turmeric
6 x cloves
1/2 teaspoon caraway seeds
2 x bay leaves
Pinch of chilli flakes
1/3 cup sultanas
1/3 cup flaked almonds
Method:
Boil rice as to packets description with the addition of the turmeric, cloves, caraway seeds, bay leaves & chilli flakes. (I use an empty self fill tea bag for the spices so they're easy to remove at the end)
Gently fry finely sliced onion in 1 tablespoon of oil & add garlic when almost ready so as not to burn the garlic!
Toast the almonds either in a dry frying pan or in the oven until lightly browned
Drain off the rice when cooked removing cloves & bay leaves, etc
Mix fried onions, almonds & sultanas into the rice & serve
Avocado chocolate mousse
Made for 4 persons
Gluten free/Dairy free/Vegan
Ingredients:
2 x ripe avocado
90ml agave nectar (or use maple syrup to make this recipe paleo)
40g raw cocoa powder (or unsweetened cocoa powder)
2 x tablespoons unsweetened cocoa powder (or any plant based milk)
1/2 x teaspoon almond extract (or vanilla extract)
1/2 x teaspoon chia powder (optional but worth it)
1/8 x teaspoon kosher salt
Method:
Halve the avocados & scoop the flesh into a food processor
Add the almond milk, cocoa powder, chia powder, agave nectar & almond extract
Blend for a minute or until smooth
Taste mixture & adjust with extra syrup if necessary
Spoon or pipe the avocado chocolate mousse into serving glasses, optionally layering fresh strawberries & raspberries in between
Refrigerate for at least 30 minutes before serving
---
For more tasty recipes, check out May's edition from Monk Coniston...